Master Class
Jazz Music Is Protest Music
For jazz composer and trumpeter Nabaté Isles '99E, jazz is inseparable from the history and culture of the people who invented it.
Interview by Karen McCally '02 (PhD)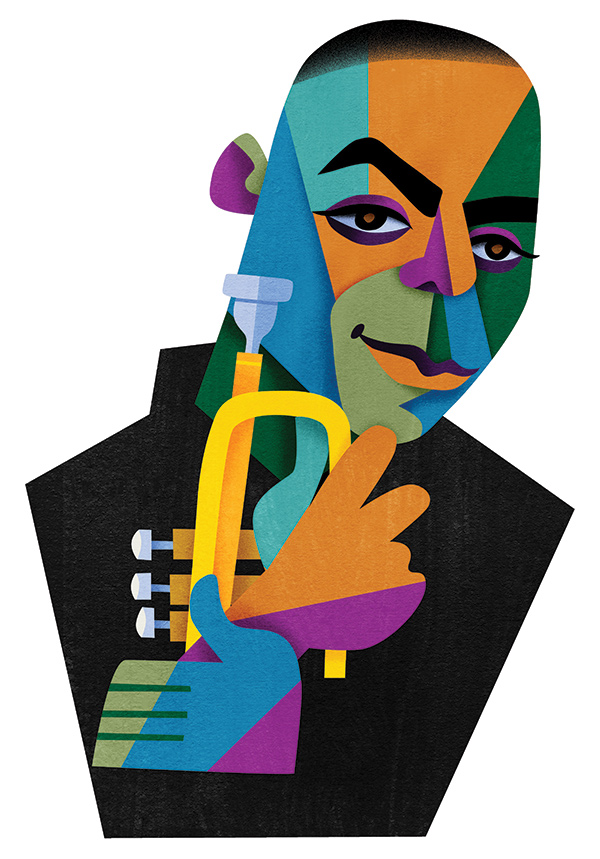 Jazz was invented by Black artists in the late 1800s as a combination of harmony and rhythmic and soulful expression. It was influenced by the Blues, Church and African music mixed with Western European harmony and instrumentation.
Nabaté Isles '99E
Jazz musician/composer and sports broadcaster/producer
Home: New York City
Major works: Same Strife, Different Life, debuted at 2020 New York Festival of New Trumpet Music; Eclectic Excursions (2018);
"Super Hero: An Ode To Chadwick Boseman," with Chadwick (Niles) Phillips and featuring Beth Griffith-Manley on voice.
Grammy Awards: Best Large Jazz Ensemble Album as member of Christian McBride Big Band for Bringin' It (2018) and The Good Feeling (2012).
Broadcasting: Creator and host of podcast "Where They At," interviews with retired professional athletes; and Manhattan Neighborhood Network (MNN) cable TV program "So Much to Talk About."
Jazz was originally protest music—music with a social message, promoting social change. Especially in the early part of the 20th century, through the 1920s, '30s, and '40s, it was meant to show the brilliance of African Americans in their capabilities of expression, and their ability to play their instruments at a high level of proficiency, and to be able to express themselves in a sophisticated way.
Also important was how a lot of Black artists presented themselves in the 1930s and '40s, and '50s. Artists like Charlie Parker, Dizzy Gillespie, and Thelonious Monk, dressed in suits. Jazz musicians with Blue Note Records, Prestige Records, Impulse Records—Columbia, of course, where Miles Davis was for a long time—those labels, into the 1960s showed musicians impeccably dressed, in suits or tuxedos. This trend continues to this day.
The music really started to go in a different direction in the 1950s and '60s. With the civil rights movement, it went hand in hand. In the early 1960s, Max Roach and Abbey Lincoln produced the ultimate protest music with We Insist! John Coltrane, Charles Mingus, and of course, Nina Simone augmented the moment. Gil-Scott Heron's and The Last Poets' social commentary merged jazz and spoken word, which was the roots of hip-hop. People forget about the Jazz and People's Movement, led by Rashaan Roland Kirk and Lee Morgan as they would stage protests on television talk shows to express the need for "Black Classical Music" to have more exposure in the mainstream.
I recently composed a four-movement piece for the Festival of New Trumpet Music in which I try to capture this history. It's called Same Strife, Different Life, meaning it's the same strife that we've always had, but with different generations of Black people's lives. In the first movement, Slavery, I wanted to exude the pain through my trumpet and chilling sounds through the percussion. In the second movement, about Reconstruction, I wrote a down-home blues, "gut-pocket" type of piece. Reconstruction was a painful experience for Black people, and that's when jazz began. In the third movement, about the civil rights movement, I wanted to do a Blue Note/Stax type of groove—funky and groovy, with remnants of R&B music, which was just emerging. And for the last movement, with police brutality still going on, I wanted a hip-hop groove. I was really influenced by groups like Public Enemy (PE), Boogie Down Productions (BDP), X-Clan and Brand Nubian.
We've lost appreciation of this history, especially in jazz education. It shouldn't be exclusively about learning vocabulary, or how to play this lick, or [John Coltrane's] chord progressions. It should be learning what this music is about. It's from the heart and soul, and about experience. Courses in Black history and culture should be required for any jazz degree.
Musicians need to have a sense of what Black artists went through, because this history ties into the music. Miles Davis was beaten by police in front of a club and thrown in jail. Charlie Parker couldn't get a cabaret card, which allowed musicians to perform in venues throughout the city. Many artists were expatriates, in order to express themselves to the fullest.
There still aren't many Black students in jazz programs. I'm glad Eastman is seeing that and wants to make that change. I'm here to help make that change.