Letters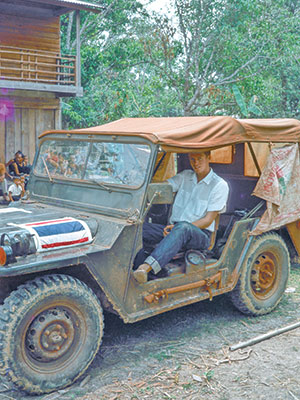 Regarding "The Toughest Job They Ever Loved" (Summer 2021).
Yup. In 1965, I joined the Peace Corps to avoid The War. Sent to a far northeast Thailand "hot spot" of communist insurgency. I was an interpreter with Thai Government/82 Airborne/Special Forces Counterinsurgency Program. In the accompanying photo, the Jeep was a Ford M151 from which, in a subsequent thrilling adventure, I was launched 100 feet into a rice paddy. Roadside witnesses described my flight as being like 007 James Bond in his Thunderball jet pack but spinning violently out of control. Underneath the Thai flag in the photo is my US Army ID. My name was read over Radio Hanoi (the closest big city) as a spy. Move along, Frodo.
Jim Martin '65
Rochester, New York
Please don't forget your brothers and sisters at the Eastman School of Music who also served in the Peace Corps. I was in Group Four (1964–66) and served as a music teacher at Maburaka Secondary School for Girls in Sierra Leone, which had a conductorless choir just waiting for the right volunteer. And my one-time locker-mate, Peter Salaff '63E, the renowned violinist of the Cleveland Quartet, delayed what would be a celebrated career to volunteer in Chile.
I found so much joy and inspiration from the African adolescent girls and their willingness to learn. They showed tremendous generosity of spirit, having come to the school with very little besides themselves and a desire to better their English, complete high school, and perhaps go on to higher education.
I have kept in touch for over 55 years both by phone and sometimes in person with one of those students who went to college in the US and subsequently became a citizen here.
My Peace Corps experience was definitely one of the best of my life. It made me see what was really important—both in terms of what it means to live in a true democracy and also doing without the materialism of American life. I wasn't sure I wanted to be a teacher when I left Eastman, but by the time my tour was up in Sierra Leone, I was sure of it.
Leigh Hamilton '64E
Winooski, Vermont
The story about the Peace Corps was a nice recollection of the service in the Peace Corps of many graduates of the U of R. I only wish the article had included mention of 1968 graduate Sandra Lee Taplin Smith among the early members of the Peace Corps noted in the introduction.
Sandy entered the Peace Corps after graduation with her husband, Fred Smith '67. After training, they were assigned to El Alto, Bolivia, about 13,000 feet above the city of La Paz. Tragically, she died there while helping with the construction of a school and instruction in sanitation and other projects.
She reportedly suffered a fatal brain injury brought on by work in the high altitude. Sandy's story is told in a virtual memorial to those who have died in service as Peace Corps Volunteers.
I had dated Sandy during my last two years at Rochester (1965–66). As an NROTC student, I was commissioned in the Marine Corps and eventually served in Vietnam.
Sandy and I would go separate ways and into different kinds of service—Sandy's every bit as honorable as those of us who put on US military uniforms in those turbulent times.
Sandy too needs to be remembered.
Andres Vaart '66
Reston, Virginia
Thank you for acknowledging the Peace Corps' 60th anniversary. The quote from the former volunteer Dillon Banerjee, regarding the diplomatic effectiveness of the Peace Corps, was captured in a quip from the Guatemala country director who swore us in.
Roughly quoted (it was over 30 years ago): "Peace Corps is the smiley pin on the lapel of US foreign policy."
Great friends, foreign and domestic, were made during my service.
Curtis DeGasperi '83
Seattle, Washington
The writer was Peace Corps volunteer from 1988 to 1990.
I have always appreciated the articles in Rochester Review, including the article entitled "The Toughest Job They Ever Loved."
Unfortunately, I think there may have been an inadvertent insensitivity to racial bias. In several of the pictures, the U of R Peace Corps volunteer was identified, but it was never pointed out which individual was the volunteer. Rather than put in parentheses (far right), we are left to assume that the Caucasian individual was the U of R volunteer.
I am sure no slight was intended, but I think it is important to take extra precautions not to perpetuate inadvertent or unconscious bias.
Scott Wimer '76
Santa Monica, California
---
Inspiration of Stan Hattman
I was saddened to learn in the most recent issue of Stan Hattman's passing ("Those We Lost," Summer 2021). While the obituary spoke at length of Stan's scientific career, it really did not do justice to the impact that he had on the undergraduates at the University of Rochester.
Stan was a frequent presence at student events on the U of R campus. For many years, the University's catalog and brochure publications used a photo of Stan chatting with students on a basketball court. I recall that photo specifically because it was so emblematic of his interactions with undergraduates at the University.
I remember in particular that he was a strong advocate for the SUBS (Society of Undergraduate Biology Students) organization and attended many of the symposia, happy hours, and other events that we organized.
On a more personal note, Stan was my very first research mentor, and I spent summer 1987 and my senior year working in his laboratory, studying gene expression in bacteriophage Mu.
At the time, I really was not a very good bench scientist—even by undergraduate standards—but he clearly saw potential in me that I did not. He pushed me to apply to prestigious PhD programs that I really did not expect I would be able to get into and mentored me through the admission process.
He lightheartedly encouraged me to go to MIT, his alma mater. In the end, even though I had been accepted at MIT, I chose to attend Princeton, but Stan was still unreservedly supportive of my decision.
When I visited the U of R campus some years later, I poked my head into Stan's office unannounced. Even though I had not kept in touch, he instantly recognized me and was genuinely warm and enthusiastic to see me.
Stan's mentorship of me and his dedication to the U of R's students served as an inspiration to me during my own career in academia.
Gregory Hecht '88
Mullica Hill, New Jersey
The author is a professor emeritus in the Department of Biological Sciences at Rowan University.
---
A Capitol Affair
Eastman alumni took up the challenge of identifying members of the Eastman Philharmonia who took part in a run-out tour to Washington, DC, in 1961 ("Capitol Concert," Class Notes, Summer 2021). While in DC, members of the orchestra, led by then director Howard Hanson, posed for a photo with members of Rochester's Washington delegation.
Linda Snedden-Smith '63E, who along with her husband, Bruce Smith '62, is a retired member of the Detroit Symphony, wrote to say that the photo includes only 34 of the 81 members of the orchestra. "I remember many of the Philharmonia members there," she wrote. She spotted the late Hyacinth Tlucek '64E, Marie Koscak Pooler '63E, Dick Kilmer '62E, '64E (MM), Margaret Harnish '63E, '64E (MM), the late Byron Hanson '63E, '65E (MM), Larry Campbell '62E, the late Norm Schweikert '61E, Janice Musgrove '63E.
Laurence Gibson '63E, '64E (MM) wrote to say he didn't make the trip, but he put names to faces for many of his classmates who did:
"Top row from left: John Landis '62E, John Hamilton '61E, '63E (MM), Byron Hanson '63E, '65E (MM), David Cowley '63E, Carter Enyeart '64E, Monte Hoffman '64E. Skip over the next three, then Richard Kilmer '61E, '64E (MM). Second from right is staffer Bob Sattler.
"Middle row, to right of Senator Kenneth Keating is Barbara Haffner '63E.
"Bottom row, second from left is Mary Greer '61E, '63E (MM), fourth is Sandra Flesher '60E, '66E (MM), and far right is Hyacinth Tlucek '64E."
"Keep the print coming," Laurence writes.
---
Which Hall of Fame?
In a short biography of Jeremy Glick '93, one of the Rochester alumni who died in the September 11, 2001, terrorist attacks, we should have made clear that Glick was inducted into a Jewish Sports Hall of Fame administered by Jewish communities in the Rochester metropolitan area. The hall is not maintained by the University.
—Scott Hauser
Review welcomes letters and will print them as space permits. Letters may be edited for brevity and clarity. Unsigned letters cannot be used. Send letters to Rochester Review, 22 Wallis Hall, Box 270044, University of Rochester, Rochester, NY 14627-0044; rochev (at) rochdester (dot) edu.