United Way of Greater Rochester
Built Together. Built Strong.
The University of Rochester's 2021 United Way Campaign
The University of Rochester's annual United Way Campaign supports the greater Rochester area by providing health services, educational support, and economic mobility to our most vulnerable populations. Explore this website to learn more about the 2021 United Way Campaign and see how you can pledge your support.
Leadership message
Message from President Sarah Mangelsdorf
In this message to the University community, President Sarah Mangelsdorf offers her perspective on why it is important to support the United Way's vital mission—particularly this year—and how your contributions can make an impact.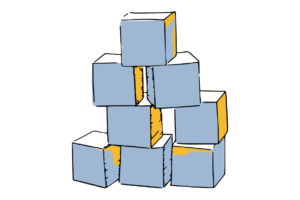 #URUnited
Spread the word
Be a part of building something greater. Check out our social toolkit, which includes Zoom backgrounds, Instagram squares, Facebook cover photos, and more. Be sure to use #URUnited to join the conversation.
a note from Campaign Chair
Elizabeth Stauderman
Dear colleagues,
It is an honor to once again serve as chair of the University of Rochester Workplace United Way Campaign. I have seen first-hand how the programs and services supported by United Way make a difference in our community. This year, the impact of the COVID pandemic has made our neighbors' needs greater than ever, so this campaign is more important than ever. And even as the University continues to navigate these very challenging times, supporting our community through United Way remains a priority.
If you already support the campaign, please accept my sincere thanks. This year, will you consider increasing your pledge – even if it's by $5 a pay period? The Continuous Pledge payroll option provides an easy and efficient method of giving and sign up is available online.
If you haven't supported the United Way in the past, please consider making an investment of any size. Five dollars or five hundred: every contribution matters to a neighbor or co-worker in need. Every contribution makes our community better.
Thank you for consideration – and for your support,
Elizabeth Stauderman
Vice President for Communications
video message to the University community
"You continue to inspire. You continue to innovate. You continue to take care of our community at a scale we could never have imagined."—Jaime Saunders, President and CEO of United Way of Greater Rochester
Watch this video message directed to the University community. A captioned version is available on YouTube, or download the video transcript.