Attention: The indoor tennis courts are currently closed for resurfacing and will reopen on May 30. Outdoor courts are available for use during this time. 
POOL CLOSURE: The Aquatic Center is closed for annual maintenance. The pool will reopen on Wednesday May 31.
Attention: The Goergen Athletic Center will be closed Memorial Day Weekend (May 27-29)
R Club- Goergen Athletic Center Membership
All faculty, staff, alumni, friends of the University and part-time students are welcome to join the facility membership program, The R Club, at any time throughout the year. Membership fees include access to all of our facilities, including fitness classes, private or group tennis and squash lessons (additional fee), and participation in our club sports programs. There is something for everyone to enjoy!
Membership Benefits
Membership Rates
How to Join
Payroll Deduction
Locker Rentals
Fitness Center Orientation
Contact Us
Feedback? Let us know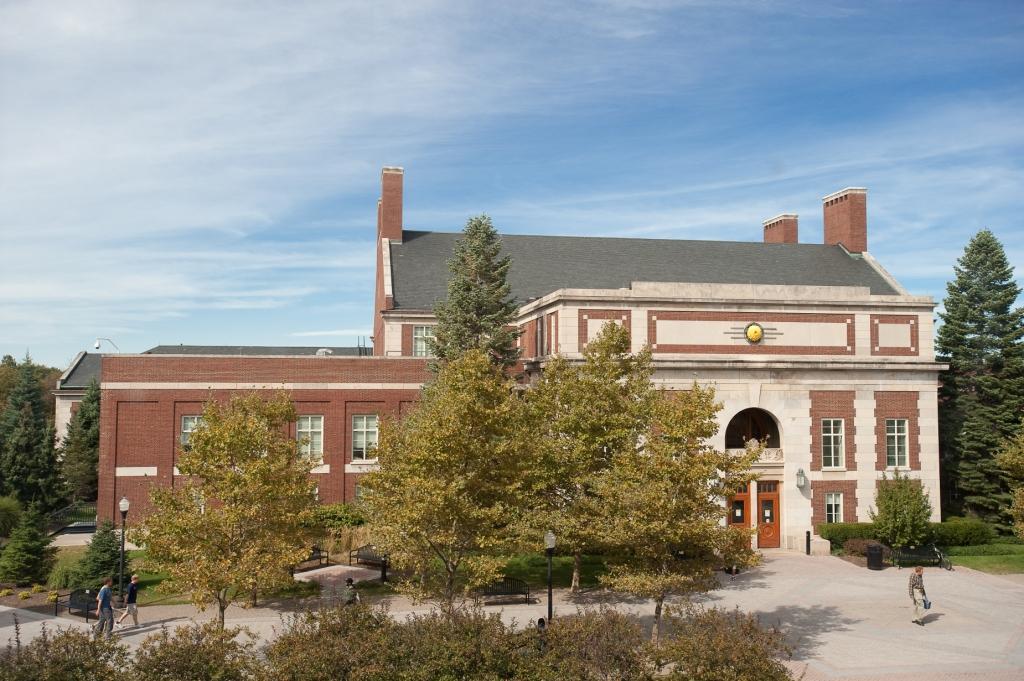 Membership Benefits
Friendly knowledgeable staff
Variety of Fitness and Wellness options for everyone
Wide range of facility hours
Bloch Fitness Center including 14-Octane elliptical, 12-Precor treadmills, 10-Lifefitness bikes, 3-Lifefitness steppers, 2-AMT, 4 Arc Trainers, 2-Concept II Rowers, 4-Expresso Virtual Reality bikes, 1-Stairclimber, 2-set weight lifting circuits, over 10,000 lbs. of free weights and cardio-theater
Speegle-Wilbraham Aquatic Center
Indoor/outdoor tennis courts
Squash and Racquetball Courts
3-Full size multi-use recreational courts
Field House with 200 meter track
Fitness Classes
Intramural Sports
Eligible for Masters Swim program, tennis/squash lessons (fee) and Club Sports (fee)
Locker rental with towel service (fee)
Guest pass for one day an R-Club member must accompany guest during visit
(top) 
2016 - 2017 Annual Membership 
(Rates effective July 1, 2016)
Category

Primary
Member 

Secondary
Member 
Full-Time UR Student
$0
$128
Faculty/Staff 
Part-time Student 
UR Alumni
$242
$128
Retired Faculty/Staff
$125
$60
Friend of University
$475
$265
Parent of a full-time student: $242
Summer 2017 Memberships:
Eligibility Requirements: UR Faculty/Staff, UR Visiting Students/Scholars, UR Summer Program Members,
Current University Students at Home for the Summer (with valid ID)
Summer Pass (May 1st – September 1st only)…………..$100.00
Summer 1 Month…………………………………………………….$30.00
Summer 1 Week……………………………………………………...$15.00
Annual Rate Memberships (Full Amount) expire one year from the date of purchase.
Annual Rate Membership (Full Amount) fees are not eligible to be prorated or reimbursed.
To activate the R Club membership all members must have a Statement of Risk on file and a valid University of Rochester ID card.  If you do not have a Statement of Risk an/or a UR ID card, you may not be allowed into the Goergen Athletic Center.
Any additional secondary member must be a spouse, partner or a dependent under age of 22 years.
Payments are accepted in cash, credit card (MasterCard or VISA,) by check (payable to the University of Rochester R Club) or by payroll deduction (see below.) 
Separation from the University will result in the termination of your membership. If you are no longer affiliated with the University, you have the option of re-joining as a Friend of the University.
Failure to comply with University of Rochester or Goergen Athletic Center policies may result in the suspension or termination of your R Club membership.
To cancel or to change your membership information, please contact the Membership Office at (585) 275-6277 or rclub@sports.rochester.edu
(top) 
How to Join
Payment with cash, credit, or check: Please stop by the Robert B. Goergen Athletic Center front desk to fill out a membership application and process payment. You can also download the application ahead of time (PDF) and bring it with you to the front desk.  
Payment with Payroll Deduct: Complete the registration process online by completing this form (FORM). You may also stop by the GAC front desk to sign up. Please note, the online registration form is for primary memberships only. If you would like to add a secondary member or locker, please stop by the front desk.
(top) 
Payroll Deduction Payment Option
Payroll Deduction for membership fees is available to all UR employees. Payroll deduction may include a locker. Once payroll deduction is initiated it is the responsibility of the employee to notify the R Club office to make any changes to the deduction. You are able to cancel the payroll deduction at any time.
Separation from the University will result in the termination of your membership. If you are no longer affiliated with the University, you have the option of re-joining as a Friend of the University.
The following is a breakdown of the payroll deduction schedule:
(Rates effective July 1, 2016)
Deduction Category
Yearly Rate
Monthly
Semi-Monthly/Bi-Weekly
Hourly
Primary Member
$242.00
$20.17
$10.08
Primary Member + Full Locker
$292.00
$24.33
$12.17
Primary Member + Half Locker
$282.00
$23.50
$11.75
Primary Member + Secondary Member
$370.00
$30.83
$15.42
Pri. Mem. + Sec. Mem. + Full Locker
$420.00
$35.00
$17.50
Pri. Mem. + Sec. Mem. + Half Locker
$410.00
$34.16
$17.08
Pri. Mem. + Sec. Mem. + 2 Full Locker
$470.00
$39.17
$19.58
Pri. Mem. + Sec. Mem. + 2 Half Locker
$450.00
$37.50
$18.75
Pri. Mem. + Sec. Mem. + 1 Full + 1 Half
$460.00
$38.33
$19.17
(top)
Locker Rentals
Annual Rental: Facility users may rent a locker for year use. There are two locker rooms: the Hajim Alumni Gym or the Goergen Athletic Center. The former is located adjacent to the Bloch Fitness Center and the latter is located in close proximity to the Speegle-Wilbraham pool. Locker rentals are accepted at the Front Desk.
Day Use: A limited number of lockers are available in the hallways for one-day-only use. These lockers can be secured by personal locks. Any items left in these lockers overnight, including personal locks, will be removed. The Department of Athletics and Recreation does not assume responsibility for items left in any lockers.
Locker Rental Fees (One year rental with towel service):
| | | |
| --- | --- | --- |
| Locker Size | Annual | Semester |
| Full-size | $50 | $30 |
| Half-size | $40 | $25 |
(top)
A free fitness center orientation is offered for R Club members and new students. This program introduces you to our facilities and work out equipment. More info on the program and how to sign up can be found here.
Instructional videos for the Bike, Octane, Seated Octane, Treadmill and Rower can be found on the Fitness Center Video Page.
Questions, comments or suggestions contact:
Front Desk: 585-275-7643
Rclub@sports.rochester.edu
Wendy Andreatta, Assistant Director, 585-275-4274
Ladi Iya, Assistant Director, 585-275-9461
Kristine Shanley, Associate Director, 585-275-6277
Anna Dounce, Secretary, 585-275-9480 
Robert B. Goergen Athletic Center
Rochester, NY 14627
(top)


 Like us on Facebook to get updates on R Club Activities!