New Book Explores the Consequences of English as the Dominant Language in Global Academic Journal Publishing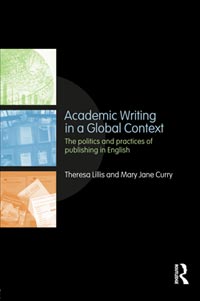 Global Status of English has Implications on the Practices of Scholars Worldwide
As the academic world becomes increasingly globalized, English has emerged as the default international language in academic publishing in many fields. According to Mary Jane Curry, an associate professor at the University of Rochester's Warner School of Education, this growing dominance of English has put scholars from non-English speaking countries at a disadvantage to publish and share research across borders.
Her new book, Academic Writing in a Global Context: The Politics and Practices of Publishing in English (Routledge, 2010), which she co-wrote with Theresa Lillis, a senior lecturer in language and communication at The Open University in the United Kingdom, delves into the pressures on academics worldwide to produce their work in English and the growing use of academic English. Throughout the book, the authors contribute to debates and understandings about the broader practices and politics surrounding academic writing in a global context.
Suresh Canagarajah, the William J. and Catherine Craig Kirby Professor in Language Learning at Pennsylvania State University, says this book takes the exploration of academic writing and publishing in new directions. "Through their research, the authors have provided rich experiences into the way texts are shaped, who is involved in the process, and where this happens," he explains.
The book draws on an eight-year longitudinal study that tracks the text production, practices, and experiences of fifty scholars, who are working in the fields of education and psychology in southern and central Europe, using English in the academic world. Curry and Lillis explore the effects of the dominance of English on these scholars who work and live in contexts where English is not the official or dominant means of communication.
The study, the first longitudinal ethnographic investigation to focus on the 'expanding circle' of users of English as an additional language, shows that while scholars experience growing institutional and governmental pressures to publish in English, and to do so as broadly as possible and in journals having high-impact factors, they often lack the resources and support to meet these challenges.
Curry and Lillis's research demonstrates that writing is not as much of a barrier as are the social aspects of the publication process. For example, a key to scholars' success in publishing in English entails more than a direct translation of academic writing. Rather, it's about gaining access to networks and literacy brokers, who are people such as journal editors and peer reviewers as well as disciplinary and language specialists who may help at various points in the trajectory of writing and publishing research.
The scholars participating in this study do not always have the financial means to attend conferences, collaborate on research, and access other resources. They also often struggle to find the extra time needed to write in English. In addition to these limitations, which hinder scholars' ability to publish in English, the global research community at large suffers by not receiving their research findings, insights, and methodologies.
The study also shows that scholars are not giving up publishing in their own language, and in some cases publishing in different languages, so they have a dual burden for publishing in English and their local language, which creates more than double the work for them. While English has in most cases not replaced scholars' publication activity in local language, it does influence what happens on a local context. Privileging English has been shown to have a detrimental effect on the evolution of local language and research cultures.
"We hope this book will help to raise awareness among scholars in both English speaking countries and other contexts that there's no such thing as simply publishing in English," says Curry. "It's not a straightforward process; it's about realizing that scholars from non-English speaking countries are facing growing demands and barriers in publishing in English. We need to move more toward an academic utopia where we are less focused on numbers and more focused on providing access and support appropriately so that information can be shared across borders, for the benefit of other scholars and the public."
Academic Writing in a Global Context will appeal to anyone with an interest in English language teaching, academic literacies, World Englishes, and language and globalization.
A former book editor, Curry received her Ph.D. in curriculum and instruction from the University of Wisconsin. She has recently published articles, reviews, and book chapters on teaching English as an additional language, the experiences of immigrant students learning English writing at the community college, and other research in second language literacy. Prior to working in higher education, she taught English and writing to immigrant workers, international students, and non-traditional students in Boston, Costa Rica, and Madison, Wis.
About the Warner School of Education
Founded in 1958, the University of Rochester's Warner School of Education offers master's and doctoral degree programs in teaching and curriculum, school leadership, higher education, counseling, human development, and educational policy. The Warner School of Education is recognized both regionally and nationally for its tradition of preparing practitioners and researchers to become leaders and agents of change in schools, universities, and community agencies; generating and disseminating research; and actively participating in education reform.