University of Rochester Scholar Explores Cultural Legacy of Michael Jackson (Japanese Version)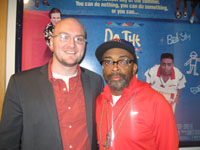 Controversy and scandal marred Michael Jackson's reputation as the most influential entertainer of all time, however a new book about the King of Pop is designed to change that.
"I wanted to help shift the discussion back to what made him famous in the first place, which is his music," said Joseph Vogel, a doctoral candidate in the University of Rochester's English Department and author of Man in the Music: The Creative Life and Work of Michael Jackson (Sterling Press, 2011).
The book assesses Jackson's solo catalog from the 1979 album Off the Wall to the music he created before his death in 2009. In order to understand the creative process behind each song and how the albums were created, Vogel drew on hundreds of sources, including archives from Jackson's estate, Jackson's own words, and interviews with his collaborators— some of whom are speaking out about their experiences for the first time.
In addition to receiving positive reviews in the national media, the book caught the attention of film director Spike Lee, who wrote:
"Mr. Joe Vogel has brilliantly cracked the DNA, the code of the work, the artistry of Michael Joseph Jackson. I want to stress the word 'artistry' because people have forgotten or never understood that's what MJ is, that's what he worked at day and night. This is the book I have been long awaiting — a pointed, intelligent dissection of an epic body of work. Mr. Joe Vogel breaks it down album by album, song by song."
Lee reached out to Vogel after reading his book to offer his support and invite him to speak to students in his graduate film class at New York University. Vogel also has received positive feedback from scholars who plan to use the material in courses that look at popular culture, African American studies, and music.
"I've always been fascinated with Michael Jackson's music and given his cultural impact it is remarkable how little information about his body of work is available," said Vogel, who categorizes most current literature about Jackson as fan adulation or tabloid "tell-alls."
Vogel began writing the book during Jackson's 2005 trial on child molestation and other charges, when speculation about Jackson's guilt was used to ridicule everything from his appearance to his children. Jackson was later acquitted of all charges.
"The book started as a way for me to use my literary background to analyze his songs, but after his death especially it also became a way to document history by putting the music in context and learning about the creative process," said Vogel, who describes the book as a "hybrid between popular reading and scholarly research."
Vogel writes about music, popular culture, and politics for The Huffington Post and is the author of three books, including a memoir, Free Speech 101: The Utah Valley Uproar over Michael Moore (WindRiver Publishing, 2004) and The Obama Movement: Why Barack Obama Speaks to America's Youth (Silverton House, 2007). He is an instructor in the University's writing program and a fourth-year doctoral candidate studying 20th century American literature, popular music and culture, and romanticism.