Springing to Life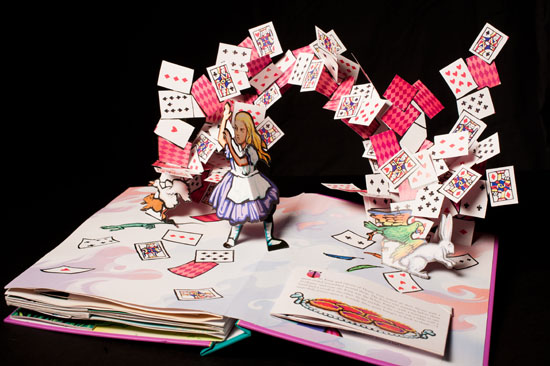 University of Rochester Showcases Pop-up and Movable Books from the 16th Century to Today
From intricate twirling wheels for calculating planetary movement to colorful paper sculptures that blossom forth from the page, more than 50 movable and pop-up books are on display in the University of Rochester's exhibit Springing to Life: Movable Books and Mechanical Devices.
Open through August in the Department of Rare Books and Special Collections of Rush Rhees Library, the exhibition provides a tour of the centuries-old movable book as it has developed through the ages and offers a hands-on experience with reproductions that visitors can spin, pull, and lift.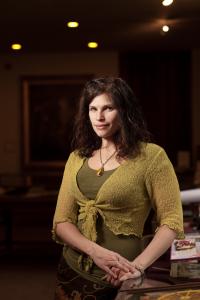 "Pop-up books are the perfect melding of art and history," says exhibit curator Leah Hamilton, collections manager for Rare Books. Published from 1540 to 2010, the interactive texts in the exhibit demonstrate how movable books were first used in religious works, then as children's books, and most recently as design showpieces.
Regardless of their intended purpose, each pop-up book is a creative feat of paper engineering, points out Hamilton. Each fold has to be carefully calculated and special papers, glues, rivets, and strings are often employed. Unlike stationary objects, these kinetic creations must fold open and shut over and over without tearing or crumpling. Before stronger papers were developed in the 1960s, many publishers included a warning to readers to use "care and caution" when manipulating the mechanical devices.
The exhibit, which is based on selections from the University's collections, begins with several books containing volvelles, circular discs of paper used to calculate scientific or mystical data. A reproduction of the German Astronomicum Caesareu, considered to be the most stunning movable book in history, includes volvelles to calculate the movement of planets and their moons.
Beginning in the 18th century, movable books became entertainment and commercial publishers introduced an ever-widening array of devices to animate their creations. Flap books called metamorphoses allowed readers to create amusing pictures by flipping through interchangeable images. Pull tabs, perfected by German paper artist Lothar Meggendorfer in the 1880s, allowed multiple parts of the page to move at once. Eventually "pop-up books," a term officially coined in 1932 by the Blue Ribbon Press, included multi-layered scenes, gate folds, peep shows, sound and light, and "self-erecting" structures.
The exhibit includes early examples of each of these innovations, plus stunning books from more recent decades. Vojtech Kubašta's How Columbus Discovered America published in 1961 boasts a sailing ship that rises 13 inches from its pages using paper and thread. Robert Sabuda's Alice's Adventures in Wonderland features a 3D rainbow of scattering cards over Alice's head.
The grand finale showcases winning designs from the Movable Book Society's annual international contest. Marion Bataille's delightful ABC3D, Matthew Reinhart's popular Star Wars Pop-Up Guide to the Gallery and David Carter's ingenious One Red Dot demonstrate that the art of paper engineering is more vibrant than ever.
For Hamilton, curating this exhibit was the perfect blending of her personal and professional passions. The preservation specialist has long been fascinated with bookmaking, paper, and art. Her undergraduate thesis at McGill University in Montreal focused on illuminated manuscripts from the Middle Ages, and as part of her job, she creates custom archival storage boxes for the library's treasures, such as Susan B. Anthony's tea cup. "I love paper. I love the way that it moves. I love how creative you can be with it," she says.
For the pop-up exhibit, she put those skills to use constructing oversized three-dimensional signage, movable reproductions, and even a pop-up element for the exhibit's comment book — so "people can play," she says.
After all, says Hamilton: "You may think pop-up books are geared toward children, but I find that adults get as much or more out of them than children do."
The exhibit runs through Aug. 17 and can be viewed in the Rare Books and Special Collections department on the second floor of Rush Rhees Library, Monday through Friday from 9 a.m. to 5 p.m., Saturday 11 a.m. to 3 p.m. For additional information, call 585-275-4477.