Steven Chu '70, Nobel Laureate and U.S. Secretary of Energy, to Address University of Rochester College Commencement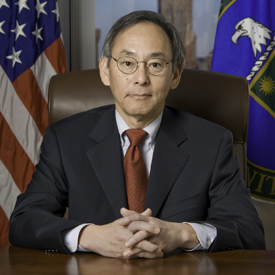 Steven Chu '70, Nobel laureate in physics and United States secretary of energy from 2008 to 2013, will deliver the 163rd College commencement address at the University of Rochester on Sunday, May 19.
"I am delighted to welcome back to campus distinguished alumnus Steven Chu," said University President Joel Seligman. "As one of our nation's leading scientists, Steve has devoted his talent and knowledge to making significant contributions to global energy solutions, and through his leadership and service has advanced our country's clean energy goals. His achievements are an inspiration to our students and his Commencement address will be enormously meaningful to our graduates and their families. His association with the University is a point of pride for the entire community."
At the ceremony, Chu will receive the George Eastman Medal, which recognizes outstanding achievement and dedicated service. The medal was created in honor of Eastman, one of the University's great benefactors and the founder of Eastman Kodak Company.
A member of the University's Board of Trustees from 1999-2009, Chu earned bachelor's degrees in mathematics and in physics from the University in 1970, and his doctorate in physics from the University of California, Berkeley in 1976. He is the recipient of 23 honorary degrees, including an honorary Doctor of Science from Rochester in 1998.
This month, Chu announced his intent to step down as U.S. energy secretary to "return to an academic life of teaching and research." He was appointed energy secretary by President Barack Obama in December 2008, selected to advance the president's ambitious agenda to invest in clean energy and job creation, reduce dependence on foreign oil, and address the global climate crisis.
He has devoted much of his scientific career to discovering solutions to energy and climate challenges. Prior to his appointment as energy secretary, Chu was director of the Department of Energy's Lawrence Berkeley National Lab, where he led the lab in pursuit of alternative and renewable energy technologies.
"I am thrilled that Steve has accepted our invitation to deliver the Commencement keynote address," said Richard Feldman, dean of the College. "His distinguished career is uniquely marked by both groundbreaking research and national leadership that has put us on a path forward toward sustainable energy. As an engaged alumnus of the College, he continues to be an inspiration to our students and community."
During the University's 2006 Meliora Weekend, Chu headed a panel of international climate and energy experts to discuss the future of the world's energy needs, the environmental and economic effects of energy development, and the prospects for sustainable energy.
In 2009, Chu returned to campus to deliver the Meliora Weekend keynote address, during which he spoke about the need to address global climate change.
Chu is co-winner of the 1997 Nobel Prize, with Claude Cohen-Tannoudji and William Daniel Phillips, for development of methods to cool and trap atoms with laser light. His research in atomic physics, quantum electronics, polymer and biophysics includes tests of fundamental theories in physics, atom interferometry, and the study of polymers and biological systems at the single molecule level. In addition to the Nobel Prize, Chu was awarded the Science for Art Prize, Herbert Broida Prize for Spectroscopy, Richtmeyer Memorial Prize Lecturer, King Faisal International Prize for Science (co-winner), Arthur Schawlow Prize for Laser Science, and William Meggers Award for Laser Spectroscopy.
He has taught at the University of California, Berkeley as a professor of physics and professor of molecular and cell biology, and held positions at Stanford University and AT&T Bell Laboratories. While at Stanford, he helped start Bio-X, a multi-disciplinary initiative that brings together the physical and biological sciences with engineering and medicine, in benefit of human health.
Chu is a member of numerous honor societies, including the National Academy of Sciences, the American Philosophical Society, the Royal Academy of Engineering, the Academia Sinica, and the Korean Academy of Sciences and Technology, and is an honorary member of the Institute of Physics, the Chinese Academy of Sciences, and a Lifetime Member of the Optical Society of America.
Additional information about University commencement ceremonies and related activities is available at www.rochester.edu/commencement/.