Charles and Dale Phelps Endow Professorship in Public Health and Policy
Theodore Brown, Professor of History and Public Health Sciences, Named First Recipient
Charles (Chuck) Phelps, Ph.D., University Professor and provost emeritus of the University of Rochester, and his wife, Dale Phelps, M.D., professor and former chief of the Medical Center's neonatology division in the Department of Pediatrics, have established a $1.5 million endowment for a professorship in health care policy and public health. Theodore (Ted) Brown, professor of history, public health sciences, and medical humanities at the University, is the first to hold the honor. Brown will be installed in the new position during a public ceremony on April 24 at 4 p.m. in the Hawkins-Carlson room of Rush Rhees Library.
"This is a deeply meaningful gift," said University President Joel Seligman. "Few other couples have been as immersed in the life of the University or have served the institution in as many capacities as have Chuck and Dale. They also have devoted their entire professional careers to the field of health care and are both recognized nationally and internationally for their scholarly achievements. This generous support for ongoing teaching about and research into our nation's health delivery system will address an issue not only near to their hearts, but one that is also vital to the country."
Chuck Phelps

After meeting as undergraduates at Pomona College in Claremont, Calif., Chuck and Dale Phelps completed doctoral and medical degrees at the University of Chicago and Northwestern University in Chicago, respectively. The couple joined the University in 1984. Initially a professor of political science and economics, Chuck Phelps held a variety of leadership positions in his nearly three decades at Rochester, including director of the public policy analysis program and chair of the Department of Community and Preventive Medicine (now the Department of Public Health Sciences) in the School of Medicine and Dentistry. He was elected into the Institute of Medicine of the National Academy of Sciences and as a fellow of the National Bureau of Economic Research, both in 1991.
In 1994, he was selected as provost, a position he held for 13 years. "It was a big change from being a professor to being the chief academic officer," he said. "The position completely altered my vision about the University." As provost, he gained a "greater perspective for the bigger picture" and worked to share that broader view with colleagues. To bring faculty together across disciplines, he instituted a regular series of lecture and lunch gatherings, initially known as "Lunch with the Provost," featuring faculty from across the University speaking about their passions in research. The popular gatherings continue today as the Phelps Colloquium.
Since retiring as provost in 2007, he has published the book Eight Questions You Should Ask About Our Health Care System: (Even if the Answers Make You Sick), maintained an active health economics consulting practice, served on two committees for the Institute of Medicine, and chaired the committee that helped to create new undergraduate majors in public health at Rochester. He continues as the author of Health Economics, now in its fifth edition (2012), a textbook he developed while teaching at the University. The book is recognized as the "gold standard" among textbooks about health economics and health policy.
Dale Phelps

A professor of pediatrics, Dale Phelps is a recognized expert in the study of retinopathy of prematurity, a disease of the eye that affects premature babies in intensive neonatal care and, in severe cases, can cause blindness. She is the primary author on 114 research papers, a contributor to 37 other published studies, and the principal investigator on four National Institutes of Health (NIH) grants. In 2010, her lifetime of achievement for contributions to preventing and treating retinopathy in premature babies was recognized with a Landmark Award by the American Academy of Pediatrics Perinatal Section. Currently, Dale Phelps is the principal investigator of a large NIH-funded multi-center randomized trial studying the effects of an important compound's ability to reduce retinopathy in premature infants.
Like her husband, Dale Phelps also took on leadership roles at the University. From 1989 through 2000, she served as neonatology division chief in the School of Medicine and Dentistry, while continuing her research and clinical care of sick newborns. She now encourages younger colleagues to "consider moving up the ladder in terms of leadership."
The couple endowed the Charles E. and Dale L. Phelps Professorship in Public Health and Policy to help attract and retain talented faculty and enhance the quality of teaching and scholarship. "We hope it will serve as a magnet for really bright people," said Chuck Phelps. The named position carries a five-year term, going to the strongest candidate nominated from among Arts, Sciences, and Engineering, the School of Medicine and Dentistry, and the William E. Simon School of Business, encouraging a multidisciplinary approach to the study of health care. The gift supports The Meliora Challenge: The Campaign for the University of Rochester, a University-wide fundraising campaign that was launched in October 2011 and runs through June 30, 2016 (campaign.rochester.edu).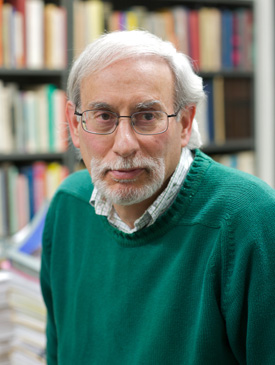 Ted Brown

Ted Brown, the first Phelps Professor, is a historian of medicine, public health, and health policy at Rochester, with appointments in history, public health sciences, and medical humanities. Brown joined the Rochester faculty in 1977, after completing both a master's and a doctorate in the history and philosophy of science from Princeton University and postdoctoral training in the history of medicine and public health at Johns Hopkins University.
The author or co-author of seven books, Brown's research interests cover a range of 20th century health topics, including the history of American psychosomatic medicine and stress research, and the influence of organized philanthropy in medicine and health policy. Brown is currently completing two books: U.S. Health Internationalists, Abroad and at Home, co-edited with Anne-Emanuelle Birn, and A History of the World Health Organization in the Context of Global Health, co-authored with Marcos Cueto and Elizabeth Fee. In 2012 he co-authored The Quest for Health Reform, a political cartoon history of health care reform.
Brown is currently editor of the book series Rochester Studies in Medical History, published by the University of Rochester Press, and he is a contributing editor for the American Journal of Public Health, where he was named "Reviewer of the Year" in 2009. His work has been supported by the NIH and he is a visiting curator for the National Library of Medicine in Bethesda, Md. At Rochester, Brown has led the Department of History and the Health and Society Program.
Chuck Phelps was delighted to learn that his former colleague was chosen by the University for the Phelps Professorship. For many years, he and Brown were both members of the Department of Community and Preventive Medicine, as well as having faculty appointments together in the College of Arts, Science and Engineering. During that time, students often asked both men to publicly debate health care policy, seeking a lively and well-informed debate about important contemporary issues. Phelps, the economist, emphasized a conservative perspective that proper market incentives would yield a better health delivery system; Brown, the historian, advocated for the liberal argument that single-payer models have proven more effective in most industrialized nations.
"I sometimes disagree with Ted on the details of health policy—about the best way to 'get there'—but we pretty much share the same vision for a better health care system, and I admire him hugely for the quality of his thinking," said Phelps. "He is a real luminary in the field of public health." Phelps added that the University's choice of Brown for this honor "makes it crystal clear that universities fulfill their missions best when they encourage thoughtful debate, rather than seeking unanimity among faculty about important issues of our times."