President Seligman Announces Named Hall at Eastman School to Honor Memory of Dean Emeritus Douglas Lowry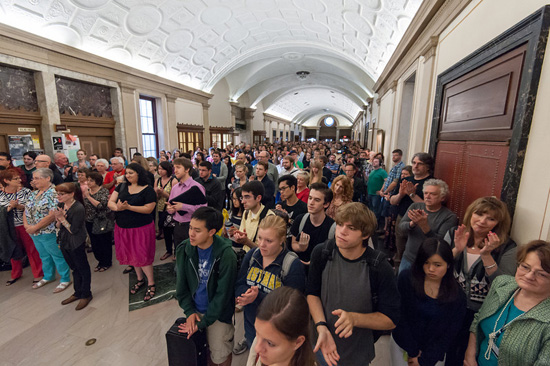 University of Rochester President Joel Seligman announced that the Eastman School of Music's Main Hall will be named Lowry Hall, to honor Douglas Lowry, the Joan and Martin Messinger Dean Emeritus, who died on Wednesday, Oct. 2, at age 62.
With approval of the University Board of Trustees, Seligman made the announcement at a Wednesday gathering in the Main Hall where students, colleagues and friends paid tribute to Lowry, upon hearing the news of his passing.
The Main Hall separates the School of Music's classrooms and performance space from the Eastman Theatre. For the Eastman community, this is the heart of the School.
"The Main Hall is where the annual Holiday Sing is held, and for Doug, who was both a dean and faculty member, as well as a performer, it bridges his two worlds and will be an appropriate way to recognize his consequential years as dean," said Seligman.
To read more about Lowry's life and leadership at the Eastman School, visit http://www.esm.rochester.edu/news/2013/10/university-mourns-the-loss-of-eastman-school-dean-emeritus-douglas-lowry.