Sara Miller
Sara Miller serves as public information coordinator/spokesperson for the University.
Sara Miller's Latest Posts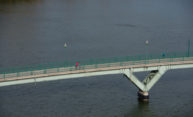 National statistics show a definite link between the hot weather months and increasing crime rates. The Department of Public Safety provides members of the University community timely tips to help prevent victimization.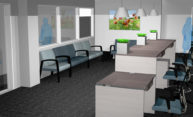 The new offices will have an entrance off of Celebration Drive. After the move, which is scheduled for the fall semester, ISO Student Services will hold River Campus and Eastman School of Music office hours to maintain accessibility to students.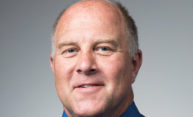 In this new leadership role with the Office for Global Engagement, Cary Jensen will provide broader support to the University's international populations amid the current shifting national policies affecting them.
Rochester jumped three spots to number 61 on this year's top 100 rankings from the National Academy of Inventors and the Intellectual Property Owners Association.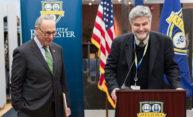 This Senate bill must now be reconciled with the House of Representatives' bill, which included $68 million for LLE. Both bills reject the Administration's budget request to cut the Lab's FY19 funding dramatically and to phase out of all federal support for LLE in three years.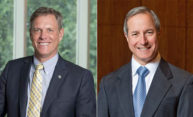 Andrew Ainslie has led strategic curriculum and recruitment changes at Simon School, and expanded the undergraduate business program. Jamal Rossi is recognized for increased faculty recruitment, building partnerships and spurring innovation in Eastman's music programs.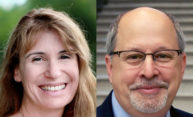 University President Richard Feldman said, "Joe Abrams and Liz Bruno are already engaged with important efforts at the University, and I look forward to working more closely with them in the future."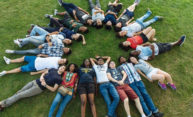 Upperclass volunteer mentors begin reaching out to new international students the summer their arrival in Rochester, and serve as a resource regarding U.S. culture and academics during their first year.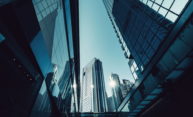 The University was selected as the "Most Proactive University Career Services Team" by the Global University China Career Union (GUCCU) and Lockin China. This award recognizes active cooperation with Chinese enterprises through strong job-seeking initiatives.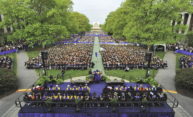 Awards for outstanding contributions of distinguished leaders, educators and humanitarians will be presented at the 168th Commencement ceremonies on May 18, 19, and 20, and at the Simon Business School ceremony on June 10.