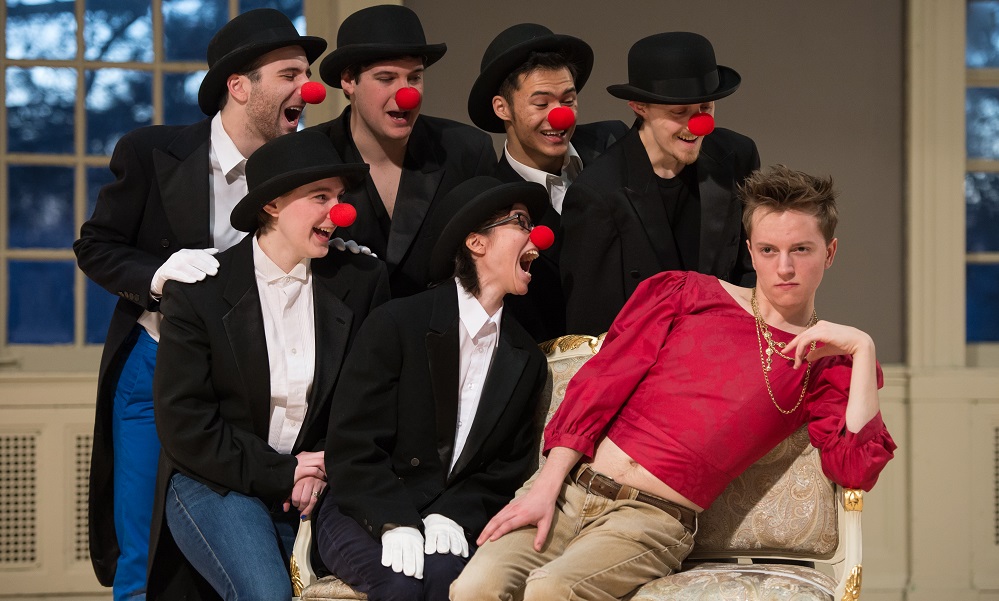 Shakespeare's play The Taming of the Shrew is often criticized for its portrayal of women as weak and submissive. But on Thursday, April 9, the University of Rochester's International Theatre Program will present a new take on the classic comedy in a production performed by a largely male cast.
"This adaptation looks at the play through a post-feminist lens to examine the way the characters play the roles society imposes on them," says Nigel Maister, the Russell and Ruth Peck Artistic Director of the International Theatre Program. "This liberates the characters to explore the choices they make and to transcend gender constrictions."
In the play, the infamous town shrew, strong-minded and independent Katherine, is not at all like her younger sister Bianca. When Lucentio, an easily distracted and whimsical young student, becomes the third suitor for the stunning but off-limits Bianca, a race ensues to find a match for Katherine. As internal conflicts and external forces continue to weigh on her spirit, Katherine must choose to either find her place in society or make a place of her own.
Directed by award-winning guest artist Matthew Earnest, the show promises a new exploration of a beloved and familiar comedy. "Matthew brings a deeply imbued spirit of play and a masterful theatricality to the work he does with students," says Maister.
Earnest is the founding artistic director of the touring company "deep ellum ensemble" and the cofounder of The Lunar Stratagem, a company that only produces his original works. He has served as a guest artist at Germany's English Theater Berlin and he directs and teaches students at a number of universities across the country. Earnest is a Drama League directing fellow and has received numerous awards, including the New York Times Critic's Pick, and the Audience Favorite award at the Dublin Fringe Festival.
Earnest is joined by set and costume designer William Bezek, a freelance artist and designer with nearly three decades of experience in various art forms. Lighting design is by Kyle Grant, whose credits include the Juilliard School of Drama, the Martha Graham Dance Company, and the American College Theater Festival in Washington, D.C. Sound design and original music is by Anthony Narciso.
The Taming of the Shrew runs Thursday, April 9, through Saturday, April 11; Wednesday, April 15, through Saturday, April 18; Wednesday, April 22 through Saturday, April 25. The shows begin at 8 p.m., except for three matinée performances on Sunday, April 12, Saturday, April 18, and Saturday, April 25th at 2 p.m., and the show's final performance on Saturday, April 25, which begins at 7 p.m. Tickets are $8 for UR students; $12 for UR alumni, faculty and staff, and for seniors (65+); and $15 for the general public. All performances take place in Todd Theater, located in the Todd Union building on the River Campus. Tickets can be purchased online at www.rochester.edu/theatre or by calling 585.275.4088. Tickets may also be purchased at the box office up to an hour before each performance.
Category: The Arts