The University of Rochester's 164th commencement ceremonies will recognize the outstanding contributions of distinguished leaders and scholars who will receive honorary degrees, Hutchison Medals for exemplary service, and awards for scholarship and teaching. Ceremonies will be held on May 16, 17, and 18, with the Simon Business School commencement on June 8.
2014 University Honorary Degrees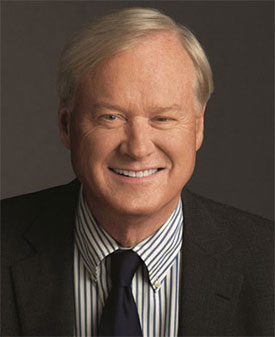 Chris Matthews, host of MSNBC's nightly talk show, Hardball with Chris Matthews, will receive an honorary doctor of letters degree and deliver the College's commencement address on May 18.
Matthews is a political news commentator who has followed politics since the first Eisenhower campaign. He began his career on television in 1994 as host of a two-hour nightly program on the NBC-owned America's Talking network. Three years later, he launched Hardball, which was the title of his bestselling book on real-life politics published in 1988. He has been on the air every weeknight since.
Early in his career, Matthews worked in the U.S. Senate for Senator Frank Moss of Utah and Senator Edmund Muskie of Maine after serving in the Peace Corps in Swaziland as a trade advisor. He worked as a presidential speechwriter in the White House before serving as top aide to legendary Speaker of the House Tip O'Neill Jr. Matthews worked in print media for 15 years, spending more than a decade as Washington, D.C. bureau chief for the San Francisco Examiner and two years as a nationally syndicated columnist for the San Francisco Chronicle. He covered the fall of the Berlin Wall, the first all-races election in South Africa, and the Good Friday Peace Talks in Northern Ireland.
He is the author of seven bestselling books: Jack Kennedy: Elusive Hero; Hardball: How Politics is Played, Told by One Who Knows the Game; Kennedy & Nixon: The Rivalry that Shaped Post-war America; Now, Let Me Tell You What I Really Think; American: Beyond our Grandest Notions; and Life's a Campaign. His most recent bestselling book, Tip and The Gipper: When Politics Worked, is a personal history of a time when two great political opponents served together for the benefit of the country.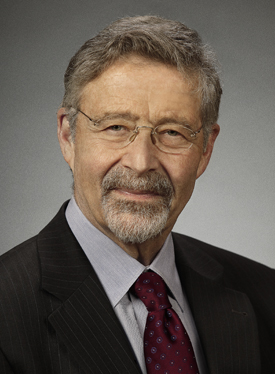 Barry M. Meyer '64, longtime Warner Bros. Entertainment executive and founder and chairman of North Ten Mile Associates, will receive an honorary doctor of laws degree.
Before his current position at North Ten Mile Associates—a strategic consultancy firm specializing in the entertainment industry—Meyer spent 42 years at Warner Bros., most recently as chairman. For nearly 14 years, he served as chairman and CEO, leading one of the most successful collections of entertainment brands and companies in the world.
Under Meyer's leadership, Warner Bros. consistently ranked as one of the strongest and best-positioned studios in the industry. As the studio embraced new distribution platforms, technologies and opportunities, Meyer successfully led the company's efforts to create new business models to fit emerging consumer demands. Warner Bros.' three major businesses—television, motion pictures, and home entertainment—operated as category leaders throughout Meyer's tenure.
A recognized leader in the entertainment industry, Meyer often serves as key adviser on industry-wide production, labor and regulatory issues. He is a former member of the board of councilors of the USC School of Cinematic Arts; a member of the board of directors of the Motion Picture Association of America; a board member of the Paley Center for Media; a member of the Academy of Motion Picture Arts & Sciences; and a member of the international board of the Hollywood Radio and Television Society. He is also involved in numerous charitable and civic activities, including serving on the board of the Human Rights Watch, and on the advisory board of the Smithsonian.
A life trustee of the University, in 2004 Meyer delivered the College commencement address and received the Hutchison Medal, the highest award presented to alumni for their career achievements and service.
Charles Force Hutchison and Marjorie Smith Hutchison Medal
The Charles Force Hutchison and Marjorie Smith Hutchison Medal recognizes alumni for outstanding achievement and notable service.
Harriet Kitzman '61W (MS), '84N (Ph.D.) is a nurse and internationally renowned scientist who has demonstrated the value of early and sustained home-based nursing intervention for high-risk mothers and their children.
She is professor of nursing and pediatrics at the University of Rochester and serves as senior associate dean for research, as well as director of the Center for Research Implementation and Translation. She has held the Loretta C. Ford Professorship during her 45 year service to the University.
In research conducted over nearly three decades, Kitzman has shown that nurse home visitation supports the development of infants and children who are at risk. Focused on the economically disadvantaged, the intervention has demonstrated a broad range of short- and long-term positive outcomes for both the mother and child. Kitzman's program of research has had an extraordinary impact on improving the care of young families and on health care policy nationally and internationally.
Kitzman was a leader in the early nurse practitioner movement. She led the development of the first graduate nurse practitioner program at the University in 1971, and became a national figure in the development of the nurse practitioner role and its impact. As the first clinical chief/chair responsible for nursing services in the Medical Center and nursing education and research in the School of Nursing, she was among the key trailblazers in the development of the School of Nursing's Unification Model.
Kitzman is a member of the American Academy of Nursing and has received multiple awards. She has served on a number national and local policy committees, including the board of Children, Youth and Families of the American Academies of Science/Institute of Medicine.
Hutchison Medal recipient Robert E. Rich Jr. '69S (MBA), chairman of Rich Products Corporation, will be this year's keynote speaker during the Simon School commencement ceremony on Sunday, June 8 at the Eastman Theatre.
As chairman of Rich Products Corporation, he has led the company to more than $3 billion in worldwide sales revenue, earning the distinction as one of the world's most dynamic business leaders. Throughout his career, he has received numerous awards for his business, community, and professional sports endeavors.
After a stint in professional hockey and active duty with the U.S. National Guard, Rich joined Rich Products in the role of president of Rich Products of Canada, a start-up subsidiary. While in that role, he returned to school to earn his MBA from the Simon Business School. He subsequently rejoined Rich's as vice president of sales and marketing, a new department for the company he launched. Rich was named president of Rich's in 1978 and chairman in 2006.
He also serves as president and CEO of Bison Baseball, Inc., the Northwest Arkansas Naturals and Jamestown Baseball, Inc. He is the past commissioner of the National Baseball Congress, an organization of amateur and semi-professional baseball leagues operating in the United States and Canada.
Rich serves as chairman of the Cleveland Clinic and vice chairman of the International Game Fish Association. He serves as director of the 100 Club of Buffalo, Inc., the International League of Professional Baseball, the Police Athletic League, and the Cleveland Clinic Governance Committee. An avid writer and sportsman, Rich has published several books.
He is also a member of the Simon Business School's Executive Advisory Committee.
Rochester Distinguished Scholar Award
The Rochester Distinguished Scholar Award recognizes alumni whose careers in academia, industry, government or the arts have exemplified the values and attributes of the University.
Yuh-geng Tsay '77 (Ph.D.) is considered one of the nation's foremost organic/bioanalytical chemists. Tsay has helped refine clinicians' understanding of the value and applicability of immunoassays. A true pioneer, he has helped usher in an extraordinary era in medical science.
Over the past five decades, Tsay has been at the forefront of diagnostic medicine, introducing new analytical methods and improving existing clinical tests that pinpoint the presence of small molecules, such as drugs like cocaine, and macromolecules such as viruses, bacteria, and allergens. Thanks to Tsay's dedication as a chemist and entrepreneur, physicians can more accurately diagnose patients, and hospitals can better ensure the safety of those they treat.
Tsay, who left his native Taiwan in 1971, earned his Ph.D. in organic chemistry at the University under Professor Andrew Kende in 1977 with a dissertation on synthesis of anthracylinones. Tsay has more than 70 patents and publications in the areas of synthetic organic chemistry and immunodiagnostics. He has had a distinguished career as a life scientist, business leader, and innovator.
In 1991, he founded Diagnostic Reagents, a company that established itself with a pioneering portfolio of assays for small organic molecules and drugs. His company's success led to a merger that eventually became Thermo Fisher Scientific, now one of the world's leading pharmaceutical and biotechnology companies. He was not only a scientific leader, but provided the strategic vision necessary for facilitating growth of the company. Tsay held several leadership roles with the company before retiring as senior vice president of Thermo Fisher Scientific and group president of its Specialty Diagnostics Business Segment.
University Teaching Awards for Excellence
Douglas Turner, professor of chemistry, is receiving the Lifetime Achievement Award in Graduate Education.
For more than 35 years, Turner has been a world leader in understanding the structure of RNA. He has an active research program in the area of chemical, structural, and computational studies of RNA and has authored more than 200 publications, which have been cited more than 15,000 times. He joined the chemistry faculty in 1975.
Together with his collaborators, Turner has discovered many of the fundamental principles that determine RNA structure. These principles are used in almost every RNA structure prediction algorithm. His research has helped advance methods for predicting both structure and RNA-RNA interactions from sequence. These methods are widely used by biochemists and biologists.
Turner trains his students to think deeply about their research and involves them in projects as true equals. He played a key role in establishing the biological chemistry cluster and provided leadership as cluster chair for the first eight years. Turner's work has been recognized with Sloan and Guggenheim Fellowships, election as a Fellow of the American Association for the Advancement of Science, selection by the American Chemical Society as a Gordon Hammes Lecturer, and continuous funding of an NIH grant that started in 1976. An engaged member of the scientific community, he teaches courses from first-year chemistry to graduate-level laboratories, as well as serves on several NIH Study Sections, the advisory board of the Institute of Bioorganic Chemistry in Poznan, Poland, and the editorial board of the Biophysical Journal. He holds a Ph.D. in physical chemistry from Columbia University and a bachelor's degree from Harvard.
Eric Phizicky is recognized with the William H. Riker University Award for Excellence in Graduate Teaching.
Phizicky is a professor of biochemistry and biophysics at the University of Rochester Medical Center. His fascination with genetics, biochemistry, and functional genomics has transformed the field of Transfer RNA (tRNA) research.
Phizicky's lab currently focuses on tRNA biogenesis, function, and quality control mechanisms in the yeast Saccharomyces cerevisiae. tRNA processing is essential in all organisms, and involves several trimming and splicing steps, numerous modification steps, sophisticated quality control checks, and complex intracellular trafficking. He is studying the mechanisms by which these steps occur and how quality control is maintained during and after tRNA biogenesis. Phizicky demonstrates an exceptional ability to create novel approaches to tackle formidable scientific problems that have not previously been addressed.
Phizicky has served as either director or co-director of the biochemistry Ph.D. program since 1995. During this time, he has developed a rigorous course curriculum, set up the current system for carrying out qualifying exams, and instituted a student seminar course in which every student in the program participates and presents an annual seminar.
Phizicky has served on more than 130 thesis advisory committees, a testament to his dedication to the mentoring of all students, regardless of the lab in which they are doing their doctoral research. He has received the departmental teaching award six times and the University Alumni Award for Excellence in Graduate Education during his tenure at the University. He holds a Ph.D. in biochemistry from Cornell University and a bachelor's degree in biochemistry from McGill University. He is an elected fellow of the American Association for the Advancement of Science and the American Academy of Microbiology.
William Marvin '02E (Ph.D.) is the 2014 recipient of the Edward Peck Curtis Award for Excellence in Undergraduate Teaching.
Marvin is an associate professor of music theory at the Eastman School of Music. He joined the Eastman faculty in 2002 after having taught music theory and aural skills at Oberlin College Conservatory of Music.
Marvin's work in theory has focused on problems of tonality according to Schenkerian definitions, exemplified in Wagner's Die Meistersinger von Nürnberg; examinations of form and tonal structure in Mozart's Die Zauberflöte and Wagner's Der fliegende Holländer; aural training in tonal and post-tonal music; sonata deformation in Mahler's Third Symphony; improvisation in 19th-century French organ music; off-tonic beginnings and endings; interactions of sonata form, the reprise, and Schenkerian mechanisms for explicating formal conflicts; and the quodlibet as a contrapuntal device in Broadway musicals. His published work can be found at Music Theory Online, Journal of Musicology, Intégral, Journal of Music Theory Pedagogy, Theory and Practice, Nineteenth-Century Music Review, and in several books. Marvin is the president of the Music Theory Society of New York State.
From 1997 through 2001, Marvin worked individually with blind students, teaching aural skills and overseeing the rehearsal and performance of an ensemble work for 12 student performers, written by a blind composer and taught completely without notation. He oversees the undergraduate aural musicianship curriculum at Eastman. His curriculum emphasizes immediate recognition, apprehension, and expressive performance of musical material as heard and seen. His reputation as an outstanding theory teacher has been longstanding among undergraduate students.
Marvin completed his Ph.D. in music theory at Eastman in 2002. He received his bachelor's degree from the State University of New York at Binghamton.
Elizabeth Colantoni and Vasilii Petrenko are each receiving the G. Graydon '58 and Jane W. Curtis Award for Nontenured Faculty Teaching Excellence.
Colantoni is an assistant professor of classics who joined the University faculty in 2008. In her first two and a half years at Rochester, Colantoni introduced 12 new courses. She teaches a range of courses on the archaeology, history, and literature of the classical world, including advanced Latin; Roman history; Greek and Roman art and archaeology; the ancient city; ethnic identity in ancient Greece and Rome; and engineering and society in the ancient world.
Colantoni's primary area of research is ancient Roman religion, in particular studying physical evidence for ancient religious practices. Her goal is to study and present the archaeological evidence in a way that is useful to scholars of Roman religion who deal primarily with textual evidence, so as to encourage the integration of archaeological evidence into the broader scholarly dialogue about Roman religious practices. She is also the director of the University's archaeological excavations at the San Martino site in Torano di Borgorose, Rieti, Italy. She and the students she supervises on the excavation project in the summer have recovered pre-Roman and Roman artifacts and have found archaeological evidence that will help determine the sixth century border between what remained of the Roman Empire and Lombard incursions. As part of the archaeological project, Colantoni teaches a course on field methods in archaeology, and last summer she added a new course on the ancient Roman aqueduct in Arezzo, Italy.
Colantoni holds a Ph.D. and master's degree in classical art and archaeology from the University of Michigan; a master's degree in Latin, also from Michigan; a master's degree in anthropology from Florida State University; and a bachelor's degree in classics and French from the University of North Carolina at Chapel Hill.
Petrenko is an assistant professor in the Department of Earth and Environmental Sciences at the University. His primary area of research is natural and anthropogenic climate and environmental change, particularly from the perspective of atmospheric composition and chemistry. In his research, Petrenko uses records from ancient glacial ice to answer questions about the Earth's climate system.
Petrenko's work is highly relevant to the understanding of modern global warming and projections of future warming associated with greenhouse gas emissions. He has pioneered new approaches for measuring the isotopic composition of trace atmospheric gasses trapped in ice cores that provide fundamental insights into the global carbon budget and the sources and sinks of greenhouse gasses during time periods of global climate change. He was a 2013 recipient of the prestigious Packard Foundation Fellowship, which provides the nation's most promising early-career scientists and engineers with flexible funding and the freedom to take risks in exploring new frontiers in their fields of study.
He teaches a wide range of classes, including Introduction to Climate Change—an advanced undergraduate core class on atmospheric geochemistry—and focused graduate and advanced undergraduate level courses on paleoclimate and ice core records. He engages students at all levels in hands-on learning, using computer models to help understand various aspects of the climate system.
Petrenko holds a Ph.D. in earth sciences from Scripps Institution of Oceanography, an M.Ed. with an individualized focus on science teaching from Harvard University, and a bachelor's degree in chemistry from the University of New Hampshire.
Additional information about University commencement ceremonies and related activities is available at www.rochester.edu/commencement/.
For more information on the Simon School's Commencement, visit
www.simon.rochester.edu/why-choose-simon/registrar/commencement/index.aspx.
Category: University News