The Rochester Review, University of Rochester, Rochester, New York, USA





June 6-8, 1997, on the River Campus
For the Classes of 1952, '57, '62, '67, and '72 and members of the Slater Society (1945 and earlier) from Prince Street, the River Campus, and the School of Nursing. (The classes of '77, '82, '87, and '92 through '96 will celebrate reunion next fall.)






Do you remember:

Going to class in Anderson Hall?
Performances by the Quilting Club?
Dances in Todd Union?
The inimitable Professor May?
Football coach Elmer Burnham?
Meeting friends at the Bungalow?
The elm trees on the Eastman Quadrangle?
Falling asleep in the Welles-Brown Room?
How to spell "Keidaean"?
Non-Western Civ?
If you can recall any of these Rochester traditions, then you're sure to enjoy Reunion '97 next June on the River Campus. This spring, you'll receive your registration packet-- but for now, we've listed some of the major events on the next page.


Here's your program.
For more information, contact the Alumni Association at (800) 333-0175.
In the Rochester area, the number is (716) 273-5888.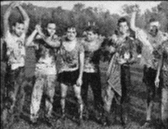 Friday, June 6
11:30 a.m.-1:30 p.m.
Slater Society luncheon
2-3 p.m.
Faculty lectures
3:30-4:30 p.m.
Faculty lectures
2 p.m. and 4 p.m.
Campus tours
6:30-7:30 p.m.
All-alumni reception with faculty
Starting at 7:30 p.m.
Class dinners




Saturday, June 7
8:30-10 a.m.
Breakfast with President Jackson
10-11:15 a.m.
Alumni Lecture of Distinction featuring
Donald Daucher '67, managing partner,
Paul, Hastings, Janofsky, & Walker,
Los Angeles, Calif.
Noon-1:30 p.m.
All-alumni picnic
2-3 p.m.
Faculty speaker/campus tour
3:15-4:15 p.m.
Faculty speaker/campus tour
6:30 p.m.-midnight
All-alumni gala dinner
| UR Home | Review Contents | Mail |


Copyright 1996, University of Rochester
Maintained by University Public Relations
Last updated 12-19-1996 (jc)