FAIRBANK ALUMNI HOUSE LAUNCHES NEW INITIATIVES FOR YOU
In his first column for Rochester Review since being named associate dean of the College for alumni relations and development in September 1998, Robert Bartlett discusses some of Fairbank Alumni House's plans for the future.
Before joining the University, Bartlett was associate dean for external affairs at the University of Chicago's Harris Graduate School of Public Policy. He earned a master's degree and a doctorate from Cornell University.
There is an unmistakable excitement around the Fairbank Alumni House these days as new staff settle in and the Office of Alumni Relations prepares to embark on a new strategic course.
Under the direction of Gary Simpson, recently appointed director of Alumni Relations and Annual Fund, the office has reaffirmed its commitment to connect with and serve alumni throughout the country and around the world.
New initiatives are being launched in regional programming, continuing education, external communications, Web site development, and alumni volunteerism. In addition, an Office of Alumni Services has been established to help us better understand the changing needs of College graduates.
Joining the Alumni Relations team this year as director of Alumni Relations and Parents Programs is Kelly Redder. Kelly comes to the University from Ithaca College, where she most recently served as acting director of alumni relations. She will oversee alumni activities in all regions, as well as a variety of special programs for College parents.
Heather Hayter will report to Kelly and manage regional alumni programs in the Southeast, including Washington, D.C. Heather also will work with the Rochester Regional Council.
Bob Hartz '90, '98S (MBA) will be responsible for the West Coast region and will direct the Office of Alumni Services. This office will reinforce our "customer" focus and develop initiatives to keep alumni connected to the University with services and products ranging from travel programs to Internet connectivity.
The Volunteer Admissions Network (VAN) office will now be overseen by Alumni Relations. Amy Lynch, VAN's newly appointed coordinator, will manage alumni involvement in undergraduate recruiting and develop other important volunteer opportunities.
The expansion of the Alumni Relations Office has been, in large part, spurred by the phenomenal success of the regional Alumni Council structure. Launched in 1994, regional Alumni Councils were created to provide alumni the opportunity to share educational, social, and volunteer activities with other College graduates.
Councils now exist in 13 cities, including Rochester, New York City, Boston, Washington, D.C., Philadelphia, San Francisco, Buffalo, Los Angeles, Chicago, Denver, Cleveland, Atlanta, and San Diego.
More than ever, Rochester alumni are expressing their desire to become active participants in their Alumni Association and deepen their ties to this great institution. Alumni Councils make this possible.
Some recent program highlights include a performance of the New Jersey Symphony, a stellar evening at the San Francisco Museum of Modern Art with President Tom Jackson, a family breakfast with Santa on campus, and exclusive screenings of the Rochester-produced PBS documentary, Echoes from the Ancients.
In the coming months, the Alumni Relations staff will be working to build new Alumni Councils nationwide and to help our existing councils grow. The staff will need your energy and ideas to make these efforts successful.
A major activity for the councils in the year ahead is planning celebrations for the University's 150th birthday in some 20 cities across the United States, in addition to several international locations.
The biggest Sesquicentennial celebration will be in Rochester, of course, and we hope all alumni will come back for the fall foliage and fun.
"Charter Weekend"--October 13-15, 2000--will be a blend of academic symposia (exciting topics and speakers) and social events, including reunions for "5 & 0" classes and other alumni groups, a 50th celebration for the classes of 1950 to 1954, a very special 150th convocation, and big-name entertainment. We promise a truly memorable weekend.
The Alumni Relations staff is charged up and ready to go--now we just need you!
Please join us for at least one of the celebratory events--and help us plan them, too.
After all, this party is in your honor.
Stayed tuned--there is much more to follow!
---
Bob Bartlett
---
RECREATION CENTER WINS SUPPORT FROM ALUMNI
Alumni are rallying as the drive to raise $15 million to renovate the Athletic Complex moves into the second half.

As of December 1998, more than $8 million has been pledged or committed to the campaign, part of an effort to make the University's intercollegiate and recreational facilities among the best in Division III.

A ceremonial groundbreaking is scheduled for May.

"Our University excels at offering opportunities to exercise the minds of our students," says Ed Hajim '58, trustee and chairman of the campaign. "This athletic center will offer a first-class facility for the appropriate complementary activity--exercising the body."

The campaign, announced in fall 1998, will completely renovate the interior of Alumni Gym, and make major improvements to the Palestra, Field House, pool, and courts.

Among the highlights will be an expanded Palestra basketball court to bring it to current NCAA Division III standards (and also restore the Palestra's original ceiling); five international squash courts and two racquetball courts, three recreational basketball courts, four tennis courts, and a new training room also will be added. The entranceway to the complex will be greatly expanded and improved.

The entire complex will be named the Robert B. Goergen Athletic Center in honor of Goergen '60, chairman of the University Board of Trustees, who donated $5 million to begin the campaign.

"Bob Goergen's generosity gave us a great start," says Hajim.

Another notable gift was $500,000 from the Fred L. Emerson Foundation of Auburn, New York.

Lauri Van Hise, director of corporate support, says the gift, spread over two years, will be divided between renovating the Palestra court and the Palestra foyer.

The Foundation joins other friends of Roger Lathan '54, University vice president emeritus, in earmarking gifts to renovate the Palestra foyer.

A total of $300,000 has been raised in that part of the drive.

The lobby will we renamed in Lathan's honor.

Those interested in making contributions can call 1-800-Meliora (635-4672) or (716) 273-5891.
---
EARLY '50S REUNION SET FOR 2000
Plans are gearing up for a 50th reunion of the five classes of the early 1950s timed to coincide with the University's Sesquicentennial in 2000.

The "Early Fifties 50th" will be held October 13-15, 2000, the same weekend the University celebrates the 150th anniversary of its founding.

Undergraduate alumni from the classes of '50, '51, '52, '53, and '54 are invited to return to the College to meet old friends, reminisce, and reconnect with
a special time in their lives.

The early '50s classes mark the start of the University's second hundred years as an institution of higher learning.

Preliminary planning for the reunion began last fall. A kickoff meeting is scheduled for May 20.

David Kearns '52, honorary chairman for the 50th, will welcome volunteers and staff.

Pamela White, staff director of the Early Fifties 50th Reunion, is working with alumni to help make the weekend memorable.

Several committees have been formed to help organize the reunion, and volunteers are still needed for each of them.

White says the goal of the "cluster" reunion is to give alumni a chance not only to reminisce with their classmates, but also to reconnect with a range of people who were on campus at the same time.

This is the second 50th cluster reunion for the College. About 600 alumni and guests from the classes of '46, '47, '48, and '49 gathered on campus in October 1996 for the Late Forties 50th.

For more information, contact Pamela White at Fairbank Alumni House, (716) 273-5907, or 800-635-4672; email: white@alumni.rochester.edu
---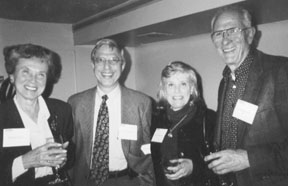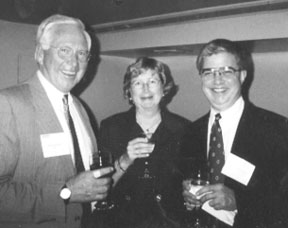 During receptions in NYC and Rochester, alumni were treated to sneak previews of the documentary Echoes from the Ancients, a film based on the University-sponsored archeological dig at Yodefat in present-day Israel. Produced by the University and WXXI-TV in Rochester, the documentary was broadcast nationally on public television December 17.

Since 1992, many alumni and students provided invaluable assistance to the project and its discoveries by volunteering to work at the site. The success of the dig has led to other archeological work in Israel and has sparked a proposal to create a Center for Galilean Studies in the College.

(Top photo) Muriel Levitt, Martin Finkelstein '59, Diana Finkelstein, and Leigh Levitt '46 at NYC reception. (Bottom left) Neal Jewell '56, Joan Jewell, and Dean Green at NYC reception. (Bottom right) Mordechai Aviam, adjunct professor of Judaic studies and district archaeologist for the Israel Antiquities Authority, talks with a guest at the Rochester reception.

---
Alumni Councils
| | |
| --- | --- |
| | Evelyn Roberts '69, Jane Stellwagen '47, Frederick Klinker '76, Marilyn Klinker, and John Meyers '58 gather outside the Philadelphia Museum of Art last November. Philadelphia alumni were given a special guided tour of the museum by professor Michael Holly, chair of the Department of Art and Art History. |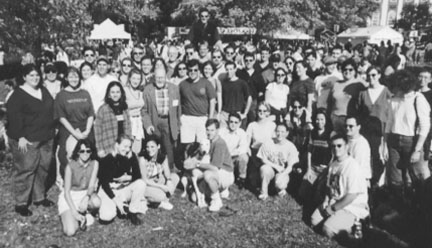 Boston-area alumni pose for a group portrait at the annual Head of the Charles Regatta last October. (See Meliorist) They'll gather again next October for the '99 Regatta. . . . Will we have to save room for a bigger picture?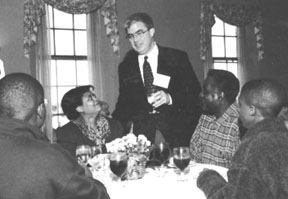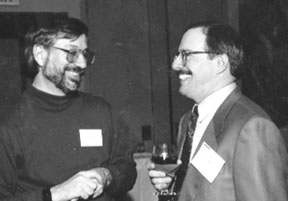 More than 200 parents and students attended a campus reception sponsored by the Alumni Relations Office during Parents Weekend last November. Dean William Scott Green (left photo) and Dean Tom LeBlanc (right) talk with parents during the event.
| | |
| --- | --- |
| | Twenty-six New York-area alumni, including Elaine and David Parker '66, enjoyed the day touring Sagamore Hill, the home of Theodore Roosevelt. |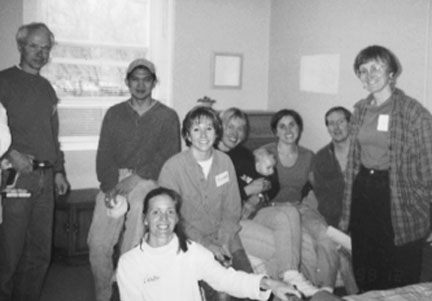 Denver-area alumni pitched in on short notice for the Brandon Center Adopt-a-Room community service program. The Brandon Center in Denver shelters women and children in crisis. The Rochester group renovated a room occupied by a woman and her son.
---
FOR MORE INFORMATION . . .

With organizations in major American cities and around the world, the Regional Alumni Councils offer a range of opportunities for alumni to become involved with the College, including community service activities, student recruitment, social events, fundraising efforts, career networking, and reunion planning. For details in your area, call Terry Gurnett '77, at the Alumni Association, (800) 281-2055. The Rochester-area number is (716) 273-5888. The e-mail address is info@alumni.rochester.edu, and the URL for the Alumni Association Web site is listener.uis.rochester.edu/alumni.
---