From Robots to Art, the Best in Undergraduate Research on Display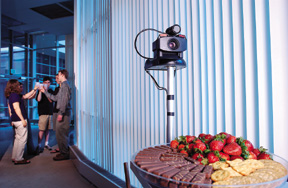 The Mabel team toasts the end of another day of work on its robot, which is dutifully serving hors d'oeuvres.
Jon Schmid '03 and David Feil-Seifer '03 would like to introduce Mabel. She's gracious-she hopes to make a name for herself serving hors d'oeuvres and desserts-and she's helpful. Answering questions and offering directions are her other specialties.
She's also a robot, officially nicknamed "Mabel the Mobile Table," that Schmid, Feil-Seifer, and a team of as many as 11 undergraduates have worked on for the past 18 months as part of a research project in the Department of Computer Science.
"This is only something you can learn by doing," says Schmid, who first launched the idea in the summer of 2001. "Developing the software, creating the networks, and putting it all together is incredibly different in practice than it is in a classroom."


Joanne Wu '02 presents Emil Homerin with the Professor of the Year Award in Humanities
Undergraduate Professors of the Year Honored
College undergraduates nominated a number of faculty members to receive recognition as undergraduate professor of the year in each of the disciplines of engineering, humanities, social sciences, and natural sciences.
Announced during the third annual Undergraduate Research Conference in April, the four professors honored were: Mark Bocko, professor of electrical and computer engineering; Emil Homerin, professor and chair of the Department of Religion and Classics; Barbara Ilardi, professor in the Department of Clinical and Social Sciences in Psychology; and H. Allen Orr, professor of biology.
This is the third year that a professor from each discipline was honored.
Showcasing the kind of work undergraduates in the College produce outside the classroom is the goal of the Undergraduate Research Conference, now in its third year. During last April's conference, Mabel's team joined more than 60 students in presenting the results of their own research.
Thomas Krugh, director of undergraduate research and professor of chemistry, estimates that 50 to 60 percent of Rochester students participate in some kind of research or independent study.
"This is a professional exercise, allowing students to become engaged with a faculty advisor and present their results in professional models," Krugh says. "The students are able to function like graduate students and work on a new level."
Sixteen of the students participating went on to display their results at the National Conference on Undergraduate Research at the University of Wisconsin at Whitewater later that month.
Joining the students who have labored away on computer- and science-related projects for the first time this year were studio art majors, who displayed their work in the Hartnett Gallery and the Art and Music Library. Thirteen students also discussed their work as part of the "Challenges to Communities" conference of the Department of Anthropology.
"We had students coming over from the Medical Center, students interested in art and the humanities," Krugh says. "That's the strength of the University in terms of undergraduate research. The students have all these different opportunities."
Sonal Kalburgi '02, a cell and developmental biology major who conducted a year-long study on the way certain mechanisms affect the regulation of cellular growth in the lungs of mice, says the experience of designing and carrying out such experiments has given her a new sense of what scholarly work is all about. She worked with Gloria Pryhuber, associate professor of pediatrics.
"With coursework, if you have a question, you have a visceral response to just look the answer up," Kalburgi says. "With something like this research, it doesn't end there. That's when you really start to think about biology."
Lanyn Perez '02, a chemistry major who studied ways to synthesize new nickel compounds, agrees. She worked with Patrick Holland, assistant professor of chemistry, and Rene Lachicotte, a chemistry department scientist.
"Doing the research helped me realize that this is something I want to do more of," Perez says. "It's allowed me to see chemistry in another light."
Maintained by University Public Relations
Please send your comments and suggestions to:
Rochester Review.