Mentors
During May's Commencement ceremonies, the University recognized three faculty members for their dedication to teaching.

D'Aoust
Rita D'Aoust, senior associate in the School of Nursing, received the Edward Peck Curtis Award for Excellence in Undergraduate Teaching. A member of the faculty since 1990, she has developed two new accelerated programs for non-nurses who already have baccalaureate degrees. She is also a recipient of the school's Dean's Award for Excellence in Teaching.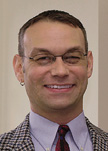 Halle
Randall Halle, assistant professor of German in the Department of Modern Languages and Cultures, received the G. Graydon Curtis and Jane W. Curtis Award for Excellence in Teaching for a Nontenured Member of the Faculty. In addition to German, he teaches courses in comparative literature, film studies, women's studies, and visual and cultural studies and has sponsored activities such as a roundtable on global conflict after the events of September 11. He has been a faculty member since 1996.

Tanenhaus
Michael Tanenhaus, professor of brain and cognitive sciences, received the University Award for Excellence in Graduate Teaching. A member of the faculty since 1982, Tanenhaus is an internationally regarded expert on human language processing and psycholinguistics. He earns praise for his critical yet supportive style that inspires vision and originality in his students.



Maintained by University Public Relations
Please send your comments and suggestions to:
Rochester Review.