Children's Hospital Renamed for Golisano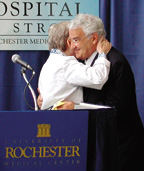 Elizabeth McAnarney, pediatrician-in-chief, thanks Paychex CEO B. Thomas Golisano for his contribution to the newly renamed Golisano Children's Hospital at Strong.
Already the only hospital in the Rochester and Finger Lakes region devoted exclusively to the care of children and the 14th ranked pediatrics department in terms of funding from the National Institutes of Health, Strong Children's Hospital got a major boost this year from a local businessman.
B. Thomas Golisano, founder and CEO of Paychex Inc., donated $14 million to the hospital, which has been named Golisano Children's Hospital at Strong in his honor.
The gift was the largest by a single living donor to the University Medical Center.
"I am inspired by the noble work that these medical professionals do," Golisano said. "This gift provides the opportunity to have a positive impact on many families."
Maintained by University Public Relations
Please send your comments and suggestions to:
Rochester Review.