Online 'Hive' Is Top Site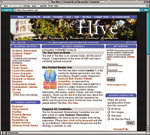 More than just Rochester students are buzzing about The Hive.
The Students' Association Web site (http://sa.rochester.edu) was ranked best in the nation by Student Leader magazine in its America's Best Student Web Site Competition.
Sites were judged on categories such as content, design, interactivity, and quality of links. Noting that most student government sites are boring affairs, the article said The Hive is an interesting and helpful resource for students.
"This site is a treasure trove of interesting and useful features, but the photos of senators are especially nice," the judges wrote.
The Hive contains links, news, and other resources both for student government and for the University.
Maintained by University Public Relations
Please send your comments and suggestions to:
Rochester Review.