Small Discrepancy, Big Difference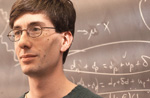 McFarland
Researchers may have discovered a new subatomic force in a study that showed a 1 percent discrepancy in the way neutrinos-an elusive class of fundamental particles believed to be acted on only by the force within an atom's nucleus-behave.
The eight-year study led by Kevin McFarland, assistant professor of physics, may lead to greater understanding of the way subatomic particles interact. The results were published in Physical Review Letters.
"One percent may not seem a big difference, but the measurement is so precise that the probability that the [original] predictions are right, given our result, is only about one in 400," McFarland said.
Maintained by University Public Relations
Please send your comments and suggestions to:
Rochester Review.