They say a picture is worth a thousand words, but in some cases a few hundred can be just as valuable.
Forty writers have offered their thoughts inspired by works of art on display at the Memorial Art Gallery, contributing poems, short stories, and essays to accompany reproductions of the works in Voices in the Gallery: Writers on Art, published by the University of Rochester Press and edited by Memorial Art Gallery Director Grant Holcomb.
"We wanted to look at the collection in new and creative ways, and who better to do this than some of America's finest poets and novelists?" said Holcomb.
All of the writers have connections to western New York, including Pulitzer Prize and National Book Award winner John Ashbery; National Book Award winner Andrea Barrett; Joanna Scott, the Roswell Smith Burrows Professor of English at the University and finalist for the PEN/Faulkner Award and Pulitzer Prize; former New York State Poet Robert Creeley, chancellor emeritus of the Academy of American Poets; and former John H. Deane Professor of Poetry and Rhetoric at the University Anthony Hecht.
"This is a venture that highlights some of the treasures in the gallery's permanent collection and, as all the writers have an association with western New York, the book underscores the rich literary heritage in our area," Holcomb said.
The authors' contributions range from brief pieces of poetry to stories and essays that literally explore the images in the paintings.
The 182-page, full-color book was a labor of love for Holcomb. Inspired himself by the Art Institute of Chicago's Transforming Vision: Writers on Art, Holcomb used his own love for poetry to undertake a similar effort at the Gallery.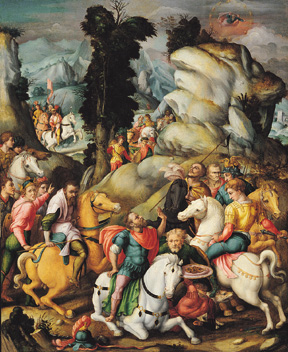 Excerpt by Anthony Hecht on
The Conversion of St. Paul:
This man, said one, who had long for righteousness' sake
Delivered unto the death both men and women
In his zeal for the Lord, had tumbled from his mount,
Felled by an unheard Word and worded omen.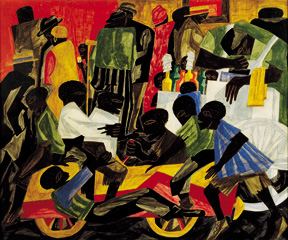 Excerpt by Cornelius Eady on
Summer Street Scene in Harlem:
July's jazz, August's hot bop.
You can't ask their business, but you know
How they'll rise the next morning,
Their groggy, heat-tossed steps
Back to work;
Sleepwalkers through the temporary cool.