Resolved: Debate Team Top Ranked in Nation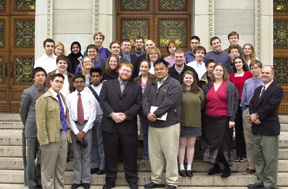 The University Debate Union, coached by Sam Nelson (right), finished the year ranked first in the country.
National experts agree: The University Debate Union is the best in the country.
The 60-member team, the largest in the nation, finished the season ranked first in National Debate Tournament rankings and second in the Cross Examination Debate Association standards.
"This is a great accomplishment for the students, to beat out strong teams from schools like Northwestern, Michigan State, Emory, Dartmouth, and Harvard," said coach Sam Nelson, assistant professor of English and director of forensics. "It shows their dedication and how much time and hard work they put into preparing for competition."
Worth Noting
The biomedical engineering program was one of only six in the country to receive a development award from the Whitaker Foundation. The award of $3 million will be used to enhance laboratories, hire new faculty, and provide support for departmental activities.
Unlike many of its competitors, Rochester does not offer debate scholarships, and no prior debate experience is required to make the team.
In addition to the team honors, Christy Webster '03 was named All-American for her debate skills, John Vermitsky '03 was named Academic All-American, and Amy Novak '02 received the Michael K. Davis Award, presented to the top debater in the eastern United States who had no previous high school experience.
Maintained by University Public Relations
Please send your comments and suggestions to:
Rochester Review.