Smart Bandage Watches for Harmful Bacteria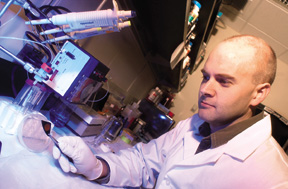 Benjamin Miller, assistant professor of chemistry, demonstrates the smart bandage.
You may not know when a cut needs treatment, but soon your bandage will.
Researchers at the University have taken a major step in developing a "smart bandage," which uses a high-tech chip to change color depending on what kind of bacteria may be present in a wound. The bandage can give an instant diagnosis if the wound requires special care and what kind of antibiotics would work best in treating any infections.
The smart bandage is part of a series of useful products being developed through the University's Center for Future Health, which takes an interactive approach to personal health care. During last year's Meliora Weekend, the doors to the center's "Smart Medical Home" opened for the first time as a working laboratory.
The smart bandage incorporates a sand grain-sized chip that can differentiate between different classes of bacteria. The research can be applied to other items in a smart home, such as packaging that could sense whether there is harmful bacteria on food stored in the refrigerator.
Traditionally, doctors use a century-old staining technique to identify bacteria. "We can now get the same information immediately, at home or in the doctor's office, and we're working on similar ways to detect dozens of other potentially harmful bacteria," said Benjamin Miller, assistant professor of chemistry and head developer of the bandage.


Maintained by University Public Relations
Please send your comments and suggestions to:
Rochester Review.