A Sustaining Commitment
Students hope to make sustainability a priority at Rochester. By Jenny Leonard. Photography by Richard Baker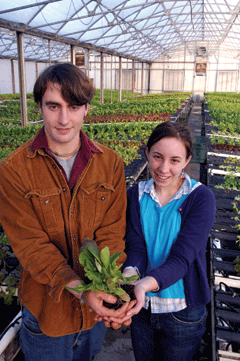 Rebecca Neville '06 approached the question like a true scholar. If you want to know how the University can make sustainability an institutional priority, you have to study the issues. Collect some data. Sample opinions. And you have to have funding.
So Neville, who now teaches marine ecology at an environmental education school in her home state of Maine, put together a proposal: Would President Joel Seligman and Provost Charles Phelps fund her and four other undergraduates for a summer as Rochester's first sustainability interns?
Ten weeks later, Neville and her team emerged from the third floor of Hylan Hall. Their "brainstorming station" was decoupaged in Post-It notes, an inkling of the reams of data they had collected and a sampling of the ideas that they encapsulated in a report to Seligman and Phelps.
Call it the summer of sustainability. But the student-led project is the latest in a growing movement on Rochester's campus—and at college campuses across the country and internationally—in exploring how to introduce the issue of sustainability into the University's core mission.
"There are efforts going on at the University that address sustainability, but it's very piecemeal," says Neville. "One of our goals this past summer was to make the connections overt and pull together these pockets of energy. The University has a great opportunity to create a unique program based on what's already existing and to be a leader in sustainability by having an integrated program, not just focused on greening of the campus or the small academic initiative, but having it integrated throughout the University."
At Rochester and other universities, the idea of "going green" has grown up, moving beyond isolated campaigns for recycling and conservation. Students and faculty today talk in terms of a concern that Earth's current inhabitants must look beyond their own needs and consider the world they are creating for the generations that follow.
Adding Zip to Campus Life
George Tillotson '09 had to leave his car at home when he came to Rochester from Boston. Not only are there few parking options for underclassmen, his parents worried he would drive to Indiana to see his girlfriend.
Tillotson, a mechanical engineering major, doesn't foresee any eight-hour road trips, but thanks to a new program at the University, he has at least one more transportation option.
Zipcar, a national car-sharing service for students, faculty, and staff, arrived on campus last fall.
The program, which launched in September, offers four cars— a Honda Element, a Mazda 3 sport sedan, a Toyota Matrix sport wagon, and the hybrid Toyota Prius—without the hassle of car payments, insurance, and maintenance.
In order to use the cars, students, faculty, and staff have to register as annual members for a $30 fee. That and a clean driving record make Tillotson eligible to use one of the cars for $7 an hour or $60 a day.
"I would like to go golfing," he says, noting a favorite pastime that could be reintroduced to his schedule as a Zipcar member.
For new member Jonathan Herzog '09, an earth and environmental sciences major, the Zipcar offers freedom and flexibility.
"It's more convenient than taking the buses," he says.
Iris Jo, '07, a chemistry major from New Jersey, doesn't have a car, but as the vice president of the Korean American Students Association, Jo often needs to get off campus for KASA errands.
"It's a nice perk," she says.
—Enid Arbelo
Students are asking, if not demanding, that universities begin to re-examine the environmental, economic, and social impact of the choices they make, the products they purchase, and the cultures they are creating. It's a concept known commonly as the triple bottom line, and it's changing the way some universities do business. As the Chronicle of Higher Education noted this fall, "On many campuses, students have become watchdogs for sustainability."
What is sustainability? While the common definition derives from a 1987 U.N. report from the World Commission on Environment and Development—"Sustainable development is development that meets the needs of the present without compromising the ability of future generations to meet their own needs"—student leaders say the concept has broad implications, especially at a $2 billion operation as far-flung as a university. The issue encompasses the physical plant and campus construction and changes in business practices.
But students also see sustainability as a change in mindset—many use the academic term "paradigm shift"—that should be incorporated into course offerings, programmatic options, and other academic approaches. The ultimate goal, participants say, is to prepare the next generation of sustainability policymakers, scientists, and scholars.
Joining Neville as the first interns were undergraduates Madeleine Cutrona '08, Julie Voronov '08, Katie Erickson '07, and David Ladon '07, who is studying sustainability in Africa this fall through the Take Five Scholars Program.
The team surveyed faculty, questioned peer institutions, and identified opportunities as well as challenges. Their goal was to offer a range of ideas for incorporating sustainability into five key areas: curriculum, research, residential living, community outreach, and strategic planning.
Among their recommendations are designating sustainability courses and offering clusters, minors, and majors within the undergraduate curriculum. They also recommend that the University establish an Institute on Sustainability that can focus on the big picture as well as act as a central coordinating hub for many of the ongoing projects.
The interns represent part of a larger student groundswell. Also active in leadership roles have been Patrick Brennan '06 and Nils Klinkenberg '06, recent graduates who are credited by many with paving the way for much of the continuing work. There's Andrew Hall '07, who like Ladon, is studying sustainability in Africa as a Take Five Scholar, and Pat Braun '07, president of the new student group Engineers for a Sustainable World.
Helping to provide a forum for discussion is the Roundtable on Sustainability, a group for all members of the University community that formed last spring. Chaired by James Allen, a professor of computer science and linguistics, the group includes a steering committee of faculty members from across the University.
Allen says he hopes the roundtable will play a key role in facilitating many of the interns' ideas.
"One of the main goals of the roundtable is to push ahead some of the curriculum proposals outlined in the student report," Allen says. "The first thing is to really raise the profile of sustainability within the academic offerings. . . . The committee will also continue to talk to various divisions around the University and help them start to develop sustainability policies."
Allen says while faculty and administrative support will be key in bringing about widespread change, the students will need to be persistent in making their vision a reality.
"I think what has coalesced the movement has been a concerted effort by students to bring this issue to the attention of the administration," he says. "I can see that people on the steering committee are really dedicated to trying to ramp up the momentum. Ultimately, I think the students are the real power on making things happen and affecting the overall culture. They are the ones who can really transform the University at its core."
Cutrona, an anthropology and religion major, says the summer internship gave her a better understanding of the principles behind the movement and its significance for Rochester.
"I'm excited to have new students come in the fall and to get them engaged and working on projects," she says.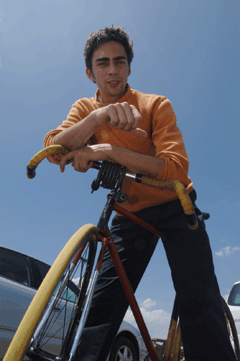 Hall, who spent last fall in Kenya studying West African culture and sustainability, agrees that the movement should focus on creating a cultural shift on campus. An active member of Grassroots, he founded City Cycles, a free bicycle borrowing program for students, faculty, and staff in spring 2005.
He spent the past summer working with facilities staff to look at ways to encourage alternative forms of transportation on and around campus. He says the University should embrace sustainability in its curriculum, operations, strategic planning, as well as in the subtle and overt messages such commitment conveys to students.
"Everything presupposes and says something about being in the world," Hall says. "A bike rack says something about the legitimacy of cycling. Everything around us helps us understand what is normal about our culture. . . . You can go project by project, or you can say that this change needs to be part of a larger vision. That's really what this campus sustainability movement is—saying these things all connect. We should be talking about an overarching philosophy, even if students continue to be a driving force behind these projects, they will be largely facilitated by looking critically at our entire mindset."
University Architect Paul Tankel, who has long been an advocate for a University policy on sustainability, worked closely with students during the design of the new Robert B. Goergen Hall for Biomedical Engineering and Optics. Students lobbied for the building to meet standards set by the Leadership in Energy and Environmental Design program of the U.S. Green Building Council. The nonprofit group encourages collaborative design processes that focus on environmental issues.
While the building fell short in achieving certification, it incorporated many of the criteria, such as minimizing light pollution at night, controlling storm runoff, using renewable materials, and improving air quality.
"If you don't say 'Here's where we're going to go,' then you don't get there," Tankel says. "We have to look down the line. When we think of future generations, which is what this place is all about, what type of world are we creating for them?"
In many ways, says Tankel, sustainability is about creating an academic and social culture where students feel a strong sense of place and a connection to the local community. That's a concept he tries to instill in the students that he collaborates with on projects and interacts with in the classroom.
Cogeneration: Saving Money and Cutting Carbon
The University completed a two-year project this summer to upgrade the central utilities plant and introduce a cleaner, more efficient way to meet its energy needs. In doing so, Rochester joins a growing number of schools such as Cornell and Syracuse, that have made the switch to cogeneration.
The process allows for the simultaneous production of heat and electricity, meeting more than half of the annual electric requirement of the River Campus and Medical Center. The change will result in a reduction in carbon dioxide emissions of more than 30,000 tons annually from utility plants that supply electricity to the University.
The $42.8 million upgrade began in spring 2004. As part of the project, the last vestiges of the coal fired era, including an inactive coal boiler, ash silo, and brick chimney have been removed from the power plant. The steam lines—a full quarter of which were installed during the 1920s and 1930s—were replaced with lines sending hot water, instead of steam, to buildings in the winter months.
While the environmental gains are something to cheer, there's also another added benefit: It's cost effective. In terms of energy production, cogeneration saves the University about $3 million a year in electricity costs.
—Jenny Leonard
Klinkenberg was one of those students. The recent graduate, who worked with Tankel on the Goergen Hall project, is spending the year in Europe on a Phi Beta Kappa scholarship studying sustainability in higher education.
"We need to be prepared and have an awareness of the sustainability perspective and paradigm," Klinkenberg says. "It benefits the students, the University, the city of Rochester, and the world if we are more engaged in the discussion and have a sense of place and how we fit into the larger picture."
Neville agrees. At the heart of this grassroots effort, she says, is a recognition of responsibilities—personal and global; environmental and social.
"Learning and teaching about how humans and ecological life can and will be sustained on Earth is not just a passing fad," says Neville. "This paradigm shift requires a commitment to look critically at how we educate our future generations, and this commitment, or lack thereof, will be the most critical issue facing my generation and the ones to follow."
Students admit that sustaining such a broad movement among an often transient student population will be challenging. Cutrona says she and others are making a concerted effort to get new students involved.
Rayna Oliker '10 hopes to help keep the momentum going.
"It's a hard issue to deal with since most students, especially students our age, find it too abstract to apply on a personal level," says Oliker. "But it would be awesome to see more freshmen and sophomores jumping into this type of work. It's a fight that will continue long after the seniors are gone, and we need to deal with it as a community."
There are signs, however, that a community approach is taking shape. In addition to a Universitywide panel discussion sponsored by Phelps this fall, the topic of sustainability was the focus of two events during Meliora Weekend. The Presidential Symposium on Great Issues of the 21st Century invited a host of distinguished panelists, including Nobel Prize–winning physicist Steven Chu '70 to discuss energy sustainability. A student-sponsored symposium focused on sustainability and the student experience.
This spring the campus will host its first sustainability conference, an event coordinated by students along with Judith Hook, a senior lecturer in the Program of Movement and Dance.
Dan Rosenbaum '07, a native Ohioan, thinks the coming year will offer some indication of the long-term outlook.
"The test of this year will be the ability of students, faculty, and administrators to collaborate and find effective ways to integrate sustainability into the curriculum, into on-campus functions, and into our relationships with the greater Rochester area," Rosenbaum says. "I'm optimistic it will be a success."
Cutrona, too, says she's optimistic, but she knows that change takes time.
"It's important at the University for us to really espouse what we stand for, Meliora, 'Always Better.' That motto rings true for many students I have met on this campus, whether that's a desire to do better personally, for your family, or for your community. Universities across the world play an important role in peoples lives. That's true for Rochester.
"While I'm here as an undergraduate, it's important for me to make my experience as meaningful as possible. Part of that is making a difference, as clichéd as that may sound. Whether that means buying local produce or riding my bike instead of owning a car, I want to be conscious about my decisions, looking out for what is best for the future and thinking about how my actions play out. It's about asking questions. That's how I carry out sustainability."
Jenny Leonard is editor of Currents, the faculty-staff newspaper.
---
A Sustainable To-Do List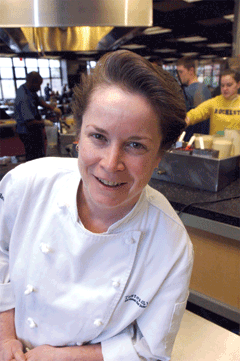 Fair Trade Coffee? Check. Locally farmed produce? Check.
For Rochester students, checking items off their sustainability "to-do list" doesn't mark the end of change on campus. But it does show that progress can be made when students and administrators commit to a common goal.
"One thing that a really strong sustainability campaign brings to campus is dialogue," says Cam Schauf, director of Campus Dining Services and Auxiliary Operations.
Over the past few years, students have pushed for more sustainable dining options throughout campus, driven in part by a renewed emphasis on healthier eating but also by an appetite for ways to be responsible and engaged consumers. And administrators have tried to work with students on a number of initiatives to expand the menu of choices.
This fall, for example, students could buy certified "fair trade" coffee at sites throughout campus, and, at The Meliora, at least one locally grown or locally produced item is available every day.
"All of the different things we had been working on have come together and all of the things we were working on under the radar last year really took shape," says Patrick Brennan '06, the first sustainability coordinator for Dining Services.
The effort began in fall 2004, when students and dining leaders opened new lines of communication. Initially, students wanted more vegetarian and vegan choices. But the term "sustainability"'—a word campus executive chef Mary Locke says she had never heard before in dining services—began popping into conversations.
Sam Boyer '06, now a Take Five Scholar, helped turn that dialogue into action by focusing on the popular caffeinated study-aid. While coffee is the second most heavily traded commodity in the world, most is produced by small farmers who are unable to provide basic needs for their families.
Producers who sell through fair trade channels are guaranteed a basic living wage. Boyer, who doesn't even drink coffee, worked with Schauf, and the ideas began to percolate.
"We had a clear objective," Boyer says of the effort to make fair trade coffee readily available. "A central part of doing that is to educate what fair trade is about."
To raise awareness, Boyer and students on the Fair Trade Campaign held teach-ins and coffee tastings, including a well-attended event last April that featured coffee from five different producers.
Dan Mueller and Abby Conrad—a pair of sophomore anthropology majors who joined the Fair Trade Campaign as freshmen—were especially interested in the way the campaign provides opportunities to talk about issues of poverty and inequality.
"How do you make (poverty and inequality) resonate on a campus every day?" Mueller says. "You can make students think how their decision affects others on a global scale. You can make noise and raise awareness, but at the end of the day not much is accomplished. We want the students to realize that we are not just this little bubble between the Genesee (River) and Mt. Hope Cemetery."
"The fair trade campaign seemed like a concrete way to make change," Conrad says. "You are actually changing consumer habits"
Last year dining services appointed Brennan as the first student to serve as sustainability coordinator, a liaison that coordinates programs, such as bringing in locally grown produce, and helps make students aware of sustainability dinners, farmers' markets, and educational outreach opportunities.
Pat Braun '07, who began his term as sustainability coordinator this year, worked on Freshlink Farm, a hydroponics greenhouse owned by Foodlink in the Rochester suburb of Penfield. He's working with dining services to develop a structured employment program that would help provide research opportunities for students who work at the farm.
"A University is a sheltered experience but it does provide a birthplace for these types of ideas," Braun says.
With students lobbying for fair trade coffee, locally grown produce, and a student coordinator, sustainability has become a common term in dining, Locke says.
"Fair trade is about supporting small farmers, whether they are local or international . . . it's about small farmers' livelihood and supporting them," says Locke.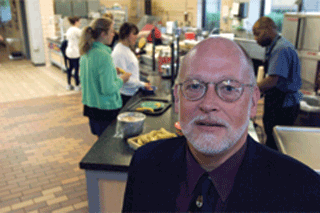 Buying locally can prove difficult for an operation as large as a University, says Locke. With a growing season that conflicts with the academic year, higher prices, and stringent insurance guidelines, the process is not as easy as popping over to a public market and filling up a bag.
But she notes all the milk on campus is from Upstate Farms, a cooperative based in Baldwinsville, N.Y., the bagels are from locally owned Balsam Bagels on Winton Road, and the bread is from Rochester's Petrillo Bakery. Tomatoes and squash and apples—all come from New York farms.
Ensuring a consistent supply of high-quality food—including off-season fruits and vegetables—at reasonable prices is one of the highest priorities for dining services, Schauf says. That goal sometimes conflicts with the commitment to buy from fair trade vendors or local producers, but Schauf says it's important to offer options and to try to ensure that vendors are socially responsible, even though that may not mean they are "fair trade" certified.
So even though students may never complete their sustainability list of "things to do," they—along with faculty and staff—are learning more about responsible consumerism and sustainability and how to apply those standards in their everyday lives.
And that's the most important lesson for some.
"We hope it's an awareness that people will take with them even after they graduate," Conrad says.
—Enid Arbelo