AfterWords
Holding Fast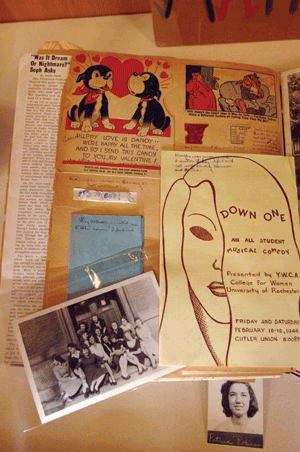 A scrapbook put together by Patricia Robinson Neill '46 chronicles her days as a student on the all-female Prince Street Campus, part of a River Campus Libraries' exhibition, Holding Fast My College Days: Scrapbooks of UR Students, on display through the spring semester.
Drawn from the libraries' collection of donated scrapbooks and other memorabilia, the pages of mementos and personal photos tell individual stories of alumni but also provide a glimpse of the collective story of all Rochester students.
Curator Nancy Martin, the John M. and Barbara Keil University Archivist and Rochester Collections Librarian, says she tried to select items that would offer a well-rounded view of college life, including a balance between tragedy and humor.
"College takes up four years of your life," says Martin. "Good and bad happens, so I wanted to show both."
The libraries collection has grown slowly over the years, but Martin says she's interested in hearing from alumni who kept scrapbooks and are looking for a permanent home for their books of campus memories. For more information, call (585) 275-4477.
—Sarah Permutt '08