President's Page
A Salute to Chuck
By Joel Seligman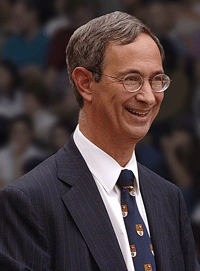 After 13 years Provost Chuck Phelps will step down at the end of this academic year. His is a career that deserves to be lauded.
The position of provost is one of the most pivotal in the modern university. The job description typically defines the provost as the "chief academic officer" with direct reports by the deans and coordination of other important university functions such as libraries and sometimes research. The provost is most effective when he or she is an alter ego to the university president. The key to success for the provost is a close and mutually trusting relationship with the president. Effective provosts and effective presidents tend to speak with one voice.
During Tom Jackson's 11-year presidency, Chuck and Tom worked hand in glove. Together they helped design the Renaissance Plan, presided over the reinvigoration of the Medical Center, and made critical appointments. When I spoke separately to each of them in preparing for my presidency, I was struck not only by how similarly they described pivotal issues, but how precisely they could describe the process by which they had reasoned to pivotal conclusions.
They shared values, they shared objectives, but most of all, they shared an intense loyalty to each other.
When I began my presidency, Chuck offered to resign. He explained that 11 years was a long tenure for a provost and reasoned that I would want my own provost for the term of my presidency. This was a typically gracious offer on the part of Chuck, one that placed the best interests of the University ahead of all else. I asked Chuck to stay. I value institutional memory and knew that as an outsider, there would be much that he alone could explain about decisions made during Tom's presidency.
"A model scholar and teacher, Provost Chuck Phelps has been extraordinarily effective in cultivating Rochester's exceptional commitment to crossdisciplinary and interdisciplinary scholarship."
Chuck's willingness to stay has proven enormously beneficial. He is a splendid analyst with a nimble mind, who not only can explain why decisions were made in the past, but also choices that are available now. He is particularly sensitive to the dynamics of a university. The challenges that the University of Rochester faced in 1995 are different from the challenges we face in 2007. Chuck possesses a rare facility to not be wedded to the past when change is appropriate.
For nearly 25 years at Rochester, he has been an outstanding academic leader whose range of titles offers a small hint of the breadth of his interests as a scholar and teacher. In addition to his duties as provost, he also is a professor of political science, professor of economics, and professor of community and preventive medicine.
From those vantage points, he has been extraordinarily effective in cultivating Rochester's exceptional commitment to crossdisciplinary and interdisciplinary scholarship. He is himself a model scholar and teacher. His textbook, Health Economics, is used in university economics and public policy courses throughout the country. He teaches a course on health economics nearly every year for upper-level undergraduate students, receiving remarkably positive reviews from students for his engaging style and for his ability to convey complex material. As a mentor, he has helped supervise the dissertations of 27 doctoral students with three now in progress.
At the national level, he has held leadership roles in groups on the oversight of academic research and the role of libraries in the digital age, among others. He has testified in Congress on such topics as intellectual property rights and copyright protections for peer-to-peer file sharing.
I particularly admire Chuck's creativity. On issue after issue, he offers a fresh slant. Chuck's legacy will loom large. His willingness to work with Tom Jackson to make decisions that were bold and wise will long be remembered.
I admire also Chuck's ability to enjoy himself. He is an archer of uncommon accuracy, with his beloved wife, Dale, a builder of canoes and kayaks, and someone who looks forward to retirement in his home on the California coast.
I have enjoyed every moment I have worked with Chuck and look forward to our friendship continuing long into the future.