The Neer Court
As he approaches his 500th victory as men's basketball coach, Mike Neer has become a fixture in Rochester athletics. By Ryan Whirty
Coach's Corner: Success shouldn't be measured in wins and losses, Neer says. "The thing I trust more is when the players start to develop some ownership of our style of play, of our value system, of why we do certain things."
It was, by the standards of journalistic critiques, simply brutal.
"The prospects for the immediate future are chilling at best," wrote Rochester Democrat and Chronicle sports columnist Bruno Sniders on December 10, 1976. "The team is 1–3 and looking worse, if that's possible."
Over Sniders' column ran a blunt headline: "Who's to blame at UR?" Next to the column text was a close-up mugshot of first-year men's basketball coach Mike Neer.
"Neer's team is an embarrassment," Sniders wrote, adding, "The conditions have never been worse. . . . [Rochester] could have its worse [sic] team yet."
Roughly 30 years later, Neer remembers waking up that morning and opening the paper to find that article. His Yellowjackets were fresh off a depressing 65–59 loss to crosstown rival St. John Fisher, a team Rochester usually handled with ease. After that loss, the dean of students had stopped by a 'Jackets practice in what was officially termed a show of support. But Neer knew the reason for the visit.
"Even as a youngster I knew that somebody on campus must know I have a foot in the grave and the other on ball bearings," Neer says now. "So you're just sucking up and politely dealing with these administrative gestures of support."
It was Neer's first season as a head coach at any level, and four games into it, he already felt like he was drowning.
"All of a sudden you're thrown into the deep end in terms of dealing with expectations," he says. "I remember getting up that morning and just going, 'What the hell have I gotten myself into?'"
Something had to be done, and fast.
"We knew people were complaining," says Jack Herlan '77, a member of the 1976–77 team. "We had read about what the people were saying. But Coach was the type of guy who wouldn't let it continue in that direction."
Next up on the schedule was Cornell, a Division I team that had just upset St. Bonaventure. When the Yellowjackets took the floor, it seemed like the cloud of gloom had followed the team to Ithaca when Cornell took a 14-point lead. With seven minutes left in the first half, Neer called a timeout and told his team to shift to a spread offense, a dictum that elicited double takes from Rochester players.
But Neer, still thinking about that newspaper column, stood firm. They're starting to take a nap, he told his charges. Spread the floor, lull them to sleep, and get a couple backdoor layups.
"My feeling was that if we can get it inside of 10 at the half, the kids will still kind of believe at halftime," Neer says now. "I didn't want 14 to become 20 with a 1–3 team and a rookie coach whose name was like a wanted poster in the post office."
The Yellowjackets did as ordered. They caught fire, ripping off a run that actually put them ahead at halftime. Rochester held the lead throughout the second half, and the 'Jackets ended up winning, 67–63.
The victory was sweet vindication for the embattled rookie coach.
"Going down to a D-1 place after basically reading your obituary in the paper a couple days before, to go down and win a ball game. . . ." Neer pauses. "I mean, the bus ride home was the greatest."
That victory sent a message to the entire University community: Mike Neer was here to stay. It also became emblematic of Neer's coaching style and the ensuing 30 years of Rochester basketball: disciplined, fundamentally sound, selfless, and always adaptable.
"He came up with the idea [against Cornell], and he made sure we executed it the way we needed to succeed that day," says Herlan, a 1996 Rochester Hall of Fame inductee. "But it wasn't just about that game. It's about what he's been able to do with the whole program over the years. He's been able to adjust and adapt, to take the talent he has and run with it. It's a testament to his determination and ability as a coach."
The Neer File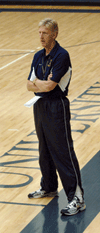 Education
B.A., Washington and Lee University, 1970
M.S., Warner School, University of Rochester, 1988
Experience
Plebe team coach, U.S. Naval Academy, 1972-76
Men's basketball coach, University of Rochester, 1976-
With an overall record of 492-292 over 30 seasons, Neer is the all-time leader in coaching victories at Rochester. In the 1989–90 season, he led the Yellowjackets to the Division III National Championship, earning Coach of the Year honors from the National Association of Basketball Coaches. Since 2001, the team reached the NCAA tourney's Sweet 16 twice, and the Final Four twice, including a 2005 trip to the title game. From 2002 to 2005, the Yellowjackets compiled a 97–17 record, the best four-year mark in Rochester men's basketball history. The Class of 2005 was the first to post four consecutive 20-win seasons (24–6, 23–4, 25–2, 25–5) as well as the first class to advance to the tournament every year.
Now, 30 years, four Final Fours, and a national championship later, Neer is expected to capture his 500th win as a Rochester coach this season. His legacy is secure.
"I didn't realize how good a coach he was until I became a coach myself," says former player and current Keuka College coach George Wunder '86. "It's amazing to me what he has the ability to do. There is no doubt in my mind that he's as good a coach as John Wooden."
Thanks to his height—he's 6-foot-7 —his deep voice, and his seemingly dour visage, many people at first find Mike Neer '88W (MS) a little intimidating. But that, say those close to him, is not the case.
"A lot of people misunderstand Coach," says Wunder. "They think he's cold, distant, aloof. Especially because of his size, he seems like he has the air of Darth Vader.
"But when you get to know him, he's one of the most genuine people. He's incredibly loyal, and in his own way, he's got a real wit about him, an under-the-radar sense of humor that's really very funny."
Neer has been able to use that personable side both to attract talented kids to the program and to teach them how to be better players and people.
"On a one-on-one basis, he's great," says Tim Sweeney '03, a former player now coaching at Davidson College. When parents and kids come to campus, he sells the University well."
But Neer also lets people know when it's time to have fun—and when it's time to get to work.
Says current senior captain Tim Brackney '07: "When he's in basketball mode, he's very serious about winning."
For Neer, "basketball mode" means focused, meticulous and, above all, constantly instructive. Practices are mapped out with precision and without any wasted time or energy. Fundamentals are stressed and, if necessary, taught on an individualized basis. When a concept is introduced, Neer makes sure his players know the reason.
"I really learned the importance of paying attention to detail and the importance of discipline and buying into the team concept," Sweeney says. "He's a very good teacher because he makes complicated things simple."
Brackney says Neer outlines each practice on a sheet of paper, which includes an inspirational quote, and Brackney has his favorite: "Bad habits are like bad mattresses—easy to get into and hard to get out of."
It's that type of intensely personal, yet focused, instruction that endears him to his players.
"Mike is a disciplined person and instills discipline on the court," says athletic director George VanderZwaag. "He knows what he wants his team to do, he teaches them how to execute, and he holds them to his standards.
"It really starts with teaching the game," adds VanderZwaag. "Clearly you don't have this amount of success at our level without being able to teach the game. You can't fake it."
If Neer is the ultimate teacher, then from early on he's been taught to teach. As a player, Neer received his first lessons from Sleepy Thompson, his prep coach at St. Stephen's Episcopal School for Boys in Alexandria, Virginia. He then learned at the feet of Verne Canfield, his coach at Washington and Lee University. He picked up his final lessons as an assistant to Naval Academy coach Dave Smalley.
All three coaches were lifers at their institutions, reflecting a level of commitment that rubbed off on Neer, who's now a lifer himself at Rochester.
"After a while you can't deny the influence of people who chose to stay the course and ride the waves at a particular place," Neer says. "It's not like there's a Cal Ripken streak I have going, but I don't intentionally think about it a lot. This is what I'm doing now, and I don't really plan on doing something else."
Neer, who earned a master's degree in educational administration from the Warner School in 1988, says he's also grateful to Dave Ocorr '51, the former Rochester athletic director who hired him in 1976 and yet another lifer who came into Neer's orbit. Neer says Ocorr offered support for the young coach during that first rocky year and for many difficult stretches since then.
"He was able to help me with some perspective that as a young guy I couldn't see," Neer says. "He tried to take the pressure off. He sensed in me that I expected a lot from myself and at times was hard on myself."
It's that sense of perspective that led Neer to one of the principal tenets of his coaching philosophy: Success shouldn't be measured solely in wins and losses.
"There are two ways you kind of know that you've arrived," he says. "Most people would assume that it's when you start winning. The thing that I trust more is when the players start to develop some ownership of our style of play, of our value system, of why we do certain things.
"They start to believe that what we're doing matters, and they believe how we do it and what we do is a factor to winning. They perpetuate the value system. They find other guys who share the ball, who set picks and take charges. Kids who want to be a part of that, who value that, are drawn here."
One former pupil who's now perpetuating those values is Wunder, who was serving as an assistant coach at San Francisco State when Neer offered him a spot on the Yellowjacket staff in 1998.
"I jumped at the chance and took a pay cut to do it," Wunder says. "It was the best decision of my life. I learned more in the first week of practice [as a Rochester assistant] than I did in three years at San Francisco State."
Now, Wunder says, "Half of the stuff we do [at Keuka] I got from Coach Neer."
Those are the types of learners Neer recruits to play for him: players who see the entire collegiate experience—athletics, academics, and personal growth—when they look for a school.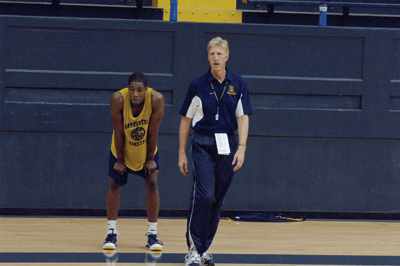 PRACTICE: Neer makes a point during practice as forward Jon Onyiriuka '08 listens.
"You're getting a bright kid who's had his choice of good schools, but he has reasons for being here," Neer says. "He generally is bright, he's coming in with discipline, and he's coming in with some ambition.
"Well, guess what? I don't care what field you're in—if you're bright, if you have reasons for being there, and you have some ambition, you're going to be successful. I'm not doing remedial work here. The kind of kids the U of R attracts allows you to coach them."
Under Neer, the development of the whole person is emphasized. Practices are arranged according to the players' class schedules—"It may mean we practice at 9 at night or 6 in the morning," Neer says, "but we're going to do everything we can to minimize class conflicts"—and the lessons Neer teaches are learned by players who then apply them to the bigger picture.
"He relates things in basketball to real life," says Brackney. "He uses basketball as a way of preparing his players for life in general."
Nearly a quarter century after Bruno Sniders wrote his scathing column, another Democrat and Chronicle sportswriter evaluated Neer's ability as a coach.
But this time, when reporter Jim Mandelaro wrote a long article marking Neer's 25th year at the University, the story was nothing but celebratory.
In the process of producing it, Mandelaro realized what type of coach—and person—Neer is.
Mandelaro says he expected to talk to Neer for an hour. "Well, Mike and I didn't talk for an hour. We talked for three hours—about basketball, life, World War II, the Internet, maybe even what we had for breakfast that day."
By the time he left the coach's office, Mandelaro says his respect for a man whose career has come to define many aspects of the Rochester experience—"He is synonymous with the school," the writer says—had been enhanced all the more.
"I like him because he is funny, honest, smart, and one heck of a coach," Mandelaro says. "Rochester is lucky to have him—the college and the city."
Ryan Whirty writes frequently about sports for Rochester Review.
---
Big Men on the Court
Neer is the latest in a Rochester tradition of successful basketball coaches who have had impressive—and longrunning—tenures in leading the Yellowjackets.
Some examples: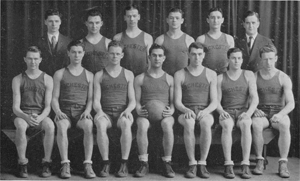 John Murphy
As coach from 1921 to 1922 and from 1923 to 1930, Murphy led Rochester to a 76–57 record over eight seasons. "The Murphymen" noted the 1929 Interpres of the 1927–28 season, had "one of the most successful basketball seasons in the history of a college whose hardwood performers have always been widely known."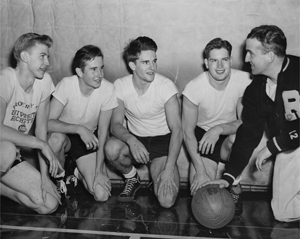 Louis Alexander
The dean of Rochester basketball coaches, Alexander won 247 games over 26 seasons from 1931 to 1957. With 137 losses during that span, the team's winning percentage was 64.3 percent, a figure still unsurpassed by any coach who has led the Yellowjackets for more than three seasons. The Palestra was dedicated in his honor in 1968.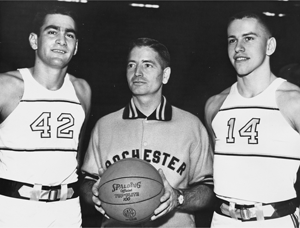 Lyle Brown
During Brown's 19-year tenure from 1957 to 1976, the Yellowjackets racked up a 222–181 record, including four trips to the NCAA Division III tournament. Selected as NCAA Coach of the Year for the 1964–65 and 1969–70 seasons, Brown also coached varsity soccer for 10 years. One of the last of the two-sport coaches at Rochester, Brown died in September at the age of 83.
---
The Athletic Fabric of Campus Life
By the end of the 1990s, the Rochester athletic department was struggling to keep pace, both on and off the field, with the sports programs of similar NCAA Division III schools. Athletic facilities were aging, budgets were sagging, and the teams themselves weren't winning as much as they could have.
But six years into the new century, the program has grown by leaps and bounds, thanks to the implementation of a detailed, ambitious, and comprehensive plan established several years ago.
The tide began turning when George VanderZwaag arrived on campus as the new athletic director in 1999. He spearheaded a development plan that included a clear vision, defined goals, and concrete strategies for achieving them. Since then, the department's progress has been dramatic:
The department created a fundraising body, the Friends of Rochester Athletics, to encourage donations from former student-athletes and others interested in the welfare of Rochester sports.
Several construction projects were launched, including a $14.6-million renovation of the Goergen Athletic Center, the design for an 11,000-square-foot fitness center, and the installation of FieldTurf at Fauver Stadium, a move that enhances Rochester's ability to host NCAA championships.
On the field, teams have achieved a dramatic turnaround. Since 1999, varsity squads have won two thirds of their games combined, 22 teams have qualified for the NCAA playoffs, 14 have claimed conference championships, and 30 athletes have earned All-American honors.
More significantly, 22 student-athletes have earned Academic All-American status, and 34 teams have been honored by coaching associations for their level of academic achievement.
Such accomplishments, says VanderZwaag, reflect how closely the athletic department fits into University's overall educational mission.
"Our plan defined who we are and our core ideology," he says. "We really wanted to reaffirm that we're a department that's about education first, that we fit in with University's mission of education. We wanted to define our roles as educators."
VanderZwaag says the department focused on three important factors: investment in facilities, investment in people, and development of resources. The Friends of Rochester Athletics, for example, has been able to strengthen the school's relationship with sports alumni and to encourage them to contribute to the growth of the department. Participation in sports, VanderZwaag says, enhances the experience of students, which in turn helps them give back to the program.
"It's always a part of you," he says. "You do develop a sense of loyalty. Because athletics contributed to who they are, they want to show their appreciation by supporting the next generation of student-athletes."
The department also stepped up its recruiting efforts by showing prospective student-athletes all the benefits—athletic, academic, social, and otherwise—the University has to offer.
"We're recruiting students who have serious academic goals," VanderZwaag says. "Athletes have the same academic preparation, the same academic goals, the same life ambitions as other students."
Because of that camaraderie, he says, there's strong sense of campus support for the athletic department, its teams, and its athletes, making athletics an integral part of the College's environment and overarching purpose.
"That in essence helps us fulfill our mission," he says. "There are so many people doing great work that you just want to be a part of that mix. There's a lot of life on this campus and athletics are a part of that fabric."
—Ryan Whirty