In Profile
Administration
Chuck Phelps Retires as Provost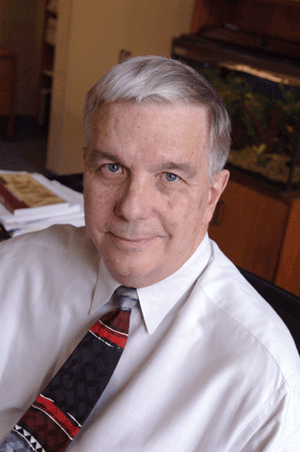 PEER LEADER: Having served as chief academic officer longer than most of his national peers, Charles E. (Chuck) Phelps plans to step down as Rochester's provost
The chief academic officer of the University's $2.1 billion enterprise seems more invisible on campus than you might expect.
Now in his 13th year as Rochester's provost, Charles E. (Chuck) Phelps can often slip by in his Birkenstocks and chinos without people realizing he's the source of crucial judgments about research progress, faculty excellence, and academic quality.
That's not because of his personality but because of the difficulty others have trying to grasp all that the job entails.
"A dean's job, a president's job, they have external cheering squads," says Thomas H. Jackson, Distinguished University Professor and University President Emeritus. "For the provost, it's pretty much an invisible position."
But a pivotal one. In addition to responsibilities for overseeing all teaching, research, and supporting services in the University's six schools, the provost is responsible for the academic activities of Rochester's libraries, its Laboratory for Laser Energetics, the University Health Service, and the Technology Transfer Office.
Having served in the post longer than most of his national peers, Phelps announced this fall that he plans to retire on July 1 (or when a successor is appointed). He wants time to relax, finish a book or two, and continue research on the economics of health care—his specialty. He'll also bike, canoe, recharge.
His decision comes after smoothing the transition for President Joel Seligman. Asked by Jackson to join the University's central administration, Phelps began his appointment in 1994.
Phelps and Jackson met during that presidential search when Phelps headed the advisory group working with the Board of Trustees. By all accounts, they bonded immediately.
"Together they helped design the Renaissance Plan, presided over the reinvigoration of the Medical Center, and made critical appointments," says Seligman. In separate conversations before he became president, Seligman was struck by how similarly Jackson and Phelps described important issues.
"They could precisely describe the process by which they had reasoned to pivotal conclusions. They shared values, they shared objectives but, most of all, they shared an intense loyalty to each other," he says.
That loyalty and Phelps's own national stature as a health economist and a former chair of Rochester's Department of Community and Preventive Medicine intersected at a decisive period in 2003. Phelps stepped into the job of acting CEO of the Medical Center when Jay Stein resigned suddenly.
Of all the responsibilities in his wide-ranging portfolio, Phelps singles out those eight weeks as among the most memorable.
"I'm proud that I did that," he says. He also chaired the national search for Stein's immediate successor as senior vice president for health affairs, C. McCollister (Mac) Evarts '57M (MD), '64M (Res).
Jackson says Phelps was uniquely qualified to step into that role.
"There were a lot of lieutenants at the Medical Center, but you still needed someone to tie that place together and keep it going. Chuck had the management skills from his provost years and his Medical Center knowledge," Jackson says. "It's a fascinating piece of Chuck's time at the University. He has the right to be very proud of it."
Phelps's longstanding commitment to the University resonates with faculty. Many faculty and senior administrators work at Rochester because of his involvement in attracting them or having a hand in the search process.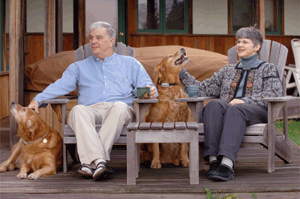 HOME TIME: Phelps and his wife, Dale, relax at home (above), where he also can practice his archery (opposite).
"My job is finding academic leaders," he says, and it gets tougher all the time because those leaders need a wider array of skills than previous generations.
"The arms race among universities has gotten more vigorous," says Phelps. "Resources matter in this world . . . and you've got to get clever about what you're doing with what you have. Get Meliora and get leaner as well."
Jackson, himself a former provost at the University of Virginia, says the job's main challenge is managing the academic enterprise, particularly ensuring that Rochester recruits and retains outstanding faculty.
As an academic administrator, Phelps has earned praise as a listener as much as a decision maker.
Douglas Ravenel, the Fayerweather Professor of Mathematics, first met the provost in a tense situation when the Renaissance Plan proposed eliminating the mathematics graduate program. For 19 weeks, the department and its supporters lobbied to overturn the decision, recalls Ravenel. Eventually, the program was reinstated.
"I was really impressed with him and the other people I was fighting in the administration," Ravenel says. "We started out at loggerheads but since then, we've gotten along very well."
Of many examples, Ravenel is grateful for ideas and sources from Phelps on ways to make the Faculty Senate more relevant at the University. Ravenel served on the Senate's executive committee with Phelps an ex officio member. "The Senate is a different place now," says Ravenel.
A generous dose of optimism and a bent toward innovation add to Phelps's reputation as a problem solver.
Kevin Parker, dean of the College's School of Engineering and Applied Sciences and the William F. May Professor of Engineering, believes Phelps's analytical mind and instincts are hard to beat.
"You don't go to school for this," Parker says. "It's a wisdom and a vision for where we need to be in the 21st century."
Phelps is a magnet for challenges. He's studied the oversight of academic research and the role of libraries in the digital age, for instance, as well as possible causes for Gulf War Syndrome. He's testified in Congress on such topics as intellectual property rights and copyright protections for peer-to-peer file sharing.
"Chuck's superb understanding of organizations was incredibly helpful to me as I began to fashion a new organization that responded to the needs of the time," says Deanna Marcum, former president of the nonprofit Council on Library and Information Resources.
Provost Search
Faculty Named to Committee
President Joel Seligman is chairing a campus committee that will begin the process of finding a successor to Provost Charles Phelps.
Members of the committee include Mark Bocko, chair of the Department of Electrical and Computer Engineering; Brian Brent, associate professor and associate dean of graduate studies at the Warner School; Gerald Gamm, associate professor of political science and history, and chair of the Department of Political Science; Bette London, professor of English; Richard Niemi, Don Alonzo Watson Professor of Political Science; Lynne H. Orr, professor of physics; Thomas Pearson, the Albert D. Kaiser Professor and chair of the Department of Community and Preventive Medicine; Marie Rolf, professor of music theory and associate dean of graduate studies at the Eastman School; James VanDemark, professor of double bass at the Eastman School; Joanna S. Wu, associate professor of accounting at the Simon School of Business; and Jerold L. Zimmerman, Ronald L. Bittner Professor of Business Administration and professor of accounting at the Simon School.
Lynne Davidson, who served as associate provost to Phelps for five years, says that while the provost has a set of responsibilities that appear to be finite, Phelps's creativity is limitless.
"There is latitude to be creative about the best ways to achieve our goals, Davidson says. "Chuck would often say, 'Give it a shot'!"
Davidson is now a deputy to Seligman and has assumed a new assignment as vice provost for faculty development and diversity, working directly with Phelps again.
"He zooms right in and hears the important issues, and he's not stuck there."
Once he gets home to his "Japanese Adirondacks Great House," a comfortable lodge with timbered ceilings, hanging scrolls, and a garden view that can transport you to Kyoto, he can relax in his workshop or go outdoors to split apples with a bow and arrow. Atop a knoll in the suburban Pittsford countryside, he and Dale Phelps, his wife and a professor of pediatrics and neonatology at the School of Medicine and Dentistry, can see the tower of Rush Rhees Library.
His love of archery started when he was an Easter Seals camp counselor in Colorado. Seven summers later, he earned his first administrative job as assistant camp director. He sees that experience as one of the building blocks that produced the life he leads today.
Born in New York City in 1943, Phelps was raised in Denver and met Dale when they attended Pomona College in Claremont, California. They continued their studies in Chicago, where he earned his M.B.A. in hospital administration and a doctoral degree in economics from the University of Chicago, and she graduated from Northwestern's School of Medicine.
Returning to California in 1971, she entered her residency at UCLA and he worked as a senior economist at the RAND Corporation. Their son, Darin '94, graduated from the College in chemical engineering and now works in computer technology support at New York University. Daughter Teresa graduated from SUNY Geneseo in geography and is married to a doctoral candidate in the Department of Pharmacology.
Phelps came to Rochester in 1984 to be a professor and director of the Public Policy Analysis Program, a program that is no longer offered in the Department of Political Science. Five years later, he became chair of community and preventive medicine. He currently holds professorships in political science, economics, and community and preventive medicine.
He didn't consider a career in the University's administration until 1993, when Jackson so impressed Phelps that he told one trustee, "I'd kill to be his provost!"
No need for a bow and arrow this time. The president-elect made him an offer.
—Sharon Dickman
---
Sharon Dickman is the public information coordinator in the Office of Communications.