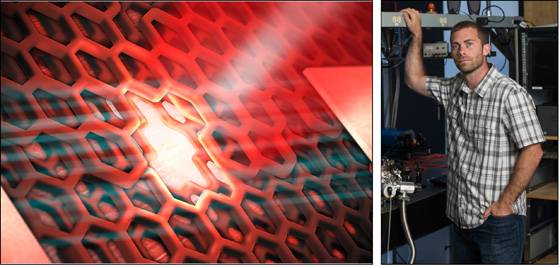 This illustration, by Michael Osadciw of Creative Serivces, shows an optically active quantum dot at the overlap of two atomically thin layers of tungsten diselenide. Nick Vamivakas, at right, an Assistant Professor of Quantum Optics & Quantum Physics, has received an NSF CAREER award that will enable his lab to explore this type of structure as "a transformative approach to controllable realization of defect-based quantum dots in atomically thin semiconductors."
NSF CAREER award: Unleashing photons from quantum dots
Something interesting happens when you overlap two layers of tungsten diselenide that are each only a few atoms thick,
Nick Vamivakas
and his lab have discovered.
The interface between the layers creates regions, quantum dots, where stray electrons like to gather.
Vamivakas, an Assistant Professor of Quantum Optics & Quantum Physics, likens this to hills and valleys, with the layers of tungsten diselenide being hills. "Each time an electron falls into one of the valleys, it becomes trapped into a small region of space. Once trapped it can be coaxed to emit a photon (particle of light).
If we can cause this to continually happen you have a stream of single photons coming out
."
Photons are governed by quantum physics, not classical physics, which means
novel, transformative applications are possible in fields as diverse as metrology and information processing
. For example, imagine if one of these photon-emitting tungsten diselenide nanostructures could be substituted in place of lasers in integrated photonic chips, Vamivakas said. "You could do things like computing and information processing that would be much faster. You could solve problems that you couldn't solve with an ordinary electronic chip."
This will not happen overnight, Vamivakas cautions. The NSF CAREER award he received earlier this year, entitled Quantum Photonics with Quantum Dots in van der Waals Heterostructures, "is
definitely a basic research project; there's not going to be a widget coming out the door
.
"However, if we can understand the formation of these quantum dots, if we can control how they form and fine tune the colors of the photons that come out, we can start to try to marry this to particular applications."
In the meantime, Vamivakas notes in his project summary, these nanostructures offer a "
rich condensed matter physics playground to explore the coupling of quantum dots and atomically thin semiconductors
."
Show you've had success as a researcher
Vamivakas said he didn't write his CAREER proposal that much differently from any other submission to NSF — with one exception. The NSF CAREER award recognizes recipients not only for their outstanding research, but "excellent education and the integration of education and research within the context of the mission of their organizations."
"Because there is more emphasis on the educational component in the CAREER program, I made that section a little more prominent at the beginning of the proposal, and added a little extra length in that section,"
Vamivakas said. For example, he included his involvement as the lead faculty for the successful summer Photon Camp sponsored by The Institute of Optics to introduce high school students to the field.
Vamivakas believes the most important factor in receiving the CAREER award was his ability to
demonstrate how he has developed as an independent researcher
, starting with his postdoctoral work at Cambridge where he published papers while researching quantum dots in gallium arsenide, a material that has attracted the attention of many researchers.
"When I came to Rochester I used that as a springboard to take my research in a new direction, so as not to overlap 100 percent with what I had been doing at Cambridge," he added. That new direction was discovering tungsten diselenide as a material capable of hosting quantum dots.
Two papers published by his lab on that topic "demonstrated I'm having research success on my own,"
Vamivakas said. "Coupled with the Photon Camp, which is a meaningful educational experience, it allowed me to make a pretty compelling story for people reviewing this at NSF."
His advice to junior faculty interested in pursuing a CAREER award?
"You first have to build a foundation, such as having a paper published or at least submitted.
When you're applying to a program that is experimental in nature, you need to have a lab that is up and running, and the way you demonstrate that is through the data you publish in papers
," Vamivakas said.
"You need demonstrated success in those areas."
Click
here
and scroll down to view the video of an AS&E workshop on applying for NSF CAREER awards, held on April 20, 2015.
Next: Dragony Fu's CAREER award will enable his lab to explore the role played by a key group of enzymes that act on RNA molecules to regulate how those molecules function in fundamental cellular processes.
Do you have an interesting photo or other image that helps illustrate your research? We would like to showcase it. Send a high resolution jpg or other version, along with a description of what it shows, to bmarcotte@ur.rochester.edu.
---
Joel Seligman elected to American Academy of Arts and Sciences
University President and CEO
Joel Seligman
has been
elected to membership in one of the country's oldest and most highly regarded honorary learned societies, the American Academy of Arts and Sciences
.
Seligman, who also holds the title of G. Robert Witmer, Jr. University Professor, became Rochester's 10th president in 2005. He is a
noted expert on U.S. securities law
. He coauthored, with the late Louis Loss and with Troy Paredes, the 11-volume
Securities Regulation
, the leading treatise in the field, and is author of
The Transformation of Wall Street: A History of the Securities and Exchange Commission and Modern Corporate Finance
. He also is the author or coauthor of 20 books and more than 40 articles on legal issues related to securities and corporations. He served on the board of the Financial Industry Regulatory Authority from 2007 to 2015.
As president, he
has led a period of remarkable growth for the University
, driven by a strategic planning process and by the The Meliora Challenge, the University's $1.2 billion fundraising campaign. Seligman also has served in several leadership roles within the Rochester community, including positions on the boards of the Greater Rochester Enterprise and the Greater Rochester Chamber of Commerce, and at the state level, most notably as cochair of the Finger Lakes Regional Economic Development Council.
Read more . . .
---
Joshua Dubler awarded Carnegie Fellowship to explore prison abolition
Joshua Dubler
, Assistant Professor of Religion, is hoping to spark a public conversation about
whether prison is a necessary component of modern society
. Dubler will spend the next two years pursuing the idea as
one of 33 national recipients of a 2016 Andrew Carnegie Fellowship
from the Carnegie Corporation of New York. The fellowship includes an award of $200,000.
While the United States has about 5 percent of the world's population,
it's home to roughly one quarter of the world's prisoners
.
Dubler says he's encouraged by recent conversations about ending mass incarceration, but he says "the tepid reformist frameworks on offer are grossly inadequate to the task at hand.
"If we are to really end mass incarceration, what we need is a mass movement that demands
not that we tweak our broken criminal justice system, but that we reimagine justice from the ground up
," he says.
Dubler is the first to concede that prison abolition is for now impossible, but he says the impossibility is itself a historical fact that demands careful scrutiny.
"How, when, and by what means did the prison become socially indispensable?
What if instead of approaching the prison as necessary and eternal, we approached it for what it is: a social institution that emerged at a particular historical moment, stuck around for a while, and will one day be replaced by something else, and — I would hope — substantially less horrible? If we thought about prisons that way, how far might our policy prescriptions go?"
Read more . . .
---
Undergraduate Research Expo celebrates young scholars, artists
The College's annual
Undergraduate Research Exposition from 12:30-4 p.m. today
consists of a symposium for students' oral presentations, a poster session and an awards ceremony.
The symposium will include
four concurrent sessions of oral presentations, running from 12:30-1:30 p.m.
, with three student presentations at each. They will be held in Meliora 221 (Engineering and Applied Sciences), Bausch and Lomb 106 (Natural Sciences and Mathematics), Dewey 2-110D (Humanities), and Wells-Brown Room of Rush Rhees Library (Social Sciences).
A
poster session
for all undergraduate students who have conducted research in the last year will begin
at 2 p.m., followed by an awards ceremony at 3:10 p.m.
, both in the Hawkins Carlson Room of Rush Rhees. Undergraduate Research Awards, Visual Art in Undergraduate Research Awards, and Student Association Professor of the Year Awards will be announced.
Read more
here . . .
---
Registration nearing close for Falling Walls competition
Registration for the Falling Walls competition is quickly coming to a close. The preliminary event will take place on
Wednesday, May 18 in the Sloan Auditorium, Goergen Hall, beginning at 2 p.m.
, with a cocktail reception immediately following.
The Falling Walls competition consists of a series of three minute presentations; each presenter will have just three slides to summarize their ground breaking idea.
The winner of this contest will receive a $500 cash prize and directly qualify for the Lab Finale in Berlin, Germany, on November 8, with costs of travel and accommodations covered.
Second and third place winners will also receive cash prizes of $300 and $200 respectively.
Click
here
to register. To learn more about this event, visit the official Falling Walls
website
or contact
Adele Coelho
.
---
Introducing a new faculty member
Alden Snell II
has been appointed to the faculty of the Eastman School of Music as
Assistant Professor of Music Education
beginning this fall. Snell's
research interests include teacher musicianship, generative creativity, and music teacher professional development
. He is co-editor of
Engaging Musical Practices: A Sourcebook for Instrumental Music
, and is lead or co-author of research studies published or recently accepted for publication in the
Bulletin of the Council of Research in Music Education, Journal of Music Teacher Education
, and
Research Studies in Music Education
. Snell has been an Assistant Professor of Instrumental Music Education at the University of Delaware. He earned a Bachelor of Science degree in music education from Roberts Wesleyan College in Rochester, New York, where he graduated summa cum laude and was awarded the President's Award for Outstanding Achievement. He then earned Master of Arts and Doctor of Philosophy degrees in music education from the Eastman School, where he was awarded the prestigious Donald J. Shetler Prize, given to an outstanding doctoral student in music education.
Read more . . .
---
University researchers in the news
A new study about the
wide variation in use of blood transfusions during colorectal surgery
has triggered a "call to action" for protocols to clear up this long-debated area of medicine. In the journal
Diseases of the Colon and Rectum
, lead author
Christopher Aquina
, a Senior Resident and Research Fellow in the Department of Surgery, and senior author
Fergal Fleming
, an Assistant Professor of Surgery at the Wilmot Cancer Institute, report that
transfusion rates before, during and after surgery range from 2.4 percent to 58.7 percent among surgeons, and from 2.9 percent to 32.8 percent among individual hospitals
. They used a large, state-maintained database to conduct the retrospective study of more than 125,000 cases of colorectal surgeries between 2001 and 2013. Even among the most experienced and high-volume surgeons, transfusion rates varied for unexplained reasons, the study said. The findings raise two chief concerns, according to the authors. First,
perioperative blood transfusions have been strongly associated through prior research with post-operative infections
such as pneumonia, sepsis, and surgical-site complications. In addition, the
wide variations in practice suggest that surgeons need a better method of deciding when to use blood transfusions
.
Read more . . .
Medical Center researchers have uncovered
a new mechanism of bone erosion and a possible biomarker for rheumatoid arthritis
(RA). The group is the first to demonstrate that
immune cells, called B cells, contribute directly to the breakdown of bone in rheumatoid arthritis by producing a signaling molecule called RANKL
.
Jennifer Anolik
, Professor of Medicine and author of the study, found that B cells extracted from rheumatoid arthritis patient blood produced more RANKL and led to production of more bone chewing cells, called osteoclasts, than B cells from the blood of healthy volunteers.
This effect was even greater when study authors inspected B cells extracted from RA patients' joint fluid and tissue.
Thanks to a
unique collaboration between the rheumatologists and orthopedic surgeons in the Center for Musculoskeletal Research
, Anolik and her team, including first author
Nida Meednu
, Research Assistant Professor of Medicine, and
Lianping Xing
, Professor of Pathology and Laboratory Medicine, were able to study joint tissue collected during RA patient surgeries. They believe RANKL could be used as a marker to decide which RA patients are most likely to have progressive joint damage and which drugs are most likely to halt that progression. However, Anolik cautions, "Longitudinal studies looking at [joint] tissue are necessary to define that further."
Read more . . .
---
Mark your calendar
April 27:
Cognivue: Assessing the aging brain - Patenting, Licensing, and Commercializing a Breakthrough Technology, presented by Charles Duffy, Professor of Neurology, and John Fahner-Vihtelic, Senior Licensing Manager, UR Ventures. Noon to 1 p.m., Helen Wood Hall Auditorium (1w-304). CTSI Seminar Series.
April 27:
UR Medicine Project ECHO: Disruptive Technology to Expand Multidisciplinary Care, presented by Michael Hasselberg, Assistant Professor of Psychiatry and Clinical Nursing; Director of Telepsychiatry and Project Extension for Community Healthcare Outcomes. 12:00-12:50 pm, Helen Wood Hall (1w-510). School of Nursing Grand Rounds.
April 28:
Hajim School Design Day. Students present posters and prototypes illustrating more than 70 capstone projects from 11:30 a.m. to 2:30 p.m. in the Goergen Athletic Center. Read more
here
.
April 29:
Colloquium and Concert, celebrating 100th anniversary of Milton Babbitt's birth, Eastman School.
Read more . . .
May 2:
Genetics Day, 10 a.m. to 4:30 p.m., Class of '62 Auditorium and Flaum Atrium. Lecture by Michael Levine, Director of the Lewis-Sigler Institute for Integrative Genomics at Princeton University. Poster session. Sponsored by University Committee for Interdisciplinary Study.
May 6:
Humanities Proposal Writing Workshop, to help faculty, postdocs, and graduate students (and staff who assist them) prepare compelling proposals to non-federal funders interested in advancing the Humanities and Humanistic or Interpretive Social Sciences. 9 a.m. to 4 p.m., Hawkins Carlson Room, Rush Rhees Library. Sponsored by the AS&E Dean for Research Office, under the umbrella of the University's Humanities Center. For more information and to register (required), click
here
.
May 6:
Preproposals due for University Technology Development fund, which awards winning applications from faculty, staff, or students up to $100,000 to develop their technology to a commercial endpoint. For more information or to submit preproposals, contact
Omar Bakht
.
---
Please send suggestions and comments to Bob Marcotte. You can see back issues of Research Connections, an index of people and departments linked to those issues, and a chronological listing of PhD dissertation defenses since April 2014, by discipline.