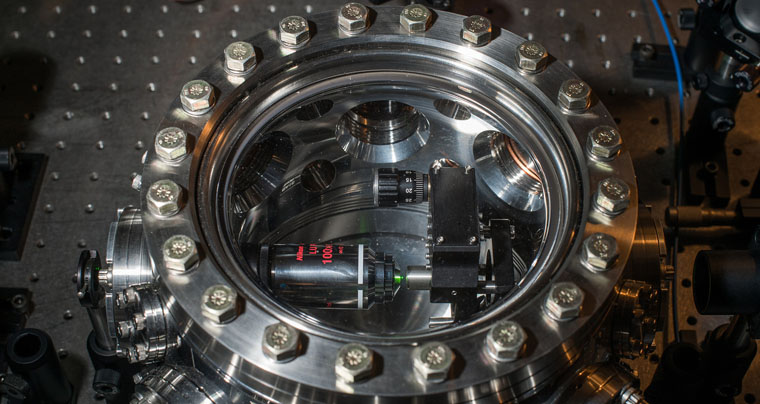 Images of research
"Shine On, You Crazy Levitating Diamond Particle," was the headline at Gizmodo, inspired by researchers at the University of Rochester who used a laser to trap nanodiamonds in space (see green speck at lower center in the photo above). Using another laser, the researchers caused the diamonds to emit light at given frequencies. Led by Nick Vamivakas, an Assistant Professor of Quantum Optics, the team demonstrated that it is possible to levitate diamonds as small as 100 nanometers (approximately one-thousandth the diameter of a human hair) in free space, by using a technique known as laser trapping. This also drew the attention of Fox News, the Discovery Channel, NBCnews.com and Yahoo! News.
Do you have an interesting photo or other image that helps illustrate your research? We would like to showcase it. Send a high res jpg or other version, along with a description of what it shows, to bmarcotte@ur.rochester.edu.
---
Research in the news
In a guest essay in the Rochester Democrat and Chronicle, UR President Joel Seligman contends that "The innovation deficit -- the widening gap between needed and actual U.S. federal investments in research and higher education -- is jeopardizing our nation's role as a global innovation leader and our scientific progress at a time of extraordinary opportunity."

---
Did you know
The URMC Scientific Advisory Council (SAC) and the University of Rochester Clinical and Translational Science Institute (CTSI) are soliciting applications for the Incubator Program. Incubator projects, which are open to faculty of all UR schools, are two-year "super-pilots," intended to accelerate innovative scientific discovery in the life sciences and public health, leading to new independently-funded research programs. Two awards are anticipated: one funded through the SAC, and the other funded principally through the CTSI's NIH grant. Each award will be funded at a maximum level of $125,000 per year for each of two years. Initial applications are due on October 15. Details are in the RFA.

---
Here to help you
The CyTOF Mass Cytometer in the URMC's Flow Cytometry Core Facility allows researchers to study cellular activity and signaling on an unprecedented scale. It uses stable heavy metal isotopes to label cells, then employs time-of-flight atomic mass spectrometry to simultaneously resolve more than 30 isotopic probes, maximizing the per-cell information obtained from a single sample. Applications are possible in many fields, both at the Med Center and River Campus, including immunology, cancer research, stem cell biology and drug profiling. Researchers also have free access to Cytobank, which allows them to manage their experiments like they would their email, providing ways to manage, search and back up data files over the web. Cytobank's analysis system incorporates annotations and makes it easier to create figures for lab meetings, publications or for sharing. For more information about the CyTOF, contact Matthew Cochran, Technical Director, URMC Flow Lab.

---
Introducing a new faculty member
Laura Wray-Lake joins the Department of Clinical and Social Sciences in Psychology as an assistant professor. Her research is grounded in lifespan developmental theory and draws from multiple disciplines to understand optimal social development in youth. A driving question of her research is how and why do individuals become engaged in society? Wray-Lake has a Ph.D. in Human Development and Family Studies from Penn State University, and comes to us from Claremont Graduate University, in Claremont, CA, where she was an assistant professor of psychology.

---
Grant-writing tip
Spelling and grammar errors, and lack of clarity can doom an otherwise solid grant proposal. Proofread your application in several formats: change fonts and sizes, for example, change the screen size, and print out a hard copy to read -- anything that helps you take a fresh look.

---
Points of pride
The University of Rochester Medical Center is one of 11 major medical centers that contributed to a first-of-its-kind study identifying a group of gene mutations that may be behind up to 10 percent of complex congenital heart defects, the most frequent birth defect and a leading cause of infant death.

---
Congratulations to ...
Xiuxin Liu, Assistant Professor in the Department of Dentistry at the Eastman Institute for Oral Health, and Feng (Vankee) Lin, Assistant Professor in the School of Nursing and research associate in the AD-CARE program, named as 2013 KL2 Mentored Career Development Program awardees by CTSI.

---
Mark your calendar
Tuesday, Sept. 3: "The State of the CTSI," a joint presentation by Thomas Pearson, outgoing director of the Clinical and Translational Science Institute (CTSI), and Karl Kieburtz, newly appointed director, 12:15 p.m., Whipple Auditorium (2-6424). Lunch will be served.

Thursday, Sept. 5: Program on "The National Photonics Initiative: What is Rochester's Role?" at The Rochester Regional Photonics Cluster annual meeting, 3-6:30 p.m., Rochester Museum and Science Center. Register here; fee is waived for UR students (enter STUDENTFREE in the Promo code box.)

Sept. 12: SCORE workshop, "Learning the Consent Process: How to Swim, Not Sink" by Kelly Unsworth, Human Subject Protection Specialist in the Office for Human Subject Protection, 12-1:30 in Saunders Research Building (SRB 1.416). Feel free to bring your lunch.

Sept. 16: Graduate Student Grantsmanship Forum. Hawkins-Carlson Room 9 a.m. to noon. RSVP to Janice Van Opdorp or contact either Wendi Heinzelman or Debra Haring if you have any questions.

Sept. 19: NSF Graduate Research Fellowships Program Workshop in Dewey 101 from 5-8:15 pm. To give senior undergrads and first-year graduate students in all disciplines supported by NSF an understanding of the program, its requirements and best practices on how to craft a competitive application. RSVP to Janice Van Opdorp or contact either Wendi Heinzelman or Debra Haring if you have any questions.

Sept. 27: Letters of intent are due for the KL2 Mentored Career Development Program, for slots that begin July 1, 2014. The program supports the career development of new faculty who wish to pursue research careers in multidisciplinary clinical and translational science. The RFA is available here.

---
Make a reservation
Registration is now open for the University of Rochester Big Data Forum 2013, which will bring together renowned researchers in data science for a day of interdiscplinary talks and discussions starting at 8:30 a.m., Oct. 18, in the Hawkins-Carlson Room, Rush Rhees Library. Limited seating. Topics include machine learning, network science, cognitive science, and applications in the health, social, and physical sciences. Reception to follow at Staybridge Suites.

---
Please send suggestions and comments to Bob Marcotte..