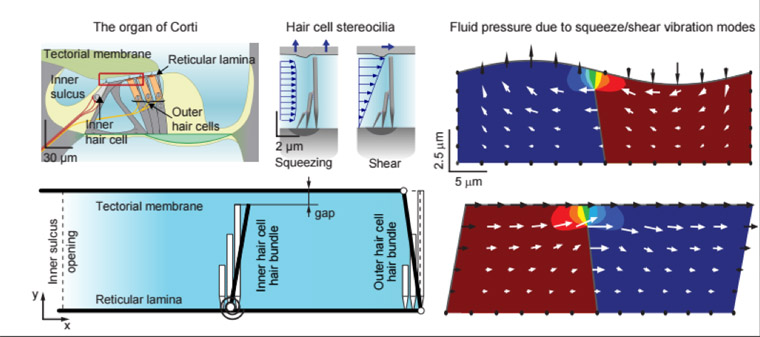 A cross section of the organ of Corti at upper left shows the proximity of outer and inner hair cells to the tectorial and basilar membranes. The other diagrams show hair cells modulating power dissipation within the inner ear for optimal amplification and tuning of sounds. Asst. Prof. Jong-Hoon Nam hopes to clarify how the dissipation of this energy — an "underappreciated but crucial aspect" — occurs, to illustrate the overall balancing act that occurs within the cochlea.
Jong-Hoon Nam's goal: a 'new integrative paradigm' of hearing research
Thirty-seven years ago, English researcher David Kemp discovered that the human inner ear not only receives but also generates sounds as part of its normal functioning. This finding led to the standard method now used to screen hearing in newborns. And yet, even now, scientists are not sure how or why these "otoacoustic emissions" occur.

Jong-Hoon Nam, Assistant Professor of Mechanical Engineering and of Biomedical Engineering, hopes to provide answers to this and other mysteries of our incredibly complex sense of hearing with an NIH grant that could total $1.8 million over the next five years.

His lab will combine ambitious computer simulations with a novel microfluidic chamber to focus specifically on the organ of Corti. The organ — a complex, truss-like strip consisting of inner and outer hair cells, a basilar membrane and supporting cells — plays a key role in converting sound-generated oscillations in the cochlea's fluid-filled chambers into electrical signals that go to the brain. Indeed, damage to the outer hair cells is a "prominent signature" of most types of hearing loss, Nam said.

"The biomechanics of the organ of Corti have been under-investigated," Nam noted. "We would like to know how the complicated structure of the organ of Corti contributes to the overall function of the cochlea. That's the major theme of this proposal."

He hopes his study will lay groundwork that eventually will lead to hearing aids or implants that are better customized to the needs of individual patients. There could be other applications as well. The inner ear can process a wide range of both frequencies and loudness; a better understanding of how it does this might lead to more sensitive pressure transducers and other engineering applications.

Much of the research on the inner ear to date has occurred at two extremes of scale: the macro biophysics of the cochlea as a whole, and the physiology of individual cells and molecules. By focusing on the multi-cellular physics of the organ of Corti, and the electro-mechanical interaction between outer hair cells and the microstructures around them, Nam hopes to "bridge" these previous findings and provide a "new integrative paradigm of hearing research."

Nam says the NIH funding will support involvement of two to four PhD students in the project. Co-PI is Joseph C. Holt, Assistant Professor in the Department of Otolaryngology, who will provide advice on the pharmacological aspects of the organ of Corti's physiology.

Click here to read more about the project and the novel experimental and computational approaches Nam's lab will employ.

(Next: The lab of Laurel Carney, Professor of Biomedical Engineering, studies what happens beyond the inner ear — in the complex network of auditory nerve fibers that transmit the inner ear's electrical signals to the brain, and in the auditory center of the midbrain.)


Do you have an interesting photo or other image that helps illustrate your research? We would like to showcase it. Send a high resolution jpg or other version, along with a description of what it shows, to bmarcotte@ur.rochester.edu.
---
Controlling obesity: A call for collaboration
Diana Fernandez, Associate Professor of Public Health Sciences and Pediatrics, will soon begin visiting Medical Center and River Campus departments in search of collaborators to study obesity and weight gain.

Fernandez, head of the Medical Center's Healthy Weight Initiative, says "There are so many factors that affect energy balance — there's physical activity, what we eat, DNA, culture, the economy, and so on. We're hoping to get people connected so we can start writing proposals that will ultimately translate into improving weight on a population level."

The Healthy Weight Initiative, which will facilitate this collaboration among researchers from seemingly disparate disciplines throughout the University, is guided by three overarching concepts.

1. Action-oriented research: The research which emerges from the initiative will be translational, and can be applied to individuals or populations.
2. Team science: Transdisciplinary teams will work together on projects from the very onset to develop a shared conceptual framework that integrates multiple perspectives — allowing for research "outside the box" that can translate more quickly to clinical practice.
3. System thinking: The initiative will look at the interconnection of the myriad factors that contribute to a person's weight. While complex, understanding the entire system that affects weight is vital to future breakthroughs.

For more information, contact Diana_Fernandez@urmc.rochester.edu. Read more here.

---
Public spectacles revealed growing lack of tolerance on the Spanish frontier
(This is the second of two parts.)

Public spectacles offer a unique window into medieval social attitudes, because they are some of the "few moments when members of all groups of society are in the same place, seeing the same thing," notes Thomas Devaney, Assistant Professor of History.

In his new book, Enemies in the Plaza: Urban Spectacle and the End of Spanish Frontier Culture, 1460-1492 (University of Pennsylvania Press), Devaney examines how religious processions, public pageants, even tournaments of jousting knights helped harden the attitudes of Christians in Castile toward Muslims in neighboring Granada, and towards the Muslims, Jews, and converts living in their own midst.

Devaney believes a "reflexive feedback mechanism" was involved. "In many cases, rulers attempted to give the people the show they thought the people wanted. But as we can see in our own society, people in authority have a different life experience than the average person in the street. So they're making a guess of sorts: I think this is want the people want. The people, in turn, see this and are drawing their own conclusions: If our leaders are saying more and more negative things about these other religious groups, apparently we're free to act out against them. They do so. The city council members and nobles thus see more and more public activity against religious minorities; the level of the rhetoric gets ratcheted up a notch; and we have this ongoing back and forth.

"In other words, there's really no bad guy, no person really planning this. To a large degree it just happens, and it's not under any individual or group's control."

Often, spectacles staged by figures of authority had extensive "subtexts" that reflected a complicated balancing of competing interests. Here's an example:

Don Miguel Lucas de Iranzo, the ruler of the frontier town of Jaen, was eager to resume military campaigns against the Muslims across the border in Granada. But to do so, he had to "inspire a local population that was just as happy to trade with the Muslims as fight them," Devaney writes.

In one of Lucas' staged spectacles in 1463, one hundred of his knights, dressed like Moors with robes and fake beards, arrive at Lucas' door along with actors representing the King of Morocco and the Prophet Mohammad. They request a tournament to settle their differences with the Christians once and for all; indeed, if the Moors lose, they will all convert to Christianity.

Of course, the Moors lose. But it is interesting, Devaney notes, that the tournament involves a contest of Islamic origin; the contestants on both sides ride their horses in the Moorish style; the church where the subsequent conversions take place had once been a mosque; and so forth.

"Miguel Lucas was trying to cut deal with the local population," Devaney notes. "He's saying 'fight my war; the Muslims will just become Christians and everything else will stay the same.' In a sense, he lowered the stakes of holy war by suggesting that victory would result in the conversion of the enemy but no other changes."

Nothing would be the same, however, after spectacles later in this time period turned violent. A mere decade later, in Cordoba, an eight-year-old conversa (convert from Judaism to Christianity) accidentally spilled water on a statue of the Virgin Mary during a religious procession, causing someone to shout she had " thrown urine" on the sacred image, Devaney writes.

A riot ensued, which authorities initially tried to subdue, then ultimately acquiesced in, as the violence spiraled out of control. Many of Cordoba's converts were killed, and others fled for their lives.

---
Seminar examines grantsmanship for postdocs
Science Alliance and New York Women in STEM offer a seminar on Grantsmanship for Postdocs, which can be attended in person or via webinar, from 6 to 8:30 p.m., Nov. 3, at the New York Academy of Sciences. Keynote speaker will be Jaime Rubin, Director for Research Development in the Department of Medicine at Columbia University.

The seminar will include:

Types of funding agencies (government and private)
Types of private agencies (e.g., voluntary health organizations, professional societies, foundations)
Review criteria for the NIH career transition K99/R00 application
Key components of the NIH career transition K99/R00 application
Commons mistakes made by applicants
Tips to increase your chances for success

Following the seminar, there will be a panel discussion with postdocs and junior faculty who have successfully applied for the K99/R00 funding mechanism.

Learn more here.

---
Introducing a new faculty member
Patrick M. Reagan has joined the Wilmot Cancer Institute faculty full time after completing fellowships at Wilmot in recent years. As a member of the Division of Hematology/Oncology, Reagan will focus on lymphoma. One major part of Reagan's new role will be opening a clinical trial for older patients who have diffuse large B-cell lymphoma. "It's a really exciting time in cancer care and in lymphoma particularly," Reagan said. "Things are changing rapidly so it's an exciting time to be just starting out. Therapies are becoming more targeted and more tolerable for patients." Read more . . .

---
Congatulations to . . .
Danielle Benoit, Associate Professor of Biomedical Engineering, who has been recognized as one of 11 CMBE Young Innovators for 2015 by the Cellular and Molecular Bioengineering Journal. The award highlights the best and brightest young faculty working in the area of cellular and molecular bioengineering. Read more . . .

---
UR research in the news
Despite guidelines to restrict blood transfusions, a wide variation in practice persists across New York State, resulting in complications such as infections and pneumonia, a Medical Center study concludes. The study — which focused on transfusion data for patients who had surgery to remove cancer from the upper gastrointestinal tract — was published in the Journal of GI Surgery. Most other studies observed broad variability in transfusion rates among different hospitals, but the UR study found that 42 percent of the unexplained variation in blood transfusions stemmed from decisions made by individual surgeons. "Because our study shows that variation rates may be related to surgeon practice patterns, it suggests that adherence to clinical-practice guidelines for surgeons is critical," said Christopher T. Aquina, a general surgery resident and research fellow with Surgical Health Outcomes & Research Enterprise (SHORE). Better adherence to the protocols might also preserve the limited resources in blood banks and reduce the costs associated with giving blood transfusions, Aquina said. Read more . . .

Researchers at the Medical Center recently discovered a new "signpost" molecule that may lead to a breakthrough in understanding how platelets, tiny cells that are important for blood clotting, get switched on after heart attack and stroke. This knowledge could eventually yield new specialized drugs that could turn platelets off and prevent excessive clotting in these circumstances, which would reduce damage to heart and brain tissue. Craig Morrell, an Associate Professor of Medicine in the Aab Cardiovascular Research Institute, and Scott Cameron, Cardiology Fellow in the Institute, found that platelets can be turned on when they experience a lack of oxygen — as occurs in a heart attack or stroke. The "signpost" molecule they identified senses the increase in free radicals caused by the lack of oxygen and keeps the platelets turned on — worsening the blockage of blood flow. While this discovery is potentially a great advance, Morrell and Cameron's work is far from done. They hope to find an optimal drug target to turn platelets off after heart attack or stroke, which could lead to development of a drug that tips the balance toward helping patients without the risks carried by current drugs. Read more . . .

---
Mark your calendar
Sept. 4: Graduate Student Grantsmanship Forum, Hawkins-Carlson Room, 10 a.m. to noon. A light breakfast will be served. Learn more here.

Sept. 10: NSF Graduate Research Fellowship Program (GRFP) Workshop in Hawkins-Carlson Room, 4-5:30 p.m. Learn more here.

Sept. 17: Retraining Damaged Brains: A Personal Journey, Krystel Huxlin, Professor of Ophthalmology and Director of Research, Flaum Eye Institute. Graduate Women in Science (GWIS) Meeting. 3-4 pm, MC 1-9576 (Case Method Room).

Sept 24: Environmental Health Sciences Research Day seminar, celebrating 50 years of Environmental Health Sciences research at The University of Rochester. Various seminars on the EHSC History, new research, community impact, and a poster session. 9 a.m. to 4:30 p.m., Class of 62 Auditorium.

Sept. 30: Industry Consulting: Part One, Karl Kieburtz, CTSI director. Noon to 1 p.m., Helen Wood Hall Auditorium (1-304). Part of the series on Good Advice: Case Studies in Clinical Research, Regulation, and the Law.

Oct. 15: Applications due no later than 5 p.m. for CFAR RNA Pilot Announcement. Click here for details.

Oct. 15-16: NIH Regional Seminar on Program Funding and Grants Administration, San Diego, CA. Click here for more information and registration.

Oct. 22: Applications due no later than 5 p.m. for CFAR Major Collaborative Pilot Announcement. Click here for details.

Oct. 30: Applications due no later than 5 p.m. for CFAR Joint Funding Opportunity in HIV/AIDS through SMD, SON and Program Of Excellence. Click here for details.

---
Please send suggestions and comments to Bob Marcotte. You can see back issues of Research Connections, an index of people and departments linked to those issues, and a chronological listing of PhD dissertation defenses since April 2014, by discipline.