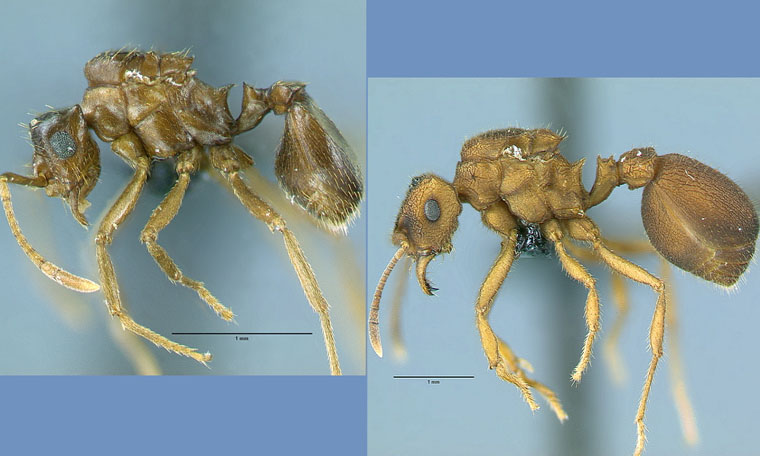 A queen ant of the parasitic species Mycocepurus castrator (at left) and a queen ant of the host species Mycocepurus goeldii. (Photos by Christian Rabeling/University of Rochester)


Images of research
The commonly-accepted mechanism by which new species form is called allopatric speciation, in which geographic barriers -- such as mountains -- separate members of a group, causing them to evolve independently. However, a newly-discovered species of ant only found in a single patch of eucalyptus trees on the São Paulo State University campus in Brazil, branched off from its original species while living in the same colony, supporting a controversial theory of species formation.

In discovering the parasitic Mycocepurus castrator, Christian Rabeling, Assistant Professor of Biology, and his colleagues uncovered an example of a still-controversial theory known as sympatric speciation, which occurs when a new species develops while sharing the same geographic area with its parent species, yet reproducing on its own. "While sympatric speciation is more difficult to prove," said Rabeling, "we believe we are in the process of actually documenting a particular kind of evolution-in-progress."

The findings by Rabeling and the research team have been published in the journal Current Biology. Read more . . .


Do you have an interesting photo or other image that helps illustrate your research? We would like to showcase it. Send a high resolution jpg or other version, along with a description of what it shows, to bmarcotte@ur.rochester.edu.
---
Crimp's work celebrated in Berlin
Leading scholars, artists, and critics from around the world gather today at the Arsenal Institute for Film and Video Art in Berlin, for a three-day celebration of the work of Douglas Crimp, the Fanny Knapp Allen Professor of Art History, who turned 70 this month.

A well-known art critic, theorist, curator, and activist, Crimp has produced seminal work on the role of museums, postmodernism, modern dance, Andy Warhol, and the New York underground art scene of the 1960s. A persistent voice during the AIDS crisis, Crimp combined activism and scholarship to shed light on gay politics in the 1980s. His work was instrumental in the development of the field of queer studies.

Before and After Pictures showcases scholarship, film, and art that builds on Crimp's vast body of work. All events relate to Crimp's upcoming memoir, Before Pictures, which explores the events in his life in New York before the famed Pictures show at Artists Space in 1977, which launched his international reputation as a curator and art theorist.

Before and After Pictures includes an exhibition curated by Christopher Müller and Daniel Buchholz at Galerie Buchholz. Click here for more information on the symposium, and here for additional information about Douglas Crimp and his upcoming memoir, Before Pictures.

---
Team scientists rewarded by new URMC policy
Talented scientists who lead a defined portion of the work done by collaborative teams -- even if they are not the PI or lead author -- will receive credit in tenure and promotion considerations under a new policy now in affect at the URMC, reports the CTSI Stories blog.

Department chairs are encouraged to ask referee letter writers to comment specifically about the unique role on the team played by such scientists. This will be given serious weight in tenure and promotion considerations.

"Science has gotten too complicated and requires too many different types of expertise for one person. These days, groundbreaking science of almost every discipline happens in collaborative teams," said Jeffrey Lyness, Senior Associate Dean for Academic Affairs. "Tenure systems, however, were established to recognize the achievement of an individual, and in team science not everyone can be first author, senior author, P.I., or co-P.I."

Click here to read more.

---
Promising Projects: Testing the "Epigenetic Hypothesis of Aging"
(This is one in a series taking a closer look at projects awarded 2014 University Research Awards, previously known as Provost Multidisciplinary Awards, which provide seed money for innovative research projects that are likely to attract external support when sufficiently developed.)

Vera Gorbunova, Professor of Biology, and Dirk Bohmann, Professor of Biomedical Genetics, are recipients of a 2014 University Research Award for their project, "Testing the 'Epigenetic Hypothesis of Aging.'"

As they note, "It has been understood since Watson and Crick's discovery that genetic information is laid down in the sequence of chromosomal DNA. More recently it became clear that chromosomes carry other information in addition to the sequence of As, Gs, Ts, and Cs. This so-called epigenetic information is a kind of "annotation of the genome" by DNA-binding proteins and chemical flags. This annotation determines which genes can be accessed and which ones stay dormant, defining how the genes are packaged into active and inactive states.

"Epigenetic mechanisms influence many organism functions, and flaws at the level of epigenetic control have been implicated in a number of diseases. The hypothesis underlying this University Research Award is that epigenetic information becomes imprecise and "fuzzy" as organisms age, and that this loss of information is an important cause for the degenerative effects of aging.

"Collaborative experiments in the Bohmann and Gorbunova labs will address this idea and try to find ways to prevent the loss of epigenetic fitness with age."

In their project overview, they explain that "Preliminary data suggest that loss of chromatin organization in aged cells can interfere with important functions such as DNA repair and stress response. Furthermore, we identified two proteins, SIRT6 and MafS, involved in chromatin regulation that are able reverse some of the age-related defects in DNA repair and stress response. The proposed project will test the hypothesis that activating SIRT6 and MafS will prevent or reverse age-related deterioration of chromatin organization.

"The experimental plan includes systematic comparative analysis of age-associated changes in the epigenetic patterns in two well-established models for aging: Drosophila and human fibroblast cultures at different stages of senescence. Experiments are proposed to explore whether modulating SIRT6 and MafS expression in both experimental systems will preserve the integrity of chromatin over time and prevent or delay age associated functional decline.

"Successful completion of these experiments would establish a principal mechanism underlying the aging process that is conserved in evolution, would discover biological mechanisms of epigenetic maintenance that might be exploited therapeutically and would generate valuable preliminary data for follow up funding. Additionally, it would initiate a cross campus collaboration between two research groups with overlapping research interests and complementary experimental expertise and resources."

(University Research Award proposals are evaluated on whether the projects promise to solve a problem of intellectual or scientific importance, are well-designed and feasible, offer opportunity for involvement of students, and clearly show how outcomes should lead to external funding. Proposals are also evaluated on whether applicants are qualified to see the project to a successful conclusion and whether the budget request is appropriate. Click here to learn more.)

---
WUN research fund available to Rochester
As a member of the Worldwide Universities Network (WUN), Rochester is eligible for assistance from the Research Development Fund, a competitive fund available only to WUN partner institutions. The fund aims to bring together researchers to undertake innovative, high quality, sustainable research that addresses one of four WUN Global Challenges: responding to climate change, global higher education and research, public health and non-communicable diseases, and understanding cultures. The annual call for collaborative proposals with other WUN members is now open and available here.

---
Workshop addresses humane transport of laboratory animals
The Institute for Laboratory Animal Research (ILAR) in Washington, D.C., is offering a free workshop (in-person or webcast options available) on "Transportation of Laboratory Animals," Sept. 3-4. Registration to attend this free workshop in person or via webcast here.

Invited speakers will address the challenges of transporting laboratory animals humanely and safely to ensure adequate supply for biomedical research in the face of increasing societal opposition to the domestic and international movement of these animals. Click here for more information.

---
Introducing a new faculty member
Hussein Aluie has joined the Department of Mechanical Engineering as an assistant professor. He comes to the University from Los Alamos National Laboratory, where he was a postdoctoral research associate. His research falls under the broad umbrellas of fluid dynamics, nonlinear multiscale science, and scientific computing with a focus on the simulation and analysis of turbulence and complex fluid flows, such as ocean circulation and its impact on our climate. Two areas of his work -- magnetized plasmas and shock-driven flows -- "stand to benefit greatly from the cutting edge resources available at the Laboratory for Laser Energetics and the pioneering work in fusion energy research being done there," he said. Aluie earned his Ph.D. from Johns Hopkins University in 2009. Read more here.

---
Congratulations to . . .
Four Rochester professors of political science who will be recognized for their award-winning research during the annual meeting of the American Political Science Association in Washington, D.C., starting today.

Lynda Powell will receive the inaugural Virginia Gray Best Book Award for The Influence of Campaign Contributions in State Legislatures. The Gray Award, presented by the state politics and policy section of the American Political Science Association, recognizes the best book on state politics in the last three years.

Gerald Gamm, with coauthor Thad Kousser of UC San Diego, will receive the 2014 Best Paper Award presented by the state politics and policy section of the American Political Science Association. The award is for their paper "Contingent Partisanship: When Party Labels Matter -- and When They Don't -- in the Distribution of Pork in American State Legislatures."

G. Bingham Powell, Jr., will receive the 2014 Leon Weaver Award for his paper "Party System Polarization and the Ideological Congruence Mechanism." The award, sponsored by the APSA section on representation and electoral systems, honors the best paper in the subfield presented at the previous year's meeting of the American Political Science Association.

Hein Goemans, along with Kristian Skrede Gleditsch of the University of Essex and Giacomo Chiozza of Vanderbilt University, will receive the 2014 Lijphart/Przeworski/Verba Dataset Award, sponsored by the APSA section on comparative politics, for the dataset Archigos. This dataset contains comprehensive information on leaders of 188 countries from 1875 to 2004.

---
UR research in the news
When scientists in Germany announced in 2012 an apparent violation of a fundamental law of quantum mechanics, a physicist at the University of Rochester was determined to find an explanation. "You don't destroy the laws of quantum mechanics that easily," said Robert Boyd, Professor of Optics and of Physics at Rochester and the Canada Excellence Research Chair in Quantum Nonlinear Optics at the University of Ottawa. Read more here and at Science Daily

Researchers at the University of Rochester Medical Center and University of Nebraska Medical Center have received a $3.4 million grant from the National Institutes of Health to study an experimental drug combination that appears to rid white blood cells of HIV and keep the infection in check for long periods. Each of the experimental HIV drugs has been in development for several years, one at Rochester as the result of work by Harris A. Gelbard, Director of UR's Center for Neural Development and Disease, and the other at Nebraska. Read more here . . .

Scientists observed for years that lead poisoning delays fracture healing, and now University of Rochester researchers in the labs of Regis O'Keefe, Associate Dean for Clinical Affairs and Chair of Orthopaedics; Michael J. Zuscik , Associate Professor of Orthopaedics and of Biomedical Engineering; and J. Edward Puzas, the Donald and Mary Clark Professor of Orthopaedics, and professor of Biochemistry and Biophysics, of Biomedical Engineering and of Environmental Medicine, have discovered how that occurs and a possible remedy. In a study in the Journal of Orthopaedic Research, they describe how the heavy metal interferes with healing through a cellular signaling pathway known as Β-catenin. In lead-exposed mice, researchers noticed smaller fracture calluses and decreased levels of Β-catenin during the healing process. Researchers hypothesized that by stimulating Β-catenin activity with therapeutic agents, they could boost fracture healing. Evidence showed that activation of the Β-catenin pathway does, in fact, promote better healing. In addition, researchers characterized the overall effect of lead exposure on bone repair -- a process poorly understood until now. Read more at the Research@URMC blog.

---
PhD dissertation defense
Sarah Saputo, Microbiology and Immunology, "Genetic characterizations and mechanism of cross-talk between the cAMP/PKA and RAM pathways during Candida albicans hyphal morphogenesis." 11:30 a.m., Sept. 5, K307 (3-6408). Advisor: Damian Krysan.

---
Mark your calendar
Sept. 1: Applications due for pilot grants for aging research, offered by The Rochester Aging Research Center and the Office for Aging Research and Health Services. Send to Daina_Bullwinkel@URMC.Rochester.edu. Contact Dirk Bohmann, Yeates Conwell, or Vera Gorbunova with questions. NOTE: New funding for projects that are related to HIV and aging has become available from the Center for AIDS Research. See the updated request for applications.

Sept. 2: Deadline to submit abstracts for Clinical and Translational Science Institute's Pilot Awards program, its Incubator program and for SMD Scientific Advisory Committee (SAC) "superpilot" awards.

Sept. 2: Deadline to apply for a yearlong course, Scientific Writing for Mentors and Proteges, offered by the Office of Graduate Education and the Clinical and Translational Science Institute, in which students will learn the fundamentals of good writing and draft grant applications. Read more . . .

Sept. 3: Deadline to submit proposals for the disabilities studies cluster symposium, "Complicating Normalcy: Disability, Technology, and Society in the 21st Century." The symposium will be held Nov. 14. Click here to learn more.

Sept. 5: Fellowships Workshop, 10 a.m. to noon, Computer Studies Building Room 209. Resources the University offers studemts as they search for and apply for external fellowship opportunities. A panel of students who have received fellowships will offer their thoughts and advice. Read more . . .

Sept. 11: NSF Fellowships Workshop, 4 to 5:30 p.m., Dewey Hall, Room 1-101. To inform students about the merit review criteria (Intellectual Merit and Broader Impact) for the National Science Foundation Graduate Research Fellowship Program (GRFP), with a panel of faculty who have reviewed applications for the GRFP as well as students who have been awarded the GRFP. Read more . . .

Sept 15: Electronic Lab Notebook Interest Group, 2 p.m., Carlson Library Room 313. Are you using an electronic lab notebook (ELN), either in your research or your teaching? Are you interested in trying one out? Join the River Campus Libraries for a roundtable discussion about ELNs. Please RSVP to kfear@library.rochester.edu. Light refreshments will be served.

Sept. 15: Deadline for initial abstracts for CTSI Novel Biostatistical and Epidemiologic Methods pilot projects. Click here to learn more.

Sept. 26: Deadline for letters of intent for CTSI KL2 Mentored Career Development program proposals, which provide two years of support for new investigators interested in a career in clinical or translational research. Click here for more information.

---
Please send suggestions and comments to Bob Marcotte. To see back issues, click here.