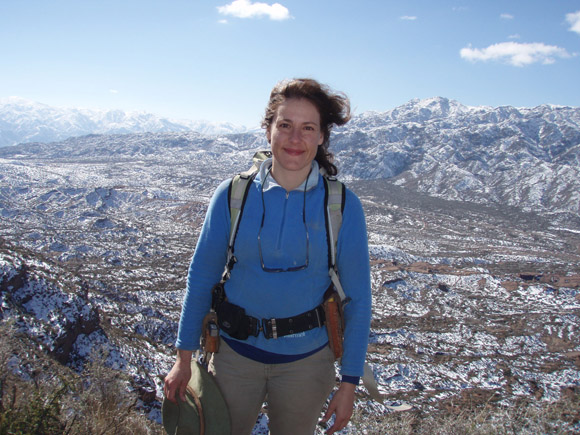 "You pursue what excites you the most if you are the PI," says Carmala Garzione, Chair and Professor of Earth and Environmental Sciences, who is heading a $4.2 million NSF grant that involves researchers from three Chinese institutions and six other U.S. universities.
Be bold in promoting the science that motivates you
(This is the first in a series identifying faculty leaders who have assembled teams to pursue large research awards or other projects, and explaining their approach and motivation in building a team.)
Thirteen years ago
Carmala Garzione
, now Chair and Professor of Earth and Environmental Sciences, began exploring the idea that iron-rich dust, blown in from Asian deserts 3.6 million years ago, fertilized the North Pacific Ocean, stimulating the growth of algae that reduced atmospheric CO
2
and caused the Earth to start cooling down.
This past fall, the NSF awarded a $4.2 million PIRE (Partnerships for International Research and Education) grant to Garzione and her colleague
John Tarduno
, also a Professor of Earth and Environmental Sciences (see Congratulations below), to test this theory.
Researchers from three Chinese institutions and six other U.S. universities will be part of the team.
This is the kind of large, multi-site, interdisciplinary project that Robert Clark, Senior Vice President for Research, would like more University faculty members to undertake (see note below). In an interview, Garzione, who is the PI for this project, describes the process by which she:
1.
Gained sufficient experience to take on a project of this scale
.
"Very early on in my career I was connected with a large, interdisciplinary project that I wasn't the PI on," Garzione said. "I got experience seeing the value of those types of projects, understanding my role in the project, and understanding what it takes to lead a project like that." A few years later, just after getting tenure, she took on such a project as PI — and succeeded. "It was a crazy and bold move at that early stage of my career. I was scared and didn't think I could pull it off, but I also thought it was a really exciting opportunity and I had to try it, to make sure I didn't miss it. "
2.
Gradually built a case for her hypothesis
.
"It does not happen overnight," Garzione emphasized. She initially devoted a junior faculty leave to the topic, leading to a paper that she wasn't satisfied with and never submitted. However, "I kept track of the literature. And as things accumulated that seemed to support this idea, I began to talk to people, and run ideas by them. . . "
3.
Identified collaborators — many of whom she had never met before — and convinced them to join her team as co-PIs
.
"I was following the literature around this topic, so I got to know about the people who, in my opinion, would be the very best to contribute." When she approached them, "I put together a set of data, a little modeling exercise related to the central theme of this proposal, and explained what I was thinking about. I offered that I was ignorant about some things or missing others, and asked if they would be willing to talk. So I got people talking first, then explained I was trying to organize a larger project. . . It doesn't happen quickly. You need to have multiple conversations with people to build a scientific dialog."
4.
Knit her collaborators into a functional team.
This involved "pulling individual collaborators together in smaller groups that could coordinate efforts around a component of the central hypothesis. I had to build relationships among the smaller groups to help them integrate their ideas — because if I had eight different little projects all individually connected to a central hypothesis, it would look weak and the connections would look tenuous."
5.
Parlayed the knowledge she gained from serving on NSF review panels — and on the advisory board for another PIRE project that was funded — into a winning grant application.
"Honestly, without having had this insight into the complexity of PIRE and how these projects succeed at the educational component, I wouldn't have tried to take this on. . . . It helped me to see how the other project was competitive, and where it was succeeding and where it wasn't."
Her advice to young faculty members: By all means seek opportunities to participate first as co-PIs in these kinds of projects to get the feel for what is involved.
Be bold, and take risks that could lead to significant rewards
.
Her advice to faculty who have done that, but are still leery of taking on a project as PI: "The good thing about this is that
you pursue what excites you the most if you are the PI
. It might be unwieldy at times, and it might seem like herding cats, but
you're promoting the science that motivates you
. Focus on that . . . "
For a transcript of her comments, click
here
.
A challenge from Rob Clark to achieve 'so much more'
As the University's Senior Vice President for Research, I am reminded each day of the remarkable breadth and depth of research that occurs at the University of Rochester. This is due primarily to the incredible talent, skill and creativity of our faculty members, and of the scientists, staff and students who work alongside them.
We do great things in our labs, in our clinics and in the field. But we could achieve so much more.
How? By recognizing that there is only so much that one faculty member, one lab can accomplish — that some of the best science today is done by teams of collaborators drawn from multiple departments of a university — indeed from multiple institutions.
It behooves us to become much more aggressive in our pursuit of multi-investigator, multi-institution grants and projects.
There are several reasons to do so:
The
exciting synergies
that are sparked by collaboration. The
additional funding
and other resources that these projects attract. The
elevated recognition for the researchers
who lead such projects, from peers and funding agencies. The
enhanced stature
this brings to our University. And, above all, the opportunity to achieve more than you ever could, on your own, to
advance the science that you are passionate about
.
Carmala Garzione is a fine example of a faculty member who has taken on such a project. In upcoming issues of
Research Connections
we will highlight others. Please consider the examples they have set — and ask yourself if you, too, are ready to take a bold step forward.
Robert Clark
Senior Vice President for Research
Next: Vera Gorbunova and Andrei Seluanov were doing quite well on their own. So why enlist collaborators from other institutions?
Do you have an interesting photo or other image that helps illustrate your research? We would like to showcase it. Send a high resolution jpg or other version, along with a description of what it shows, to bmarcotte@ur.rochester.edu.
---
Finally: Meaningful increases in research funding
The National Institutes of Health (NIH) leads the way among U.S. science agencies getting
increases in the final 2016 federal spending bill released last month
, according to
reports
by the American Association for the Advancement of Science.
The National Institutes of Health will receive an increase of $2 billion, or 6.6 percent, from its current budget of $30.1 billion. Other increases:
NSF: 1.6 percent to $7.46 billion
NASA science programs: 6.6 percent, to $5.6 billion
DOE Office of Science: 5.6 percent to $5.35 billion
ARPA-E: 6 percent to $291 million
A spokesperson for United for Medical Research, a Washington, D.C.–based lobbying group, says "this meaningful increase for NIH
makes real progress toward catching up from the past decade of underfunding
and keeping up with scientific advancements and public health needs."
---

The lab of John Marciante, Associate Professor of Optics, has developed a resonant optical de-excitation process which, when used in conjunction with terbium-doped glass fibers, could greatly increase the power and efficiency of visible lasers for use in minimally invasive surgery and laser digital cinema.
Tech Development Fund helps optics professor pursue
promising ways to boost laser power, efficiency
John Marciante
, Associate Professor of Optics, would like to see lasers applied in ever more efficient, powerful ways for an array of applications, ranging from telecommunications, to minimally invasive surgery, to sharper, richer colors on movie screens.
The University's
Technology Development Fund
is helping him explore two particularly promising avenues of research. Marciante, in fact, is
the first University researcher to receive two such awards
, which are designed to help move great ideas closer to commercialization.
"You can come up with an idea, do a demonstration, and get a patent, but a company might look at that and say 'but that was done in a lab'; they'll worry about how to manufacture it. They'll want to see a lot more," Marciante said.
"That's the whole idea of the Tech Development Fund: how do we get more data that would help us license the technology?"
Marciante's latest TDF-funded project, for example,
has the potential to greatly increase the spectral purity and beam quality of high power semiconductor lasers
, by changing the focusing optics and embedding a unique feedback mechanism in a dual-clad fiber.
This could enhance the performance of semiconductor lasers not only as laser pumps to boost the power of conventional and ultrafast fiber lasers, but also as direct laser sources.
Applications range from more efficient pumping for ultrafast kW fiber lasers to telecommunications
.
A previous TDF award helped his lab continue work on a uniquely engineered resonant optical cavity to overcome excited-state absorption (ESA) — a major barrier to using otherwise promising materials for high-power visible lasers.
ESA occurs when electrons are excited to a high state of energy and start absorbing additional pump energy, decreasing the energy available for lasing and the laser's output efficiency.
Marciante's lab has developed a
resonant optical de-excitation process
which, when used in conjunction with
terbium-doped glass fibers
, could greatly increase the power and efficiency of visible lasers
for use in minimally invasive surgery and laser digital cinema
.
The Technology Development Fund awards have helped
pay stipends for graduate students and for material and equipment
, such as pump lasers and safety goggles for the first project, and a custom dual-clad fiber for the second.
At least one European digital laser cinema company has expressed interest in Marciante's work, thanks to connections established at a Center for Emerging and Innovative Sciences showcase.
Without the TDF funding, Marciante said, he wouldn't have had much more than a theory to offer.
"I probably would have been embarrassed to even approach this company. We've learned a lot about how to make this work and the specific application to laser cinema."
By changing the focusing optics and embedding a unique feedback mechanism in a dual-clad fiber — see image below — Marciante's lab hopes to greatly increase the spectral purity and beam quality of high power semiconductor lasers.

About the Technology Development Fund
Often, research efforts yield scientific breakthroughs that are not yet ready to be translated to real-world situations.
UR Ventures
, the technology transfer office at the University of Rochester,
created the Technology Development Fund (TDF) to help University researchers get to the first stages of commercialization more quickly
.
For example, the lab of
Richard Phipps
, the Wright Family Research Professor of Environmental Medicine, discovered that production of the Thy1 protein seems to lessen during the creation and accumulation of fat cells. By reintroducing Thy1 peptides, Phipps and colleagues have prevented mice from gaining weight when fed a high-fat diet — and, more impressively, obese mice have seen a reduction in their waistlines, the UR Ventures
Technology Review
reports.
When originally approached about this promising discovery, Novo Nordisk — a world leader in diabetes and obesity care — requested additional proof-of-concept data.
The $100,000 in TDF funding
that Phipps received
was crucial for the tests that led to a prestigious Novo Nordisk Diabetes and Obesity Biologics Science Forum Award
, which provides funding for two years to conduct additional animal studies and to collect enough data to determine if this promising research will advance to human trials and continued development for commercialization.
Any faculty member, postdoctoral fellow, graduate student, or other employee of the University of Rochester is eligible to apply for
funding of $40,000 to $100,000
from the TDF, provided that they
submit an invention disclosure and short-form TDF application to UR Ventures
.
Candidates chosen to submit full proposals must give 15-minute oral presentations to a TDF screening committee, along with a more detailed research plan and budget.
For approved projects, agreed-upon milestones will serve as key decision points for determining project progress. A project may be terminated if significant technical milestones are not met.
Learn more . . .
---
University Research Award deadline is Feb. 1
Applications from faculty across the University are invited for the 2016-17
University Research Awards
. Originally called Provost's Multidisciplinary Awards, they are
awarded to recipients who demonstrate their projects favor new research with a high probability of being leveraged by future external funding
. A review committee of faculty from across the University provides peer review of the applications.
The Request for Proposal and a simplified application are available
here
.
The deadline for submission is Feb. 1, 2016.
Questions about the awards and completed applications should be directed to Adele Coelho, Faculty Outreach Coordinator in the Offices of the Provost and Senior Vice President for Research, at
adele.coelho@rochester.edu
.
---
CIRC Winter Boot Camp offers programming languages, computing skills
The Center for Integrated Research Computing is again offering its
Winter Boot Camp
to help students, postdocs, research staff, and faculty
learn new programming languages and sharpen their computing and data analytics skills
.
The classes are designed for beginners and will cover basic topics to give enough direction to move on to self-learning tutorials or other more advanced coursework. Modules will be offered in Linux, Visualization, C Programming Language, Bash Shell, Python, MATLAB, R, MySQL, Stata and SAS; participants can choose one or more modules.
Classes, taught in the VISTA Collaboratory,
start Jan. 26
and continue through March 3. Space is limited, so register early
here
.
---
Environmental Health Sciences Center seeks applications for pilot projects
The Environmental Health Sciences Center (EHSC) has funds to support a limited number of meritorious Pilot Projects that are relevant to the theme of the EHSC, namely
"Environmental Agents as Modulators of Human Disease and Dysfunction."
Applicants may request a maximum of $30,000 for the duration of one year. Applications from new investigators collaborating with existing EHSC faculty are encouraged.
The deadline for submitting initial applications is Jan. 29, 2016.
Click
here
for more information.
---
Congratulations to . . .
Dirk Bohmann
, the Donald M. Foster Professor of Biomedical Genetics, who has been
appointed Senior Associate Dean for Basic Research
at the Medical Center, pending approval of the University's Board of Trustees. Bohmann, an accomplished molecular biologist and scientific leader, will work to improve the links between the Medical Center's vast research community and its leadership, and to strategically integrate the science and education missions. Bohmann has demonstrated his abilities so far by working with other top University scientists across the campus to establish new aging research initiatives, and to establish informatics as a priority at the Medical Center, said Stephen Dewhurst, the Vice Dean for Research.
Read more. . .
Nick Vamivakas
, Assistant Professor of Quantum Optics and Quantum Physics, who has
received a prestigious Faculty Early Career Development (CAREER) award
from the National Science Foundation for "Quantum Photonics with Quantum Dots in van der Waals Heterostructures." The CAREER program offers the National Science Foundation's most prestigious awards in support of junior faculty who exemplify the role of teacher-scholars through outstanding research, excellent education and the integration of education and research within the context of the mission of their organizations. Read more about Vamivakas' award
here
.
Robert Boyd
, Professor of Optics, who has been named this year's
recipient of the Arthur L. Schawlow Prize in Laser Science
by the American Physical Society (APS). The award recognizes outstanding contributions to basic research that use lasers to advance our knowledge of the fundamental physical properties of materials and their interaction with light. Boyd is honored for "
fundamental contributions to the field of nonlinear optics
, including the development of approaches for controlling the velocity of light, of quantum imaging methods, and of composite nonlinear optical materials."
John Tarduno
, Professor in the Department of Earth and Environmental Studies, who is
winner of this year's Price Medal from the Royal Astronomical Society
in London. The medal recognizes "investigations of outstanding merit in solid-earth geophysics, oceanography, or planetary sciences." Tarduno is being honored
for his work involving the motion of volcanic hotspots in the Earth's mantle
.
Read more . . .
Catherine K. Kuo
, Associate Professor of Biomedical Engineering, who recently
received an Award for Innovation in Research at the Go:Life in Orthopaedics Conference in Gothenburg, Sweden
. Her talk, "Embryonically Inspired Approaches to Regenerate Soft Tissues," described her innovative research program to
regenerate tendons in a manner that recapitulates embryonic tendon development and scarless healing
. She described how she engineers 3-dimensional tissue models to study the mechanobiology of embryonic tendon formation, and uses the new information to develop novel tendon regeneration approaches informed by the embryonic processes.
---
University researchers in the news
The
resident immune cells of the central nervous system play a critical and previously unappreciated role in maintaining the integrity of the blood-brain barrier
," according to a study led by
Maiken Nedergaard
, Co-director of the Center for Translational Neuromedicine. "When this barrier is breached it must be rapidly repaired in order to maintain the health of the brain and aid in recovery after an injury —
a process that could be impaired by drugs that are intended to prevent this damage in the first place
," she said.
Read more . . .
At
585mag.com
,
Stephen Cook
, Associate Professor of Pediatrics,
discusses a multipronged effort that combines programs, policy, and system changes in the Rochester region to tackle childhood obesity
. "Among kids who have obesity, a good majority of them, ninety-eight percent, are going to go on to be obese adults," Cook says. "If we can treat those kids, and improve eating habits at a family level . . . you can have an impact on the parent and the child and start reversing these patterns earlier on in life. They maintain a healthier status over time." Read more
here
.
An estimated 250,000 people landed in emergency rooms in the past decade due to
recreational ice skating injuries
— and the majority of them were
children and teenage girls
, according to a University study led by
Courtney Jones
, Assistant Professor of Emergency Medicine and Public Health Sciences. Common injuries included fractures and lacerations to the upper body from attempting to break a fall with arms and hands.
Recreational ice skaters were also five times as likely to suffer a concussion as in-line skaters, and seven times as likely as roller skaters
, the study found.
Read more . . .
Wilmot Cancer Institute investigators have
shown direct evidence of how changes in the blood-cell manufacturing environment can cause cells to malfunction and turn cancerous
. Led by
Laura Calvi
, Dean's Professor of Medicine, the team is studying the bone marrow in connection with myelodysplastic syndromes (MDS), which afflicts about 40,000 people annually.
Calvi's lab identified some of the complex changes that occur in the blood microenvironment in response to MDS
— for example, the expansion of abnormal cells and growth factors linked to cancer. The study also showed that by restoring the bone marrow microenvironment to health, researchers could reduce malignant MDS cells in mice.
Read more. . .
A new study by an international team of researchers, including
Adam Kelly
, Associate Professor of Neurology with the UR Medicine Stroke Center, has
established outcome measures that assess a patient's quality of life after a stroke
. Previous standards of care have ranged from timely care in the Emergency Department, to steps taken to reduce stroke risk once the patient is discharged. The new recommendations, which appear in the journal
Stroke
, include
outcomes that focus on how an ischemic stroke or intracerebral hemorrhage impacts an individual's quality of life
, including patient-reported measures such as mobility, and help with getting dressed, eating, or going to the bathroom.
Read more . . .
When patients suffer, doctors tend to want to fix things and if they cannot, many doctors then withdraw emotionally. But
by turning toward the suffering, physicians can better help their patients and find more meaning in their work
, writes
Ronald M. Epstein
, Professor of Family Medicine and an international investigator in medical education, physician burnout and mindfulness. His recent recent
Journal of the American Medical Association
weekly essay, "A Piece of My Mind," was co-authored by oncologist
Anthony L. Back
of the University of Washington. "Physicians can have a pivotal role in addressing suffering if they can expand how they work with patients," the article stated. "Some people can do this instinctively but most physicians need training in how to respond to suffering — yet
this kind of instruction is painfully lacking
."
Read more. . .
---
PhD dissertation defenses
Shihao Xu
, Biochemistry, "The Impact of Oncogenic Signaling on Metabolic Stress Responses and Human Cytomegalovirus Infection." 1 p.m., Jan. 18, 2016, Neuman Room (1-6823). Advisor: Joshua Munger.
He Fang
, Biophysics, "Structural Transition of the Carboxyl-Terminal Domain of Xenopus Linker Histone H1.0." 10 a.m., Jan. 21, 2016, Neuman Room (1-6823). Advisor: Jeffrey Hayes.
Joseph Lawson
, Mechanical Engineering, "Design and Synthesis of Microscale Opto-Magnetic Trapping Handles." 8:30 a.m., Jan. 22, 2016. Hopeman 224. Advisor: Rob Clark.
Chad McCoy
, Mechanical Engineering, "The Sound Velocity and Grunelsen Parameter of Fused Silica, Periclase, and Polystyrene shocked to TPa pressures." 1:30 p.m., Feb. 5, 2016. Hopeman 224. Advisor: David Meyerhofer.
---
Mark your calendar
Today:
Center for Integrated Research Computing (CIRC) Symposium. Kevin Parker, the William F. May Professor of Engineering, will discuss imaging techniques for biomechanical properties of tissues, provide an overview of their clinical applications, and highlight the computational challenges. Sarah Kingan, a Research Associate in the Department of Biology, will talk about data mining of insect genomes. 11:30 a.m. to 1 p.m. in Computer Studies Building (CSB) 209.
Today:
Research Boot Camp: Half-day
workshop
applies basic human subject protections that were introduced via CITI training and orientation to conducting research at the University. 8 a.m., Helen Wood Hall Classroom (1W-502).
Jan. 19:
Overview of CTSA (Clinical and Translational Science Award) program, presented by Karl Kieburtz, Martin Zand, and Nancy Bennett, co-directors of the Clinical and Translational Science Institute. Noon to 1 p.m., Ryan Case Method Room (1-9576). First in a CTSI Seminar series featuring presentations by the writing teams who collaborated on the recent Clinical and Translational Science Award (CTSA) application, which is intended to provide major funding for the CTSI's next five-year cycle beginning July 2016. Read more
here
.
Jan 20:
Telemedicine and Research, presented by Ray Dorsey, Director and Professor, and Karen Rabinowitz, Legal Counsel and Associate Director of Collaborations, Center for Human Experimental Therapeutics (CHET). Noon to 1 p.m., Helen Wood Hall Auditorium (1w304). CTSI Skill-Building Workshop.
Jan. 22:
Applications due for Center for AIDS Research/Clinical Trials Unit Pilot funding. Click
here
for the RFP.
Jan. 29:
Deadline for Environmental Health Sciences Pilot Projects. Click
here
for more information.
Feb. 1:
Deadline to apply for University Research Awards. The Request for Proposal and a simplified application are available
here
. Questions about the awards and completed applications should be directed to Adele Coelho at
adele.coelho@rochester.edu
.
Feb. 1:
Deadline to apply for AS&E Pump Primer II awards, which help researchers develop data in order to seek extramural funding for "bold new research directions." Guidelines for the award are available at
Rochester.edu/college/pumpprimer
.
---
Please send suggestions and comments to Bob Marcotte. You can see back issues of Research Connections, an index of people and departments linked to those issues, and a chronological listing of PhD dissertation defenses since April 2014, by discipline.