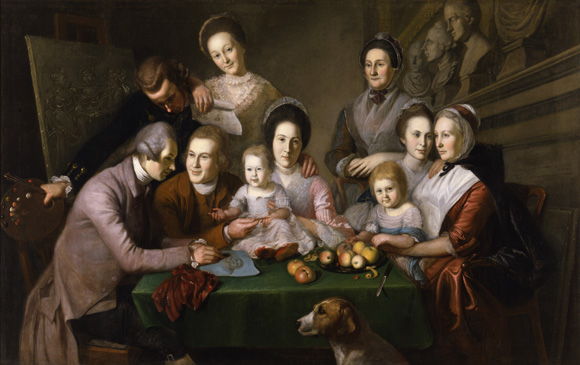 "I love this image," says Susan Gustafson of "The Peale Family," which is from the collection of the New York Historical Society. She chose it for the cover of her book
Goethe's Families of the Heart
because it was contemporaneous with Goethe; depicts a child at the center of a family, as occurs in Goethe's works; and shows combinations of adult males and females bonding in a family context. (Collection of the New York Historical Society)
In Goethe's novel families, love is all that matters
What forms can families take?
Can a family be effective only if it consists of a biological pairing of a man and a woman
who produce their own offspring?
Or can other combinations
— two women or two men raising children, or couples with adopted children —
be just as loving and supportive?
In his early 19th-century literary works,
Johann Goethe pointedly raises such questions
— still debated today — and concludes that what really matters is not the gender of spouses and partners, or the lineage of their children, writes
Susan Gustafson
, the Karl F. and Bertha A. Fuchs Professor of German Studies, in her recently published book,
Goethe's Families of the Heart
(Bloomsbury Academic).
What really matters to Goethe and his protagonists are the "elective affinities" of heart and soul that draw the members of a loving, supportive family together. "What Goethe is basically claiming," Gustafson says, "is that
the fundamental essence of family is love
."
Such notions were "cutting edge" in Goethe's time, when German society revolved around aristocratic and bourgeois marriages, which were often suffocating, loveless relationships arranged for purely financial or social reasons.
And Goethe's observations are relevant in our time, "resonating with modern ideas and theories and questions," Gustafson notes. "Throughout his literary work,
Goethe brings up issues that people still struggle with. And he's basically saying all kinds of families are equal.
He's not saying one is better than the other. "
Gustafson, who has been a faculty member here since 1987, has written two previous books on 18th- and 19th-century German literary works. She said she was inspired to write
Goethe's Families of the Heart
because
much of the recent scholarship on Goethe focuses only on the dysfunctional, broken families he portrays
. "While it is true that his literary work abounds with images of characters who are estranged from their biological, nuclear, aristocratic, and economically driven families," she writes in her introduction, "
those who succeed in their flight from repressive families configure new relationships and strong families of the heart and soul
."
In Goethe's
Wilhelm Meister
novels, for example, the protagonist is thwarted by his father and by economic circumstances in his desire to marry the woman he loves. He wanders the countryside, sometimes connecting with women, sometimes with men, in a series of fluid, nonexclusive relationships. At one point, while living with another man and three children — one of whom may or may not be his biological son — Wilhelm writes: "This is my wonderful family."
In a series of stories within stories, Wilhelm
describes the tragedies that result when families — obsessed with heritage, property, and economics — thwart young lovers
, and condemn them to empty, arranged marriages. Wilhelm writes: "I should research, what holds noble souls, apart, should clear away obstacles of whatever kind they are."
Goethe's radical notions occasionally generated backlash
— resulting, for example, in two versions of his play
Stella
.
The first version ends with two women and a man in a
ménage a trois
. One of the women convinces the man to have both of the women, so that she and the other woman can stay together (loving each other) behind the cloak of the
ménage a trois
. They ultimately vow to "share one house, one bed, one grave."
This created such outrage that Goethe wrote a second version that still affirms and even strengthens the love relationship between the two women — but ends with the man shooting himself, one of the women poisoning herself, and both dying. "That made it okay (in society's eyes)," Gustafson notes.
Her next project, in progress, is a translation of both versions of the
Stella
play that will retain important changes overlooked in a recent translation.
Reviewer Alice Kuzniar, professor of German and English at Waterloo University, notes that Gustafson has succeeded in showing how "Goethe consistently challenges bourgeois family norms of constancy and biological inheritance. His families are radical ones, composed of adoptive children and same-sex adult households.
What is decisively unique about Goethe's Families of the Heart is that it brings back love to the table.
This is a courageous, life-affirming book that
does not shy away from addressing the topics of commitment and the connections of the heart
."
Do you have an interesting photo or other image that helps illustrate your research? We would like to showcase it. Send a high resolution jpg or other version, along with a description of what it shows, to bmarcotte@ur.rochester.edu.
---
Doctors, cancer patients, often not on same page
Misunderstandings about prognosis between patients with advanced cancer and their doctors was common, in a study reported in
JAMA Oncology
, and
the vast majority of patients didn't know that their doctors held different opinions about how long they might live
.
"We've discovered two important things happening between oncologists and patients with advanced cancer," said coauthor
Ronald M. Epstein
, professor of family medicine, psychiatry, and oncology, and one of the nation's leading authorities on doctor-patient communications.
"First, some patients might know the doctor's prognosis estimate but the patient chooses to disagree, often because they believe other sources," Epstein said. "And second, some patients think that their doctor agrees with their opinion about prognosis but, in fact, the doctor doesn't."
"When people think they'll live a very long time with cancer despite evidence to the contrary,
they may end up taking more aggressive chemotherapy and agreeing to be placed on ventilators or dialysis, paradoxically reducing their quality of life
, keeping them from enjoying time with family and sometimes even shortening their lives," Epstein added. "So it's very important for doctors and patients to be on the same page."
The challenge, according to the researchers, is that
talking about a cancer prognosis is not a straightforward exchange of information. It occurs in the context of fear, confusion, and uncertainty
, and in the best cases it
should be carried out in several conversations about personal values and treatment goals
.
Read more
here
.
---
Eastman Case Studies help prepare musical leaders for real-life organizational issues
The Eastman Case Studies
, the
first series of case studies developed specifically for music schools
, is designed to provide current and future leaders with
tactics that have worked, and those that haven't in dealing with issues ranging from community engagement and artist residencies, to programming and contract negotiations
.
An initiative of the Eastman School of Music's
Paul R. Judy Center for Applied Research
, the case studies are designed to help develop skills and perspectives to solve real-world problems through situation analysis, recommendations, and discussion. Case studies, a primary teaching tool in business schools,
provide narratives about a specific challenge and give students the chance to get practical experience in developing problem-solving strategies
.
"Music schools have implemented programs to help students build knowledge and skills in the areas of leadership, management and business, but often lack high quality study materials to support them," said
James C. Doser
, director of Eastman's Institute for Music Leadership. "
The Eastman Case Studies
provide well-researched and expertly constructed cases that place students in the role of consultant, charged with assessing business problems and making key decisions in resolving them."
Edited by Associate Professor of Musicology
Michael Alan Anderson
, winner of the Chorus America's 2016 Louis Botto Award for Innovative Action and Entrepreneurial Zeal,
The Eastman Case Studies
are available
online
. Read more
here
.
---
Startup champions a discovery here that promotes healing
Several years ago, reports the
UR Ventures Technology Review
, the research team of
Arthur Moss
, the Bradford C. Berk Distinguished Professor of Medicine, noticed an interesting phenomenon while conducting a large-scale clinical study:
cells adjacent to the electrodes of implantable cardioverter defibrillators (ICDs) were more functional
than other cells.
Moss took this observation to his colleague,
Shey-Shing Sheu
, now at Thomas Jefferson University, who concluded that
the electromagnetic fields generated by the ICD leads were stimulating mitochondrial activity
in nearby cells, resulting in an increased production of ATP, the co-enzyme that transports chemical energy within living cells.
Cells can use this additional energy to foster tissue and bone healing
.
Moss, Sheu, and others experimented with different magnetic fields, configurations, and components until they discovered a combination that provided a "quantitative, deterministic, and scientifically validated effect."
UR Ventures
filed for patent protection and has licensed the rights to those patents to
SANABIT Technologies, a medical device start-up intending to manufacture and commercialize devices based on this research
.
The first round of devices Sanabit will take to market are intended to promote bone and postoperative tissue healing. The devices
deliver extremely low levels of electro-magnetic energy — a fraction of the dose from an MRI
. More importantly, the devices are
non-invasive, relying solely on the body's own mechanisms to promote healing
. It is expected that once the business case closes for tissue and bone healing applications the same technology and principles will be applied to conditions pertaining to cardiology, Alzheimer's and peripheral vascular disease as well as others.
---
CTSI's 'year out' research experience for medical students
The
Academic Research Track
program of the Clinical and Translational Science Institute offers medical students who are interested in pursuing research as part of their careers
a "year out" to delve into basic, clinical, educational, or translational research through seminars, mentored research and an enriched medical school curriculum
.
This year's recipients and their mentors are:
Ian De Andrea-Lazarus
, studying "Early Life Lead Exposure and Executive Functions Using the Stroop Day-Night Task" (Todd Jusko). A Deaf scholar, De Andrea-Lazarus is pursuing dual MD/MPH degrees.
Chase Kwon
, "A Systems Biology Approach to Identify Determinants of Staphylococcus Aureus Colonization in Atopic Dermatitis" (Lisa Beck). Kwon will return to his fourth year of medical school at the School of Medicine and Dentistry after his year of research experience.
Jinno (Tony) Magno
, "HMGB1 modulation of inflammation and immune responses in MLL rearranged infant acute lymphoblastic leukemia" (Jessica Shand). Magno is a third year medical student.
Sam Weisenthal
, "Using machine learning to predict ICU readmissions 48 hours before they occur" (Martin Zand). Weisenthal is a master's student in data science.
Read more
here
.
---
University research in the news
A new study, coauthored by
Harry Reis
, professor of psychology, indicates that there are ways that couples can sustain — or relight — their passion. The research suggests that
when men and women perceive their partners as responsive, they feel special and think of their partner as a valuable mate, which in turn boosts sexual desirability
. "Responsiveness — which is a type of intimacy — is so important in a relationship because it signals that one is really concerned with the welfare of the other, but
in a way that is truly open and informed about what the other cares about and wants
," says coauthor
Gurit Birnbaum
, psychology professor at the Interdisciplinary Center (IDC) Herzliya in Israel. Read more
here
.
University researcher
Richard G. Moore
has received a coveted Mary Kay Foundation cancer research award to
develop a therapy that targets a gene (HE4) that Moore has identified as playing a major role in ovarian cancer
. Moore is professor of obstetrics and gynecology and leads the Gynecologic Oncology program at the Wilmot Cancer Institute.
High levels of HE4 in a cancer specimen usually suggest the tumor is aggressive, resistant to chemotherapy, and able to hide from the patient's own immune system.
Moore and his team have demonstrated in mice and in cell cultures that by blocking HE4 with an experimental treatment they developed, the tumor is once again vulnerable to the effects of chemotherapy. However, the drug they've developed for use in the lab is toxic to the human liver. The two-year Mary Kay grant for $100,000, as well as support from UR Ventures, the University's technology transfer office, is funding the discovery of a drug that's safe for human clinical trials. Read more
here
.
---
Congratulations to . . .
Hyekyun Rhee
, associate professor of nursing, who will be
inducted as an American Academy of Nursing fellow
this fall. Her research centers on developing innovative approaches to asthma self-management using technologies and peer dynamics to improve asthma outcomes in adolescents. Read more
here
.
Scott MacRae
, professor of ophthalmology and director of the Refractive Surgery Center at the Flaum Eye Institute, who will
receive the Jose I. Barraquer Lecture and Award from the International Society of Refractive Surgeons
, a partner of the American Academy of Ophthalmology. The award is a top honor for refractive surgeons. MacRae has performed more than 20,000 refractive procedures, trained over 400 refractive surgeons from around the world, and helped develop several new refractive surgery instruments and techniques. Read more
here
.
---
PhD dissertation defense
Fred Moolekamp
, Physics, "Low Mass Stellar and Substellar Objects in Scorpius Centaurus." Noon, July 22, 2016. Bausch and Lomb 106. Advisor: Eric Mamajek.
Yuan Meng
, Chemical Engineering, "Poly(capro-lactone) networks as actively moving polymers." 10 a.m., July 22, 2016. Gavett 208. Advisor: Mitchell Anthamatten.
Vyacheslav Kiria-Kaiserberg
, Mathematics, "Explosion Properties of Stochastic Differential Delay Equation without the Drift." 10 a.m., July 25, 2016. Hylan 1106A. Advisor: Carl Mueller.
Raj Kumar Singh Parihar
, Electrical Engineering, "Accelerating Decoupled Look-ahead to Exploit Implicit Parallelism." 10:30 a.m., July 27, 2016. Computer Studies Building 426. Advisor: Michael Huang.
Omar Magana-Loaiza
, Materials Science, "Novel Effects in Optical Coherence: Fundamentals and Applications." 2 p.m., July 27, 2016. Bausch and Lomb 106. Advisor: Robert Boyd.
Brendan Murphy
, Mathematics, "Group Actions in Arithmetic Combinatorics." 1 p.m., July 28, 2016. Hylan 1106A. Advisors: Alex Iosevich and Jonathan Pakianathan.
---
Mark your calendar
July 29:
Xerox Engineering Research Fellows poster session. Twenty-seven undergraduate engineering students showcase the mentored projects they've worked on this summer. 9 a.m., Munnerlyn Atrium, Goergen Hall.
Aug. 1:
Deadline for faculty and administrators to apply for Fulbright U.S. Scholar awards for 2017-18. Click
here
to learn more.
Aug. 2:
"Physical Models of Biological Systems," a workshop aimed at fostering research collaboration across multiple departments. Noon to 5:30 p.m. Lunch in Hopeman 224 and talks in Bausch and Lomb 106. Read more
here
.
Sept. 22-24:
Department of Neurology 50th anniversary celebration, including gala banquet, department updates, and poster and platform presentations showcasing research by current faculty, alumni, fellows and residents. Read more
here
.
---
Please send suggestions and comments to Bob Marcotte. You can see back issues of Research Connections, an index of people and departments linked to those issues, and a chronological listing of PhD dissertation defenses since April 2014, by discipline.