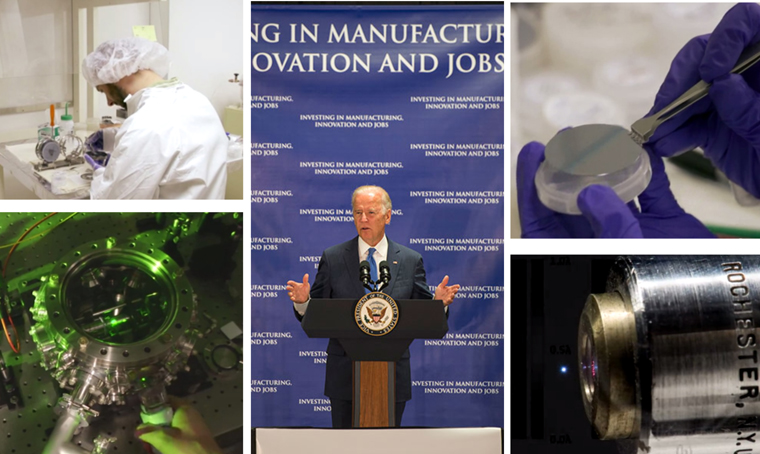 AIM Photonics to integrate research, tech development, manufacturing
The new American Institute for Manufacturing Integrated Photonics (AIM Photonics), headquartered in Rochester, will "serve as an innovative ecosystem integrating efforts of researchers, technology developers, and manufacturers" to advance U.S. photonics manufacturing.

On Monday, Vice President Joe Biden was in Rochester to formally announce what had been rumored for days — that a consortium including the University of Rochester had been selected to receive $110 million in federal funding from the U.S. Air Force Research Laboratory. That award will be supplemented by another $250 million from the State of New York, with additional funding commitments from public and private partners expected to exceed $245 million over the next five years for a 5:1 matching of federal funds. More than $130 million of the awarded funds will be invested in the Rochester region.

University of Rochester faculty will play important roles in leading or participating in five core elements of the project: sensors; testing, assembly and packaging; electronic and photonic design automation; education and workforce development; and administration.

Integrated photonics — devices that bring together multiple optics-based functions, often on an integrated circuit — is expected to revolutionize the carrying capacity of Internet networks, enhance medical technology and improve imaging-sensing capabilities for national defense and security. The U.S. has been a world leader in developing photonics technology for the past century. Defense applications and technologies encompass night vision systems, satellite surveillance systems, infrared, flexible displays, sensors, detectors, data communications, and lasers.

AIM Photonics intends to apply key lessons from the electronics industry to the photonics integrated circuit (PIC) industry, which is currently low-volume, non-scalable, and uses expensive manufacturing methods and under-developed equipment. The initiative aims to create a national infrastructure that is widely accessible and flexible enough to meet the challenges of the marketplace with practical, innovative solutions.

Duncan Moore, the Rudolf and Hilda Kingslake Professor of Optical Engineering and Vice Provost for Entrepreneurship, who played a key role in coordinating the winning proposal, called AIM Photonics a "once-in-a-generation opportunity to help Rochester's optics, photonics and imaging industry become a national hub for producing next generation integrated photonics devices." Read more . . .


Do you have an interesting photo or other image that helps illustrate your research? We would like to showcase it. Send a high resolution jpg or other version, along with a description of what it shows, to bmarcotte@ur.rochester.edu.
---
Project aims to make computers better communicators
James Allen, the John H. Dessauer Professor of Computer Science, will lead an ambitious project to enable computers to communicate more like humans, using collaborative problem solving as a model.

The project is in collaboration with the Florida Institute for Human and Machine Cognition (IHMC), where Allen is an associate director. It is funded with a $7.5 million grant from DARPA, the Defense Advanced Research Projects Agency. $2.5 million of the funding will come to the University.

Ehsan Hoque, Assistant Professor of Computer Science, will be PI for the Rochester part of the project; Prof. Lenhart Schubert will also be part of the team, along with a postdoc and four graduate students.

Their goal: a "generic conversational shell" for communicating with computers that:

1. Could be used in any domain
2. Understands the conventions of conversation and has an abstract "common sense" theory of the world
3. Embodies a collaborative problem solving agent that "knows how to cooperate with humans and engage in activities," including joint learning and teaching, and problem solving
4. Includes an integrated model of perception and perceptual learning that the computer can use to understand the physical world around it, including the actions, gestures and body language of the humans it is communicating with.

Read more here . . .

---
NIH offers seminar on program funding, grant administration
The next NIH Regional Seminar on Program Funding and Grants Administration will take place in San Diego, CA, Oct. 15-16, 2015. The seminar will offer multiple sessions across tracks for investigators and administrators.

Several optional pre-seminar workshops will also be offered (for an additional fee) on Oct. 14, 2015.

NIH has added sessions for a new investigators track, the latest "hot topics" such as Uniform Guidance and SciENcv, in addition to special workshops on human subject research protections, an administrators' boot camp, and electronic Research Administration (eRA).

Click here for more information and registration.

---
Congratulations to . . .
David Auerbach, a Senior Instructor in the Department of Medicine, Aab Cardiovascular Research Institute, and Wei Chen, an Assistant Professor of Medicine (Nephrology). They have been selected for the CTSI KL2 Career Development Program, which provides two years of support for new investigators interested in a career in clinical or translational research. Auerbach is working on a project entitled, "Electrical Disturbances in the Brain and Heart in Long QT Syndrome: A Dangerous Synergy." Chen's project is: "Does Metabolic Acidosis Protect Against Arterial Calcification in Patients with Chronic Kidney Disease?" Click here to read the full story in the CTSI Stories blog.

---
UR research in the news
A new study by University researchers more precisely pinpoints how the brain stitches together sensory information such as sound and images, which could shed new light on conditions such as autism. The research, which appears in the Journal of Neuroscience, identifies an area of the brain in the frontal lobe responsible for working memory and sensory integration. "Work in our laboratory is aimed at understanding how auditory and visual information are integrated since we know this process is crucial for recognizing objects by sight and sound, communicating effectively, and navigating through our complex world," said Lizabeth Romanski, an Associate Professor of Neurobiology and Anatomy and co-author of the study. Co-author Bethany Plakke, a postdoctoral fellow in the Romanski lab, added: "Our recent study demonstrates that the prefrontal cortex plays an essential role in audiovisual working memory, and when this area is switched off our ability to remember both the auditory and visual cues is impaired." Read more here.

A recent study by University cancer researcher Chawnshang Chang provides additional proof of a concept he's been investigating for years: that the environment surrounding a prostate tumor plays a major role in metastasis, and new treatments should be designed to target that environment as well as the tumor itself. Published by the International Journal of Oncology, Chang's study found that bone marrow derived stem cells, which are recruited to the site of a growing tumor, are able to convert nearby normal fibroblast cells into cancer cells, resulting in tumor metastasis. The conversion process sets up dangerous new ways for the cancer to spread. "Investigators are starting to realize that tumor proliferation and tumor migration are two different things and should be treated as such," said Chang, the George Hoyt Whipple Distinguished Professor of Pathology, Urology, and Radiation Oncology at the Wilmot Cancer Institute. Read more here.

A new study from the University shows that the quantity of social interactions that people have at age 20 — and the quality of social relationships they have at age 30 — can benefit their well-being later in life. People with poor social connections have been shown to be at an increased risk for early mortality. "In fact," said lead author Cheryl Carmichael, who conducted the research as a PhD candidate in psychology here, "having few social connections is equivalent to tobacco use, and it's higher than for those who drink excessive amounts of alcohol, or who suffer from obesity." The new 30-year longitudinal study, which appears in Psychology and Aging, shows that the frequent social interactions that take place at age 20 were beneficial later in life because they help us build a tool set to be drawn on later; they help us to figure out who we are, the researchers said. "It's often around this age that we meet people from diverse backgrounds, with opinions and values that are different from our own, and we learn how to best manage those differences," said Carmichael. Read more here.

In the quest to find a clear boundary between our everyday world and what Albert Einstein called the "spooky" features of the quantum world, a theorem called Bell's Inequality has served as the best guide. In a paper published in Optica, University researchers show that Bell's Inequality is not the guidepost it was believed to be, which means that as the world of quantum computing brings quantum strangeness closer to our daily lives, we understand the frontiers of that world less well than scientists have thought. In the new paper, researchers show that a classical beam of light that would be expected to obey Bell's Inequality can fail this test in the lab, if the beam is properly prepared to have a particular feature: entanglement. Read more here.

A team of researchers led by John Tarduno, Professor of Geophysics in the Department of Earth and Environmental Sciences, has for the first time recovered a magnetic field record from ancient minerals for Iron Age southern Africa (between 1000 and 1500 AD). The data, combined with the current weakening of Earth's magnetic field, suggest that the region of the Earth's core beneath southern Africa may play a special role in reversals of the planet's magnetic poles. Reversals of the North and South Poles have occurred irregularly throughout history, with the last one taking place about 800,000 years ago. Once a reversal starts, it can take as long as 15,000 years to complete. The new data suggests the core region beneath southern Africa may be the birthplace of some of the more recent and future pole reversals. Read more . . .

---
PhD dissertation defenses
Stephanie Rugg, Chemistry, "I. Nickel-Catalyzed Reductive Coupling with Michael Acceptors and II. Asymmetric Nickel-Catalyzed Reductive Coupling. 1 p.m., Aug. 4, 2015, 473 Hutchison. Advisor: Daniel J. Weix.

Qing Guo, Computer Science, "Associative Computing with Resistive Memories." 10 a.m., Aug. 4, 2015, Computer Studies Building 703. Advisor: Engin Ipek.

William Okech, Biomedical Engineering, "Mechanosignaling from Extracellular Matrix Fibronectin Mediates Endothelial Cell Responses to Flow." 10 a.m.. Aug. 5, 2015, Goergen 101. Advisor: Ingrid Sarelius.

Anthony Geneva, Biology, "Integrative Analyses of Speciation in Anolis Lizards." 10 a.m., Aug. 7, 2015, 473 Hutchison. Advisor: Richard Glor.

Samuel Claussen, History, "Honor, Courage, and Blood: An Elite Ideology of Violence in Trastamara Castile, 1369-1474." 10:30 a.m., Aug. 10, 2015, 362 Rush Rhees Library. Advisor: Richard Kaeuper.

Yasir Ahmed, Biology, "The Genetics of Species Differences in the Drosophila virilis Group." 11 a.m., Aug. 11, 2015, 473 Hutchison. Advisor: Allen Orr

Drew Scoles, Biomedical Engineering, "Expanding the applications of adaptive optics scanning light ophthalmoscopy." 9:30 a.m., Aug. 12, 2015, 101 Goergen Hall. Advisor: David Williams.

Farrukh Nauman, Physics and Astronomy, "Turbulence in Rotating and Non-Rotating Magnetohydrodynamic Shear Flows." 2 p.m., Aug. 14, 2015, 221 Meliora Hall. Advisor: Eric Blackman.

Aaron Walsh, Chemistry, "Transition Metal-Mediated Carbon-Heteroatom Bond Activation." 9:30 a.m., Aug. 14, 2015, 473 Hutchison. Advisor: William Jones.

Talor Walsh, Geosciences, "The Role of Faults and Fractures on Subsurface Fluid Flow in the Marcellus Shale of the Appalachian Plateau in Western New York." 10 a.m., Aug. 17, 2015, 229 Hutchison Hall. Advisor: Gautam Mitra.

---
Mark your calendar
Aug. 3: "Regulation of ligand binding by the cell surface receptor, CD28: Inside-out signaling initiates conformational changes within the cytosolic tail and transmembrane domains that induce a change in valency in the extracellular ligand binding domains," James Miller, Department of Biology Donut Talk, noon to 1 p.m., Hutchison 473.

Aug. 3: Applications due for the Fulbright U.S. Scholar Program, which provides approximately 800 teaching and/or research grants to U.S. faculty and experienced professionals in a wide variety of academic and professional fields. Click here to view a University of Rochester workshop on the program. Questions? Contact global@rochester.edu. Apply directly to the Fulbright program.

Aug. 3: Deadline for AS&E PumpPrimerII awards, which are designed to help innovative, high-risk projects develop proof of concept and/or pilot data in order to secure extramural funding. Arts and Sciences faculty can learn more from Debra Haring; Engineering faculty should contact Cynthia Gary.

Aug. 5: Free workshop on how to apply for Horizon 2020 research funding from the European Union. 8:30 a.m. to noon at the Washington Hilton Hotel, Washington D.C. Sponsored by BILAT USA 2.0. Registration is required here.

---
Please send suggestions and comments to Bob Marcotte. You can see back issues of Research Connections, an index of people and departments linked to those issues, and a chronological listing of PhD dissertation defenses since April 2014, by discipline.