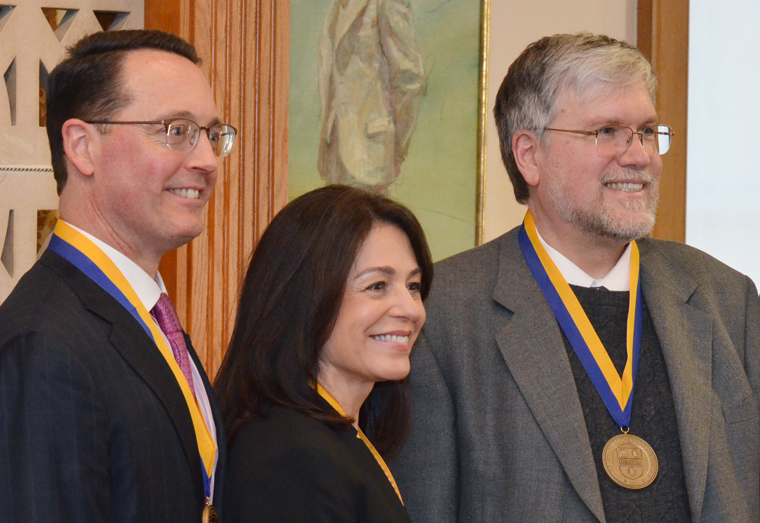 Tim and Robin Wentworth, at left, recently committed $3 million to endow the directorship of the University's Institute for Data Science, held by Prof. Henry Kautz at right. At his installation as the inaugural Robin and Tim Wentworth Director of the Institute, Kautz said the Wentworths' gift had helped to ensure that "the Institute for Data Science and its activities will be a permanent part of this University."
Data science initiative is seen as a 'force multiplier'
Tim and Robin Wentworth P '11, P '16 have provided scholarships to help community and junior college students transfer to the University. They have supported the Warner School. And now they've established an endowment of $3 million for the directorship of the Institute for Data Science.

They believe in "giving back," explained Tim Wentworth, a University Trustee and the President of Express Scripts, at last week's formal installation of Prof. Henry Kautz as the inaugural Robin and Tim Wentworth Director of the Institute for Data Science. Wentworth spoke on behalf of both him and his wife.

But they also believe in "force multipliers" — finding ways to give "in which we can see that not one thing, but many things will be made better as a result."

And when they look at the University's data science initiative, Wentworth added, they see the "ultimate force multiplier," attracting talented faculty, expert leadership, "terrific" students, and additional public and private philanthropic support.

Moreover, the intiative will be a force multiplier in "branding and distinguishing this university in many new ways, in how the university will impact the world around us and how the world will better understand itself as a result," Wentworth said.

"And that is a tremendously exciting prospect — an expansive and yet unifiying strategy and mindset for this world-class university in our hometown."

In fall 2013, President Joel Seligman announced the University's $100 million commitment to greatly expand its work in data science. This centerpiece of the University's current five-year strategic plan includes the construction of a state-of-the-art building to house the Institute for Data Science, as well as the hiring of as many as 20 new faculty members with expertise in the field.

Seven of those faculty were hired this year, Seligman noted at Kautz' installation. And that too, will create a multiplier effect. For example, though many of the new faculty will be hired in science or engineering departments other than Computer Science, all will have computational skills and research interests. That will provide additional opportunities for Computer Science faculty to collaborate on research projects with colleagues in the other departments where these new faculty are hired, Sandhya Dwarkadas, Professor and Chair of Computer Science noted recently.

"In this way the whole becomes greater than the sum of the parts."

Read more about the installation ceremony here.
Do you have an interesting photo or other image that helps illustrate your research? We would like to showcase it. Send a high resolution jpg or other version, along with a description of what it shows, to bmarcotte@ur.rochester.edu.
---
Recipients of Furth Fund awards announced
Dragony Fu, Assistant Professor of Biology, and Mark Buckley, Assistant Professor of Biomedical Engineering, are this year's recipients of University of Rochester Furth Fund awards.

Created in 1986 by Valerie and Frank Furth, the fund provides awards of $10,000 each to help foster the development of promising scientists in the natural and biological sciences.

Fu, who joined the faculty in 2014, focuses his research on the biochemical basis of human pathologies such as cancer, metabolic disease and neurological disorders. One such disorder, intellectual disability (ID), is a major socioeconomic concern worldwide due to the lifelong challenges of special education and primary care support systems. Unfortunately, the biological processes that contribute to ID remain unknown for the majority of genetic cases, thus precluding any possible strategies to prevent or delay the disease. The goal of Fu's research is to elucidate the molecular and cellular mechanisms underlying the numerous ID disorders associated with tRNA modification enzymes.

The Furth Fund award will be used to support the research of a currently appointed postdoctoral associate, and will be used to develop deep sequencing techniques for analyzing gene expression patterns in human cell models of neurological diseases. In addition, a portion of the funds will be used to provide computational resources for data analysis.

Buckley, who joined the faculty in 2013, focuses on the role of mechanics in disease and disease therapies, particularly diseases of the musculoskeletal system and the eye. To guide prevention of these diseases, he seeks to identify the mechanisms through which physical forces lead to their initiation and progression. To guide diagnosis and treatment of these diseases, he characterizes disease-associated structural and mechanical changes and develops strategies for monitoring and reversing these changes in vivo.

The Furth Fund award will allow Buckley to bring on a third doctoral student to work on a project aimed at understanding the role of mechanical compression in insertional Achilles tendinopathy (IAT). IAT is a debilitating condition that is challenging to treat clinically. Buckley's goal is to improve the treatment of this disease by developing procedures by which well-defined measures of disease progression can be used to inform targeted, patient-specific care and enable longitudinal monitoring of the effects of surgical and non-surgical interventions.

---
Master of science degree in data science now offered
The Institute for Data Science now offers an accredited master of science degree program in data science with an optional concentration in computational and statistical methods, health and biomedical sciences, or business and social science.

The program can be completed in one year of full-time study. Scholarships are available. For more information and to learn about other degree programs, visit www.rochester.edu/data-science.

---
Librarian provides 'connective tissue' between data, researchers
Based in the Carlson Science and Engineering Library, Data Librarian Kathleen Fear serves as the "connective tissue" between data and researchers across disciplines, including collaborating with Miner Library at the UR Medical Center.

She provides support throughout the research lifecycle by consulting on study design and data management plans, providing access to data, offering training on statistical tools, and assisting with publishing and archiving data.

"I think of it sometimes as a connective tissue sort of role," Fear said. "[Researchers] touch on different pieces of the data lifecycle and have different interests in it. I try to see the big picture of how all of the pieces work together, where the gaps are, and what we can do. In some ways, it's like a traditional librarian role — knowing what the resources are and how to get people to the resources that they need."

Fear first began working with large amounts of data as an undergraduate at Yale. A physics major, she collaborated on data projects with fellow students in her lab. She was also a student worker in the Yale University Library, where she became interested in preservation and conservation. This interest led her to pursue her master's and doctoral degrees at the University of Michigan's School of Information. She specialized in data curation, preservation, and reuse. Fear joined the River Campus Libraries in July 2013. Read more . .

---
Study of LGBT cancer survivors gets big assist from Clinical Research Center
There's a lot of evidence that LGBT persons have more stress in general than heterosexual individuals do, probably because of a lifetime of discrimination and prejudice, says Charles Kamen, a clinical psychologist and a Research Assistant Professor of Surgery. These disparities persist in LGBT cancer survivors as well.

"So even in the context of cancer, which is very stressful, LGBT survivors have more stress than other cancer survivors," Kamen explains in an interview with Sean Dobbin at the CTSI Stories blog.

Kamen has worked closely with Karen Mustian, Associate Professor of Surgergy, who has shown that exercise is effective in reducing side effects in people recovering from cancer.

So, with support from a Wilmot Cancer Center seed grant, Kamen embarked on a study involving LGBT cancer survivors and their care partners, randomizing them so they either exercise as a pair — a dyad — or the survivor exercises alone, to help determine whether people adhere more to an intervention when they have a partner.

"The thinking is that no one likes to exercise, but if you exercise with someone else, it's going to increase the chance of you doing it," Kamen explains. "And if you exercise, that improves your immune system. So to test that, I also needed blood samples."

With Kamen's study coordinator running one partner of a dyad through the exercises, and Kamen giving the other partner a questionnaire, this would have required a third person to transport, aliquot, and freeze the blood.

Instead, Kamen turned to the Clinical Research Center. "I just brought the patient in, they drew the blood, and I took the patient down to the PEAK (Physical Exercise Activity Kinesiology) lab for the rest of the assessment. The CRC would spin the blood for me, aliquot it, and freeze it for me in their -20 degree freezer. Then my coordinator could come by a few days later and take it to our -80 freezer. So the convenience of that was fantastic, and I don't know how it would've worked if the CRC hadn't been able to process the blood for me."

Kamen's findings show that the LGBT population of cancer survivors compared with heterosexual counterparts do indeed have more psychological distress, more fatigue, and they actually report a little less support from their care partners. "I didn't expect that last part," Kamen says.

However, over the course of the intervention, the distress for LGBT couples in the dyad came down pretty sharply, and there was an increase in the care partner support.

"Thanks to the pilot data I collected with the help of the CRC, I was able to successfully compete for a major career development award from the National Cancer Institute," Kamen adds.

---
Curry to co-edit new book series on knowledge production
Mary Jane Curry, Associate Professor of Language Education at the Warner School, has been appointed co-editor of a new book series, Studies in Knowledge Production and Participation, which will examine questions arising from the wide range of genres in which academic and scientific knowledge is being produced and communicated today.

In addition, with the proliferation of blogs, wikis, Twitter feeds and other digital platforms, the production of all kinds of vernacular and indigenous knowledge has increased dramatically, Curry said, raising fundamental questions about what is counted as knowledge, how it is recognized and rewarded, and who has access to producing, distributing and using knowledge.

Curry will co-edit the series with Theresa Lillis, Professor of English Language and Applied Linguistics at The Open University, United Kingdom. Curry collaborates with Lillis in researching how scholars in non-English speaking countries are responding to the growing pressure to publish their academic work in English. (Read more here . . . )

One of the key aims of the series is to include work by scholars located outside the 'center,' Curry noted, and to include work written in innovative styles and formats.

The books will be published by Multilingual Matters, an international independent publishing house in Bristol, United Kingdom, which also has lists in the areas of bilingualism, second/foreign language learning, sociolinguistics, translation and books for parents.

---
Introducing a new faculty member
Antti E. Seppo has joined the Department of Pediatrics as a research associate professor in allergy/immunology. His short-term research interest is to understand the factors that predispose and cause food allergies in children, and to understand predictive indicators of the severity of allergic reactions in children and adults. His research aims to evaluate genetic factors by applying genomic and transcriptomic techniques and environment-related factors by biochemical screening of biomarkers. His long-term interest is to understand the fundamental mechanisms in the developing human immune system — particularly mechanisms that upon failure cause allergic disease. He is also interested in the integration of leading-edge biocomputing methods into cell-based assay research, especially in connection with image analysis. Seppo earned his PhD in Biotechnology from the University of Helsinki, Finland, in 1996.

---
UR research in the news
Michael Potchen, Professor of Imaging Sciences, and Gretchen Birbeck, Professor of Neurology, were among researchers who studied the brain images of hundreds of children with cerebral malaria, and discovered that in fatal cases of the disease, the brain becomes so swollen that it is forced out through the bottom of the skull and compresses the brain stem, which causes the children to stop breathing and die. The discovery allows researchers to now focus on the cause of the swelling and explore new treatments. The study, published in the New England Journal of Medicine, was funded by the National Institute of Allergy and Infectious Diseases and included a team of researchers from Michigan State University, the University of Malawi, the University of California, San Diego, the Liverpool School of Tropical Medicine, Harvard University, and Brigham and Women's Hospital. Read more . . .

Warner School Professor David Hursh and alumnus Joseph Henderson '14W (PhD), together with David Greenwood, Canada research chair in environmental education at Lakehead University, served as guest editors of the current issue of Environmental Education Research, which focuses on environmental education in a neoliberal climate. "Environmental education is political," said Hursh. "People do not fully comprehend the meaning of neoliberalism, but often overuse it to blame or explain current environmental conditions and issues. We need to talk about the nature of environmental education within the context of the dominant economic and political system of neoliberalism. Such an approach helps us think differently about how we live, make choices, and think about the world." The 13 articles in the new special issue of Environmental Education Research challenge readers to consider the many ways that environmental education has been shaped by and interacts with the logic of neoliberalism. Read more . . .

---
Phd dissertation defenses
Demeke Gesesse Yeheayhu, Warner School, "Mapping Science in Discourse-Based Inquiry Classrooms." 10 a.m., March 26, 2015, LeChase Hall 215. Advisor: Jeffrey Choppin.

Elena Nilosek, Chemistry, "Quantum and Classical Molecular Dynamics of Energy Harvesting." 1 p.m., March 27, 2015, Hutchison 473. Advisor: Oleg Prezhdo.

Daniel Martinelli, Microbiology and Immunology, "Examination of the Roles of the Endopeptidase RipA and the Penicillin Binding Protein PonA2 in Mycobacterial Cell Wall Maintenance." 10:30 a.m., March 30, 2015, in 1-9576 Ryan Case Method Room. Advisor: Martin Pavelka

Matthew Frise, Philosophy, "The Epistemology of Memory: Evidentialism Meets Cognitive Psychology." 2 p.m., April 9, 2015, Lattimore 531. Advisors: Earl Conee and Richard Feldman.

---
Mark your calendar
March 25: "DSMB: Qualification, Confidentiality and Indemnification," presented by Karl Kieburtz and Karen Rabinowitz. Part of series, Good Advice: Case Studies in Clinical Research, Regulation, and the Law. Noon to 1 p.m., Helen Wood Hall Auditorium (1w-304).

April 9: Whipple Lecture: "Skin Stem Cells: Their Biology and Promise for Medicine," presented by Elaine Fuchs, Rockefeller University. Noon to 1 p.m., Class of '62 Auditorium.

April 10: 4th Annual Medical Scientist Research Symposium. "Stem Cells in Silence, Action and Cancer," keynote address by Elaine Fuchs, Rockefeller University. Student poster session and oral presentations. 1-4:30 p.m., Class of '62 Auditorium and Flaum Atrium.

April 15: Celebration of the Seward Project, 3 to 5 p.m. in the Digital Humanities Center. Keynote address by Beth Luey, Past President of the Association for Documentary Editing, and presentations by students involved in the project. Read more . . .

April 20: AS&E workshop on applying for the NSF Faculty Early Career Development (CAREER) Program. 9 to 11 a.m., Gamble Room of Rush Rhees Library. RSVP by April 14, 2015. For additional information please contact assistant deans Debra Haring or Cindy Gary.

April 26: Deadline to apply for Falling Walls Lab competition, to be held May 19 at Sloan Auditorium. Any grad student, post-doc, scientist or early career faculty member, born on or after Nov. 8, 1980, is eligible. Apply here. Questions? Contact fallingwallsrochester@rochester.edu.

---
Please send suggestions and comments to Bob Marcotte. You can see back issues of Research Connections, an index of people and departments linked to those issues, and a chronological listing of PhD dissertation defenses since April 2014, by discipline.