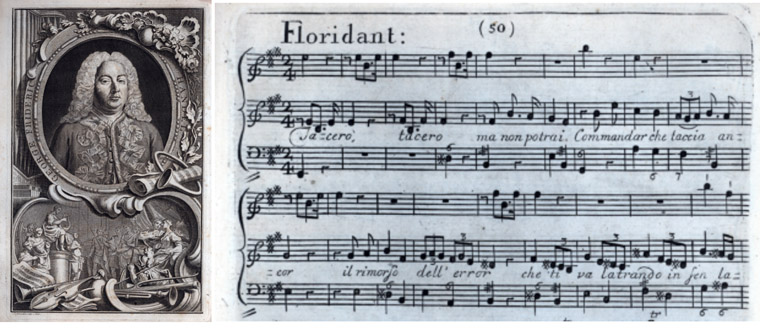 Handel and a section of the score for his aria "Tacero, ma non potrai" from his opera Floridant. Most Handel scholarship focuses on the arias in his operas. However, PhD student Regina Compton argues that only by giving equal attention to his recitatives can one understand and enjoy the full subtlety of Handel's operatic characters. (Images courtesy of the Sibley Music Library at the Eastman School.)


Award-winning dissertation examines Handel's operatic recitatives
In the early seventeenth century, composers started writing "recitative," a style of music that approximated the pitch and rhythmic patterns of ordinary speech. It became the standard musical style for setting passages of dialogue in dramatic works.

George Frideric Handel (1685-1750), for example, wrote recitativo semplice to "propel the most crucial dramatic and narrative events of his operas," writes Regina Compton, a PhD student in Musicology.

"They provide a space where characters converse, argue, demonstrate love, and express hatred, pouring forth deep feelings to generate plot conflict and resolution."

And yet, most Handel scholarship ignores his use of recitative, focusing instead on the arias in his operas. In her dissertation, "The Recitativo Semplice in Handel's Operas for the First Royal Academy of Music," Compton not only helps fill this gap in scholarship, but sets a high bar indeed: for her efforts, she is the recipient of this year's International Handel Research Prize.

Compton specifically examines the use of recitativo semplice in the 13 operas Handel wrote in London between 1720 and 1728, sponsored by a group of wealthy gentlemen who established the Academy to secure a steady supply of operatic offerings.

Far from simply "filling time" in these operas, Handel's recitatives employ a rich arsenal of harmonic, melodic and rhythmic devices that serve to "convey, heighten or literally depict the meaning of the text," Compton notes. A dissonant harmony, for example, might express rage, or a sudden high note, despair.

Indeed, only by giving equal attention to recitatives and arias can one understand and enjoy the full subtlety of Handel's operatic characters, Compton argues.

Compton also explores how analyzing the recitatives can provide clues about the rich vocabulary of gestures that singers used during this time period.

"The musical elements of Handel's recitative are closely tied to and sometimes indicative of the performer's onstage movements: the music complements or even signifies the gestural elements of the operas," Compton writes. "Though we cannot perfectly recreate the performance of any eighteenth-century singer or actor, we can be more certain of the nature of their gestures by studying the libretto, the stage directions — when given — and no less important, the music."

In short, Compton concludes, "Handel's recitative does something and . . . this something rewards our close attention."


Do you have an interesting photo or other image that helps illustrate your research? We would like to showcase it. Send a high resolution jpg or other version, along with a description of what it shows, to bmarcotte@ur.rochester.edu.
---
Study from Beijing Olympics links pollution to lower birth weights
When the Chinese government reduced air pollution levels during the 2008 Beijing Olympics, women there gave birth to children with higher birth weights compared to those who were pregnant before and after the games, according to research published this week in Environmental Health Perspectives.

"These findings not only illustrate one of the many significant health consequences of pollution, but also demonstrate that this phenomenon can be reversed," said David Q. Rich, Associate Professor of Public Health Sciences and lead author of the study.

An aggressive Chinese program of restricting vehicle use, closing factories, halting construction projects, and seeding clouds to induce rainfall produced a significant decrease in the concentrations of particulate and gaseous air pollution for a 6-7 week period during the Olympic games. The restrictions were subsequently relaxed.

The researchers compiled information from 83,672 term births in four urban districts in Beijing. They compared babies born to mothers whose eighth month of pregnancy occurred during the 2008 Olympics/Paralympics with those whose mothers were in their eighth month of pregnancy at the same time of year in 2007 and 2009 when pollution levels were at their normally higher levels. They found that the babies born in 2008 were on average 23 grams larger than those in 2007 and 2009.

During the late stage of pregnancy the fetus experiences the greatest amount of physical growth, and the development of the central nervous, cardiovascular, and musculoskeletal systems accelerates. The study suggests that pollution may be interfering with this period of development.

A prior study based on the Beijing Olympics by this group, which also includes researchers from Duke, Rutgers, the University of California/San Francisco, Capital Medical University in Beijing and the Chinese Research Academy of Environmental Sciences, demonstrated that these same air pollution reductions resulted in improvements in several risk factors for cardiovascular disease. Read more . . .

---
Lead exposure and high-fat diet alter bone growth pathway
The combination of lead exposure and a high-fat diet are particularly hard on the bones and could result in a higher risk of osteoporosis, according to a URMC study.

The research was conducted in mice but supports other data that links high lead exposure to bone problems in young people, reports the Research@ URMC blog. Because lead exposure often occurs in early childhood and usually happens in tandem with other risk factors for poor health, the researchers sought to explore whether a high-fat diet and lead shared a biological mechanism related to bone development.

They found that, indeed, the two factors together altered a stem cell pathway that is essential for bone growth. The study, led by Robert A. Mooney, Professor of Pathology and Laboratory Medicine; Edward Puzas, Professor of Orthopaedics, and Eric Beier, Ph.D., a former graduate student at URMC, was published in Environmental Health Perspectives.

The group showed that although each factor alone reduced bone quality, the combined effects of a high-fat diet and lead exposure through drinking water had the most detrimental impact. The results point to a need to assess toxicants together with other risk factors relevant to disease.

---
Pharmacology meeting theme: G-protein coupled receptor signaling systems
The annual meeting of the Upstate New York Pharmacology Society at the Medical Center on May 19 will feature talks by keynote speaker J. Silvio Gutkind of the National Institute of Dental and Craniofacial Research, Xianhua Piao of Harvard Medical Center, and Peter A. Friedman of the University of Pittsburgh School of Medicine.

They will address the conference theme: G-Protein Coupled Receptor Signaling Systems in Health and Disease.

Open to ASPET (American Society for Pharmacology and Experimental Therapeutics) and non-ASPET members; click here to learn more about fees and to register by May 18.

The program will also include oral presentations by graduate students and early-career scientists and poster sessions for undergraduates through postdocs.

---
Need help with your research? Meet with a librarian
It is now easier to schedule meetings with research librarians, who can provide assistance with papers and projects. Search for your course or subject area in LibGuides on the River Campus Libraries website, find the librarian assigned to you, and then use the hyperlink below their photo to schedule a meeting.

---
Introducing a new faculty member
Kirsi Javinen-Seppo has joined the Department of Pediatrics as the Founders' Distinguished Professor of Pediatric Allergy. Her research focuses on food allergies disorders, caused by milk, egg and peanut -- in particular, the mechanisms of food allergy and development of neonatal oral tolerance to foods. Her laboratory is trying to understand the role of breastfeeding and immunomodulatory factors in breast milk on the development of mucosal immune system and immune responses to foods in the offspring. Other research interests include etiology and treatment of food-induced anaphylaxis, animal models of food allergy, and oral immunotherapy. She received her PhD in Allergy/Immunology from the University of Helsinki, Finland in 2000 and her MD there in 1996.

---
Congratulations to . . .
José Oliveira Martins, Assistant Professor of Music Theory, who is one of 12 recipients of a 5-year research grant funded by the European Union and Portugal. In addition to writing numerous collaborative publications, Martins will lead a research unit on Music Theory at CITAR (the Research Center for Science and Technology in the Arts, Universidade Católica Portuguesa, Porto).

. . . and to this year's recipients of University Teaching Awards for Excellence:

William J. FitzPatrick, the Gideon Webster Burbank Professor of Intellectual and Moral Philosophy, is the 2015 recipient of the Edward Peck Curtis Award for Excellence in Undergraduate Teaching. FitzPatrick's research is in moral philosophy, ranging from theoretical issues in the foundations of ethics to questions at the intersection of ethics and the sciences, as well as topics in bioethics and environmental ethics.

Nickolas (Nick) Vamivakas, Assistant Professor of Quantum Optics and Quantum Physics, is receiving the G. Graydon '58 and Jane W. Curtis Award for Nontenured Faculty Teaching Excellence. His research group works on solid-state quantum optics, solid-state approaches to quantum information science and the development of nanoscale optics-based sensing modalities.

Ralph P. Locke, Professor of Musicology at the Eastman School of Music, is receiving the Lifetime Achievement Award in Graduate Education. Locke has focused his teaching and research on the social and cultural contexts in which Western music is composed, performed, and debated. This has led him to relate music to such crucial aspects of human life as aesthetics, literature, politics, and religion.

Randall W. Stone, Professor of Political Science, is recognized with the William H. Riker University Award for Excellence in Graduate Teaching. Since joining the Department of Political Science nearly 20 years ago, Stone has become one of the most distinguished and high-profile scholars in international relations. His research in international political economy combines formal theory, quantitative methods, and qualitative fieldwork.

Click here to read more about these awards.

---
Mark your calendar
Today: Aging Research Day, sponsored by the Rochester Aging Research Center, 9 a.m. to 3 p.m., Helen Wood Hall Auditorium, (1w-304). Keynote speaker Brian Kennedy, CEO of the Buck Institute for Research on Aging, will present "Drugs That Forestall Aging-Extending Healthspan."

Today: Annual Graduate Student Society Poster Session, 2-4 p.m., Flaum Atrium. Graduate students will inform the University community about the wealth of research they do and highlight their dedication and accomplishments in their respective fields. Travel awards ranging from $100 to $500 will be presented.

Today: Deadline for pre-proposals for University Technology Development Fund. Click here for more details about applying.

May 5: Fulbright Faculty Workshop with Peter VanDerwater, Director of Outreach for the Fulbright Scholar Program, 3-5:30 p.m., The Meliora, Frederick Douglass Building. Includes panel of University Fulbright alumni. To reserve a space, email global@rochester.edu.

May 7: Clinical and Translational Science Institute (CTSI) town hall meeting noon to 1 p.m. in the Evarts Lounge in Helen Wood Hall. Brief updates from directors, then opportunity to give input, including what CTSI could do to accelerate research.

May 10: Deadline for Community Health Mini-Grants of up to $1,000 for applications that look at ways to address barriers to pursuing community health partnerships. See "quick links" here for details.

May 19: Annual meeting of the Upstate New York Pharmacology Society, with theme of G-Protein Coupled Receptor Signaling Systems in Health and Disease. Keynote and guest speakers, oral presentations by students and early career scientists, poster sessions. Click here to learn more about fees and registration.

May 28: "Hitting the Accelerator: Health Research Innovation through Data Science," sponsored by the UNYTE Translational Research Network. 11 a.m. to 3:15 p.m. in the Helen Wood Hall Auditorium (1W-304). Details and registration are available here.

June 1: Applications due for Cancer Research Program Grants of up to $100,000 for one year. Click here to read the full request for proposals. Applications should be submitted electronically to Pam Iadarola, who can also be contacted for more information.

June 4-5: 2015 Symposium on Immune Modeling in the Big Data Era. Register here by May 15.

---
Please send suggestions and comments to Bob Marcotte. You can see back issues of Research Connections, an index of people and departments linked to those issues, and a chronological listing of PhD dissertation defenses since April 2014, by discipline.