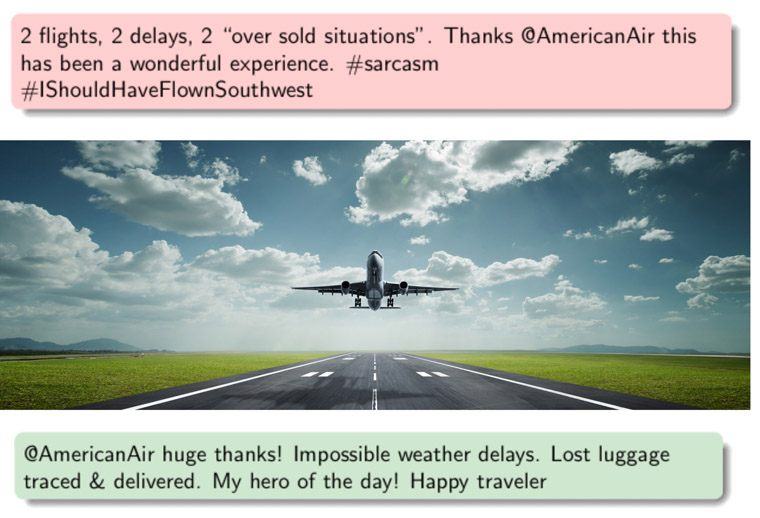 Strong Twitter following will help you get airlines' attention
After filmmaker Kevin Smith was asked to leave a Southwest Airlines plane in February 2010, he angrily sent a tweet to his 1.6 million Twitter followers claiming that he had been kicked off the flight for being "too fat."

Sixteen minutes later, Southwest Airlines, with over 1 million Twitter followers, responded in an effort to de-escalate the situation.

What if Kevin Smith had not been a celebrity with such a large Twitter following? Would he have gotten a response in 16 minutes — or even at all?

PhD student Priyanga Gunarathne; Asst. Prof. Huaxia Rui, and Prof. Abraham Seidmann, all of the Simon School, studied more than 450,000 Twitter messages to and from three major airlines and found that all three were more likely to respond to tweets sent by customers with a higher number of followers.

"One plausible explanation for this finding is that airlines recognize the higher risk of antagonizing opinion leaders on social media but may have limited resources to handle all requests for engagement," the researchers write. "We also find that all three airlines are more inclined towards responding to complaints and compliments" as opposed to neutral messages.

Using a public API (application programming interface), the team collected tweets sent to and from American and United airlines between May 1 and Oct. 12, 2013, and to and from Air Canada between April 1 and July 31, 2014. It used text mining to classify tweets as complaints, compliments or neutral. Binary choice models were used to examine how a customer's popularity affected the likelihood that his or her tweet would be responded to.

Interestingly, the time it took to get a response — even to customers with a high following — varied by airline. American Airlines reporting longer response times for customers with a higher number of followers and for customers with complaints, suggesting it puts more emphasis on giving a "prudent response" to customers popular on social media or customers with complaints. "Given that the overall response time of American Airlines is fairly low already, this probably is an appropriate strategy," the researchers noted.

United Airlines responded more quickly, which is "in line with the traditional view of consumer relationship management, which recommends immediate responses to powerful customers and customer complaints."

The researchers also conclude that social media as a platform for customer service may be a "double-edged sword" — for both customers and the affected brands. While customers with a large Twitter follower may get "premium" customer service, less connected customers may find themselves "popularity- discriminated" against by companies.

On the other hand, brands with limited resources for handling social media "may have to carefully walk the line" when focusing their attention on highly influential customers, so as not to antagonize "the less influential but large customer base."

Click here to download the full study.


Do you have an interesting photo or other image that helps illustrate your research? We would like to showcase it. Send a high resolution jpg or other version, along with a description of what it shows, to bmarcotte@ur.rochester.edu.
---
UR team pursues next generation of cures for blindness
A team of University researchers is designing an optical system to image the responses to light of large numbers of individual cells in the retina, in order to accelerate the development of the next generation of cures for blindness.

The Rochester team and their partners will receive $3.8 million from the National Eye Institute (NEI) over the next five years.

"The new instrumentation we are developing builds on technology we had developed previously to improve vision through laser refractive surgery and contact lenses, as well as to diagnose retinal disease," said Rochester's principal investigator David Williams, the William G. Allyn Professor of Medical Optics and Director of the Center for Visual Science. "This is the first time we have designed instrumentation specifically to develop and test therapies to restore vision in the blind."

NEI announced the awards as part of its Audacious Goals Initiative to tackle the most devastating and difficult to treat eye diseases. The central goal is to restore vision by regenerating neurons and neural connections in the eye and visual system.

The imaging system being developed at Rochester builds on work pioneered by Williams, widely regarded as one of the world's leading experts on human vision. He pioneered the use of adaptive optics technologies for vision applications, making it possible to image individual retinal cells, down to individual cone photoreceptors in the living human retina, by looking through the pupil.

The Rochester team plans to test their system in collaboration with investigators who are exploring three different approaches to vision restoration: preserving photoreceptors with gene therapy, replacing lost photoreceptors using stem cells, and genetically re-engineering cells other than photoreceptors to respond to light.

The imaging system being developed by the Rochester team uses two main components: a fluorescent marker that can detect the responses of single retinal cells to light, and two-photon microscopy, which uses infrared light to detect the fluorescent signals without damaging living tissue.

The use of two-photon microscopy for imaging the living retina was pioneered by Jennifer Hunter, Assistant Professor of Ophthalmology at the Flaum Eye Institute. Hunter is joining up with Williams and William Merigan, Professor of Ophthalmology at Flaum and an internationally-renowned expert in the circuitry of the retina, to lead the Rochester group. Read more . . .

---
Start-up uses UR research to combat brain inflammation
A new start-up company, built around research conducted at the University's School of Medicine and Dentistry, hopes to use a new class of drugs to combat the brain inflammation associated with neurodegenerative diseases. The inflammation, which impairs the function of nerve cells and the vast networks they create, can cause memory loss and damage the ability to plan and prioritize, focus on particular tasks, and process sensory information.

Camber NeuroTherapeutics Inc. is based on discoveries made in the laboratories of Harris "Handy" A. Gelbard, Professor of Neurology, and Stephen Dewhurst, Professor and Chair of Microbiology and Immunology.

Gelbard, Director of UR's Center for Neural Development and Disease, says that neuroinflammation plays a role in multiple sclerosis, Parkinson's, HIV-associated neurocognitive disorders (HAND), and postoperative cognitive dysfunction (POCD). Left unchecked, chronic inflammation in the brain can rob people of the ability to work, live independently and maintain their quality of life.

The company plans to combat neuroinflammation with a new class of drugs that Gelbard identified while studying HAND, the memory loss and overall mental fog that affects half of all patients living with HIV. The lead compound, dubbed URMC-099, turns off an enzyme called MLK3 (mixed lineage kinase type 3) that sets the neuroinflammatory process in motion. Read more . . .

---
Researchers create optically active quantum dots in 2D semiconductor
University researchers have shown that defects on an atomically thin semiconductor can produce light-emitting quantum dots. The quantum dots serve as a source of single photons and could be useful for the integration of quantum photonics with solid-state electronics — a combination known as integrated photonics.

In a paper published in Nature Nanotechnology this week, the Rochester researchers, including first author Chitraleema Chakraborty, a PhD student, and senior author Nick Vamivakas, Assistant Professor of Quantum Optics & Quantum Physics, show how tungsten diselenide (WSe2) can be fashioned into an atomically thin semiconductor that serves as a platform for solid-state quantum dots. Perhaps most importantly the defects that create the dots do not inhibit the electrical or optical performance of the semiconductor and they can be controlled by applying electric and magnetic fields.

Vamivakas explains that the brightness of the quantum dot emission can be controlled by applying the voltage. He adds that the next step is to use voltage to "tune the color" of the emitted photons, which can make it possible to integrate these quantum dots with nanophotonic devices. A key advantage is how much easier it is to create quantum dots in atomically thin tungsten diselenide compared to producing quantum dots in more traditional materials like indium arsenide. Read more . . .

---
CIRC hosts poster session today
The Center for Integrated Research Computing (CIRC) Annual Poster Session runs from 10 a.m. to noon today in the Munnerlyn Atrium in Goergen Hall. It will highlight University research projects enabled by computation and analytics.

---
SCORE's annual half-day seminar is June 10
The 7th Annual Study Coordinators Organization for Research and Education (SCORE) Half-Day Seminar will focus on promoting and improving the clinical research experience for those who actively coordinate health research.

The seminar will be held from 7:30 a.m. to 12:30 p.m. June 10 in the School of Nursing, Helen Wood Hall Auditorium, 1W304. To register on-line, click here by June 3.

There is no charge for this event, which is presented by the Clinical and Translational Science Institute (CTSI), SCORE, and the University of Rochester School of Nursing, and is sponsored by the Office for Human Subject Protection (OHSP) and the Association of Clinical Research Professionals (ACRP).

All attendees (nurses and non-nurses) have an opportunity to earn 3.6 continuing education contact hours. A light breakfast will be available.

Questions? Contact SCORE@urmc.rochester.edu.

---
Introducing a new faculty member. . .
Yan Michael Li has joined the Department of Neurosurgery as an assistant professor. He is focused on several fields, including complex brain and spine cancer surgery, minimally invasive and endoscopic surgery for spine, brain and skull base tumors, awake brain tumor surgery with intraoperative navigation and mapping, primary spine tumor en bloc resection, laser surgery for brain and metastatic spine tumor, stereotactic radiosurgery and individualized treatments for brain and spine tumors based on personal genomic profiling. He is currently performing research focused on cancer specific brain and spine tumor targeted therapy and local delivery, personalized genomic medicine and surgery, surgical trials and brain and spine cancer surgery. He received his medical degree from Peking Union Medical College and his PhD from the University of Texas MD Anderson Cancer Center. He came to the UR after completing a Neurosurgical Oncology fellowship at Anderson Cancer Center.

---
Congratulations to . . .
Diane Dalecki, Professor of Biomedical Engineering and Director of the Rochester Center for Biomedical Ultrasound, and Denise C. Hocking, Associate Professor of Pharmacology and Physiology, whose research was recognized with the Best Paper Award at the Micro- and Nanotechnology Sensors, Systems, and Applications Conference of the SPIE Defense + Security Symposium held recently in Baltimore, Maryland. Their invited paper titled "Guiding Tissue Regeneration with Ultrasound In Vitro and In Vivo" detailed three biomedical ultrasound technologies under development in their laboratories to stimulate tissue formation and regeneration. Co-authors of the paper included Senior Technical Associate Sally Child, Technical Associate Carol Raeman, and BME graduate students Eric Comeau and Laura Hobbs. Read more . . .

Paul T. Rubery, Chief of the Division of Spinal Surgery, who has been named chair of the Department of Orthopaedics. Rubery has served as acting chair since September 2014 following the departure of Regis J. O'Keefe , who was named chief of orthopaedic surgery at Washington University School of Medicine in St. Louis. Rubery specializes in scoliosis and spinal deformity in both children and adults, with a research focus on applications of gene therapy in orthopaedics. Read more . . .

. . . and to four University graduate students who have received National Science Foundation Graduate Research Fellowships, which provide up to three years of graduate study support for students pursing doctoral or research-based master's degrees. The fellowship includes a three-year annual stipend of $34,000, a $12,000 educational allowance to the institution, and international research and professional development opportunities for recipients. The four students are:

Emily Joy Greenwood, psychology, who earned her bachelor's degree at the University of Chicago
Keywan Alexander Johnson, chemistry, who earned his bachelor's degree at the University of Delaware
Evan Altair Ranken, physics, who earned his bachelor's degree at Colorado College
Tessa M. Woodruff, chemistry, who earned her bachelor's degree at Miami University

---
PhD dissertation defense
Lisbeth Boule, Microbiology & Immunology, "Characterizing the effects of developmental activation of the aryl hydrocarbon receptor on CD4+ T cell responses later in life." 9 a.m., May 21, 2015, K-207 Auditorium (2-6408). Advisor: Paige Lawrence.

---
Mark your calendar
May 10: Deadline for Community Health Mini-Grants of up to $1,000 for applications that look at ways to address barriers to pursuing community health partnerships. See "quick links" here for details.

May 19: Annual meeting of the Upstate New York Pharmacology Society, with theme of G-Protein Coupled Receptor Signaling Systems in Health and Disease. Keynote and guest speakers, oral presentations by students and early career scientists, poster sessions. Click here to learn more about fees and registration.

May 28: "Hitting the Accelerator: Health Research Innovation through Data Science," sponsored by the UNYTE Translational Research Network. 11 a.m. to 3:15 p.m. in the Helen Wood Hall Auditorium (1W-304). Details and registration are available here.

June 1: Applications due for Cancer Research Program Grants of up to $100,000 for one year. Click here to read the full request for proposals. Applications should be submitted electronically to Pam Iadarola, who can also be contacted for more information.

June 4-5: 2015 Symposium on Immune Modeling in the Big Data Era. Register here by May 15.

---
Please send suggestions and comments to Bob Marcotte. You can see back issues of Research Connections, an index of people and departments linked to those issues, and a chronological listing of PhD dissertation defenses since April 2014, by discipline.