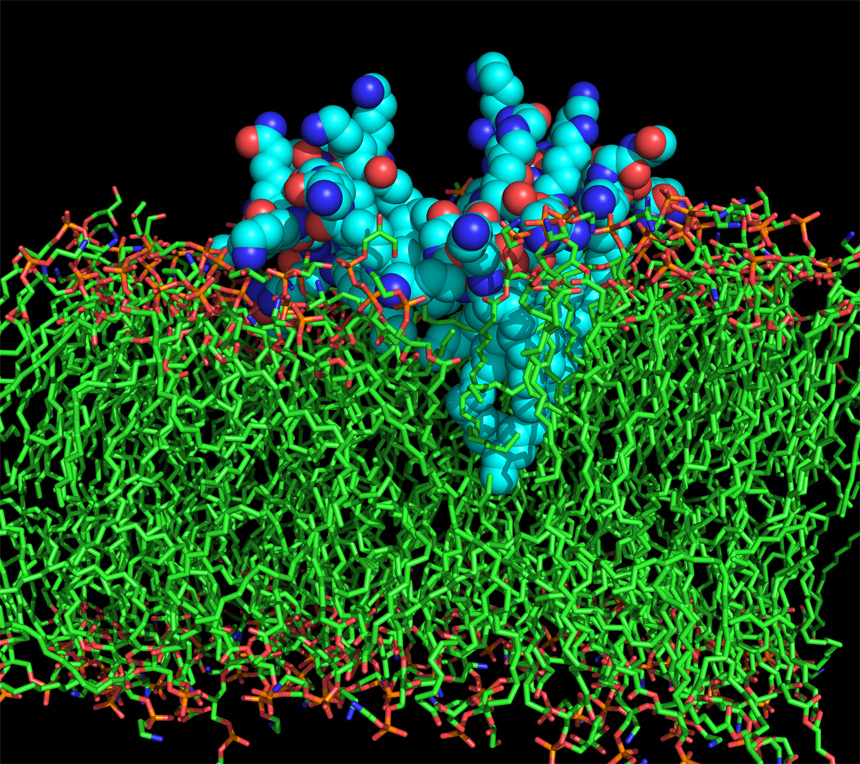 Images of research
This image, from the lab of Alan Grossfield, Assistant Professor of Biochemistry and Biophysics, depicts a computational simulation of synthetic antimicrobial lipopeptides (blue spheres) binding to a bacterial membrane (green sticks). These AMLP compounds are designed to mimic natural antimicrobial peptides (AMPs), which are found in all multicellular life forms and function by damaging targeted membranes. Their synthetic analogs have drawn interest as drug candidates because they share their natural counterparts' strengths -- potency, rapid action, and a relative lack of evolved immunity -- while avoiding their weaknesses, most notably poor bioavailability and high cost. One goal of the Grossfield lab is to better understand how these lipopeptides target and damage bacterial membranes at the atomic level, in the hopes of developing AMP- and AMLP-based antibiotics for humans.

Images similar to this one can be viewed at the Center for Integrated Research Computing (CIRC) website. Click here to learn more about the hardware, software, training, and other support that CIRC provides to UR researchers to help them use computational science and computing technology in research activities in all areas of academic scholarship.


Do you have an interesting photo or other image that helps illustrate your research? We would like to showcase it. Send a high resolution jpg or other version, along with a description of what it shows, to bmarcotte@ur.rochester.edu.
---
The University's Research Strategic Plan
(First in a series of installments on the UR Research Strategic Plan for 2013-2018)

Our University enters the next five years in a strong position to maintain its standing as one of the top research institutions in the country. We enjoy a competitive edge with programs that are best in class or among the best in class. The proximity of our River and Medical Center campuses enables our faculty to collaborate in ways that transcend department or school lines.

Collaboration across the institution will be critical to:

1. Achieve economy of scale and maximize use of resources.

2. Maintain our competitiveness for limited federal dollars.

3. Foster the "synergism" that occurs when researchers from different disciplines collaborate, thereby increasing the opportunity for novel, cutting-edge studies and outcomes.

A 20-member committee identified four broad areas of research at the University that reflect some of its greatest research strengths, offer the best opportunities for collaboration, are likely to be priority areas for funding, and hold the promise of significant discoveries. They are:

1. Data Science.

2. Research Foundations for a Healthier Society.

3. Light and Sound.

4. Energy and the Environment.

The committee also emphasized the need for community engagement, and translation of research discoveries into practical benefits for society by fostering collaborations with the corporate sector and encouraging the establishment of new ventures.

Click here to read the Research Strategic Plan in its entirety.

(Next: Finding synergy in vision restoration.)

---
Symposium showcases 3D digital archaeology
A symposium on "3D Digital Archaeology: Reconstruction, analysis and conservation of cultural heritage," will bring top international researchers from engineering and the humanities to the UR from noon to 6:30 p.m. Dec. 4 in Eisenberg Rotunda of Schlegel Hall.

They will discuss state-of-the-art multidisciplinary issues bridging the humanities and the applied sciences related to 3D modeling, visualization, and analysis-- including engineering evaluations -- of complex archaeological structures and data. Leading researchers will outline current work and cutting-edge applications in virtual archaeology and digital humanities as well as in image processing, dynamic monitoring and structural analysis of monuments.

Presentations will be followed by a roundtable in which invited participants will discuss how they use or envision use of 3D digital modeling in their present or future research or in the field of material cultural heritage broadly conceived.

The symposium, organized by Renato Perucchio, Professor of Mechanical Engineering and Director of the Program in Archaeology, Technology, and Historical Structures, and Elizabeth Colantoni, Assistant Professor of Classics in the Department of Religion and Classics, is free and open to the public. Lunch is included. To register, contact Perucchio at rlp@me.rochester.edu.

The symposium is co-sponsored by the Humanities Project, University of Rochester School of Arts and Sciences; the Central New York Humanities Corridor, from an award by the Andrew W. Mellon Foundation; and by the Program in Archaeology, Technology, and Historical Structures through the Selwyn Endowment Fund.

---
Challenging a research paradigm
The primary responsibility of a physician is to the patient. The primary responsibility of a research investigator is to the science.

This traditional paradigm -- especially the second part of it -- becomes problematic when human subjects are involved in research, Carl D'Angio, professor of pediatrics and medical humanities and bioethics, said at a Study Coordinators Organization for Research and Education (SCORE) presentation recently.

"It means that people potentially will view regulations that are designed to keep the subjects safe as a burden that keeps them from ... doing the science. It causes people to want to take shortcuts, to see if there's an easier way to do it." D'Angio says the paradigm needs to change in clinical research. "We need to realize that the investigator is stuck with a dual responsibility, that the two sides of that responsibility will sometimes conflict . . . An investigator does have a responsibility to science, and there's no doubt about that, but the investigator also has a responsibility to the patient or subject."

This is particularly true for physician investigators, D'Angio added. "When they put on their investigator hat they should not take off their physician hat. They still have a responsibility to weigh the risks and benefits of their studies very carefully and put subjects first when there's a conflict."


Here to help . . .
D'Angio is also Director of the Research Ethics Key Function for CTSI, providing "independent ethics advice and facilitation for planning, performance, education for and regulation of clinical and translational research" at UR. He can be contacted at carl_dangio@urmc.rochester.edu.

D'Angio noted that a day-long CTSI Symposium on "Ethics in Research: Consent Quandaries" will be held March 13, details to come.

---
An opportunity to learn about the Dean's Teaching Fellowship
The Dean's Teaching Fellowship program is a competitive two-year program open to faculty at the School of Medicine and Dentistry who are committed to academic careers. Fellows work closely with one another and education experts to:

1. Develop research skills and complete high-quality educational research

2. Implement novel educational interventions

3. Learn educational theory, teaching methods and curriculum development

4. Develop skills in educational leadership, faculty development and mentoring

Generally, three to five fellows are selected annually. Fellows spend 15 percent of their time on the program, which includes a 3-hour bi-weekly seminar series and completion of an educational project.

An information session on the program will be held from 5 to 6 p.m. Wednesday, Dec. 4, in the Saunders Research Building, Room 1406. RSVP to Grace Fuller. Deadline to apply for a fellowship is Feb. 3.

---
Med Center lab offers unique equipment
The new Electron Paramagnetic Resonance (EPR) and X-Ray irradiator facility is located within The William A. Bernhard Memorial Lab at the Medical Center. The facility contains several unique pieces of equipment, including a Q-band EPR and a 70 keV irradiator with low temperature capabilities, which are now available to the scientific community for a fee. Click here for more information about the Services and User Fees, or contact Kermit Mercer.

---
Introducing a new faculty member
Robin Harding has joined the Department of Political Science as an assistant professor. Harding received his PhD in political science from New York University in 2012. His doctoral dissertation focused on the impact of electoral competition on the provision of public goods and services in sub-Saharan Africa, and he is currently turning the dissertation into a book. He is also involved in research projects that consider the political economy of food security, the value of electoral choice in democracy, and the determinants of maritime piracy in Somalia. Before joining the University of Rochester, he spent this past academic year as a Prize Postdoctoral Research Fellow at Nuffield College, the University of Oxford.

---
UR researchers in the news
John Treanor, Chief of Infectious Diseases at the School of Medicine and Dentistry, and Gregory A. Poland, Professor of Medicine at the Mayo Clinic, tell The Huffington Post exactly happens in your body when you have the flu.

A study by Medical Center researchers, including lead author Maiken Nedergaard, Co-Director of the URMC Center for Translational Neuromedicine, suggests a potential new treatment for the seizures that often plague children with genetic metabolic disorders and individuals undergoing liver failure. The discovery hinges on a new understanding of the complex molecular chain reaction that occurs when the brain is exposed to too much ammonia. The study, published in Nature Medicine, has also been reported by the Innovations Report, PharmaBiz and MedIndia. Read more ...

Anthony Petraglia, URMC's Chief Resident in Neurosurgery, led a study showing that local hunters continue to suffer serious injuries and death from tree stand falls at a steady rate despite safety advances. "When we make no progress over the course of a decade, that is unacceptable," he told the Rochester Democrat and Chronicle in a recent article. Read more ...

Alexandre Pouget, Professor of Brain and Cognitive Sciences, is cited in a Manila (Philippines) Bulletin article suggesting that the optimal way to make an important decision is to not "sweat it" with a lot of laborious mental handwringing. Read more ...

---
Mark your calendar
Nov. 27: Deadline to register and submit poster abstracts for the 2013 World AIDS Day Scientific Poster Session, sponsored by the Center for AIDS Research, to be held Dec. 3. Cash prizes will be awarded for graduate student and post-doctoral posters. Contact Jennifer_lynch@urmc.rochester.edu.

Nov. 30: Deadline to apply for next round of funding through the Drug Discovery Pilot Award Program, jointly funded by the Medical Center and the Moulder Center for Drug Discovery Research at Temple University. The program is designed to help Rochester scientists combine their knowledge of disease biology with the knowledge of medicinal chemists and pharmacologists at the Moulder Center to identify and refine compounds suitable for medical research and eventual use in humans. For more information about submission criteria and guidelines, visit www.ddpa.urmc.edu.

Dec. 3: "Dietary Influences on Breast Cancer," presented by Luke Peppone, Assistant Professor, Department of Surgery, Cancer Control and Alissa Huston, Assistant Professor, Department of Medicine. CTSI Seminar series, 12:15-1:15 p.m., Helen Wood Hall Auditorium (1w-304).

Dec. 5: How to Post Your IRB approved Health Research Study on the URMC Health Research Website. Training session with Ann Dozier, Associate Professor, Department of Public Health Sciences. 3-4 p.m. Saunders Research Building (1.404).

Dec. 16: Deadline to apply for Global Innovation Initiative grants. NOTE: The UR Office of Research and Project Administration (ORPA) must receive an electronic proposal five days earlier with a completed and signed University sign-off form. For assistance in seeking international partnerships with the mentioned countries, contact Todd St. Vrain, Manager for International Initiatives.

---
Research Connections will not be sent out next week
Due to the Thanksgiving holiday, the next issue of Research Connections will be sent out on Dec. 6.

---
Please send suggestions and comments to Bob Marcotte.. To see back issues, click here.