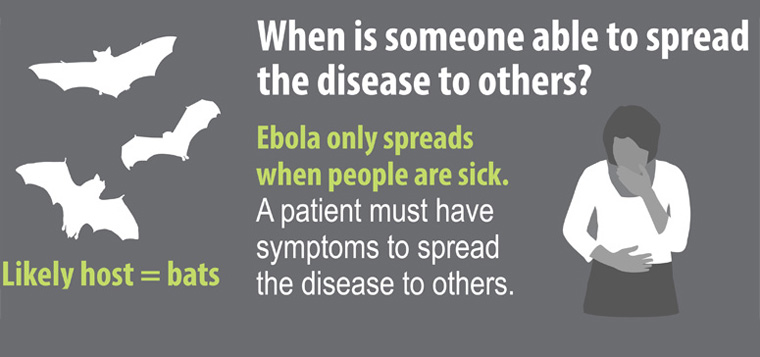 This image is from the Centers for Disease Control and Prevention.
More Ebola Q&A: UR researchers share their views
Given the widespread attention regarding the current Ebola outbreak in West Africa, four URMC faculty with expertise in viral infections agreed to field questions on this topic: David Topham, Professor of Microbiology and Immunology; John Treanor, Chief of the Infectious Diseases Division in the Department of Medicine; Luis Martinez-Sobrido, Associate Professor of Microbiology and Immunology, and Tracey Baas, an Adjunct Assistant Professor of Microbiology and Immunology and senior editor at Science-Business eXchange.

Question: What should be the role of pharmaceutical companies in developing vaccines or antivirals to counteract Ebola?

Treanor: The relative lack of involvement up until now on the part of the industry is actually pretty understandable. The funding that is being committed by the Gates Foundation and others will create therapies which will be available long after this outbreak is terminated, and they will sit in freezers for years and years -- perhaps decades -- and potentially never be needed until they are outdated, and then there will be a new outbreak. It's just extremely difficult to have a sustainable product development pathway for something that happens so infrequently. A mainstream pharmaceutical company is not going to be able to do that. BARDA (The Biomedical Advanced Research and Development Authority in the Office for Preparedness and Response, U.S. Department of Health and Human Services), or an organization like that, needs to take the lead in this. Because of the weird epidemiology of Ebola, it is more appropriately handled by government.

The other element is that this particular infection -- at least as far as we know -- looks like something that should be containable with very simple practices that don't require sophisticated antivirals. In theory we should be able to contain it with standard health practices. Ebola transmission does not occur from asymptomatic individuals. As long as that is true we should be able to use very straightforward strategies to control outbreaks.

However, a vaccine would be worth pursuing for health care providers. The high rate of mortality among health care providers is an impediment to controlling outbreaks. New outbreaks are unpredictable, so you could make an argument for vaccinating health care workers in areas where Ebola is endemic.

Question: if Ebola emerged in the United States, would it be easier to control here than in a developing country?

Treanor: It would be easier to control in a setting where sufficient health care resources are available. The only qualifier is that the entire world experience with Ebola, I would guess, is less than 10,000 cases in recorded history. Could there be things we don't know at this point? I would say probably yes. However, based on what we do know, Ebola control should be much easier in a setting where there is a developed health care system.

Question: How do pandemics -- global disease outbreaks -- occur?

Topham: A common feature of pandemics, almost by definition, is that they involve a novel pathogen to humans. There's no immunity, and that creates a higher proportion of susceptible subjects.

Treanor: The other common feature of all pandemics involving emerging viruses is that they come from animals, not humans. Essentially every single example of an emerging virus that causes widespread disease among humans is something that started in animals.

Question: What is it about viruses in general that make them such a challenge?

Martinez-Sobrido: When you are dealing with viruses that cause hemorrhagic fever in humans, for example Ebola virus, a very high level of laboratory biosafety (BSL4) is required and it is more difficult to work under these conditions.

Treanor: Viruses use the host cell metabolism to replicate, which makes it difficult to find a magic bullet that only affects the virus and not the host. With bacteria, it's little easier because they have a unique metabolism that you can target.

Topham: The ability of viruses to change rapidly is one of our biggest challenges, especially in HIV and influenza. They are always a moving target.

Treanor: Viruses can mutate quickly and evolve away from almost anything you try to do. That's always a challenge with vaccines or antiviral approaches. Viruses are very clever at escaping from whatever you throw at them.

Click here to link to last week's installment of Ebola Q&A.
Do you have an interesting photo or other image that helps illustrate your research? We would like to showcase it. Send a high resolution jpg or other version, along with a description of what it shows, to bmarcotte@ur.rochester.edu.
---
Basics of intellectual property: It's a new world
(This is the first in a series of articles about the importance of intellectual property and its commercialization to the University and its researchers. It is based on a current UR Ventures lecture series, "Intellectual Property and Commercializing Technology" being offered by the office of the AS&E Dean for Research. The next presentation, "Patents and the Patenting Process," will be at noon Oct. 21 in the Gowen Room at Wilson Commons, lunch provided.)

At modern universities -- and, increasingly, at corporations -- intellectual property is "really the value at the heart" of an institution, says Reid Cunningham, IP attorney for UR Ventures.

It's a new world, in which copyrights, trademarks, trade secrets and patents -- and the intellectual capital of employees -- are at least as important, if not more so, than factories and manufactured goods.

Consider: At GM, founded in 1908, 200,000 employees, plus another 200,000 people whose companies supply GM, design and produce 9 million cars a year. GM operates more than 340 facilities in 37 countries. It's market capitalization value is about $56 billion.

WhatsApp, founded in 2009, is a global message platform for cell phones. WhatsApp employs 55 people using rented computers in a rented office. Facebook recently paid $19 billion to buy the company. Why? It wanted WhatsApp's trade secrets -- specifically its software and, even more importantly, the names of its 400 million-plus users around the globe.

"This is a purely intellectual property company," Cunningham noted. "And when you look at GM and look at WhatsApp, you can see the difference in how much it takes to generate value in the old world, and how much it takes in the new world."

"That's the world we live in today."

(Next: Why creation of intellectual property and its licensing is important to the University of Rochester and its researchers. )

---
Promising Projects: Computerized Natural Language Processing . . . to Identify Autism Spectrum Disorder
(This one in a series taking a closer look at projects awarded 2014 University Research Awards, previously known as Provost Multidisciplinary Awards, which provide seed money for innovative research projects that are likely to attract external support when sufficiently developed.)

Jiebo Luo, Professor of Computer Science, and Tristram Smith, Professor of Pediatrics, received a 2014 University Research Award to apply computer science technology/natural language processing to the assessment of clinical data, in order to streamline the clinical assessment of data drawn from multiple sources. Their project specifically focuses on helping to identify childen with Autism Spectrum Disorder, to "shorten the lengthy waiting times that currently exist for children to receive diagnostic evaluations and simplify the process for clinicians," Smith said.

Here is an overview of their project:

The defining features of autism spectrum disorder (ASD) are deficits in reciprocal social communication and frequent or intense repetitive or restrictive behaviors. ASD has a prenatal or early childhood onset and a chronic course. Although previously considered rare, autism spectrum disorder is now estimated to occur in approximately 1 in 88 individuals.

Currently, no laboratory test for ASD exists, and the process of diagnosing the disorder is highly complex and labor-intensive, requiring extensive expertise. Clinicians base the diagnosis on review of medical records, parent and teacher questionnaires and rating scales, medical and neurological examinations, standardized developmental tests such as IQ, and standardized behavioral assessments such as the Autism Diagnostic Observation Schedule.

Because of the resources and skill required to assemble and integrate this information, few centers offer ASD diagnostic evaluations, and these centers have lengthy waiting lists, ranging from 2-12 months for an initial appointment. Waiting is not only stressful for children with ASD and their families, but it delays their access to early intervention services, which have been shown to improve outcomes dramatically in many cases.

We propose to test . . . a novel method for identifying children who may have ASD: Natural Language Processing. This method involves developing computer algorithms to process and understand human communication. We plan to extract de-identified, semi-structured information from medical records obtained prior to the initial diagnostic evaluation and examine whether we can create an algorithm that accurately predicts which children do or do not receive an ASD diagnosis when evaluated by an expert clinician in the Andrew J. Kirch Developmental Services Center at Golisano Children's Hospital.

Our proposed multidisciplinary solution furthers the University Research Strategic Plan 2013, which emphasizes using data science for "developing methods for integrating and interpreting highly heterogeneous and noisy data." It is enabled by complementary expertise and innovations in the Kirch Center (Smith, Pediatrics) and the VISTA lab (Luo, Computer Science). If successful, the initial findings will be used for patent applications and to secure external funding through recently announced NIH/NSF solicitations for large scale studies.

(University Research Award proposals are evaluated on whether the projects promise to solve a problem of intellectual or scientific importance, are well-designed and feasible, offer opportunity for involvement of students, and clearly show how outcomes should lead to external funding. Proposals are also evaluated on whether applicants are qualified to see the project to a successful conclusion and whether the budget request is appropriate. Click here to learn more.)

---
Cognition in the menopausal transition
Previous research has found that 62 percent of middle-aged women reported an undesirable change in memory, and that 40 percent of peri-- and post--menopausal women listed "forgetfulness" among a self-reported inventory of their symptoms.

Miriam Weber, Assistant Professor of Neurology and of Obstetrics and Gynecology, launched her Rochester Investigation of Cognition Across Menopause (RICAM) study, hoping to expand on the findings. She is now in the midst of her most comprehensive study yet.

"Memory complaints really do reflect objective performance, maybe not in retentive memory, but in working memory," said Weber at a recent CTSI Seminar, one in a series focusing on women's health.

Since publishing her initial results, other groups have reported similar findings -- that memory complaints were associated with loss of verbal memory and attention, that subjectively recorded memory problems were associated with objective measures, and that the brains of post-menopausal women with cognitive complaints were working harder in order to perform to previous levels. "These are high-functioning women, and they're not impaired, but they're noticing subtle differences," said Weber.

Weber has found that women in early post-menopause -- the first year after the post-menstrual period -- perform worse with verbal learning, verbal memory, and fine motor and dexterity than women in the late-reproductive stage.

In confirming that women are indeed good at self-reporting their memory symptoms during the menopausal transition, Weber offered a few directions for future studies.

For example, Weber said that researchers need better measures of symptoms known to impact cognition. "With that in mind, we just received funding to add to RICAM objective measures of hot flashes and sleep monitors," said Weber. "That way, we can get subjectively reported symptoms as well as objective measures."

She's also hoping to expand the study to multiple sites and make it more representative. "I'm interested in describing in general what the experience is during this time period for all women, but also whether there are certain factors that put some women at increased risk."

Click here for a full report by Sean Dobbin at the CTSI Stories blog.

---
Library holds "Idea Fair" for students to explore primary sources
The River Campus Libraries invites undergraduate and graduate students to attend an Idea Fair on Tuesday, Oct. 7 from 4-5 p.m. in the Department of Rare Books, Special Collections, and Preservation in Rush Rhees Library. During this hands-on session, students will have the opportunity to explore documents and collections they can use as primary sources in their assignments. Participants are welcome to send assignments in advance: RareBks@library.rochester.edu.

---
"Data Blitz" highlights research at Saunders
This new series of monthly, hour-long programs at noon will help you "learn whole lot about . . . research in just a little bit of time" at the Saunders Research Building. The goal is to help people who work in the Saunders Building get to know each other and each other's work, and also to expose that work to the wider University community.

Last week's inaugural "data blitz," for example, featured researchers from the Heart Research Follow-up Program, who displayed posters and answered questions.

The series may also spark new and unexpected research collaborations.

Watch the CTSI Weekly Update for upcoming events in the series, including the next data blitz featuring the Developmental Disabilities Research Group from noon to 1 p.m. on Oct. 29 in the Saunders Research Building atrium. Read more here . . .

---
Introducing a new faculty member
John Criswell has joined the Department of Computer Science as an assistant professor. His research interests focus on computer security and automatic compiler transformations that can be used to enforce security policies on commodity software. Criswell's primary research work is on the Secure Virtual Architecture (SVA). SVA enforces security policies on commodity operating system kernels. Criswell's previous work used SVA to protect the Linux and FreeBSD operating system kernels from attack. Criswell also developed a system named Virtual Ghost that protects applications from a compromised operating system kernel. Criswell is also the lead developer of the open-source SAFECode memory safety compiler (which enforces memory safety guarantees on application code). Prior to joining the University, Criswell was research programmer and graduate student at the University of Illinois. Before that, he worked at Argus Systems Group, Inc., where his work included enhancements to the AIX operating system kernel and writing utilities that use mandatory access controls to improve system security. He earned his PhD in computer science earlier this year from the University of Illinois at Urbana-Champaign.

---
Congratulations to . . .
Kevin Parker, Dean Emeritus of the School of Engineering and Applied Sciences and William F. May Professor of Engineering, and Theophano Mitsa '91 (PhD), who received Eastman Medals this week in recognition of their invention of the blue noise mask, which dramatically improved images in printers, fax machines and computer screens. Eastman Medals recognize individuals whose achievements and service embody the University's highest ideals. Click here to read more about blue noise mask, the "most ubiquitous innovation you've never heard of."

Ching Tang, Professor of Chemical Engineering, named by Thomson Reuters as one of this year's 26 Citation Laureates for his role in inventing the organic light-emitting diode, an innovation that has enhanced readability and image quality for mobile devices and televisions. The media firm's list represents its selections of the world's most influential researchers in chemistry, physics, physiology or medicine, and economics. Read more . . .

---
UR research in the news
Diane Dalecki, Professor of Biomedical Engineering and Director of the Rochester Center for Biomedical Ultrasound, and Denise C. Hocking, Associate Professor of Pharmacology & Physiology, have received a $2 million grant from the National Institute of Biomedical Imaging and Bioengineering (NIBIB) for their project titled "Ultrasound standing wave fields for vascular engineering." The goal of this 4-year project is to advance a novel ultrasound technology to fabricate complex, functional microvascular networks within three-dimensional engineered constructs. Collaborators on this project are Maria Helguera, Associate Professor of Imaging Sciences at RIT; Ingrid Sarelius, Professor of Pharmacology and Physiology; and Angela Glading, Assistant Professor of Pharmacology and Physiology. New, versatile vascularization strategies are needed to produce small-scale 3D tissue models and are critical for the fabrication of large-scale engineered tissues. The noninvasive capacity of ultrasound also enables innovative capabilities for fabricating microvessel networks within hydrogels injected within tissues. The successful completion of this project will provide new tools for tissue engineering and for a variety of clinical reconstructive and vascular surgery applications. Click here for a video about these researchers' use of ultrasound for tissue enginering.

A team of investigators led by Minsoo Kim, Associate Professor of Microbiology & Immunology; Richard Waugh, Professor and Chair of Biomedical Engineering, and Jonathan Reichner, Professor of Surgery at Brown University, in collaboration with James McGrath, Professor of Biomedical Engineering, and Anthony Pietropaoli, Associate Professor of Medicine, Pulmonary Diseases and Critical Care, recently received a five-year grant of just over $3.5 million from the National Institutes of Health for their research to understand the mechanisms of damage to the endothelium -- the thin layer of cells that line the inner surface of blood vessels and lymphatic vessels -- during sepsis. The National Center for Health Statistics estimates that the number of times people were in the hospital with sepsis or septicemia (another word for sepsis) increased from 621,000 in the year 2000 to 1,141,000 in 2008. Moreover, between 28 and 50 percent of people who get sepsis die. Sepsis occurs when, in response to infection, immune system chemicals released into the blood sometimes cause body-wide inflammation. The damage to the vascular endothelium resulting from this immune response can lead to blood clots and leaky blood vessels, and is a key step leading to impaired blood flow, organ failure, and death. The researchers' goal is to enable development of more effective therapeutic strategies to treat this growing threat to public health.

More than $6 million in funding from the National Institute of Mental Health (NIMH) will support research -- being led by Steve Goldman and Maiken Nedergaard, co-directors of the University's Center for Translational Neuromedicine -- that will explore the role that support cells found in the brain, called glia, play in schizophrenia. The disease is a chronic, severe, and disabling brain disorder that is estimated to affect one percent of Americans. The cause of the disease is not fully understood. Goldman and Nedergaard last year showed that glial cells play an important role in the complex signaling activity that is unique to the human brain. They showed that when human glial cells were implanted into the brains of newborn mice the human cells influenced communication within the animals' brains, allowing the mice to learn more rapidly. There is a growing appreciation that glial cells -- which include astrocytes, the brain's principal support cell, and oligodendrocytes, the source of myelin, its insulating substance -- play critical roles in processing information in the brain. The new NIMH grants examine the specific contributions of both astrocytes and oligodendrocytes to the development of schizophrenia. Read more . . .

The University's Rochester Prevention Research Center (RPRC): National Center for Deaf Health Research (NCDHR) received a $4.35 million award from the Centers for Disease Control and Prevention to continue promoting good health among Deaf American Sign Language users and people with acquired hearing loss. The funding cycle begins with $750,000 and continues for five years. The RPRC is the only research center in the world that works with deaf sign language users and people with acquired hearing loss to prevent disease using community-based participatory research. Historically, people in these groups have been excluded or overlooked, resulting in populations that are underserved, understudied, and undereducated in terms of health practices and health knowledge. Read more . . .

The Medical Center is one of 11 research groups across the country chosen by the National Institutes of Health to join the NIH Accelerating Medicines Partnership in Rheumatoid Arthritis and Lupus Network. The new program is a partnership between the NIH, biopharmaceutical companies, advocacy organizations and academic scientists to more rapidly identify promising drug targets and develop much-needed new treatments for patients with these conditions. URMC's research team, led by Jennifer H. Anolik, Associate Professor of Medicine in the Division of Allergy/Immunology and Rheumatology, will focus on rheumatoid arthritis, an autoimmune disease that occurs when immune cells mistakenly attack healthy joints. They will collect joint tissue and analyze where and how immune cells communicate with bone cells, a process that they believe is critical in initiating the inflammation and resulting joint destruction characteristic of the disorder. Read more . . .

---
PhD dissertation defense
Ryan C. Nora, Physics, "Hydrodynamics of Inertial Confinement Fusion: Conventional Hot Spot and Shock Ignition." 9:30 a.m., Oct. 23, B&L 372. Advisor: Ricardo Betti.

---
Mark your calendar
Today: Show Business: Popular Culture vs. Art. Internationally renowned opera director Francesca Zambello delivers Eastman School of Music's annual Glenn Watkins Lecture. 3 p.m. Hatch Recital Hall.

Oct. 7: CTSI Seminar Series. Reproductive Issues in People with Epilepsy. Lynn Liu, Associate Professor, Neurology, Epilepsy, Anesthesiology and Pediatrics, Critical Care. Noon, Helen Wood Hall Auditorium (1w-304).

Oct. 8-10 Veils of Salomé Conference. Symposium presentations starting 9 a.m. Oct. 9 in the Hawkins Carlson Room of Rush Rhees Library; dance workshop 2-4 p.m. Oct. 10 at Spurrier Hall; exhibition of Salomé' images in Rare Books and Special Collections; two Table Top Opera performances of the Strauss opera, 8 p.m., Oct. 8 at Kodak Hall, Eastman Theatre and at 8 p.m., Oct. 10 at Interfaith Chapel. Free and open to the public. Read more . . .

Oct. 15: Pre-prosposals due for awards of up to $100,000 from UR Venture's Technology Development Fund for faculty, staff and students to develop technology to a commercial endpoint. Learn more here.

Oct. 21: Patents and the Patenting Process. Reid Cunningham, IP attorney, UR Ventures.Noon to 1 p.m., Gowen Room, WIlson Commons. RSVP to Melissa.napolitano@rochester.edu

Oct. 22: "Intellectual Property: Opportunities for Residents and Fellows," by Tom Guttuse, Associate Professor of Neurology at the University of Buffalo, and Scott Catlin, UR's Associate Vice President of Innovative Technology. Noon, Helen Wood Hall, 1W304 auditorium. Part of a CTSI skill-building workshop series "Good Advice: Case Studies in Clinical Research, Regulation and the Law." Click here for the full schedule.

Oct. 28: Growing the Next Generation of Community-based Researchers. Office of Faculty Development and Diversity Fall Research Conference. Noon to 5 p.m., Schlegel Hall. Click here for more information and registration.

Oct. 29: The Stanford Friedman Memorial Conference, from 7:30 a.m. to 1 p.m., Class of '62 Auditorium, will address gaps related to understanding the impact of child and adolescent development and behavior on engaging youth in health promoting behaviors, and the interface of health and behavior in conditions such as conversion reactions. Click here for a link with more information.

Nov. 2: Applications due in several funding categories for the 2014 Pilot Award Program of the University's Center for AIDS Research. Click here to learn more.

Nov. 3: Deadline for initial abstracts for SMD Scientific Advisory Committee (SAC) "superpilot" awards. Click here to read the full RFA.

Nov. 11: Technology Commercialization at the University of Rochester. Patrick Emmerling, Licensing Manager, UR Ventures. Noon to 1 p.m., Gowen Room, WIlson Commons. RSVP to Melissa.napolitano@rochester.edu

Dec. 9: How to Find Inventions, What Makes a Good Invention, and How to Find Prior Art. Reid Cunningham, IP attorney, UR Ventures. Noon to 1 p.m., Gowen Room, WIlson Commons. RSVP to Melissa.napolitano@rochester.edu

Dec. 10: Celebration of Authorship, featuring printed and electronic books, edited volumes and texts, as well as published compositions and recordings produced by University faculty and staff from all fields. 3:30 to 5:30 p.m., Hawkins Carlson Room in Rush Rhees Library. Click here for more information.

---
Please send suggestions and comments to Bob Marcotte. To see back issues, click here.