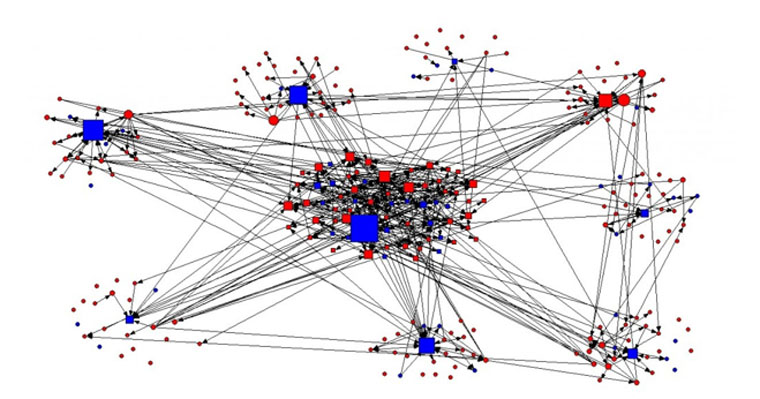 This social network map shows the effects of "leadership churn" or turnover in an urban school district studied by Prof. Kara Finnigan. The larger nodes are "brokers" — people who connect otherwise disconnected people — and the blue colored nodes are the ones who left. The map illustrates that when brokers leave, the fragmentation to the underlying relationships is especially great.
Researchers show how leadership "churn" undermines school reform
Imagine the turmoil that would ensue if half the actors walked out of a play midway through the performance.

Something very similar happened in an urban school district in the Northeast United States during the four-year period it was studied by Kara Finnigan, Associate Professor of Educational Policy at the Warner School, and her colleague Alan Daly from the University of California-San Diego.

Over just a few years, nearly half of the district's 181 leaders, including central office directors (and above) and school principals, moved into or out of these positions, resulting in an ongoing leadership "churn." Importantly this didn't include individuals who moved to another central office leadership or principal position — only those who moved in and out of the district or, if they stayed in the district, moved in and out of leadership roles. Using Social Network Analysis (SNA) this study shows how "churn" severely undermined the strong, trusting relationships and the collaborative learning that other studies have shown are essential if districts are to succeed in carrying out complex educational reforms.

"While we know that turnover exists in urban school districts, our data unearths just how challenging the problem of improving these districts is when leaders are in a constant state of flux," write Finnigan and Daly. Their findings are summarized in a chapter of Thinking and Acting Systematically: Improving School Districts Under Pressure (American Educational Research Association), a forthcoming book that Finnigan co-edited with Daly and to which she contributed two other chapters.

This study was particularly focused on the flow of research-based ideas and practices across the leadership team as they tried to implement reforms under sanctions, and found that churn impacted this movement. For example, a critical central office source for research-based ideas and practices in the district left by the third year. The researchers showed how this move "severely disrupted the sharing of research-based practices district-wide, with fewer ties overall and no clear 'go to' people for research-based ideas and practices."

"In the literature there is overwhelming attention to the low performance levels of youth in urban school settings, but the organizational instability of these systems resulting from the churn of educational leaders is generally overlooked," Finnigan and Daly note.

They urge:

1. Greater attention to the relational aspects of reform, to allow school district leaders to develop trusting and supportive relationships and risk-taking behaviors that enable collaboration and collegial practices and result in organizational improvement.
2. A recognition that state and federal policies that demand accountability as part of educational reform contribute to leadership churn by increasing levels of stress as the stakes become higher. Greater attention must be paid to capacity building and leadership stability to provide the conditions to bring about change.
3. New sophisticated, longitudinal research methods, including Social Network Analysis, to uncover the high levels of organizational instability in urban districts and identify ways to shift the course given the challenges that continue to face urban districts after decades of reform.


Do you have an interesting photo or other image that helps illustrate your research? We would like to showcase it. Send a high resolution jpg or other version, along with a description of what it shows, to bmarcotte@ur.rochester.edu.
---
Pump Primer II awards are announced
The latest round of PumpPrimer II awards have been announced, to help faculty develop the proof of concept and/or pilot data they need to secure extramural funding for innovative, high-risk projects.

The awards, available to Arts, Sciences and Engineering researchers through the AS&E Dean's Office, are typically in the $20,000 range for one year. The latest winners are:

Michael Welte, Professor of Biology, The role of lipid-droplet bound histones in Drosophila innate immunity.
Kara Bren, Professor of Chemistry, Engineered Biomolecular CO2 Reduction Catalysts.
David McCamant, Associate Professor of Chemistry, Ultrafast Laser Spectroscopy of Molecular Exciton Dynamics.
Todd Krauss, Professor and Chair of Chemistry, A Novel, Non-Classical Light Source: Syntheses and Characterization of Optically Active Defects in Glass.
Xi-Cheng Zhang, Professor of Optics and Director of The Institute of Optics, Terahertz air photonics using ultrafast laser oscillators.
Gary Wicks, Professor of Optics, Mid-infared Semiconductor Lasers: Defects and Performance.
Nicholas Bigelow, Professor of Physics,Interdisciplinary NanoTechnique Development for Science and Humanities.
Qiang Lin, Assistant Professor of Electrical and Computer Engineering, Ultrasensitive silicon carbide nano-optomechanical inertial sensors for harsh environment applications.

Click here to see other recipients of PumpPrimer II awards.

---
Nanoparticle-mediated drug delivery could help prevent tendon adhesions
Prof. Hani Awad and Assoc. Prof. Danielle Benoit of Biomedical Engineering have received a $2 million grant from the National Institute of Arthritis and Musculoskeletal and Skin Diseases (NIAMS) for their project titled "Engineering Scarless Repair of Flexor Tendon Injuries."

The goal of this 5-year multi-PI project is to advance the understanding of the mechanism of scar formation in flexor tendons of the hand, whose scar-mediated healing often leads to adhesions and loss of hand function. The project identifies and maps out the mechanism of involvement of a therapeutic target, and investigates the efficacy of a novel nanoparticle-mediated drug delivery approach to mitigate its effects in a preclinical model of flexor tendon repairs.

Successful completion of this project, which integrates biology, biomechanics, and biomaterials, would have a profound impact on the field, especially since there are presently no pharmacologic or biologic treatments for the prevention or resolution of tendon adhesions.

---
Targeted recruiting key to CMSR grant success
The Center for Musculoskeletal Research has a stellar track record when it comes to securing grants. It typically ranks among the top five NIH-funded orthopaedic research programs in the nation; so far this year, its nearly 50 investigators have been awarded grants totaling $15 million.

That does not happen by chance.

Over the years, the center has developed a system — a philosophy — that includes:

1. Targeted recruiting of new junior faculty who bring talents and technologies that dovetail with the center's overall needs and goals.
2. Quickly involving them as co-PIs on senior faculty members' research projects so they will have an incentive to stay.

"Still today, the vast majority of faculty recruitments (nationwide) involve taking the best athlete: Who in the current pool of postdocs has the most likelihood of being successful, irrespective of how they fit into your current landscape," says Edward Schwarz, CMSR's director and Burton Professor of Orthopaedics. "We are totally disinterested in that model."

"We obviously don't take unqualified people, but the first thing we look at is what are our strategic needs."

Three of the center's recent hires reflect that: a pediatric rheumatologist, a muscle stem cell biologist, and a big data geneticist.

The center's success in obtaining grants is driven by collaboration. First priority is on what is best for the center as a whole, Schwarz explained. At the center's weekly PI meetings, for example, he may identify an ambitious, large-scale RFA (request for applications) from the NIH that the center needs to pursue. He will then "draft" a half dozen faculty members to serve as directors and core directors of the proposal.

If a young investigator needs some experimental data to bolster a grant application, a senior faculty member with expertise will be asked to pitch in.

So, even as the center sets high expectations for its young investigators, it also provides them with the resources to succeed.

For example, among the faculty sitting in on those Friday morning PI meetings, Schwarz noted, are Medical Center surgeons who can provide human tissue that an investigator needs to demonstrate that a great idea that works in an animal model has the potential to work in humans as well. "If you don't have the surgeon in the room, you're never going to get the tissue," Schwarz said. "That's what enables us to have a level of science that very few of our competitors around the country have."

And that's just one example of the resources and expertise that the center can provide to a young researcher.

Asst. Prof. Homaira Rahimi, the pediatric rheumatologist, said that Schwarz and CMSR member Christopher Ritchlin, Professor of Medicine (Rheumatology) who is her other co-mentor, have been invaluable in helping her identify a pathway for researching the interplay of nitrous oxide and lymphatic vessels in causing arthritic "flare."

When Rahimi first submitted her application for the K08 mentored research grant she recently received, CMSR member Michael Zuscik, Associate Professor of Orthopaedics and Rehabilitation, was "very helpful" in coming up with the right wording for important background sections describing her previous experience and why she wanted to pursue research as a career.

And when reviewers sent the application back, suggesting, among other things, that she expand her mentoring committee, she was directed to CMSR member Laura Calvi, an endrocrinologist and Dean's Professor of Medicine.

"She (Calvi) was amazing in her help, in terms of not only the science but the background information, and answering questions in different way," Rahimi said. This time Rahimi's application was funded.

"The center is an amazing place," she says. "It definitely brings collaboration to the forefront."

(Next: For a young faculty member, Ehsan Hoque, Assistant Professor of Computer Science, has compiled quite a record of securing grants. )

---
Healthcare Deep Data Dive will explore innovative uses of health data
This "un-conference" on Nov. 14 at the Saunders Research Building will bring together healthcare data hackers, app designers, entrepreneurs, students, healthcare professionals and other individuals with new, innovative and effective uses of health data to improve patient outcomes and overall health.

ROCHD3 will examine such topics as:

DocGraph: Healthcare provider networking graphs
DrugGraph: Healthcare provider prescribing practices data
Associative and graph databases in healthcare
CryptoHealth: using blockchain and cryptocurrency methods for health data
Twitter healthcare applications
Big Data visualizations
Network and graph theory

Registration, breakfast and networking begins at 8 a.m.; the event kickoff is at 9 a.m.

The dive is sponsored by the Goergen Institute for Data Science (NYS Center of Excellence), the Rochester Center for Health Informatics, the Clinical and Translational Science Institute, and the Center for Integrated Research Computing, in collaboration with High Tech Rochester.

Registration is free but required. Read more . . .

---
OneStart bio-entrepreneurship program open to students, postdocs
Applications are now being taken for OneStart, an international life sciences and healthcare startup accelerator program for students and postdocs that focuses on the improvement of human health, including therapeutics, diagnostics, software, devices, research tools, and more.

The program's goal is to cultivate early-stage entrepreneurship among young and disruptive healthcare innovators. Participation is limited to applicants 35 years old or younger.

Ideas and businesses at all stages of development are welcome; the program provides mentoring and support for up to 70 teams each year, with a grand prize of $150,000 and free lab space to the winner. Many teams (not just the winners) raise follow-on funds, often during the course of the program, because of the extensive mentoring, education and industry presence.

There is no cost to participate; participants retain full control and ownership of their businesses. Moreover, teams will be given access to executives from leading pharmaceutical companies, venture capital firms, and consultancies, among other resources. Current mentors come from SR One, Takeda Ventures, Bristol-Myers Squibb, GSK, Roche, AstraZeneca, MedImmune, Boehringer Ingelheim, Teva Pharmaceutical Industries, McKinsey & Co., Silicon Valley Bank, among others. Contact jessica.sutcliffe.10@ucl.ac.uk or read more here.

---
Wilmot Cancer Institute seeks applicants for grants
The James P. Wilmot Cancer Institute is soliciting applications for grants to support development of highly collaborative, multi-investigator research programs in the area of basic, translational, behavioral or epidemiological cancer research. Junior Investigator Award and Collaborative Pilot Studies applications are due Nov. 23, 2015. Cancer Research Multi-Investigator Program grant applications are due May 1, 2016. Read more . . .

---
Applications accepted for KL2 Mentored Career Development awards
The University's Clinical and Translational Science Institute has released the request for applications for KL2 Mentored Career Development Program awards to begin in July 2016. The program provides 2 years of support for the early career development of multidisciplinary clinical and translational scientists. Notify CTSI of plans to apply by Nov. 2. Full applications are due on Friday, Dec. 4. For details about the program and how to apply visit the CTSI KL2 website.

---
Congratulations to . . .
James C.M. Li, Professor Emeritus of Mechanical Engineering and of Materials Science, who has been awarded the Gold Medal of ASM International, the world's largest association of metals-centric materials scientists and engineers. Li is the 68th recipient of the award, which was established in 1943 to "recognize outstanding knowledge and great versatility in the application of science to the field of materials science and engineering, as well as exceptional ability in the diagnosis and solution of diversified materials problems." Li was selected for "his elucidation of the mechanical properties of materials through the application of thermodynamics and kinetics to the understanding of microstructural phenomena and for his mentoring of students and colleagues." Read more . . .

Douglas Guiffrida, Associate Professor of Counseling and Human Development at the Warner School, whose book, Constructive Clinical Supervision in Counseling and Psychotherapy (Routledge, 2015), was winner of the Counselor Education and Supervision Award from the Assocation for Counselor Education and Supervision. Read more...

Martha Mock, an Associate Professor at the Warner School of Education and the Director of the Institute for Innovative Transition, who is one of six local professionals to be honored with the Golisano Foundation's first-ever Move to Include Award for promoting inclusion for people with intellectual and physical disabilities. Mock has roots as an educator and researcher with expertise and special interests in individuals with intellectual and developmental disabilities, transition, employment, inclusive higher education, person-centered planning, and systems change. Read more . . .

---
UR research in the news
When people with end-stage kidney disease start dialysis, they are at high risk of sudden cardiac death. University researchers are leading a study focused on reducing sudden death in these patients, the largest such clinical trial ever conducted. Wojciech Zareba, principal investigator of the trial and Director of the University's Heart Research Follow-up Program, says the transition from high levels of toxins, electrolytes, and fluid in the blood to lower levels following dialysis can trigger arrhythmias — irregular and potentially dangerous heartbeats. In addition, dialysis patients often have many of the traditional risk factors for heart disease, such as diabetes, hypertension, family history and tobacco use, creating a "perfect storm" scenario for arrhythmias to strike. Zareba, together with co-principal investigator Charles A. Herzog, Director of the Cardiovascular Special Studies Center, United States Renal Data System (USRDS), will test the effectiveness of a wearable cardioverter defibrillator that continuously monitors heart rhythms and delivers a shock to restore an orderly heartbeat. Read more . . .

---
PhD dissertation defenses
Lukiana Anka-Lufford, Chemistry, "Nickel-Catalyzed Reductive Coupling of Aryl Halides with Alkyl Electrophiles." Noon, Oct. 19, 2015, 473 Hutchison. Advisor: Daniel J. Weix.

Cong Fu, Chemical Engineering, "Synthesis and Characterization of Hydroxyapatite Coatings for Medical Applications." 9 a.m., Oct. 22, 2015, 208A Gavett. Advisor: Matthew Yates.

Laura Ackerman, Chemistry, "Multimetallic Catalysis for the Formation of Carbon-Carbon Bonds." 1 p.m., Oct. 26, 2015, 101 Goergen Hall. Advisor: Daniel J. Weix.

Alexander Partin, Electrical Engineering, "Shear Wave Imaging and Tissue Characterization using Vibration Elastographic Techniques." 10 a.m., Oct. 29, 2015, 224 Hopeman. Advisor: Kevin Parker.

John DiMaio, Chemistry, "Functional Materials Composed of Supramolecular Fibrils." 1 p.m., Oct. 30, 2015, 108 Goergen Hall. Advisor: Bradley Nilsson.

---
Mark your calendar
Today: The Center for Integrated Research Computing (CIRC) symposium, 11:30 a.m. to 1 p.m., URMC 2-6408 (K-207 Auditorium). Sarah Kerns from the Department of Radiation Oncology will present her work on identifying genetic variants associated with toxicity following radiotherapy in cancer survivors. Arnab Sarkar from the Department of Electrical and Computer Engineering will talk on plasma physics simulations.

Today: Pre-proposals due for Technology Development Fund awards of up to $100,000 to advance projects to a commercial endpoint. A submitted invention disclosure to UR Ventures is required for an application. Pre-proposals can be submitted to Omar Bakht. Read more...

Oct. 19: Deadline for applications for Environmental Health Sciences Center pilot projects. Click here to learn more and access the RFA.

Oct. 20: Industry Consulting: The Contract, presented by Karl Keiburtz and Karen Rabinowitz, noon to 1 p.m., Helen Wood Hall Auditorium, 1w304. Part of the CTSI Skill-Building Workshop series on Good Advice: Case Studies in Clinical Research, Regulation, and the Law.

Oct. 21: Industry Consulting: Part Two. Karl Keiburtz and Karen Rabinowitz, noon to 1 p.m., Helen Wood Hall Auditorium, 1w304. Part of the CTSI Skill-Building Workshop series on Good Advice: Case Studies in Clinical Research, Regulation, and the Law.

Oct. 22: Applications due no later than 5 p.m. for CFAR Major Collaborative Pilot Announcement. Click here for details.

Oct. 26: The tension between hybridization and reproductive isolation, Daniel Garrigan, Assistant Professor of Biology. Department of Biology Donut Talk. Noon to 1 p.m., Lander Auditorium - Hutchison 140.

Oct. 30: Applications due no later than 5 p.m. for CFAR Joint Funding Opportunity in HIV/AIDS through SMD, SON and Program Of Excellence. Click here for details.

Nov. 2: Initial abstracts due for applications for funding from the Medical Center Incubator Program. Details and application instructions are available here.

Nov. 2: Applications due for funding from the Health Sciences Center for Computational Innovation for short-term, early phase work necessary to create computer code or models, and to get new biocomputational or health-related scientific projects underway. Click here to read the full RFA.

Nov. 14: Healthcare Deep Data Dive, exploring innovative and effective uses of health data to improve patient outcomess. 8 a.m., Saunders Research Building. Learn more here.

Nov. 23: Deadline for applications for Junior Investigator Award and Collaborative Pilot Studies awards from the Wilmot Cancer Institute. Read more . . .

Dec. 4: Applications due for KL2 Mentored Career Development Program awards to begin in July 2016, from the Clinical and Translational Science Institute. For details about the program and how to apply visit the CTSI KL2 website.

---
Please send suggestions and comments to Bob Marcotte. You can see back issues of Research Connections, an index of people and departments linked to those issues, and a chronological listing of PhD dissertation defenses since April 2014, by discipline.