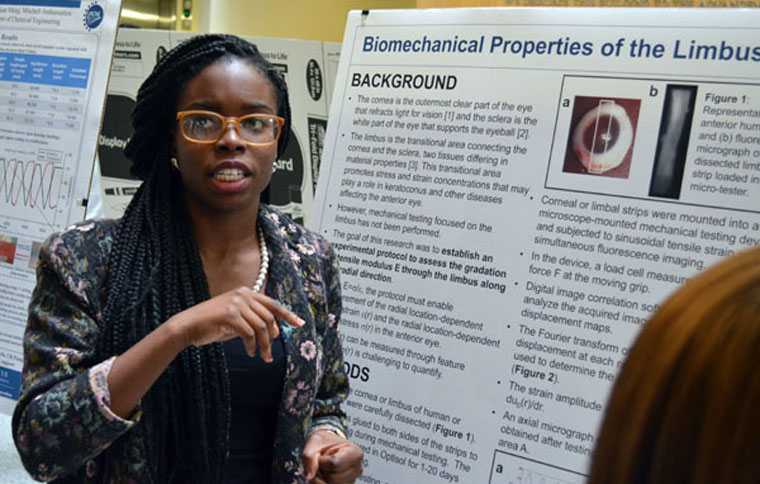 Comfort Adeyemi, an undergraduate in biomedical engineering, shares her research project, "Biomechanical Properties of the Limbus," at a poster session for this year's class of Xerox Engineering Research Fellows. Adeyemi is working with Mark Buckley, Assistant Professor of Biomedical Engineering.


Xerox engineering research fellowships "put young minds to work"
Graduate school?

Sarah Wayson was undecided. Solomon Gaim wasn't even thinking about it.

And now?

Thanks to their experiences in the Xerox Engineering Research Fellows Program, both of these Hajim School undergraduates have their eyes set on obtaining advanced degrees.

The program, developed and administered bv the David T. Kearns Center for Leadership and Diversity in Arts, Sciences and Engineering, is a collaboration with the Hajim School and Xerox Corp., which provides funding. It provides an intensive lab-based, mentored research experience for engineering undergraduates during the summer before their junior or senior years. Most participants continue their research project into the fall as a faculty-advised, independent study course for which the students receive course credit.

"It really gets at the heart of what we want to do, to put young minds to work," said Robert Clark, Dean of the Hajim School and the University's Senior Vice President for Research, at a symposium and poster session where this year's participants displayed their research. "It gives you experience in a lab, and allows you to really pursue something of interest to you, working side by side with faculty and graduate students. It is a unique opportunity that hopefully will give you new skills that you can translate into your future career path."

Since its inception five years ago, the Xerox engineering fellows program has enrolled 131 Hajim School students. Sixty-nine percent of its graduates have gone on to graduate school, of which 40 percent are currently enrolled in a Ph.D. or other doctoral program. Read more . . .


Do you have an interesting photo or other image that helps illustrate your research? We would like to showcase it. Send a high resolution jpg or other version, along with a description of what it shows, to bmarcotte@ur.rochester.edu.
---
Health counseling book co-authored by Warner professor
A new book co-authored by Andre Marquis, Associate Professor of Counseling and Human Development at the Warner School, closely examines the causes of, and treatments for, mental health disorders from various psychological and social perspectives. Marquis collaborated with Elliott Ingersoll of Cleveland State University, to publish Understanding Psychopathology: An Integral Exploration (Pearson, 2014), a guide written for students training to become mental health practitioners, counselors, social workers, psychologists, and psychiatrists and a unifying resource for individuals currently working in the mental health field.

Throughout the book, the authors cover various disorders, ranging from depression, anxiety, and eating disorders to Bipolar Disorder, Schizophrenia, and psychological trauma, using the Integral model. This model, the authors explain, is an integrative and unifying framework oriented around four different perspectives -- psychological, biomedical, cultural, and social -- to help assist clinicians through the diagnosis and treatment of disorders among clients.

The book was designed to complement, rather than replace, the current edition of the common and widely-used Diagnostic and Statistical Manual of the American Psychiatric Association, also referred to as the DSM, as well as other diagnostic manuals for mental and emotional disorders. Marquis and Ingersoll highlight the importance of looking at symptoms from different points of view, particularly as the DSM edition continues to evolve. Read more . . .

---
What's the future of scientific research?
2034 will be a "wonderfully exciting time to be a scientist," writes Stephen Dewhurst, Vice Dean for Research at the School of Medicine and Dentistry, and Associate Vice President for Health Sciences Research. His post appears on a new website designed to prompt conversations on the future of scientific research in the United States.

The site, Science 2034, is an initiative of the Science Coalition, a group that represents about 60 major research universities, including Rochester.

What prompts Dewhurst's optimism? A host of new vaccines, microbicides and antiviral drugs. Genetically engineered mosquitoes. Probiotics leveraged from the communities of microbes that share our bodies. And artificial intelligence systems that will accelerate the pace of scientific discovery "exponentially."

Read more here ...

---
Futurity celebrates five years of communicating research
Futurity, a non-profit website hosted and edited at the University of Rochester, features the work of researchers from more than 60 universities on topics including science, technology, health, culture, education, and the environment.

How did this innovative collaboration, now celebrating its fifth year, come about -- especially among institutions that often compete with each other for resources and attention? The main factor was the changing media landscape of the previous decade.

"It became increasingly challenging for universities to share in-depth research with the public through traditional print and online news channels," explains Jenny Leonard, Futurity's editor.

Read more . . .

---
Series focuses on clinical research that requires legal or regulatory counsel
A CTSI skill-building workshop series "Good Advice: Case Studies in Clinical Research, Regulation and the Law" starts at noon, Oct. 22, in Helen Wood Hall 1W304 auditorium with a discussion of "Intellectual Property: Opportunities for Residents and Fellows," by Tom Guttuse, Associate Professor of Neurology at the University of Buffalo, and Scott Catlin, UR's Associate Vice President of Innovative Technology.

The series focuses on opportunities, challenges and obstacles that face researchers working on clinical research for which legal and regulatory counsel are essential. The following terms and topics will be covered: intellectual property, liability, confidentiality, conflict of interest, conflict of commitment, misconduct and fraud.

In addition, the processes for publication, publicity, marketing, research budgeting and spending, regulatory applications (e.g. INDs), and creating independent consultative agreements will be covered.

The format includes a presentation of a "case study" -- an actual issue which an investigator has confronted or a clinical study which presented challenges (15 minutes) -- followed by a dialogue with a legal/regulatory/compliance expert in the legal issues that could have or did help resolve the issue (about 15 minutes). This is followed by discussion with the audience. Click here for the full schedule.

---
Brain start-up challenge seeks teams
Graduate students, MD students and postdocs are invited to learn about the Neuro Start-up Challenge, which aims to accelerate the commercialization of federal agency brain-related inventions, spur economic growth, and provide Universities a platform to further develop their entrepreneurship-learning portfolio.

An information session on the unique business plan and start-up challenge will start at 3 p.m., Oct. 29, in the Medical Center Class of '62 (G-9425).

Rosemarie Truman, founder and CEO of the Center for Advancing Innovation, will introduce the challenge. Omar Bakht, UR's Director of New Ventures and Technology Development; Greg Gdowski, Associate Professor of Biomedical Engineering; Todd D. Krauss, Chair and Professor of Chemistry; James McGrath, Professor of Biomedical Engineering; Mike Totterman, CEO, iCardiac; and Alex Zapesochny, President and COO, iCardiac, will explain why they believe in the lean start-up process and how it has helped them.

A networking reception will follow at 5 p.m. in Flaum Atrium.

The challenge is a partnership of the Center for Advancing Innovation (CAI), The Heritage Provider Network, and the National Institutes of Health.

---
Conference: Youth, health-promoting behavior, and conversion reactions
The Stanford Friedman Memorial Conference, from 7:30 a.m. to 1 p.m., Oct. 29, in the Class of '62 Auditorium, will address gaps related to understanding the impact of child and adolescent development and behavior on engaging youth in health promoting behaviors and the interface of health and behavior in conditions such as conversion reactions. This is increasingly important as the focus of health turns to wellness.

Click here for a link with more information.

---
New idea may have potential for treating osteoporosis
Roman Eliseev, Assistant Professor of Orthopaedics, thinks that techniques being applied to aging patients with cardiovascular disease might also apply to aging patients with osteoporosis, reports Sean Dobbin at the CTSI Stories blog.

"In the cardiovascular field, it's all about mitochondria, and most of the cardiovascular literature has been about protecting mitochondrial function and boosting it during aging," Eliseev said. "But very little has really been studied about the role of mitochondria in bone biology."

Eliseev is especially interested in the role mitochondria play in the mesenchymal stem cells that can transform into other cells, such as bone, cartilage, muscle or fat, when necessary. These cells are also responsible for bone repair.

When the energy-producing mitochondria lose their effectiveness, the cells won't have the energy to differentiate into the various cells the body needs. This energy loss often occurs in aging patients, putting them at higher risk for various degenerative diseases.

Eliseev has seen this disruption occur in the bones of aging mice and believes that the same disruption likely occurs in humans. "People with osteoporosis have an increased risk of fracture, and when it occurs, the fracture doesn't heal well. It can take months," said Eliseev. "But by boosting mitochondrial function in mesenchymal stem cells, maybe we can accelerate that fracture healing in aged osteoporotic individuals."

Eliseev recently received a Pilot Grant from the UR's Clinical and Translational Science Institute (CTSI) to pursue this idea. With data generated from the study, Eliseev is hoping to seek an R01 grant to further illustrate the role of the mitochondria in mesenchymal stem cells, and run a small clinical trial in humans.

Eliseev's findings may be quickly translatable to human care, as several drugs that protect mitochondrial function are already in clinical trials and could be repurposed for the necessary treatments. Bone marrow biopsies could also be used to extract mesenchymal stem cells from a patient, which could then be manipulated to enhance mitochondrial function, and reinserted into the patient to accelerate fracture healing.

---
Introducing a new faculty member
Dongmei Li has joined the University as an Associate Professor of Clinical and Translational Research. She is the first faculty member to have a primary appointment in the University's Clinical and Translational Science Institute, where she will help bolster CTSI's bioinformatics capabilities. Li joins us from the University of Hawai'i at Mānoa where she was an assistant professor in the Office of Public Health Studies. Her research interests lie in multiple comparisons in genomic and genetic data analysis, resampling methods, clinical trials, observational and population studies, and the interdisciplinary area between statistics and biomedical sciences. She has served as co-investigator (for statistical evaluation) or as collaborator on several projects, including one that pairs incentives with the emotional support, encouragement and praise that patients with diabetes need to make challenging lifestyle changes. Li earned a PhD in biostatistics from Ohio State University in 2009. (Click here for a discussion by CTSI director Karl Kieburtz on CTSI's growing biomedical informatics team and how it can support university researchers.)

---
UR research in the news
Leila Nadir, Lecturer in Sustainability Studies, and Cary Peppermint, Assistant Professor of Art, presented "Reinventing Food, Remixing Nature, and Recovering from Industrial Amnesia," at the symposium on Lines and Nodes: Media, Infrastructure and Aesthetics at NYU last week. The symposium and screening series brought together artists and scholars to examine the mediated and aesthetic dimensions of extraction and infrastructure. The goal was to facilitate an idea-exchange between scholars and media artists whose practices critically assess the function, meaning and representation of lines, nodes and grids that undergird the energy, resource and information-dependent global economy, from oil pipelines to mining pits, and from undersea fiber optic cables to digital archives. The juridical, economic, bio-political and aesthetic dimensions of an accelerating age of extraction and consumption were also explored. Read more about Nadir and Peppermint in this Rochester City Newspaper article.

A $1.25 million gift from Lilyan (Lil) and Albert (Alfy) Nathan of Florida and from Michael and Sherry Goldberg of Chicago will be used to create a new center dedicated to research of myotonic dystrophy type 2 at the School of Medicine and Dentistry. The gift will create a new research program that will be led by Chad Heatwole, Assistant Professor of Neurology. Myotonic dystrophy has been characterized as one of the most diverse genetic diseases with a wide range of symptoms ranging from fatigue, muscle stiffness, muscle weakness, cognitive impairment, depression, difficulty sleeping, impaired vision, pain, difficulty swallowing, and gastrointestinal problems. The severity and onset of these symptoms vary from patient to patient. Read more...

---
PhD dissertation defenses
Frank DiLiberto, Health Practice Research, "A Comprehensive Biomechanical Assessment of Foot Function in People with Diabetes Mellitus and Peripheral Neuropathy." 2 p.m., Sept. 23, Saunders Research Building, Room 1406. Advisor: Jill R. Quinn.

Isamar Rivera Ramos,Microbiology and Immunology, "Characterization of the Spx global regulator in Streptococcus mutans." 2:30 p.m., Sept. 29, Whipple Auditorium (2-6424). Advisor: Jose A. Lemos.

Zhe Gao, Electrical and Computer Engineering, "Theory, Modeling and Design of the Indirect-Feedback Sigma-delta Image Sensor System." 11 a.m., Oct. 3, CSB 426. Advisor: Mark Bocko.

Alden Jurling, Optics, "Advances in Algorithms for Image Based Wavefront Sensing." 11:30 a.m., Oct. 6, Goergen 109. Advisor: James Fienup.

Jie Xu, Electrical and Computer Engineering, "Energy-Efficient, High-Speed Integrated Circuits for Emerging Computing and Sensing Applications." 9 a.m., Oct. 10, CSB 426. Advisor: Hui Wu.

---
Mark your calendar
Today: Public Health Grand Rounds. Howard Beckman, Clinical Professor of Medicine, Family Medicine and Public Health Sciences will present "Regional Healthcare Planning and Blood Pressure Initiatives" from noon to 1 p.m. in the Helen Wood Hall Auditorium, 1W-304. Lunch will be provided. Please bring your own beverage.

Today: CIRC symposium. Ehsan Hoque, Assistant Professor in the Department of Computer Science, will discuss and demonstrate using computers to help improve human social skills. Massimo Rivolta from the Department of Medicine, Cardiology will discuss calibrating a model of the left ventricle of the human heart. 11:30 a.m. to 1 p.m., Computer Studies Building (CSB) 209 on the River Campus.

Sept. 23: CTSI Seminar Series. Cognition in the Menopausal Transition: How Reproductive Aging Impacts Cognitive Aging in Women. Miriam Weber, Assistant Professor, Neurology and Obstetrics and Gynecology. Noon, Helen Wood Hall Auditorium (1w-304).

Sept. 25: Psychiatry Grand Rounds. What Mind-Body Research Can Tell Us About Behavioral Health . . . and How To Improve It. George Nasra, Professor of Clinical Psychiatry. Noon, Class of '62 Auditorium.

Sept. 26: "From Reading to Writing: Reading Like a Researcher," first in a series of faculty conversations about the intersections of research, writing, and teaching. NOTE: This event is a conversation for persons who are currently teaching or are scheduled to teach a course during the current academic year in the College of Arts Science & Engineering. 3:30 to 5 p.m. Gamble Room at Rush Rhees Library. Click here to find more information and to RSVP by Sept. 19.

Sept. 26: Deadline for letters of intent for CTSI KL2 Mentored Career Development program proposals, which provide two years of support for new investigators interested in a career in clinical or translational research. Click here for more information.

Sept. 30: CTSI Seminar Series. High Morbidity, Low Mortality: Women's Health Conditions and Research Neglect. Donna Baird, Principal Investigator/Epidemiology. NIEHS/NIH. Noon, Helen Wood Hall Auditorium (1w-304).

Oct. 7: CTSI Seminar Series. Reproductive Issues in People with Epilepsy. Lynn Liu, Associate Professor, Neurology, Epilepsy, Anesthesiology and Pediatrics, Critical Care. Noon, Helen Wood Hall Auditorium (1w-304).

Oct. 8-10 Veils of Salomé Conference. Symposium presentations starting 9 a.m. Oct. 9 in the Hawkins Carlson Room of Rush Rhees Library; dance workshop 2-4 p.m. Oct. 10 at Spurrier Hall; exhibition of Salomé' images in Rare Books and Special Collections; two Table Top Opera performances of the Strauss opera, 8 p.m., Oct. 8 at Kodak Hall, Eastman Theatre and at 8 p.m., Oct. 10 at Interfaith Chapel. Free and open to the public.

Dec. 10: Celebration of Authorship, featuring printed and electronic books, edited volumes and texts, as well as published compositions and recordings produced by University faculty and staff from all fields. 3:30 to 5:30 p.m., Hawkins Carlson Room in Rush Rhees Library. Click here for more information.

---
Please send suggestions and comments to Bob Marcotte. To see back issues, click here.