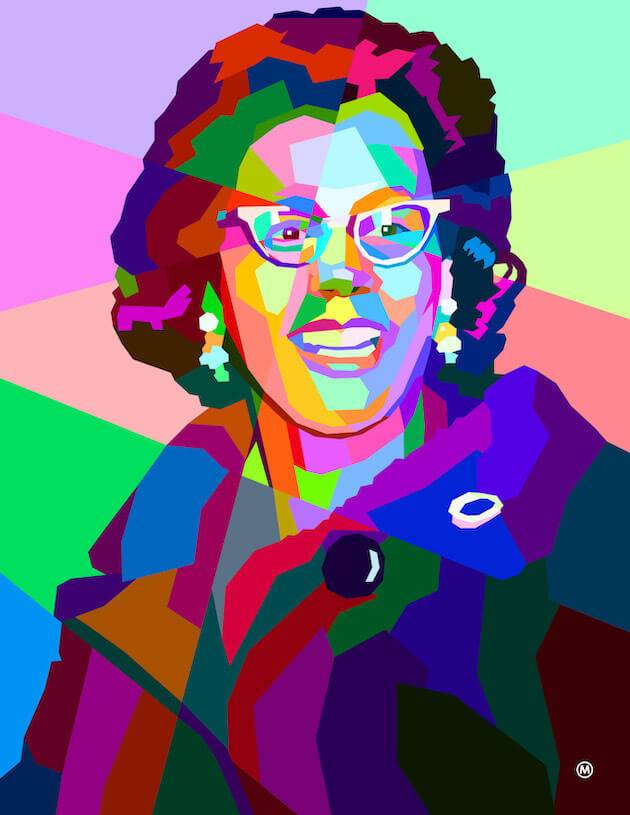 In 1965, Connie Mitchell walked alongside Dr. Martin Luther King Jr. from Selma to Montgomery, Alabama, in the historic March for Freedom. But with each step of the journey, Mitchell lost hope. There were ruthless taunts, racial slurs, and open hostility toward the peaceful protesters—all this based solely on the color of their skin.
Mitchell became convinced that nothing could change in the face of such hatred. She thus returned home to Rochester, New York, vowing never again to set foot in the South. Instead, she redoubled her efforts to improve lives and conditions in her own community.
As the first woman and African American to serve on the Monroe County Legislature, Mitchell carried on the fight for freedom and social justice at the local level. She fought for educational advancement, improved living and working conditions, better employment opportunities, and higher pay for minorities. Far more than words and protests, Mitchell knew that jobs and education would lead to positive change in everyday lives.
"I was born and raised in the North, and I knew that there was discrimination … but I had never seen that type of hatred on the face of anyone before. It forced me to work harder, to come back and work harder. It forced me to take a good look at people that I knew and what was going on in my own community. All of a sudden I could see where we had a lot of work to do right here in Rochester."

—Constance Mitchell
Mitchell first came to Rochester from New Rochelle, New York, in 1950, and got involved with the community almost immediately. She began as a volunteer tutor at Baden Street Settlement, an organization devoted to improving social, educational, and cultural conditions for minorities.
Mitchell then joined the Delta Ressics, a group of Black activists fighting for better living conditions and affordable housing. With Delta Ressics, Mitchell helped improve the lives of migrant farm workers living in shacks near Sodus, New York. She also fought against deplorable living conditions at the Hanover Houses, Rochester's first low-income apartment complex.
As Mitchell's civic work gained ground and attention, she had hopes of changing city policy as an elected official. She decided to run for a seat on the Monroe County Legislature, braving personal threats and intimidation.
In 1959, Mitchell lost in a close and questionable election process, but she went on to victory in 1961 and again in 1964. In so doing, she became a public figure, at times sharing the spotlight with Malcolm X, Martin Luther King Jr., and other civil rights leaders.
After Selma, Mitchell and her husband, John, cofounded Action for a Better Community under the Economic Opportunity Act of 1964 and President Lyndon Johnson's War on Poverty. The pair became active in the United Way of Greater Rochester and the Program for Rochester to Interest Students in Science and Mathematics (PRISM). Mitchell also worked with the Urban League of Rochester to create the Urban League Black Scholars program.
In this and many other ways, Mitchell advocated for education, equality, and social justice all her life. Her contributions in the community earned her the 2017 Frederick Douglass Medal for outstanding civic engagement by the University of Rochester. At the ceremony presentation, Mayor Lovely Warren spoke of Mitchell as her personal hero and a role model in the fight for justice and civil rights, as she is to many.
Awards and Honors
Frederick Douglass Medal for outstanding civic engagement by the University of Rochester
Constance Mitchell Concourse at the Monroe County Office Building