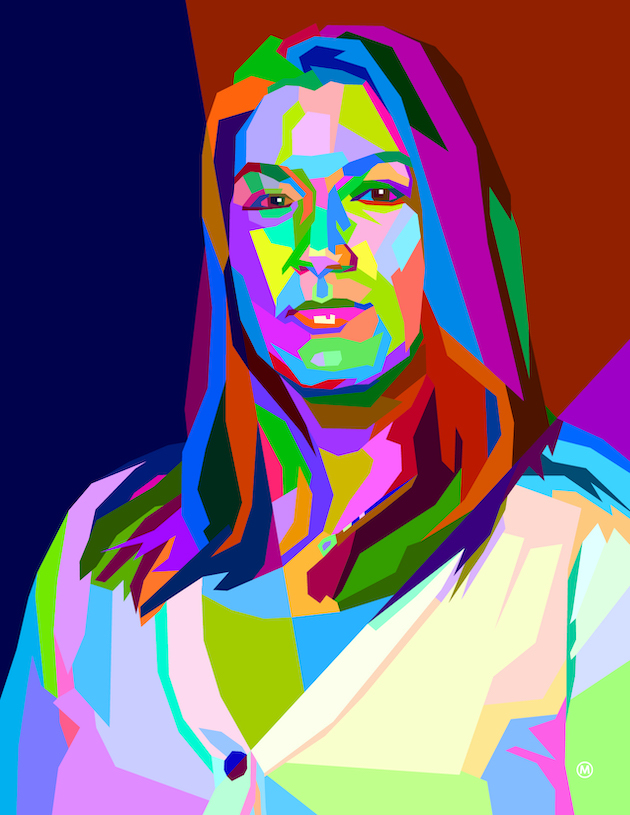 Long before European settlers arrived on Native American soil, the Six Nations of the Iroquois Confederacy lived in a free and democratic society. The Great Council of the Haudenosaunee, or People of the Long House, governed on the principles of peace, unity, and the "power of the good mind." Their goal was to enlighten and transform any enemy or destructive force into a friend and ally.
One exceptionally good mind, Naomi Lee '07 (MS), '13 (PhD), is driven by these principles through her work in biomedical research, STEM education, and mentoring.
In Lee's research to detect, treat, and prevent disease, she develops vaccines that may transform the viral enemies of human health into powerful allies. Through mentorship, Lee encourages Native American and other young people of color to pursue their interest in science, technology, engineering, and mathematics.
Lee has summed up her path and mission with a simple prayer of the Lakota Sioux: Hecel lena oyate ki nipi kte—"So that the people may live."
"We need to start getting our Native students through these pathways to academia and research. That's one of my goals. If we increase the pool at a younger age, you're more likely to get more students through this academic path."

—Naomi Lee
Lee was born and raised on the Seneca Cattaraugus Indian Reservation in western New York. She never felt poor or underprivileged because everyone on "the rez" shared the same hardships. Lee's parents worked on the reservation, her father at a gas station and her mother at a laundromat.
Of mixed race, Lee faced ridicule and bullying both off the reservation (at a Catholic school) and on the reservation. Regardless, she did very well in her studies. Lee went on to achieve a bachelor's degree from Rochester Institute of Technology as well as master's and doctoral degrees from the University of Rochester.
Lee took a leave of absence and two years away from her studies to care for her ailing parents. She also joined the Army National Guard. As a Seneca and "Keeper of the Western Door," Lee believes her motivation along with that of many Native Americans to join the military comes from an inherent will to protect her people and defend ancestral lands.
After losing both parents in 2009, Lee recognized the prevalence of serious health issues and disease in tribal communities. She returned to the University with a renewed interest in infectious diseases and earned a PhD in chemistry in 2013. When she launched a career in biomedical research, she had one primary goal: to improve the lives of American Indian and Native people.
As a research fellow at the National Institute of Neurological Disorders and Stroke, Lee first tackled the human herpesvirus-6 (HHV-6), a widespread infection responsible for children's roseola. At the University of New Mexico's Department of Molecular Genetics and Microbiology, Lee focused her research on human papillomavirus (HPV) and the associated risk factors for cervical cancer among American Indian women of the Great Plains.
Lee joined the Department of Chemistry and Biochemistry at Northern Arizona University in 2018. In her lab, Lee and her team design and develop powerful peptide and protein-based vaccines. Composed of virus-like particles and self-assembling peptides, these vaccines provoke a strong immune response against infection and disease, such as HIV, Hepatitis B, and cancer-causing strains of HPV.
In addition to her research, Lee mentors young people to increase diversity in STEM education and she serves as a captain in the Army National Guard.
Awards and Honors
First and only American Indian and Alaska Native (AIAN) United States doctoral recipient in chemistry
AISES Professional of the Year award, 2018
Member, American Chemical Society
Member, Society for Advancement of Chicanos and Native Americans in Science
Member, American Indian Science and Engineering Society