Jonathan Foster '59 Around the world, alumni, parents, and friends gather together to celebrate, learn, and create new connections. Sometimes we get to know people like Jonathan Foster '59 who take advantage of just about every opportunity to stay connected to the University of Rochester.
Looking back on my college days, I fondly recall the merger of the men's and women's campuses in my freshman year, the unbeaten 1958 football season, at the close of which the hapless RPI [Rensselaer Polytechnic Institute] declared a moral victory for having scored more points (seven) against UR than any other team that season. I also have great memories of playing bridge in the TKE fraternity lounge, with our most unconventional conventions that Charles Goren—who popularized the game—would never countenance.  
Other favorite memories include the dinners the University held with business administration and economics students and local corporate CEOs. We met Joe Wilson, Ritter Shumway, Mercer Brugler, and others—these were the leaders of some of the greatest companies of the time based here in Rochester. Meeting with them as a business major at such a formative age made quite an impression on me.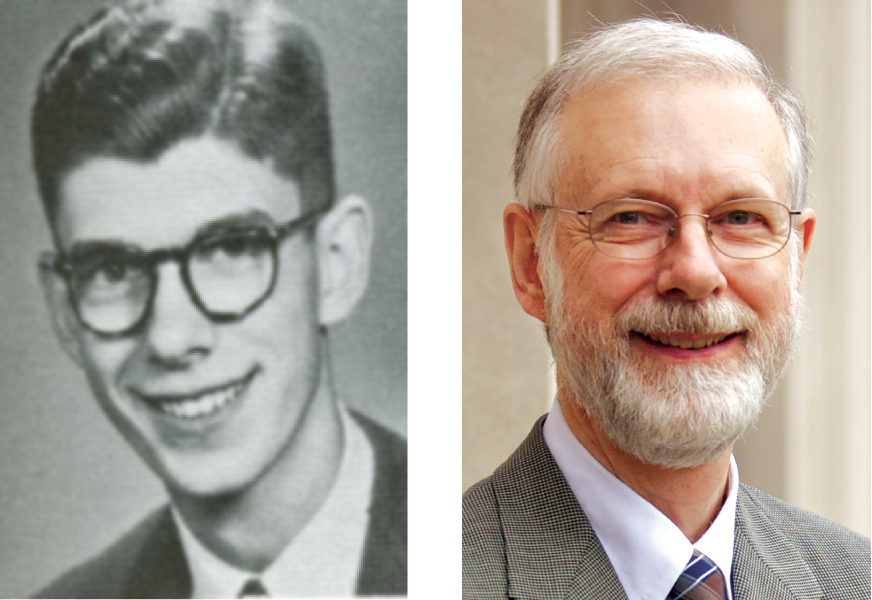 After college, I spent 33 years as a trust banker, retiring at age 54 to enjoy life. For about 30 years, I traveled on vacations throughout the western United States, hitting every national park, state park, and historical site I could find, and took five University of Rochester-sponsored trips to Europe, ending just before the 9/11 security efforts made air flights too nettlesome.  
As an alumnus, I can proudly say that I've attended every Meliora Weekend since the tradition began—that's 16 years of events. During these weekends, I've particularly enjoyed each presidential symposium, Miller's Court, George Eastman Circle event, and the keynote address.  
One particular standout was journalist Fareed Zakaria's keynote address during the election season of Bush/Gore. The audience appreciated his crisp and balanced analysis and his attractive personality and sensibility. Bill Clinton also gave an outstanding talk that focused on his foundation's humanitarian work. 
During those weekends and at lectures and other events throughout the year, I also seek out opportunities to interact and listen to our stellar students. It is rewarding to see what they are already accomplishing at this young age.  
My other current principal diversions are theater, classical concerts, and lectures, plus gardening, managing my investments, and basketball. I've been almost all of the men's basketball home games since the early 2000s and as many of the away games weather and health permitted.  
I love what Division III basketball is all about here: nurturing the scholar athlete. One particular thrill was watching the 2016 game where Sam Borst-Smith's intentionally missed free throw and assist to teammate Mack Montague '17 led to a buzzer-beater and overtime victory over the University of Chicago. The video of the clip went viral and was shared widely around the world.
Jonathan Foster was there when for this historic play in UR basketball history. (Watch the video to catch the shot and see Foster cheering on the team.)
I also enjoy being a member of the University's Lifelong Learning Council. Our role is to help the University determine topics and speakers for this twice annual event. The next one will be this June, followed by another event at Meliora Weekend in October.   
Looking ahead, I project my future principal activities to consist of more Meliora Weekends, a lot more basketball, plus sporadic involuntary napping.  
Mr. Foster is a member of the George Eastman Circle, the University's leadership annual giving society, and the Wilson Society, which honors those who have included the University in their estate plans.
---
—Story compiled by Kristine Thompson, and includes quotes from Mr. Foster along with excerpts from his 50th reunion memory book, March 2018.