Many roads to Italy
"There are always surprises to be had in Italy. You can experience something special any time of the day, from an unexpected song in a crowded restaurant to the way the setting sun casts shadows on the Leaning Tower of Pisa . . ."
—Dr. Arnold Lisio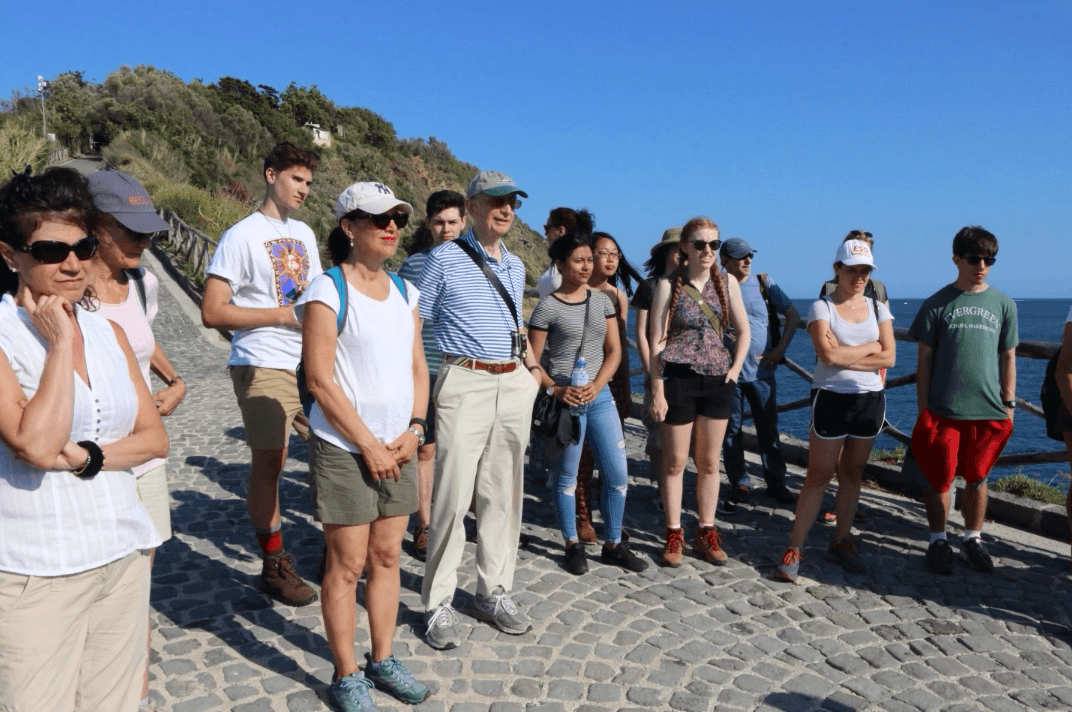 "There are always surprises to be had in Italy. You can experience something special any time of the day, from an unexpected song in a crowded restaurant to the way the setting sun casts shadows on the Leaning Tower of Pisa . . ."
—Dr. Arnold Lisio
Benefactors help others experience the richness of Italy
Dr. Arnold Lisio '56, '61M (MD) grew up hearing stories about Italy from his Italian father and Italian American mother. Though he wouldn't actually visit Italy until his early 30s, he was quickly hooked.
Arnold recalls the importance of that first visit. "Up until that point, I had only seen Italy through motion pictures and photographs, which just wasn't the same as actually being there," he says. "I remember one particular moment when I was sitting in a little piazza having coffee with a friend of mine. Suddenly, I realized something very important. It was one of the first times I wasn't having to do anything yet I was accomplishing something—I was experiencing the beauty of this amazing country."
"After experiencing the richness of the culture, I wanted to share my love for Italy with students at my alma mater, the University of Rochester," he says. "I wanted them to have an opportunity to live and study in a country where beauty, art, history, and spirituality are a part of daily life."
Arnold and his wife, Anne Lisio, have done just that. They've supported the University's Italian studies programs for more than 10 years. Their recent $2 million gift from them endows the Lisio Program in Italian Studies, ensuring that undergraduates will always have opportunities to enhance their understanding and appreciation of Italy's language, art, culture, and history.
The Lisios' generosity specifically supports, but is not limited to, student scholarship prizes, summer fellowships, and faculty and program grants for such programs as the University's Arezzo program, the San Martino Field School, the Roman Structures program, and a new experiential summer learning program in Procida, off the coast of Naples. Their generosity has the potential to support a wide variety of other Italian studies-related programs, too.
"All of the University's Italian programs are important, and the faculty involved are excellent," adds Arnold. "Each instructor is passionate about his or her field of study and each has such a tremendous depth of knowledge. I've experienced it first hand, and can only imagine how students benefit and learn from them."
The Lisios have been to Italy more than a dozen times, and met some students in Procida in the summer of 2017. "I was so impressed with them," adds Arnold. "I saw such intelligence and enthusiasm for living and studying in another country."
Arnold recounted one particular inspiring moment when he and his wife went out to eat with a group from the University. A young man—a student from the group—broke out in Italian song, which prompted the entire restaurant to erupt in applause.
"There are always surprises to be had in Italy," says Arnold. "You can experience something special any time of the day, from an unexpected song in a crowded restaurant to the way the setting sun casts shadows on the Leaning Tower of Pisa to the chance opportunity to participate in the daily routine of monks—all of which I have experienced and treasured."
Going down the road
Global experiences enrich and even transform the lives of our students. To learn how you can support our Italian studies program, contact Ashley Smith, Senior Director, School of Arts & Sciences Advancement, at (585) 276-6561. To learn how to support our myriad education abroad initiatives, contact Lisa Hall, Executive Director, College Advancement, at (585) 273-3619.
Read more about a recent $2 million gift from the Lisios to endow the University's Italian studies program.
The Lisios are founding members of the Wilson Society, the University's planned giving society.  
---
—Kristine Thompson, December 2017
Students benefit from alumnus' generosity