Class of 2022: Moments from Commencement
University community comes together to celebrate Class of 2022 as one
On May 13, the University of Rochester conferred academic degrees to more than 4,000 undergraduate and graduate students as thousands of family members, friends, loved ones, and supporters, including faculty and staff, cheered them on in Fauver Stadium–along with an additional 5,000 viewers from 88 countries tuning in for the livestream. The first institution-wide commencement ceremony in nearly three decades honored the accomplishments of the entire graduating class, as well as of several award and honorary degree recipients. Enjoy this look back on the Class of 2022's big day!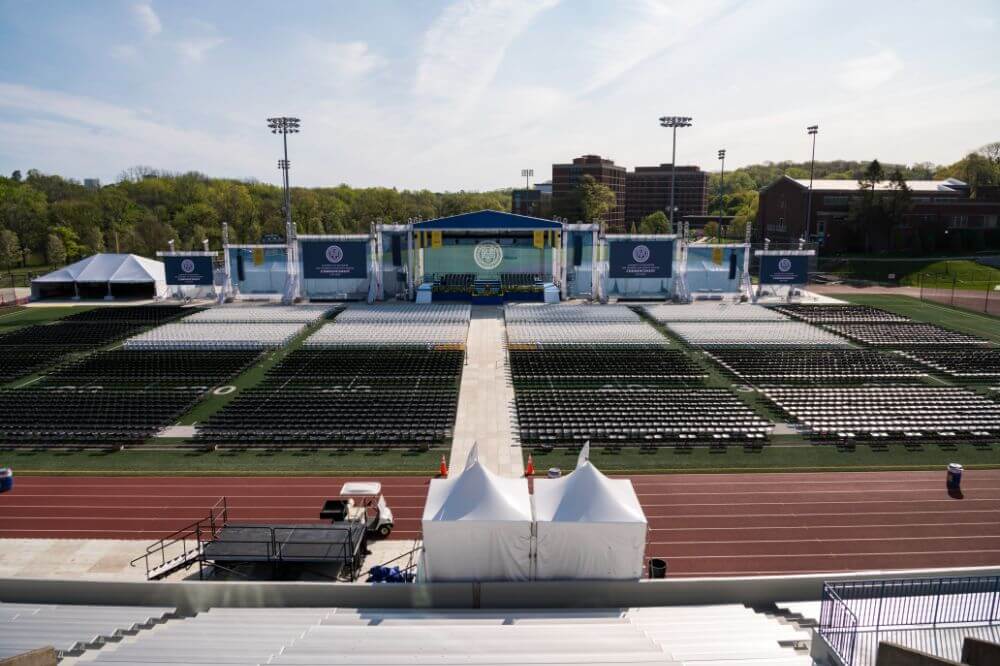 ALL THE STADIUM'S A STAGE: With a stage stretching 90 yards, two large video screens, seating for thousands, and eight-foot flags representing the University of Rochester's eight schools, Fauver Stadium was transformed for the first institution-wide commencement ceremony in nearly three decades.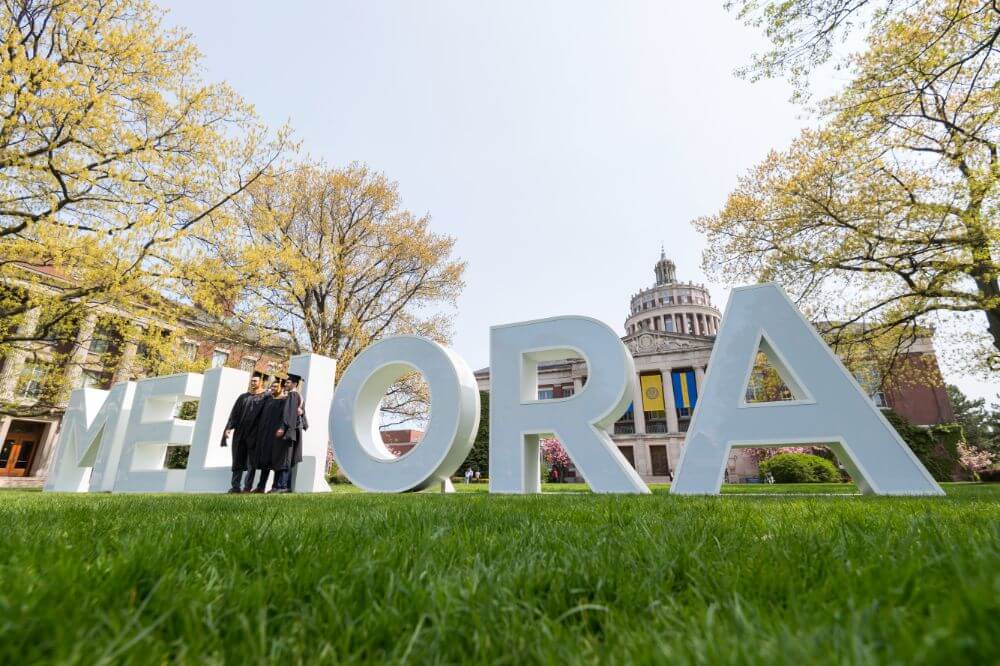 WORD FOR THE WISE: In the days leading up to Commencement, graduating students made the most of the photo ops available near the Meliora letters on the Eastman Quad.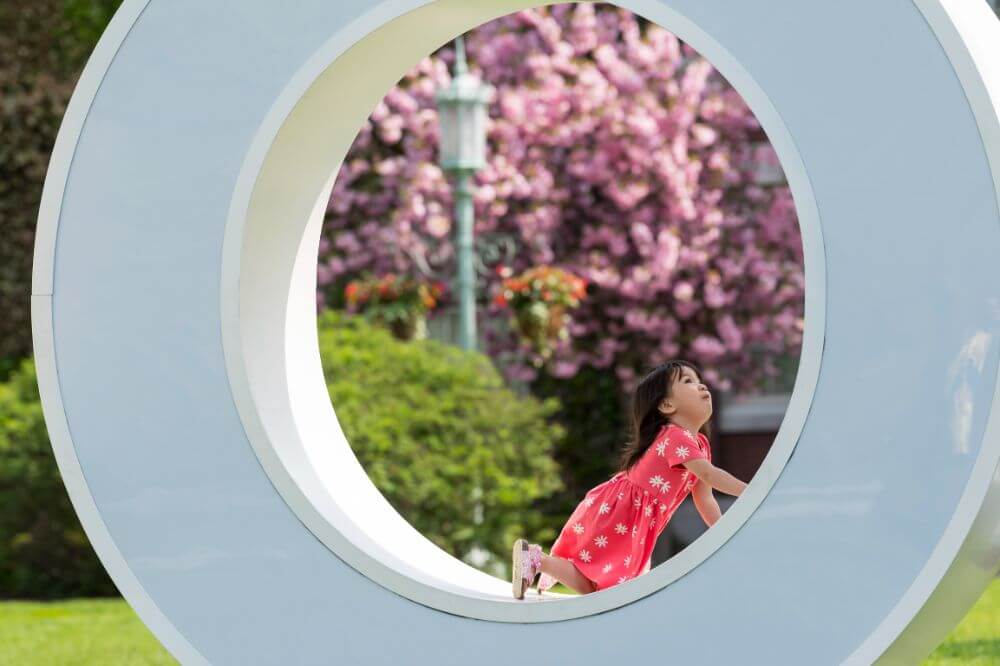 YELLOWJACKET-IN-THE-MAKING: Two-year-old Lilly Young, daughter of Simon Business School graduate Eric Young, explored the Meliora letters on the Eastman Quad the day before her father's commencement.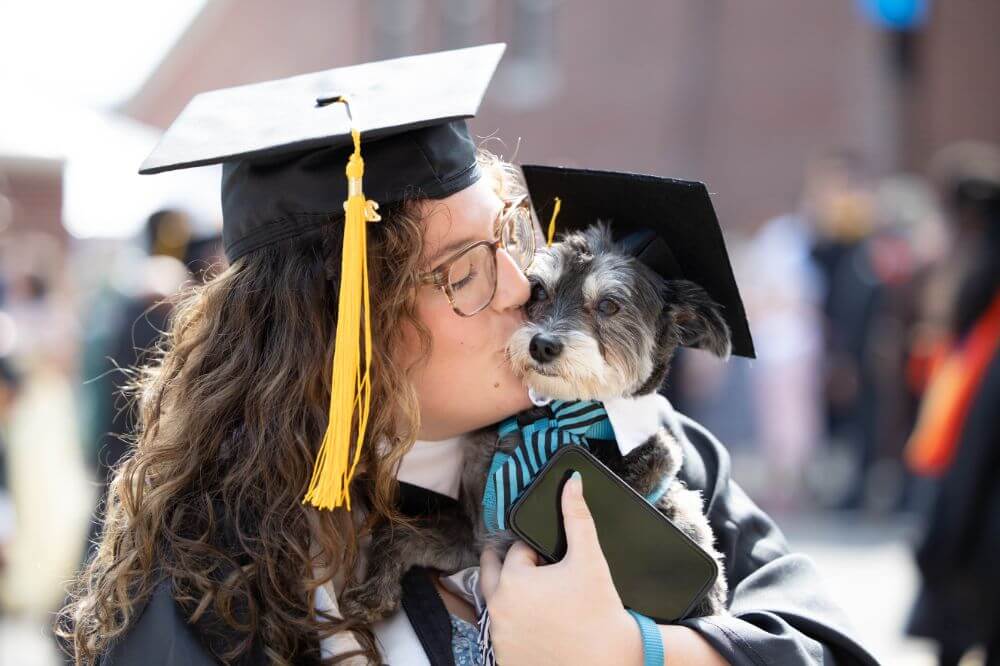 VALEDOGTORIAN: Rosie Beermann, graduating from the School of Arts & Sciences with majors in psychology and American Sign Language, planted a kiss on Chester Oswald, majoring in "being the best boy."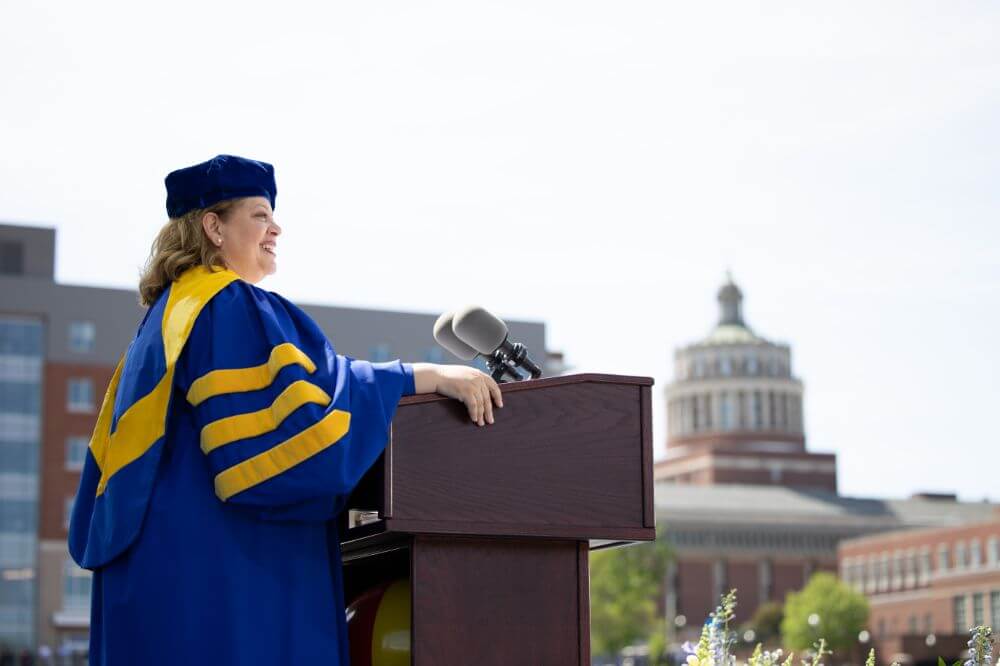 EMCEE MASTER CLASS: Former Rochester-area broadcast journalist and television personality Norma Holland, the director of public relations and engagement for the Medical Center's Office of Equity and Inclusion, shared University history before the ceremony and then announced each school as its members entered the field.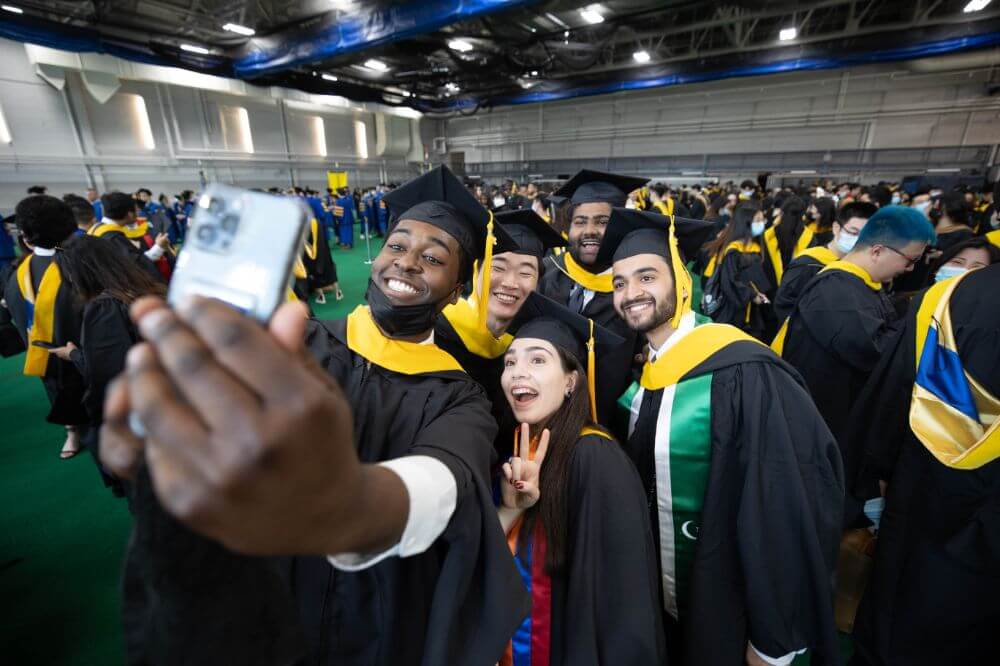 PRE-POMP GROUP SELFIE: George Ellis Jr. took a selfie with his friends in the Goergen Athletic Center before the start of the ceremony.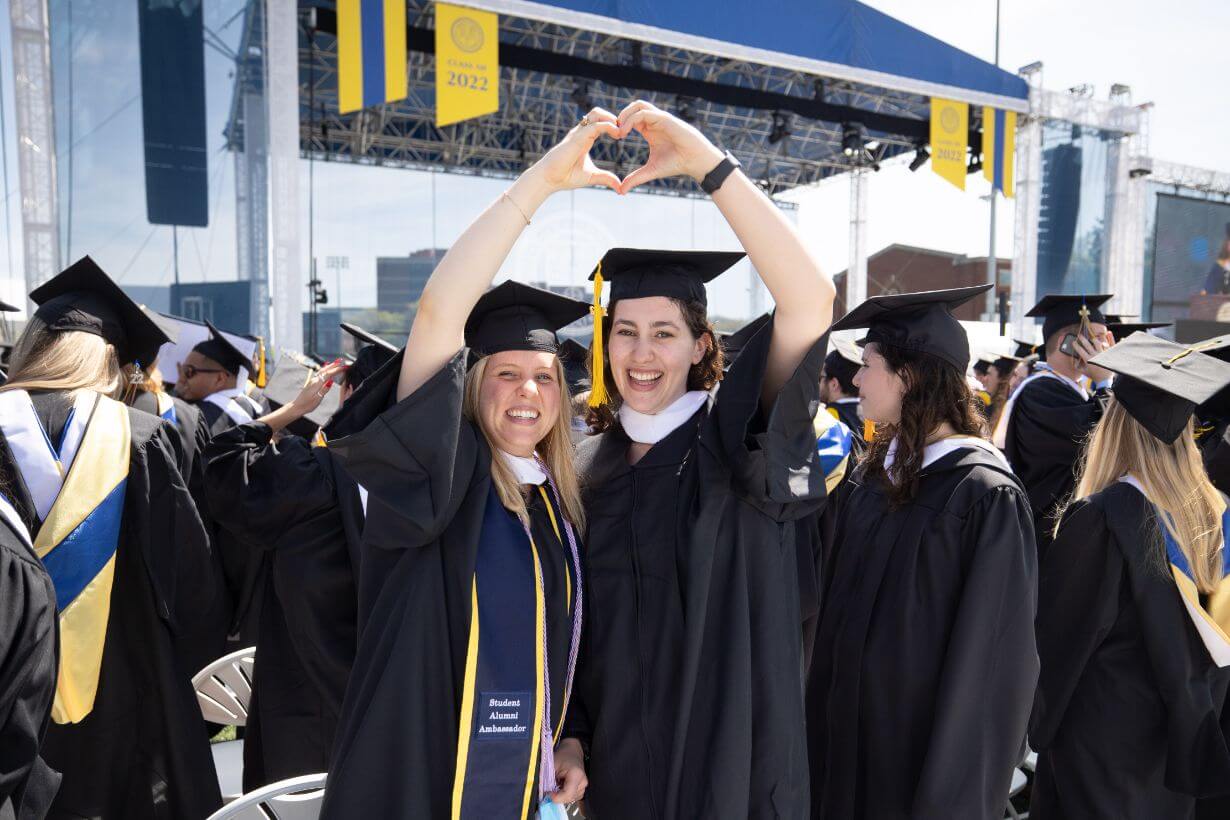 WE HEART YOU, '22: Annie Rosenow (left) and Anna White make a heart shape with their hands to signal their love and gratitude to their family and friends in the crowd.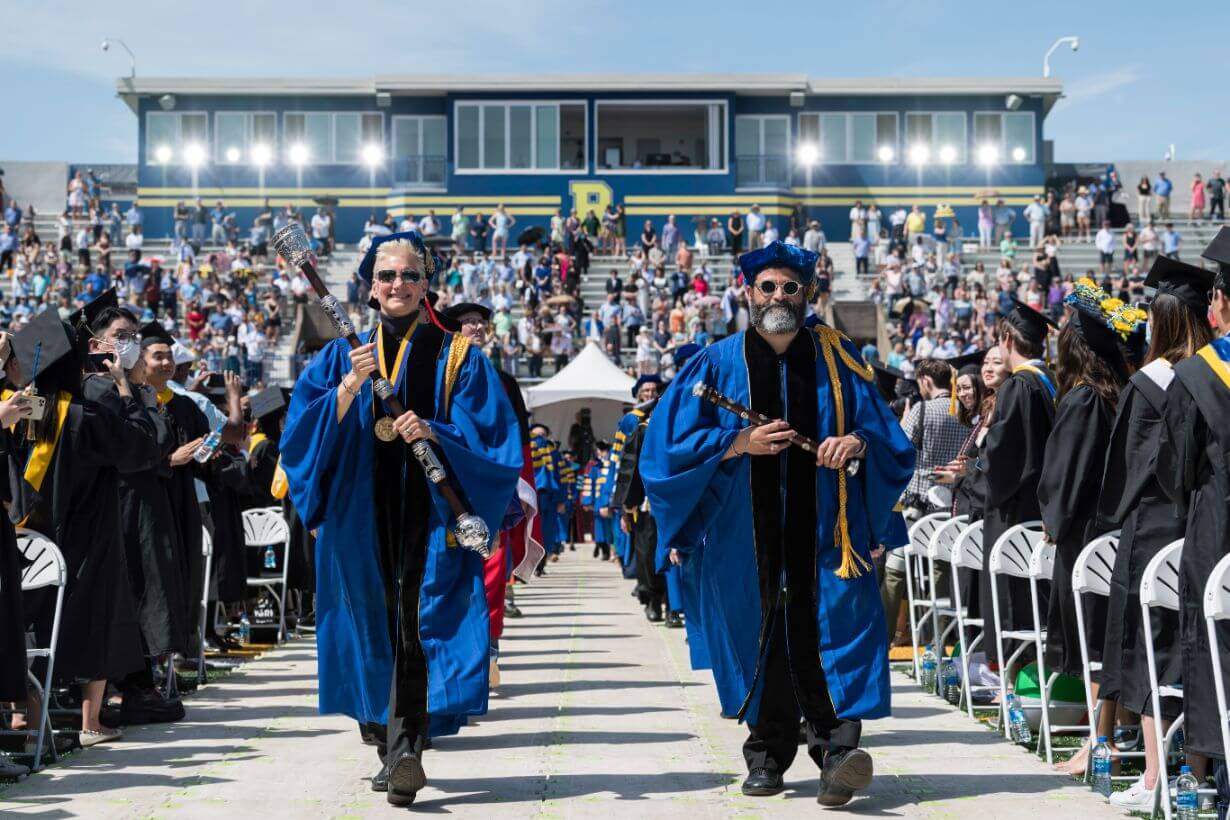 GREAT STRIDES: Grand marshall Diane Dalecki and associate marshall Luis Rosario-McCabe led the procession to the stage while carrying, respectively, the University's ceremonial mace and baton.
PICTURE PERFECT: PhD candidates took advantage of the sunny weather to capture and share their very own Meliora moments.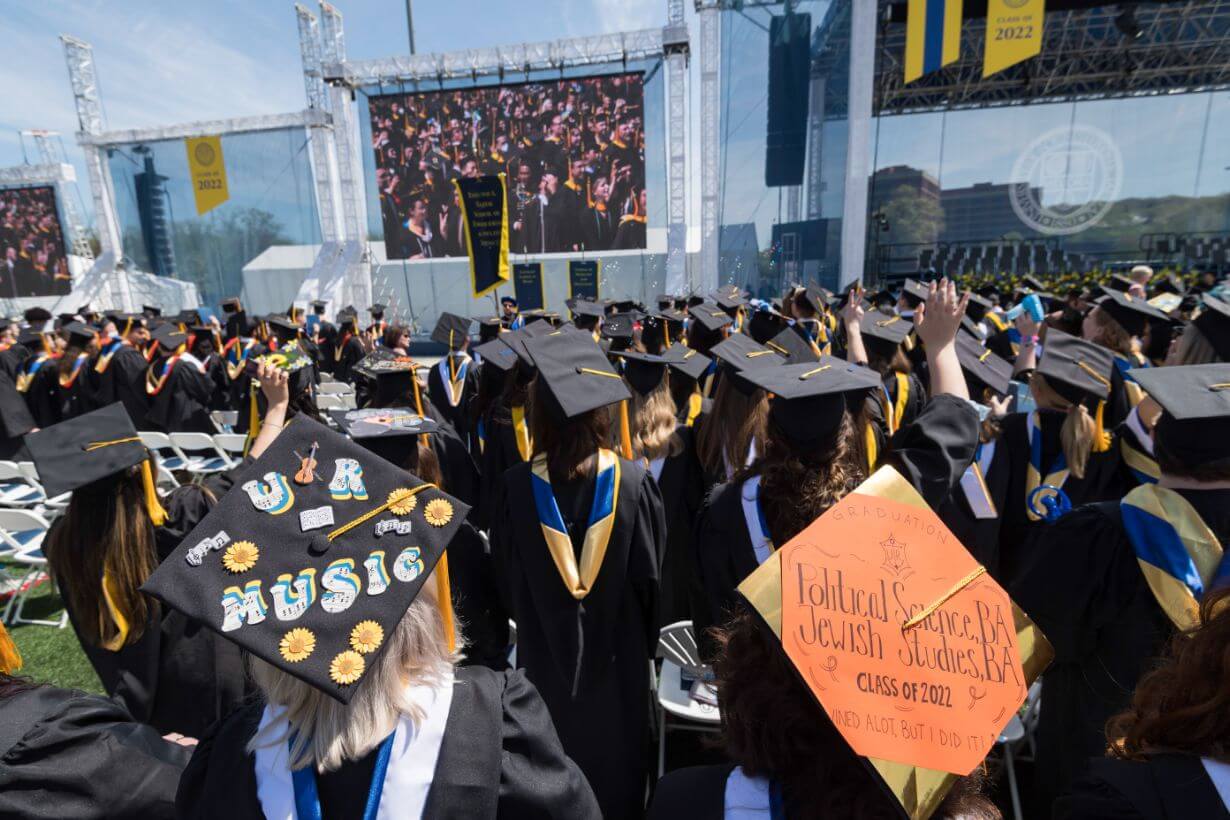 THINKING CAPS: Undergraduate students garbed in their caps and gowns–complete with decorated mortarboards.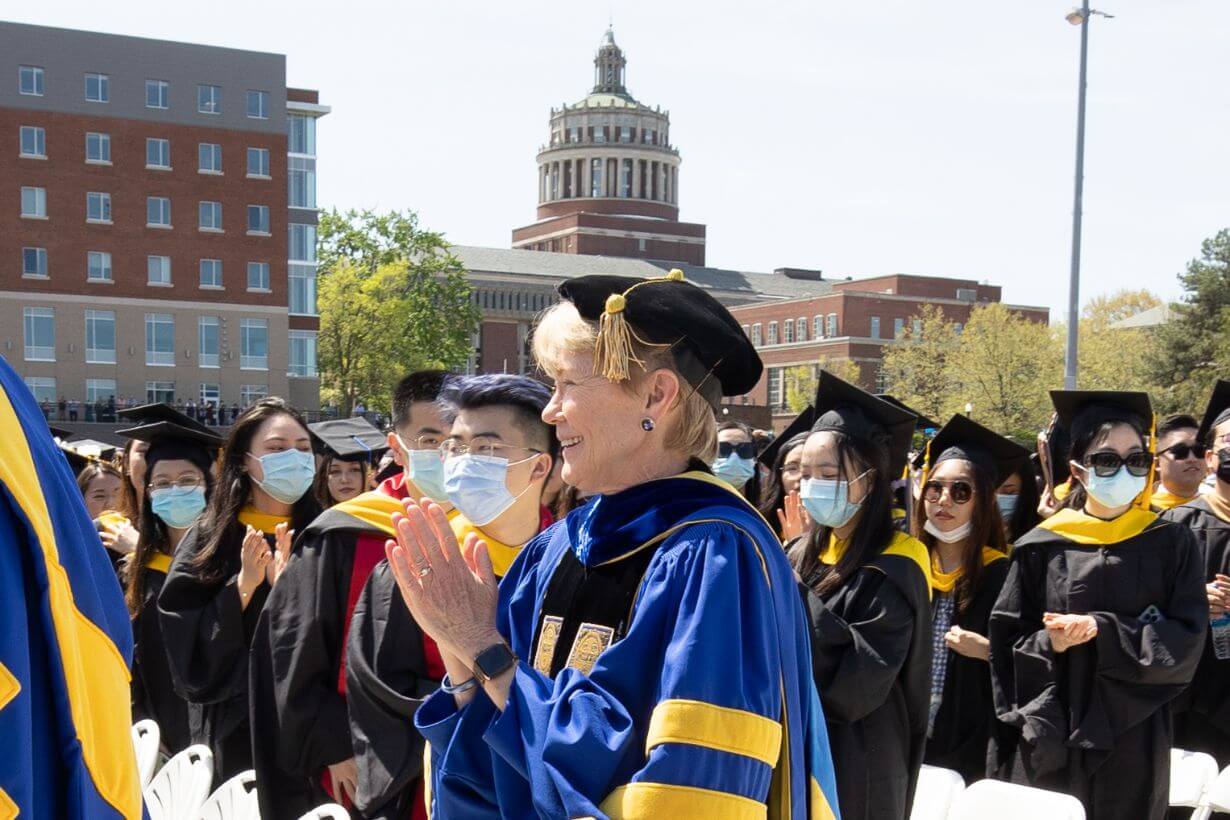 EVER BETTER, TOGETHER: President Sarah Mangelsdorf cheered on the graduating class as she processed to the commencement stage. "It's really wonderful to be here with all of you and to see this University come together as one to celebrate this special class on this special day," she said during her presidential remarks.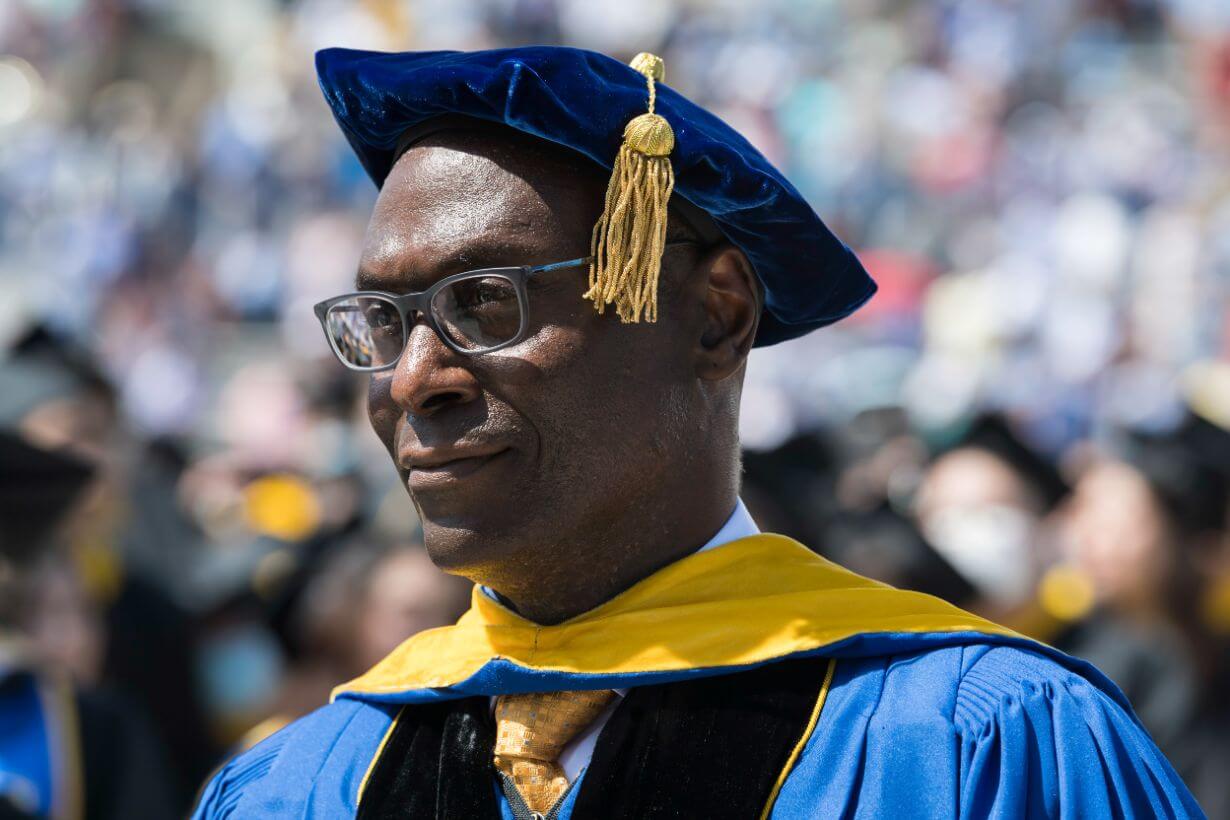 WELCOME BACK: Actor Lance Reddick, who studied classical composition at the Eastman School of Music and is known for roles in HBO's The Wire and Amazon's Bosch, joined the procession before delivering his commencement address to the Class of 2022. "I never wanted to be an actor when I was growing up. I wanted to be a musician," he told the audience later. "But that just goes to show you that you never know where your experiences in your life will lead you."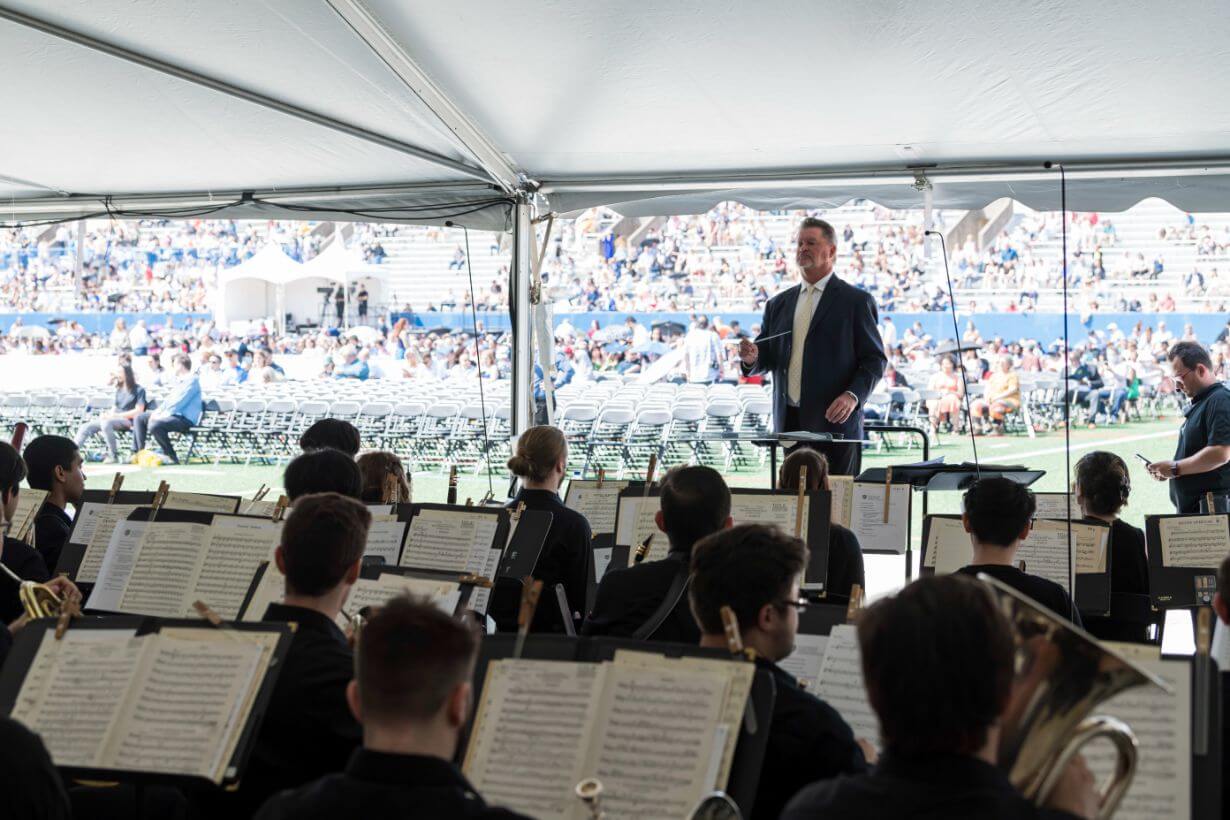 TUNED IN: The sounds of the Eastman Wind Ensemble, led by conductor Mark Davis Scatterday, could be heard throughout Fauver Stadium, on the River Campus, and piped through the speakers of more than 5,000 devices around the world livestreaming the event.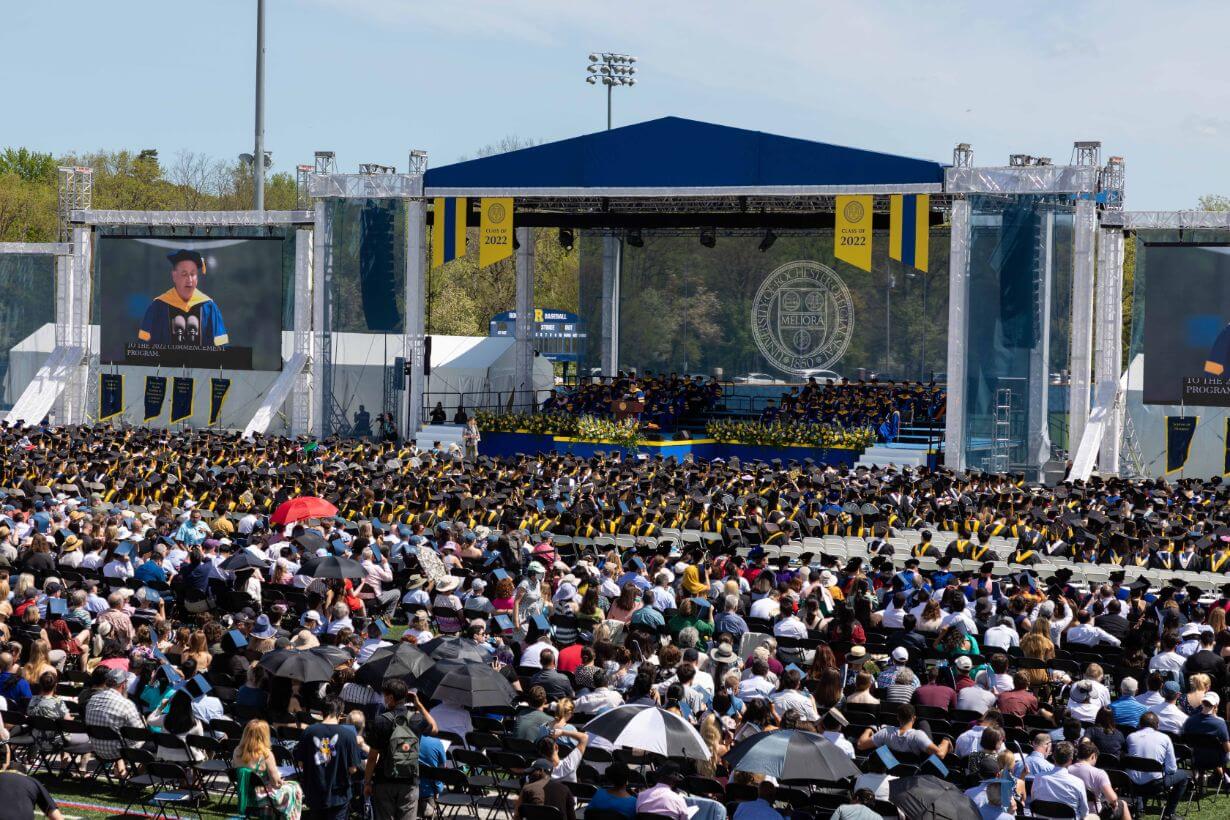 BIG PICTURE: Fauver Stadium welcomed thousands of graduating students and their supporters for the University's 172nd Commencement.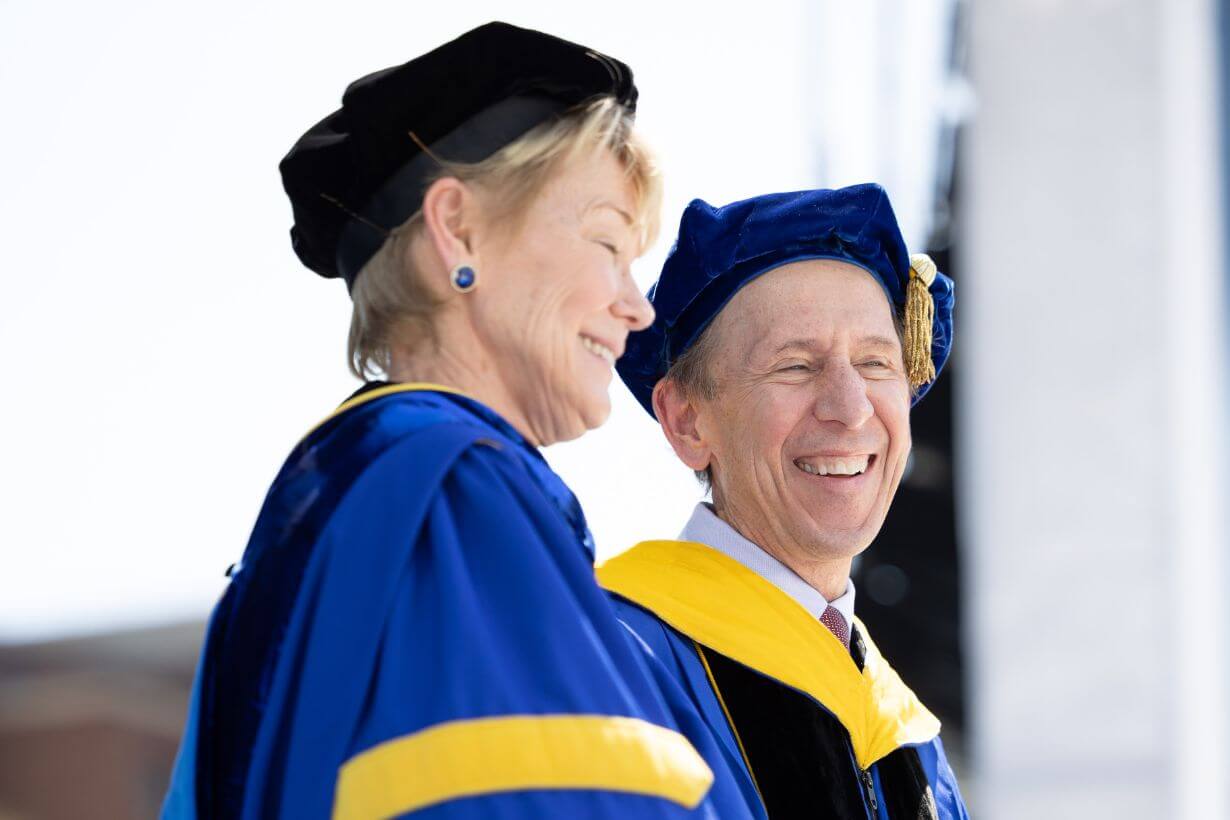 ECON HONORS: Several distinguished individuals received awards from the University, including Kenneth R. French '78S (MBA), '81S (MS), '83S (PhD), the Roth Family Distinguished Professor of Finance at Dartmouth College's Tuck School of Business. Pictured here with President Sarah Mangelsdorf, French was awarded the Charles Force Hutchison and Marjorie Smith Hutchison Medal for his scholarly contributions to the field of finance and his philanthropic work.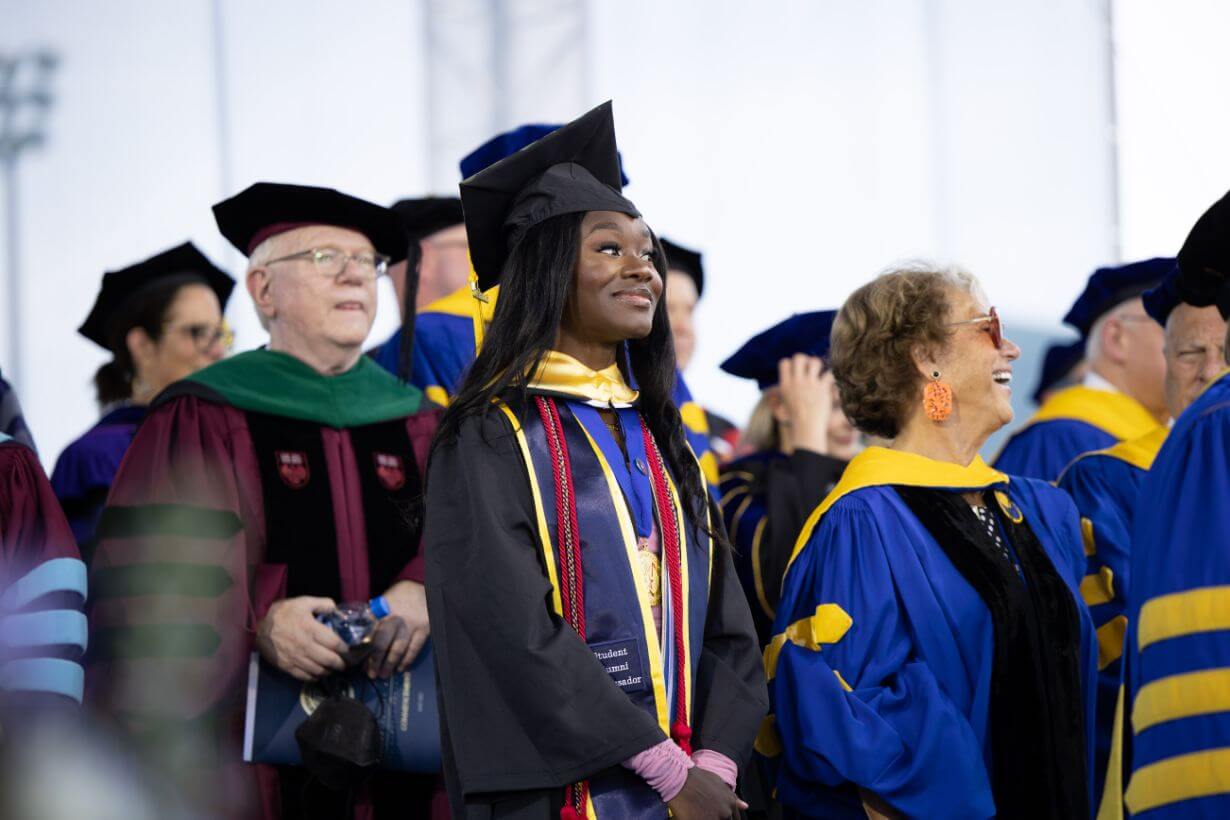 THE BEST TEACHER: Victoria Liverpool, president of the Senior Class Council, was selected to deliver remarks on behalf of the undergraduate students. During her speech, Liverpool, a first-generation college student who earned a bachelor of arts in international relations, took a moment of silence "to honor the loved ones we've lost along the way," including her father and aunt. "I came to the University of Rochester for the academics, but I stayed for the experiences. This experience has enabled me and you to grow not just as intellectuals, but as people," she said. "I hope that in some way you have found a home in this experience and it's left you prepared for the next stop along your journey."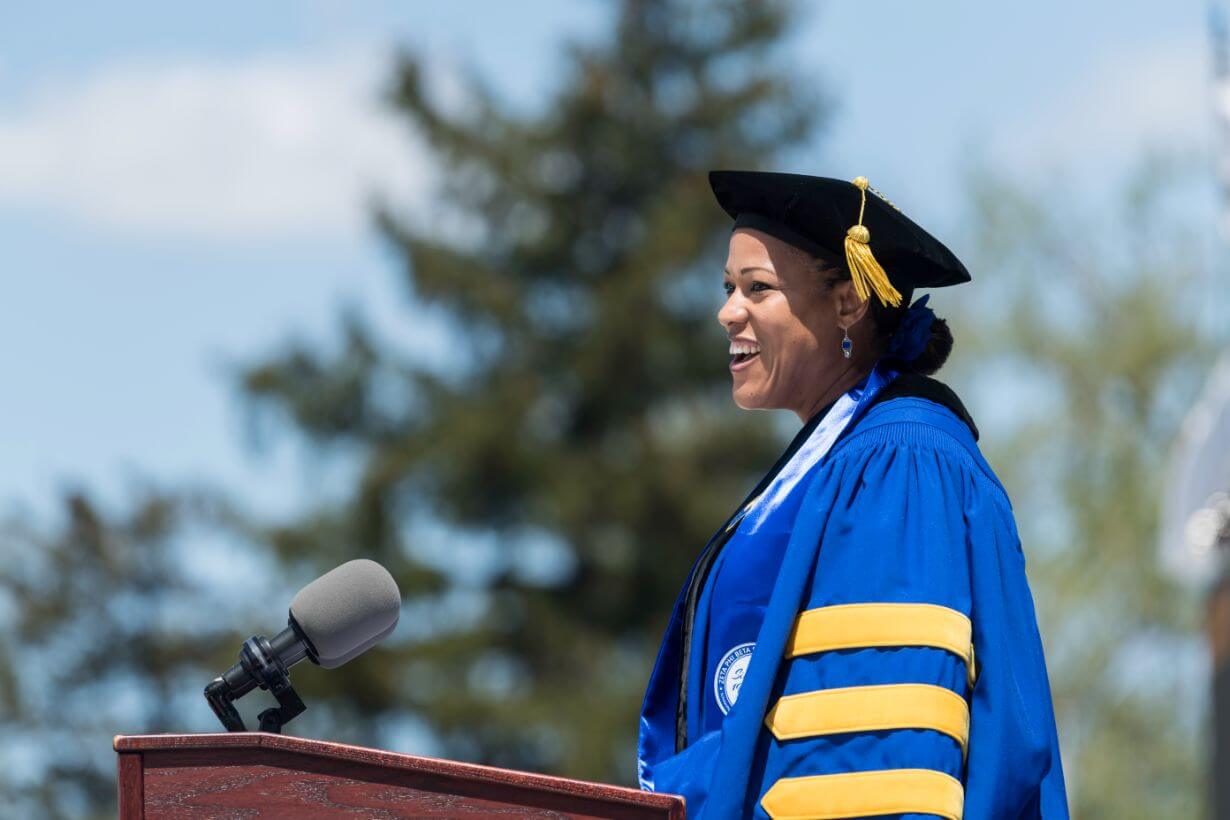 MAKE YOUR MARK: Lorna Washington, who received a doctor of education in educational administration with a specialization in K–12 schools, gave remarks on behalf of this year's graduate students. "I urge each of you to exemplify the tenets of Meliora in your own unique ways and make this world ever better," she said. "Leave your mark by challenging the status quo, leading the cause for what is right, even when it may be difficult. And never forget to reach out and help someone else along the way."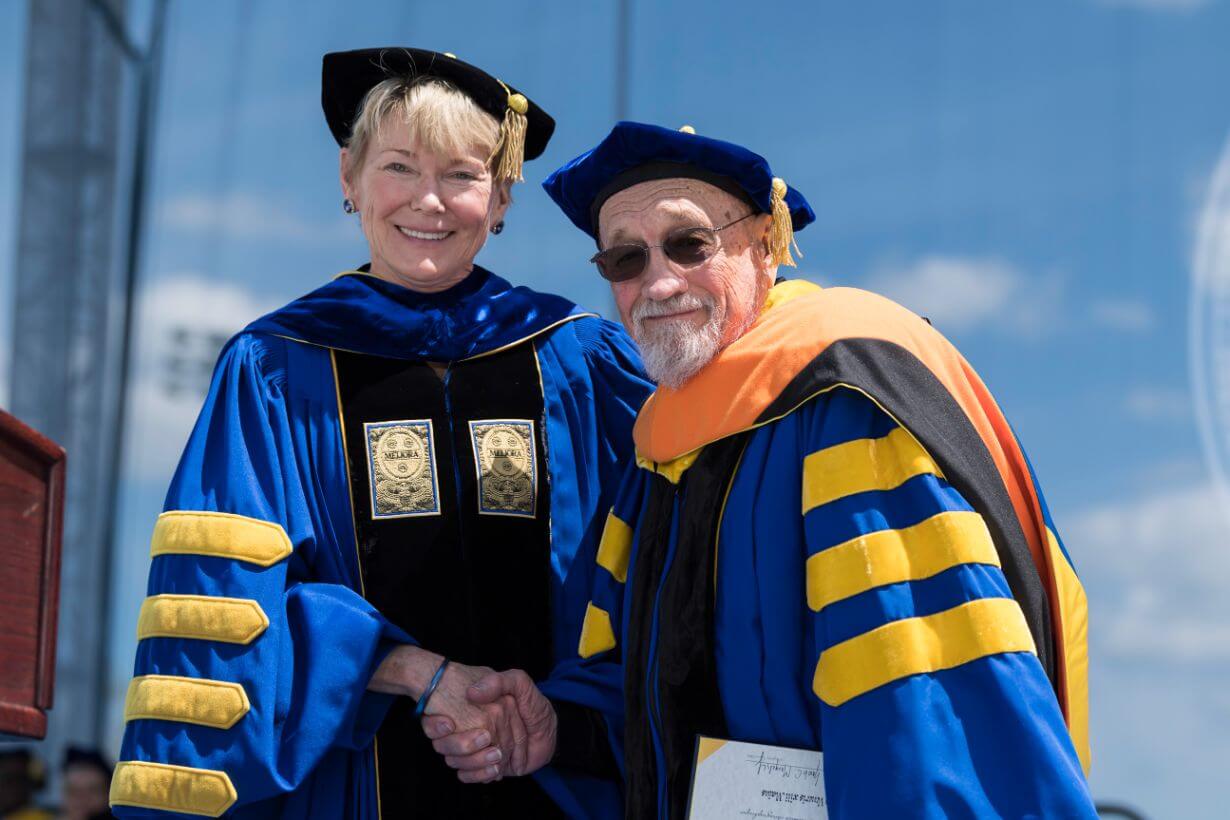 DEGREES OF DISTINCTION: President Sarah Mangelsdorf awarded Robert Shannon '54, '57 (MA), professor emeritus and past director of the Optical Sciences Center at the University of Arizona, with an honorary doctor of engineering.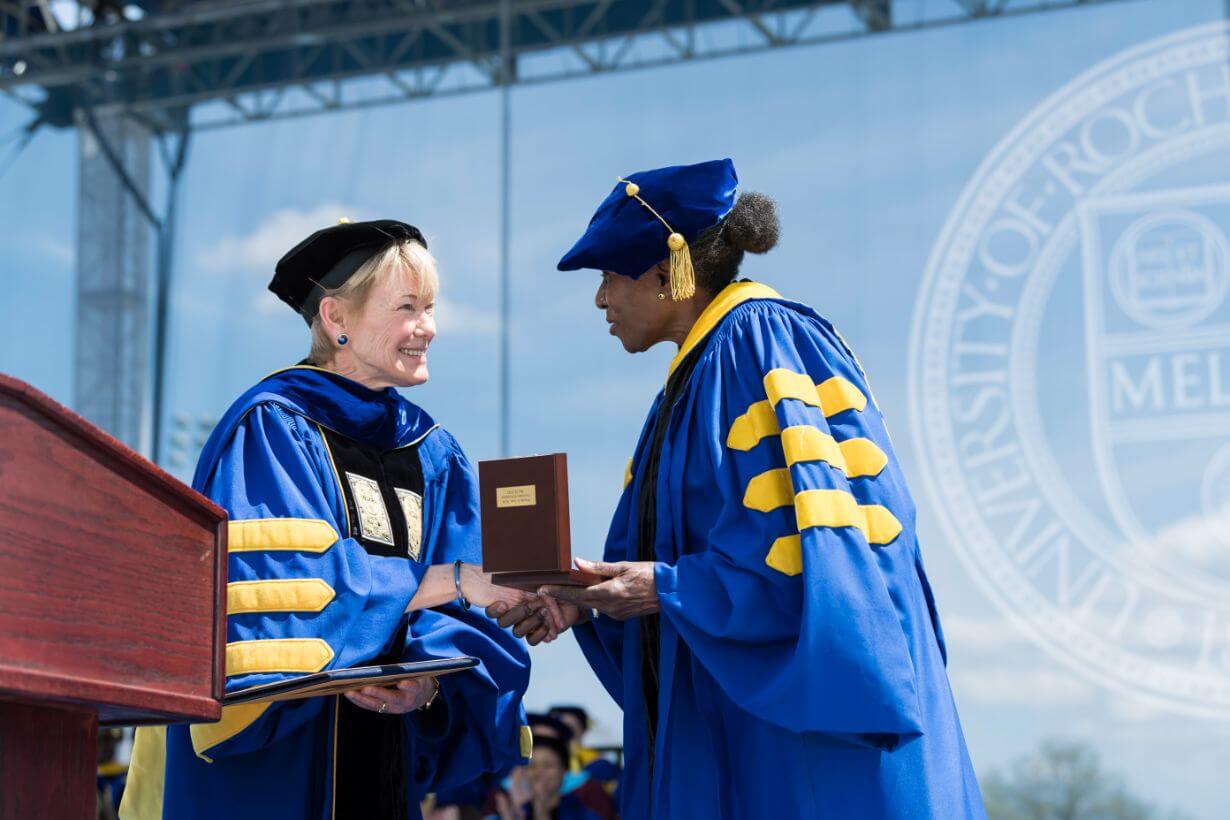 CHANGE-MAKER: President Sarah Mangelsdorf presented the George Eastman Medal to Brenda Lee, the former assistant dean for medical education and student affairs at the University of Rochester School of Medicine and Dentistry. The award recognizes individuals who, through their outstanding achievement and dedicated service, embody the high ideals for which the University stands. In introducing Lee, Medical Center CEO Mark Taubman described her as a "pioneer in understanding the impact of inequities, especially in the healing arts, as well as developing solutions to combat them."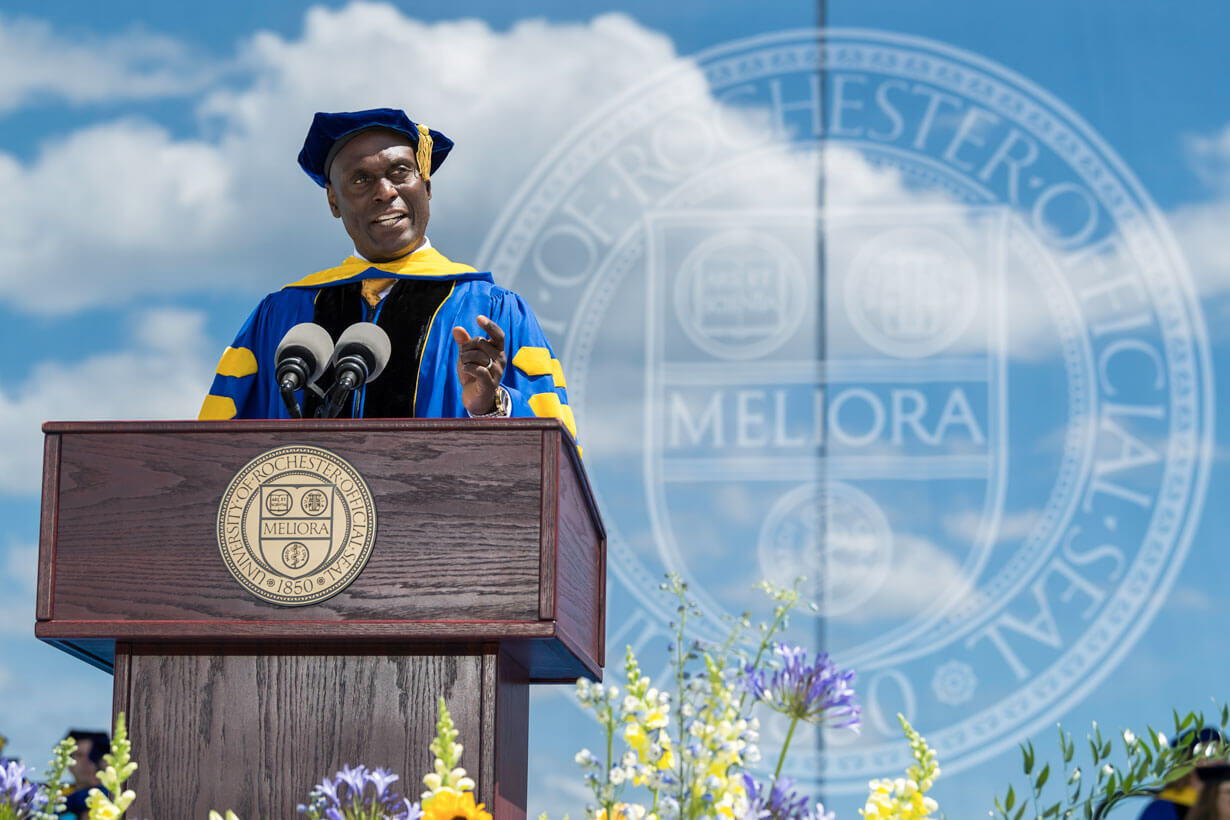 ON 'FINDING YOUR WAY': During his commencement address, actor Lance Reddick touched on his successes while also reflecting on his struggles. He made a special request to the graduating class: "I would ask that as you move through your lives, finding your way, as you achieve whatever success you achieve, and you become the leaders in your families, in your communities, your work, your careers, and on the world stage, that you please do your best to continually live inside the question, 'how do I lead with honesty, authenticity, integrity, and compassion?' In other words, 'how do I serve'?"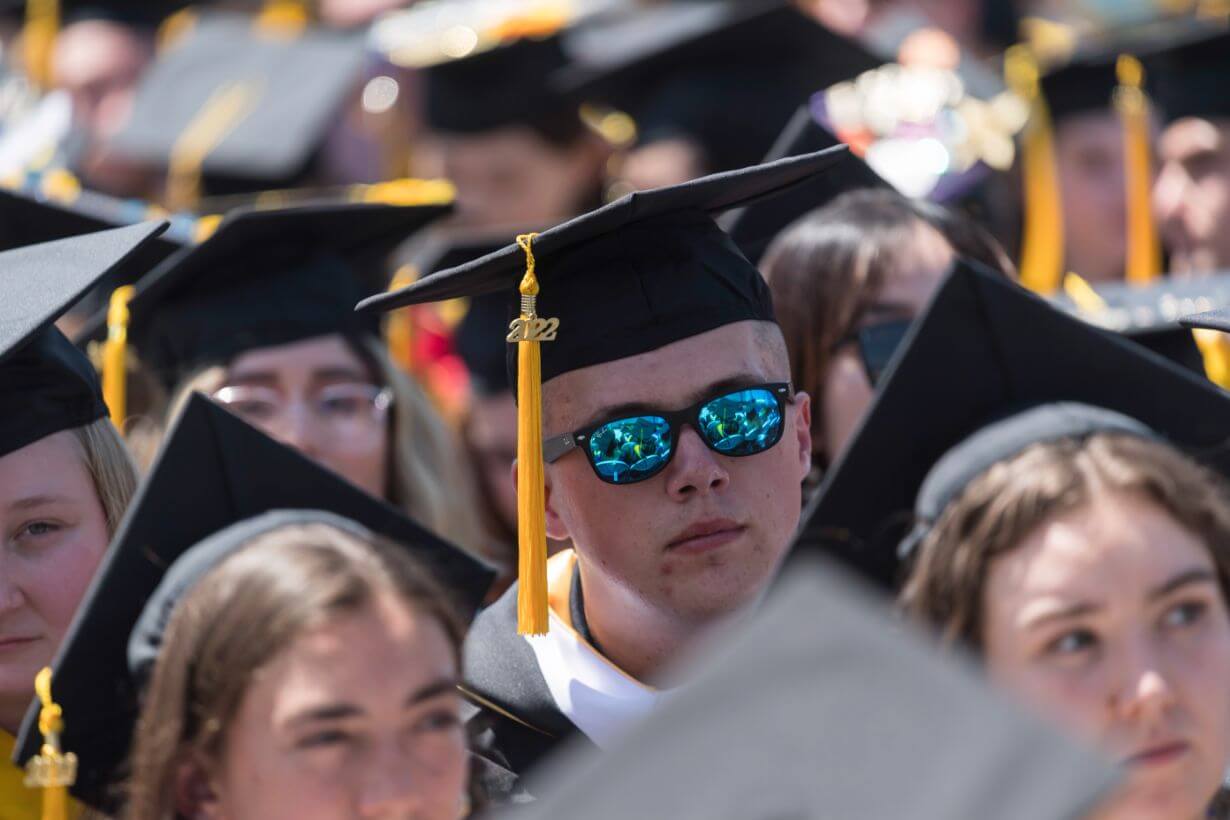 PLENTY OF POMP, REMARKABLE CIRCUMSTANCES: Members of the Class of 2022 listened as guest speakers and members of the University community shared their insights and advice. "We call this ceremony a commencement because it marks the beginning of something even greater as your life unfolds from this day forward," said President Sarah Mangelsdorf.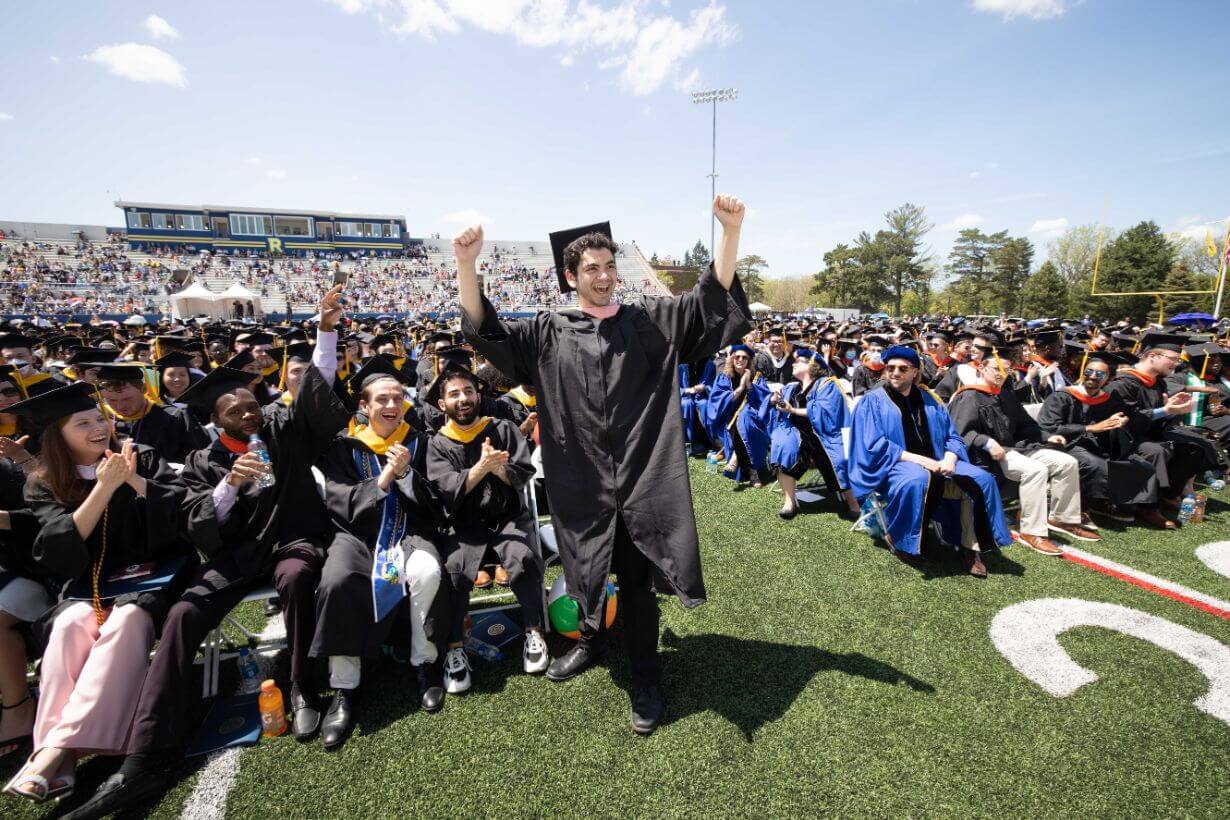 OUTSTANDING IN HIS FIELDS: Harrison Caplin stood to be recognized during the conferral of degrees for Eastman School of Music graduates. Caplin, from Manhattan Beach, California, earned two degrees: a bachelor of music in applied music: voice from Eastman and a bachelor of arts in psychology from the School of Arts & Sciences.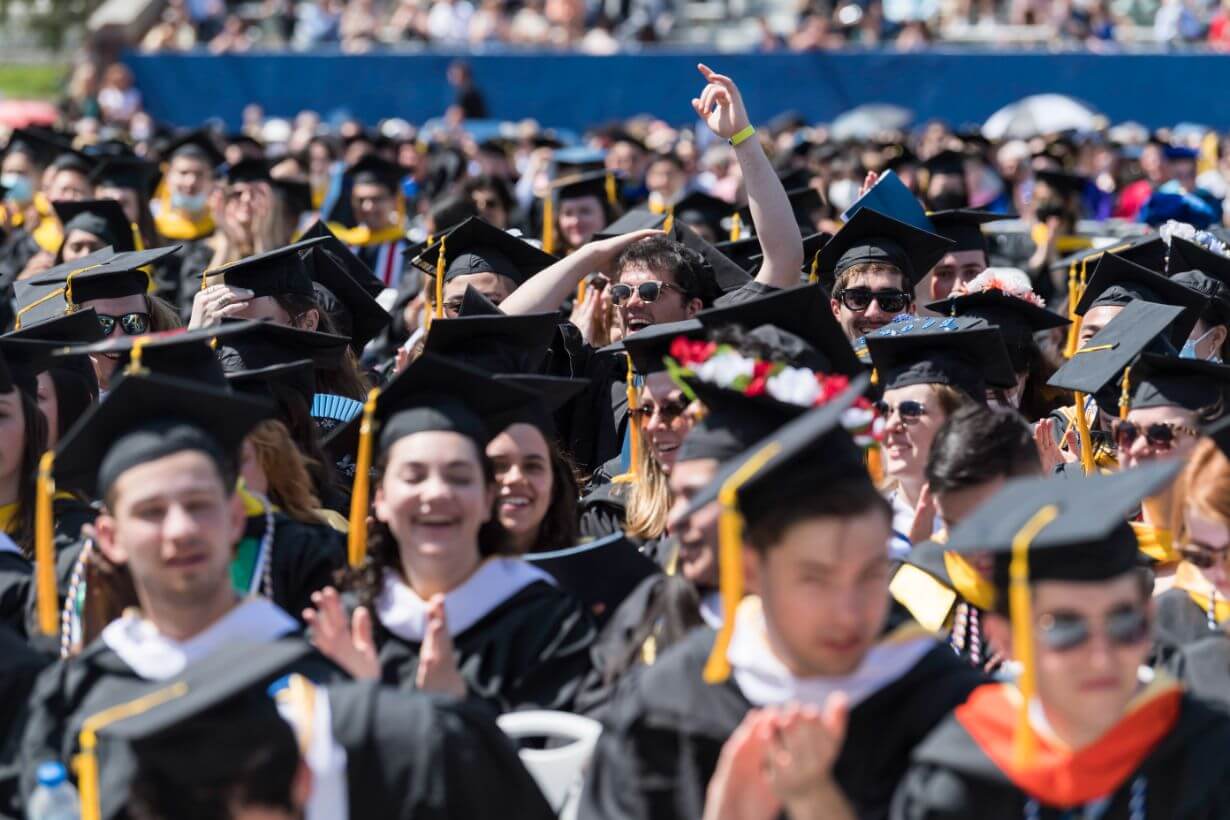 SEA OF SMILES: The graduates' expressions of joy lit up Fauver Stadium.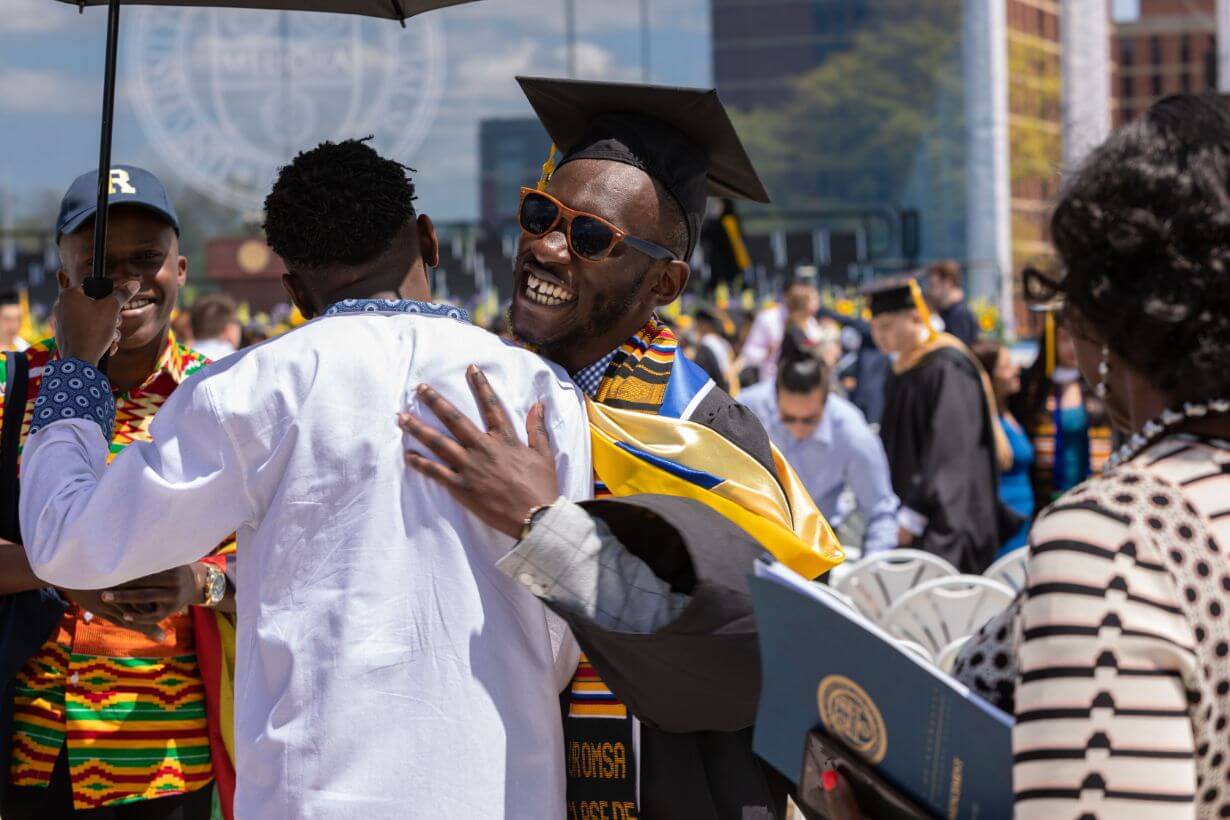 THE FUTURE IS BRIGHT: Dennis Boateng, from Bronx, New York, celebrated with loved ones after earning a bachelor of science in environmental health from the School of Arts & Sciences.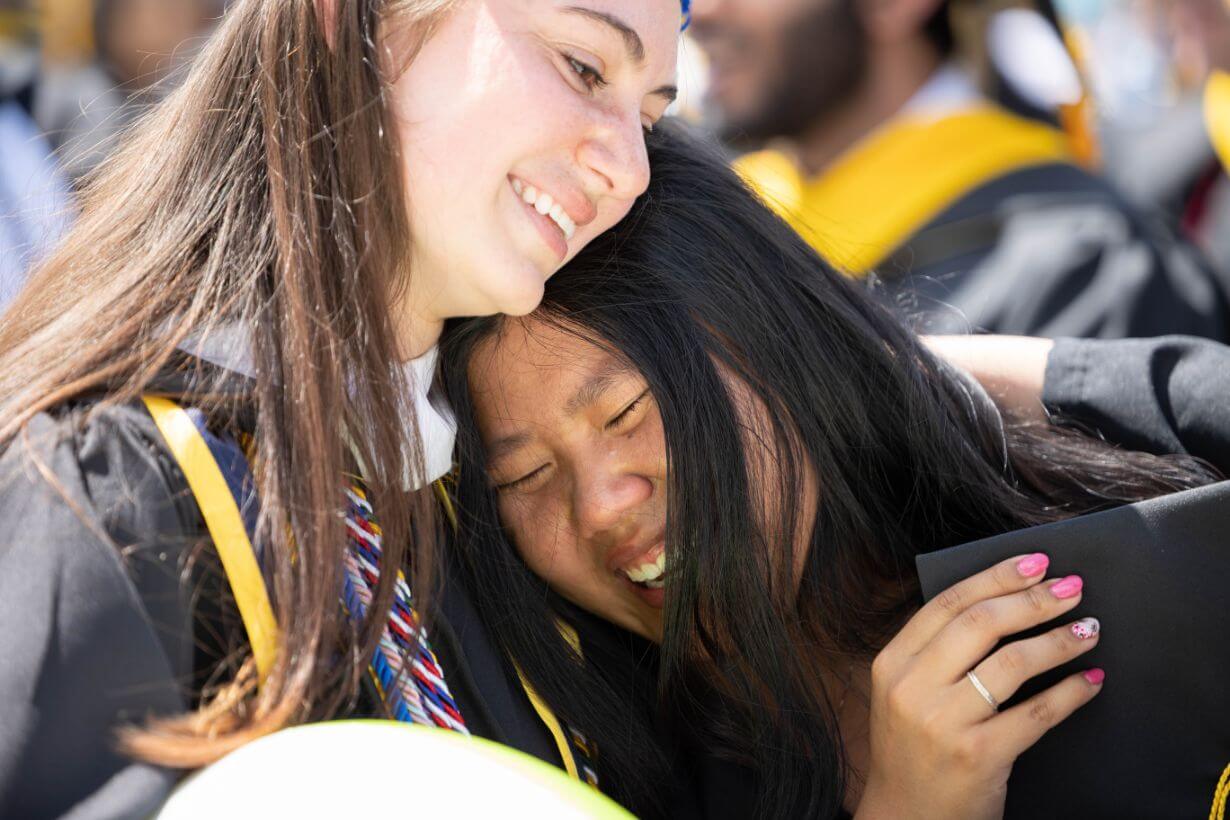 SIDE BY SIDE: Celia Konowe, of Reston, Virginia, hugged her friend, Jillian Breithaupt, of Chapel Hill, North Carolina, after their degrees were conferred. Konowe and Breithaupt earned bachelor of arts degrees from the School of Arts & Sciences—Konowe in environmental studies and Breithaupt as a quadruple major in American Sign Language, French, linguistics, and psychology.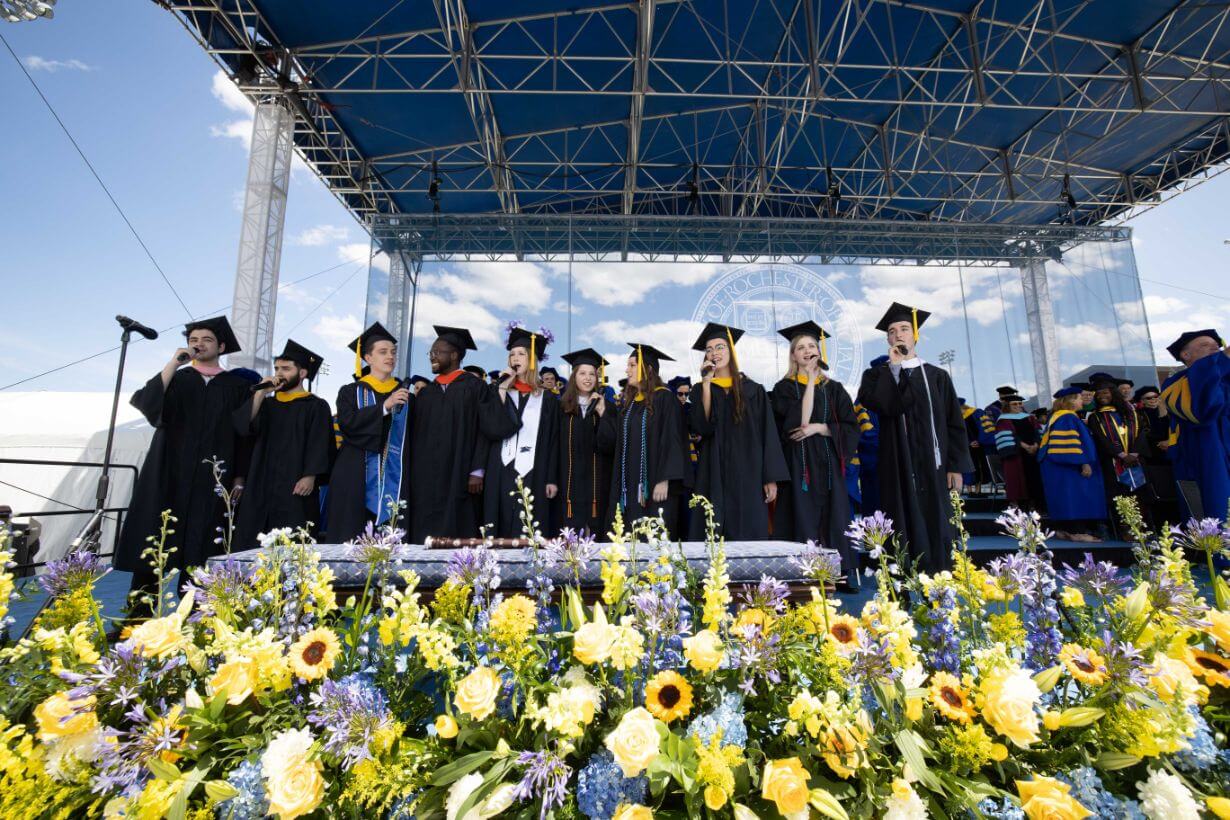 BESIDE THE GENESEE: Members of the University a cappella groups After Hours, Trebellious, Vocal Point, and the Yellowjackets closed the day's ceremonies with the singing of The Genesee.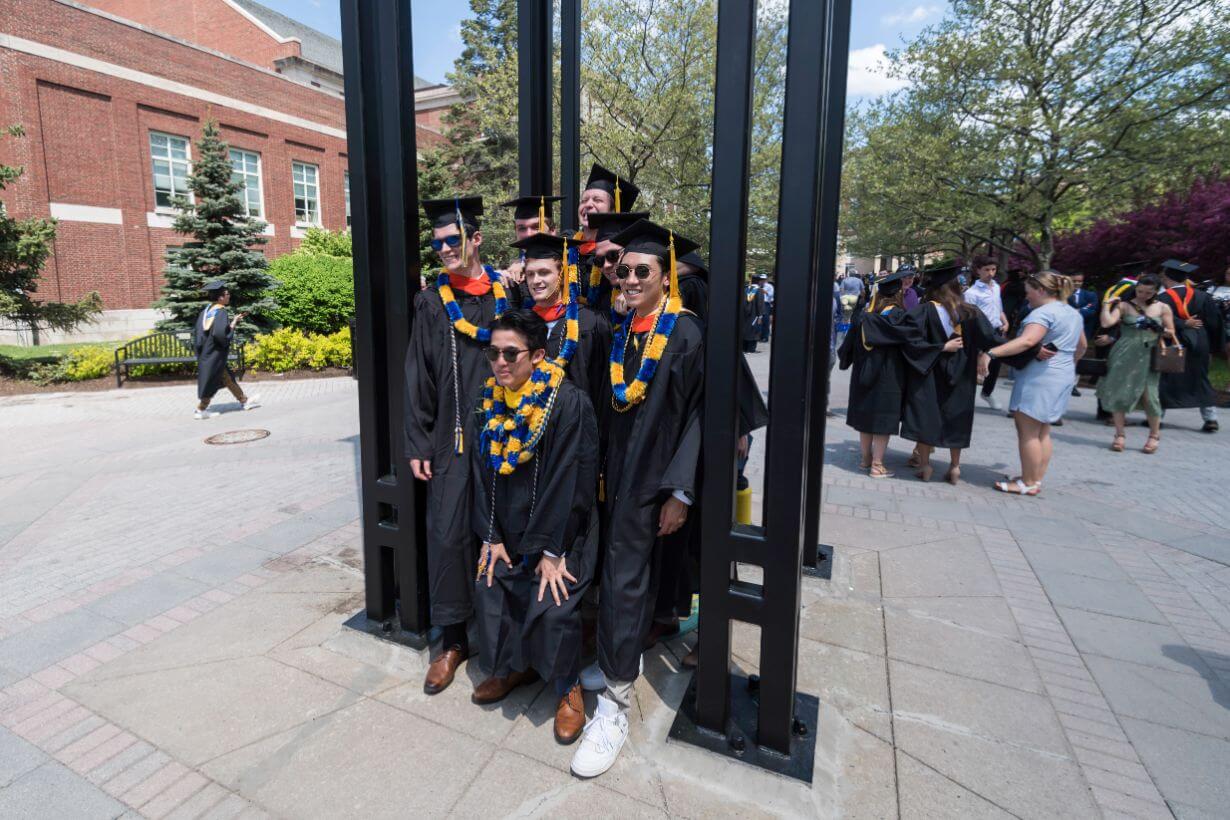 PERFECT TIMING: Members of the men's soccer team pose for a photo under the clock tower in Dandelion Square after the ceremony.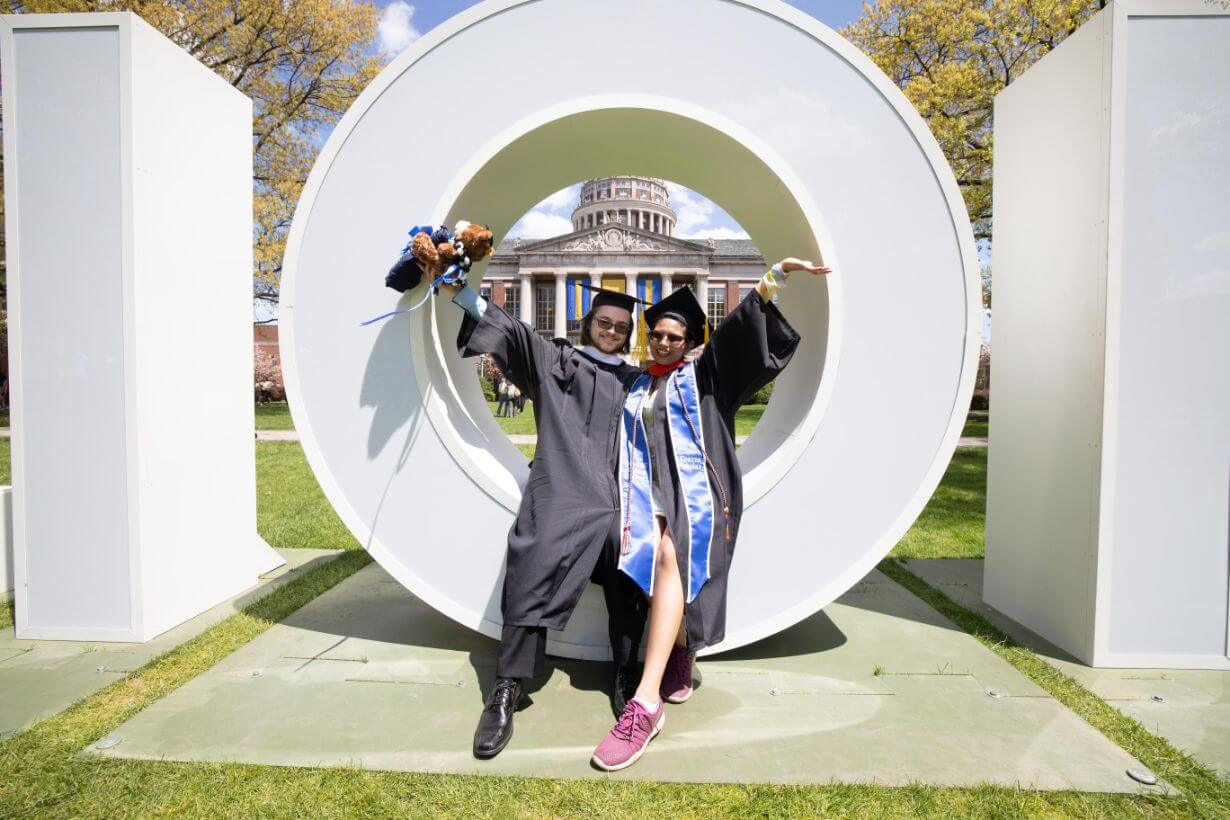 CHEERS TO YOU, CLASS OF 2022! Andrew Vascellaro and Oishee Rahman wrap up the day with celebrations on the Eastman Quad. Vascellaro earned a bachelor of arts degree in political science from the School of Arts & Sciences and Rahman earned a bachelor of science degree in mechanical engineering from the Hajim School of Engineering & Applied Sciences.