In the Headlines
SELECTED NEWS COVERAGE:
October 2015
TIME (October 20, 2015)

It's a staple in any dermatologist's office for releasing wrinkles, but botox could one day become a routine part of heart bypass surgeries, the latest research suggests. Researchers led by Dr. Jonathan Steinberg, director of the arrhythmia institute at Valley Health System and adjunct professor at the University of Rochester, investigated what effect botox injections might have on stabilizing heart rhythms after surgery. In animals, botox, which comes from botulinum toxin, acted on the nerves feeding into the heart and changed the electrical signaling that regulated the beating patterns of the heart. But there were no studies looking at what effect botox might have on human patients.
(Also reported in: UPI, The Independant, Healthday.com , Medical Xpress, Medical News Today, HealthCanal.com, Science World Report, Philly.com, Breitbart.com, NDTV, Celebrity Cafe, Lid Time.com )
Rochester Democrat & Chronicle (October 1, 2015)

Barbara Iglewski spent about 40 years — most at the University of Rochester — studying how a common kind of infectious bacteria spreads and what can be done about it. While the bacteria — Pseudomonas aeruginosa — can be found in fresh water and soil, healthy humans typically ward off infection. Iglewski figured out how Pseudomonas spreads by individual bacteria communicating with one another so that, like an army, they attack the body with virulent effect. On Oct. 3, Iglewski will be inducted into the National Women's Hall of Fame, which praised her "landmark discovery" that "has had an enormous impact nationally and globally."
(Also reported in: The New York Times, Rochester Democrat & Chronicle, ABC News, Rochester Democrat & Chronicle, WXXI, Irondequoit Post, Columbus WCMH-TV NBC 4, Elkhart Truth, Peoria Journal Star, San Diego Union Tribune, WAAY ABC 31 TV Huntsville, WTEN ABC10 Albany, CNYcentral.com, San Diego Union Tribune )
The Washington Post (October 13, 2015)

Four decades ago, the famous "Marshmallow Experiment" at Stanford University spawned a body of research that showed how an early test of children's ability to delay gratification — eat one marshmallow now, or wait 15 minutes and get two — correlated with greater success and self control later in life. But a more recent study suggests the impulse to eat the marshmallow is not necessarily innate. In the follow-up experiment at the University of Rochester, the adult who offered children the marshmallow first promised to bring them some art supplies. For one group, the adult delivered the supplies, and for another he didn't. When the marshmallow test was administered, the children who actually got the promised art supplies were more likely to wait for the second marshmallow than the ones who didn't
(Also reported in: NDTV )
Business Standard (October 29, 2015)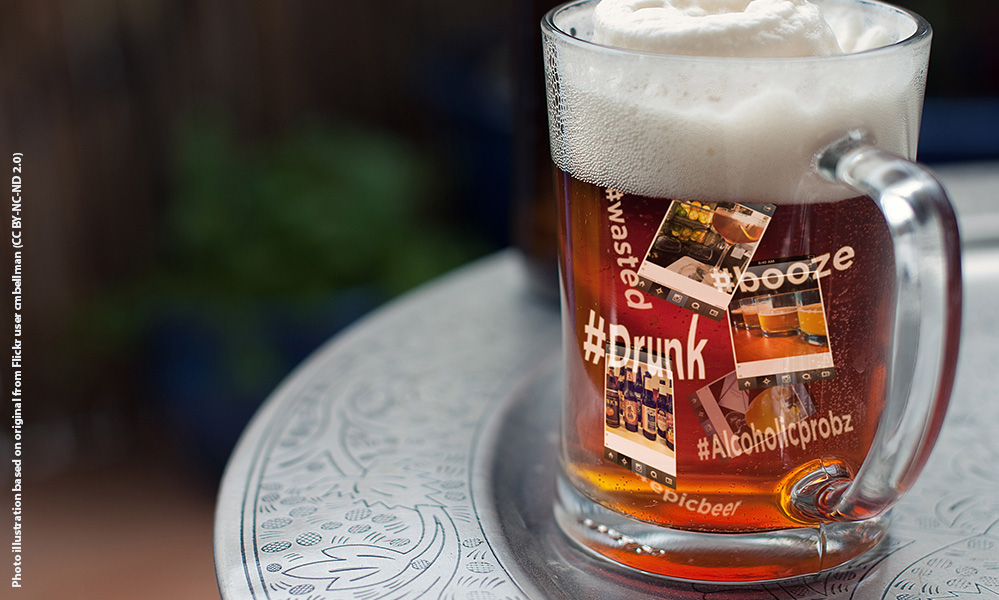 Instagram could help monitor drinking habits of teenagers more cheaply and faster than conventional surveys and also find new patterns, such as what alcohol brands are favoured by the youth, says a new study. Jiebo Luo, professor of computer science at the University of Rochester, and his colleagues said that underage drinkers are willing to share their alcohol consumption experience in social media.
(Also reported in: Medical Daily, Cellular News, Sakshi Post, Phys.org, Pc-Tablet Media, TechRadar, News Nation, The Siasat Daily )
INC.com (October 8, 2015)

Is the MBA a waste of time and money? Andrew Ainslie, Dean of Simon Business School at the University of Rochester, argues that the degree has come under more scrutiny lately, thanks to the ever-rising cost of higher education. "But what's surprising to me is how much the industry contributes to its own devaluation," he writes in Poets and Quants. He lists some B-school faculty members "on the MBA bashing bandwagon," including Jeffrey Pfeffer of Stanford GSB and Chris Bones, former dean of the Henley Business School. Ainslie goes on to make the case that--in spite of these bashers--the MBA remains a great investment. Here, in list form, are some points he makes, along with a few others I've gathered from conversations with entrepreneurs who have MBAs.
U.S. News & World Report (October 2, 2015)

After applying to 20 colleges, Elijah Mitchell is attending the University of Rochester in New York, where he plans to study engineering and business. He also got into seven other schools: Case Western Reserve and Denison universities in Ohio, Northeastern University in Boston, Purdue University in Indiana, the University of Wisconsin, the University of Illinois—Urbana-Champaign and the University of Southern California. Besides being a great fit, he says, Rochester will cover all but $10,000 of his annual costs. Mitchell got a lot of support, including waived application fees and inside tracks to college admissions officers, from two programs that help disadvantaged or underrepresented students navigate the college application process: QuestBridge and Kappa Leadership Institute-Chicago.
The Washington Post (October 19, 2015)
"With improvements, tanks or planes can be cloaked from human observation, car trunks can be made see-through, blind spots can be cloaked to be seen easily or cloaking can even be used as art or included for architectural effects," said Joseph Choi, a researcher with the University of Rochester's Institute of Optics. Cloaking with specifically engineered, artificial materials to bend light waves – or metamaterials – also holds great promise for electromagnetic field cloaking. "For more practical cloaking that can make large objects disappear for the human eye and work for all visible colors (frequencies), we think using standard optics (lenses and mirrors) has a lot of potential," Choi said. Late last year, Choi and John Howell at the University of Rochester investigated invisibility principles in optical spatial cloaking. They produced a scalable cloaking device that uses four standard optical lenses to manipulate light waves to hide objects, no matter the position of the viewer.
NPR (October 28, 2015)

Climate change is a big issue for scientists and politicians and everyone else. Astrophysicist and NPR blogger Adam Frank says we're thinking about this whole thing wrong. He suggests a different approach. Adam Frank teaches at the University of Rochester.
NPR (October 15, 2015)

When I left my first mammogram appointment a few weeks ago, I felt fine. Then came the phone calls the following day – first from my doctor's office, then from the mammography center – telling me the radiologist had seen something that didn't look quite right. I needed to come back for another mammogram and this time an ultrasound exam, too. I shouldn't worry, both callers said. But it was too late. The recall rate is higher for women, like me, having their first mammograms – likely closer to 20 percent on average and as high as 50 percent at some facilities, says Stamatia Destounis, a radiologist at Elizabeth Wende Breast Care in Rochester, N.Y., and a professor of radiology at the University of Rochester.
(Also reported in: WNYC 93.9, Colorado Public Radio )
USA Today (October 6, 2015)
Karl Smith, 26, a doctoral candidate at the University of Rochester in biophysics, offered 10-cent stories while you waited. Many took him up on the offer.
(Also reported in: Houston KHOU (CBS) 11, USA Today, Rochester Democrat & Chronicle )
Asia One (October 15, 2015)
Dietary supplements - those "all natural" products people consume for weight loss, extra energy or to self-treat various conditions - send 23,000 people, many of them children, to the emergency room in the US each year, according to a new estimate. The new study "illustrates the idea that something that's 'natural' is not necessarily safe, and these products do not come without risk," said Curtis Haas, director of pharmacy for the University of Rochester Medical Center and a past-president of the American College of Clinical Pharmacy. He was not involved in the research.
(Also reported in: Fox News, NYSE post, NBC News, Channel News Asia, Parent Herald )
Scientific American (October 20, 2015)
Human languages are rich in words that sound like what they mean and the sound-meaning associations, or sound symbolism, are surprisingly similar across languages. But how does our brain link phonetics with meaning? In a recent study, psychologists at the University of Rochester, NY and the University of Sussex, United Kingdom, showed that people with synesthesia – a condition where a stimulus, such as sound, can evoke unusual perceptions of color, taste, or odor – are especially adept at matching unknown, foreign words with their meanings. Their work offers clues to the origins of sound symbolism, and explains why we develop intuitions about the meanings of words we have never heard before.
(Also reported in: Quartz )
Wall Street Journal (October 12, 2015)
A new front is emerging in the war on the overuse of antibiotics: the nursing home. Up to 70% of nursing home residents receive one or more courses of antibiotics every year for urinary tract infections, pneumonia, cellulitis and other suspected conditions, according to researchers. Yet up to 75% of those prescriptions are given incorrectly—either unnecessarily or the prescription is for the wrong drug, dose or duration, the Centers for Disease Control and Prevention says. Such practices spawn the spread of drug-resistant bacteria that can be particularly harmful to the elderly and are very difficult if not impossible to treat, researchers say. They can also lead to drug interaction problems or diarrhea from Clostridium difficile—a common complication in long-term care facilities that can be deadly for people over age 65, says Ghinwa Dumyati, an infectious disease physician in the Center for Community Health at the University of Rochester Medical Center.
Slate Magazine (October 13, 2015)
In 2005, University of Rochester researchers published a study on medical ambiguity. Led by psychologist David Seaburn, the investigators hired actors to pose as patients and visit local physicians. During some visits, the "patients" described the classic symptoms of gastroesophageal reflux. During other visits, ambiguous symptoms were described: some emotional stress, dizziness, fatigue, and mysterious chest pains. Each visit was secretly audiotaped, and then the researchers transcribed and coded the physician-patient interactions.
Science /AAAS (October 8, 2015)
Why elephants aren't riddled with tumors poses a weighty problem for researchers. A new study shows that the animals harbor dozens of extra copies of one of the most powerful cancer-preventing genes. These bonus genes might enable elephants to weed out potentially cancerous cells before they can grow into tumors. The surprisingly low cancer rates in elephants and other hefty, long-lived animals such as whales—known as Peto's paradox after one of the scientists who first described it—have nettled scientists since the mid-1970s. So far, researchers have made little progress in solving the mystery or determining how other long-lived species beat cancer. One exception involves naked mole rats. Although these African rodents aren't massive, they survive for up to 28 years, almost 10 times longer than lab rats, and they don't develop cancer. Two years ago, cell and molecular biologists Vera Gorbunova and Andrei Seluanov of the University of Rochester in New York and colleagues reported that one of naked mole rats' defenses against cancer was a complex sugar called hyaluronan, which prevents their cells from clumping together to form tumors.
(Also reported in: Singapore Today )
Tech Times (October 30, 2015)
We often seen distant events before we hear them — like distant lightning flashes seen seconds before they're heard — because sound moves a lot slower than light. Consciously measuring that delay by counting seconds until the sound arrives gives us a good idea of how far away the lightning was. "The way distance has been studied is all about using visual information to infer how far away something is," says Philip Jaekl, a cognitive neuroscientist and co-author of a study appearing in PLOS ONE. However, Jaekl and colleagues at the University of Rochester in New York wanted to find out if our estimates might also be influenced by delays of sound so short we're not conscious of them.
(Also reported in: Science Newsline, Technobahn, Science Codex, Lab Manager Magazine, RMF 24, Medical Xpress, Examiner.com, Medical News Today, Braindecoder )
Boston Globe (October 5, 2015)
Anyone who has languished in a doctor's waiting room, fuming as the minutes tick by, knows the frustration. Now, research from Harvard Medical School has calculated how many minutes patients spend seeking medical care — and the dollar value of their lost time. The study estimates that the typical visit to a doctor consumes 121 minutes of the patient's time — 37 minutes in travel, 64 minutes waiting for care or filling out forms, and only 20 minutes face to face with the physician. "This study is confirming what we always knew, which is that people who are marginalized in society have a harder time accessing health services," said Dr. Ronald M. Epstein, director of the Center for Communication and Disparities Research at the University of Rochester Medical Center, who was not involved in this research. Lower-income people often have to rely on public transit, struggle to find child care, and risk losing their jobs if a doctor's visit takes too long, he said.
The Paris Review (October 9, 2015)
Svetlana Alexievich, the latest Nobel laureate in literature, has said that "after twenty years of work with documentary material and having written five books on their basis I declare that art has failed to understand many things about people." But art is precisely what she has made: a "novel of voices," as she has described her work, built from fact and feeling. Voices from Chernobyl, which Dalkey Archive Press published in 2005, is Alexievich's fourth book but only her second to be translated into English. None of her other works have, to date, been published in English. I asked Chad Post, who was then Dalkey's associate director—he's now the publisher of Open Letter Books—about what led him to publish Voices from Chernobyl in America and about his first impressions of Alexievich's work, a blend of narrative and reportage that doesn't offer conclusions. "Why can't we say, I don't want to be a slave anymore?" she said in a 2013 interview. "Why do we suffer again and again? Why does this remain our burden and fate? … I don't have an answer, but I want my books to motivate readers to think about the question for themselves." Editor's Note: Open Letter Books is the University of Rochester's Press for translated literature.
(Also reported in: Los Angeles Times, Vulture )
SPIE Newsroom (October 22, 2015)
The National Institute for Standards and Technology (NIST) is funding a program at the University of Rochester to develop a set of technology roadmaps for the photonics industry in the United States. This effort is part of NIST's Advanced Manufacturing Technology Consortia (AMTech) program.
New York Daily News (September 28, 2015)
By Adam Frank Water is an amazing substance. It allows so many kinds of chemicals to dissolve and begin reacting that you have to work pretty hard to imagine how life could exist without water around. Adam Frank is an astrophysics professor in the department of physics and astronomy at the University of Rochester.
Medical Daily (October 14, 2015)
Emotional abuse may be equally harmful to a child as physical abuse and neglect, the results of a McGill University study suggest. Importantly, the researchers also say, sexually abused children are usually mistreated in other ways as well. Through Mt. Hope Family Center, Dr. Dante Cicchetti of University of Minnesota and Dr. Fred Rogosch of University of Rochester have been running, for over 20 years, a summer research camp as a way to study low-income, school-aged children between the ages of 5 and 13. Using data from this unique study, Dr. David Vachon, a professor in the department of psychology, and his co-researcher explored the effects of child abuse by examining the behavior of nearly 2,300 boys and girls who attended the camp
(Also reported in: PsychCentral.com )
New York Post (October 28, 2015)
This time of the year, it's not uncommon to spot deer in Rochester, New York. But hospital workers received a surprise Monday afternoon when one limped into the emergency room, apparently severely injured from a car accident. Officials say the deer managed to walk through the doors of Strong Memorial Hospital and make it about 20 feet down a hallway before being corralled by staff members. At least one of its legs was broken, University of Rochester security told Time Warner Cable News. "It's an extremely odd situation," said Mark Fischer, chief of public safety. "I had to listen a little hard to my radio today when I heard a call about a deer in the emergency department, but you know, it's the time of year when they're running a lot and this one was pretty obviously struck by a car. It was in pretty bad shape, but still mobile enough to get inside the emergency department."
(Also reported in: Irondequoit Post, The Weather Space, WHAS 11 ABC-Louisville, KY, WSAW News Channel 7, , KTRK 13 News, Lansing WSYM (FOX) CH 47 )
NPR (October 16, 2015)
University of Rochester astrophysicist and NPR commentator and blogger, Adam Frank, thinks about cities from a planetary point of view. He's interested in the effect that our urban environments have on the natural one. He's thinking about climate change. He tells NPR's Kelly McEvers to have a more environmentally friendly form of transportation, we have to create new infrastructure first.
(Also reported in: Oregon Public Broadcasting )
Publishers Weekly (October 15, 2015)
Chad W Post offers a snapshot of the world's best international fiction Over the past decade, dozens of articles have been written about literature in translation in the United States, most of which can be boiled down into a few general statements: less than 3% of the books published in the US were originally written in a language other than English; the presses that are doing these books tend to be small; and the titles that are translated into English tend to fly under the radar–which is why almost all of these articles are titled "Lost in Translation". Starting back in 2008, Three Percent began tracking how many titles in translation were being published here in the US. We restricted our tracking to titles being published for the first time–no new translations of Tolstoy, for example. And we ended up creating the most comprehensive translation database in the world. With almost a decade of data, we can now address all kinds of questions–including one simple one: "Are there more translations coming out in 2015 than in 2008?" Chad W Post is the publisher of Open Letter Books at the University of Rochester, a small press dedicated to publishing literature in translation, which he founded in 2007. In addition, he runs the Three Percent website.
IFL Science (October 9, 2015)
Some researchers suggest that the benefits of memory consolidation don't outweigh the risks of sleeping. They instead point to other theories. Researchers from the University of Rochester argue that sleep may provide the brain with an important opportunity to take out the trash. In a 2013 study, published in the journal Science, researchers found that cerebral spinal fluid is pushed around the brain to clear waste chemicals that are produced as part of a cell's natural activity. This method of waste removal, known as the glymphatic system, mainly occurs when we sleep. "You can think of it like having a house party. You can either entertain the guests or clean up the house, but you can't really do both at the same time," lead researcher Dr. Maiken Nedergaard told the BBC.
Huffington Post (October 16, 2015)
An article in The Wall Street Journal, "Charitable Gifts From Wealthy Koch Brothers Often Prompt Partisan Reactions" (WSJ, 8/3/14) shows how gifts to medical and cultural institutions can varnish an industrialist's reactionary image. El Chapo, known for the violence he used to dominate the Mexican drug trade, is beloved as a Robin Hood type character by many of the poor mountain people who now protect him. Bill Gates and Warren Buffett two of the wealthiest men in the world are notoriously philanthropic. H. Allen Orr writes: "This view was popularized in l976 by Richard Dawkins in his book The Selfish Gene. But the real breakthrough came in the l960's with W.D. Hamilton's theory of kin selection. Hamilton saw mathematically that a gene that encourages an organism to act altruistically can actually increase in numbers from one generation to the next by natural selection if those who benefit from the altruism tend to be relatives of the altruist. The reason is that, as kin, these beneficiaries of altruistic behavior often also carry the gene for altruism." H. Allen Orr is Professor of biology at the University of Rochester.
Rochester Democrat & Chronicle (October 2, 2015)
"Do mammograms do more harm than good?" As scientists work to reduce breast cancer deaths, reports about their findings often leave women wondering 'What do I do now?' Dr. Michelle Shayne, an associate professor of medicine and oncology at the University of Rochester, specializes in breast cancer and puts a high value on self-awareness and talking to your primary care physician.
WHAM TV ABC 13 Rochester (October 9, 2015)
Kristin Chenoweth in ROC
Broadway star Kristin Chenoweth will be in Rochester Friday. She is performing to a sold-out crowd at the Eastman Theatre. The Tony and Emmy Award winning singer and actress is headlining this season's Eastman Presents concert series. When 13WHAM's Jennifer Johnson talked to her on Good Day Rochester earlier this week, she said she wanted to attend the Eastman School of Music.
Rochester Business Journal (October 16, 2015)
The federal government has already named our region the site for AIM Photonics, which should bring with it hundreds of millions of dollars in public and private investment as well as thousands of jobs. Many of those workers will end up at the AIM Photonics headquarters at Legacy Tower, Eastman Business Park, the Sibley Building and other facilities spread across the region. We should know more in the next few weeks about how AIM Photonics plans to ramp up operations in Rochester. A great deal of gratitude goes out from Rochester Business Alliance/Greater Rochester Chamber of Commerce to Gov. Andrew Cuomo, SUNY Polytechnic Institute CEO Alain Kaloyeros, University of Rochester President Joel Seligman, RIT President Bill Destler, and our state and federal legislative delegations for all they did to bring this wonderful opportunity to our region. This is certainly a game changer for Rochester. The second part of the equation that has the potential to bring unprecedented investment to our region is the Upstate Revitalization Initiative. The Finger Lakes Regional Economic Development Council—under the leadership of Seligman and Wegmans CEO Danny Wegman, who donated countless hours of their time—recently submitted its plan for the competition to the state. Three winning regions will receive a total of $500 million each in state investment over five years for transformative projects.
Rochester Business Journal (October 15, 2015)
The University of Rochester on Thursday announced Robert Clark has been named as its next provost. "Rob's service has been exemplary," said President and CEO Joel Seligman said in a statement. "During the past seven years under Rob's leadership, the Hajim School has more than doubled undergraduate enrollment while increasing the size of the faculty and significantly increasing the number of students enrolled in master's programs."
(Also reported in: Rochester Democrat & Chronicle, WXXI News, Chronicle of Higher Education )
Rochester Democrat & Chronicle (October 5, 2015)
Seven regions of the state were due to submit their final applications Monday to win one of three $500 million awards for economic development. "This is a much bigger proposal than anything in the last four years because there is so much money at stake," said University of Rochester President Joel Seligman, who co-chairs the Finger Lakes Regional Economic Council.
(Also reported in: Poughkeepsie Journal, Elimira Star-Gazette )
Time Magazine (October 2, 2015)
President Obama only wears blue or gray suits. As he told Vanity Fair, its a way of managing his willpower. But sometimes what looks like weak willpower could be quality decision making. In 2012, University of Rochester researcher Celeste Kidd published a study that challenged that marshmallow experiment. When she was younger, Kidd spent time working for homeless shelters she remembers wondering how growing up in such an unstable situation would affect decision-making.
Phys.org (October 23, 2015)
David R. Williams, widely regarded as one of the world's leading experts on human vision, has been named the recipient of Sigma Xi's 2015 William Procter Prize for Scientific Achievement. The prize is given annually since 1950 in recognition of "outstanding achievement in scientific research and demonstrated ability to communicate the significance of this work to scientists in other disciplines." Past Procter Prize recipients have included Jane Goodall, Vannevar Bush, Margaret Mead, Murray Gell-Mann, and Rita Colwell. Williams pioneered the use of adaptive optics technologies for vision applications. He serves as the William G. Allyn Professor of Medical Optics, director of the Center for Visual Science and dean for research in Arts, Science, and Engineering at the University of Rochester.
(Also reported in: Novus Light Technologies Today )
Forbes (October 4, 2015)
It's the strategy April Morse, whom I wrote about last week, uses to approach reporters in addition to the writing she does for her blog. It's also the strategy Justin Lafazan, the 19-year-old founder of the NextGen Summit for millennial entrepreneurs (and current student at Wharton) used to get himself covered in USA Today, Entrepreneur, Inc., Huffington Post, and yes, into one of my own prior columns on June 26 about the particular requirements of millennial entrepreneurs. I counted the number of emails we'd exchanged before arriving at an idea I finally agreed would be fitting for one of my columns. Thirteen. He was polite and persistent (one of my own favorite PR tactics as well—be pleasantly persistent). At the point he finally won me over he admitted to spending an actual all-nighter to come up with an idea I would find too good to refuse. And it was. This week I heard from a friend of Lafazan, a student from the University of Rochester, Sar Haribhakti. He struck up a conversation with me on social media by noting in a private message that he'd been reading my columns as inspiration for his own columns as a contributor to Huffington Post. He has just turned 21. He's a university student, founder of a design business and also author of an upcoming book on authenticity in business and life for millennial entrepreneurs. I was fascinated. How did Haribhakti become a national columnist, I asked?
NPR (October 6, 2015)
By Adam Frank It's time to change the way we talk about climate change. Political leaders have acknowledged human-driven (or "anthropogenic") global warming since 1964 (when President Lyndon Johnson mentioned it in a speech to Congress). Since then, however, we've done almost nothing to address its dangers. As everyone knows, the problem is the political polarization of an issue that is, at its root, a scientific question. But it's more than that, too. Adam Frank is an astrophysics professor at the University of Rochester.
(Also reported in: Colorado Public Radio, Oregon Public Broadcasting, Boise State Public Radio )
WHEC TV NBC 10 Rochester (October 7, 2015)
A story that has a lot of you talking online, are concerns over football injuries. A high school in Missouri cut its football program due to concerns over injuries. Dr. Katherine Rizzone, an Assistant Professor of orthopedics at the University of Rochester Medical Center, joined Jennifer on News10NBC at 7.
Rochester Democrat & Chronicle (October 12, 2015)
The public's common fantasy of museum curators is of a man with determined eyes hidden beneath a wide-brimmed, battered felt hat crawling through a cave in search of Egyptian artifacts stolen by the Nazis. But curators are more likely to be a middle-aged woman ringing a doorbell, asking to look in your basement for some forgotten artistic curio. So it was that Nancy Miller Batty chased down Jessica Marten, one such garden-variety curator, in 2009. "She called me one afternoon and said, 'My family has a bunch of WPA artwork,'" says Marten, curator in charge, specializing in American artwork, at the Memorial Art Gallery. "It had been in the family's basement for 30 years. She asked me, 'Would you like to look at it?'"
Psychology Today (October 23, 2015)
The secure base is that from which people venture out. It is necessary because, according to Edward Deci and Richard Ryan from the University of Rochester, children are active beings who are automatically drawn to explore and master their internal and external worlds. Children strive to develop competence through acquiring new skills, developing pathways to goals, and seeking novel experiences. In other words, the natural state of the healthy child is to explore and be hopeful.
Inside Philanthropy (October 7, 2015)
University of Rochester's Eastman School of Music recently received a $2 million gift by alumni couple Jeff and Joan Beal to launch the Beal Institute for Film Music and Contemporary Media. The institute will support "student internships, scholarships, and projects; instruction; visiting artist residencies; and technology and infrastructure" and will also "enhance the new Jazz and Contemporary Media graduate degree program in convergent artistry focusing on writing scores for film and other applications, such as video games."
Rochester Democrat & Chronicle (October 11, 2015)
A best-selling author of books about innovation told a Rochester audience Saturday that the key ingredients for innovation are combining technology with the humanities, along with a heavy dose of creativity and collaboration. "Creativity is a team sport," said Walter Isaacson in his keynote address for the University of Rochester's Meliora Weekend, which is an annual alumni reunion and homecoming.
WXXI PBS News (October 5, 2015)
Back to the Future 2 took place in... October, 2015. It's our Monthly Science Roundtable, and we're examining the scientific predictions of that blockbuster film. Hoverboards? Video phones? Self-tying shoes? Our panel explores what Hollywood got right and wrong, and what might still be coming. Our guests: * Tom Howard, professor in the department of electrical and computer engineering at the University of Rochester * Steve Manly, professor of physics at the University of Rochester
Rochester Business Journal (October 9, 2015)
Among the technologies ripe for improvement are electronic medical records, which doctors find to be clunky, unintuitive and detrimental to doctor-patient face time. "It's almost like a gun that's designed for generals, not for a foot soldier," says Louis Papa M.D., primary care physician at Olsan Medical Group in Brighton and professor of clinical medicine at the University of Rochester School of Medicine and Dentistry. Renewing a prescription and ordering a related laboratory test can take up to 28 mouse clicks, he adds. "You have something like the iPhone or an iPad, where a 4-year-old can pick it up and figure out how to use it, and the EMR remains this bundle of unconnected efficiency-destroying technology," Papa says. "So, I think the EMR could certainly become a more useful tool."
Rochester City Newspaper (October 29, 2015)
Regardless of what you think about the style of the College Town development, it has become the immediate dining and social hub for the University of Rochester crowd. Most of the bases are covered within the College Town confines, including a selection of chain establishments, a stylish Italian restaurant, and the only grocery store in the vicinity. The whole development is a bit on the antiseptic side for my tastes, but the access to all of these things is a definite positive for the area.
Rochester Democrat & Chronicle (October 21, 2015)
The University of Rochester has named a new chief financial officer. Holly Crawford will, as of Jan. 15, become UR's senior vice president for administration and finance, chief financial officer and treasurer.
(Also reported in: Rochester Business Journal, 13 WHAM-TV )
Rochester Democrat & Chronicle (October 22, 2015)
Led by Wegmans CEO Danny Wegman and University of Rochester President Joel Seligman, the Finger Lakes region has arguably developed one of the three most detailed plans. It rigidly follows the Upstate Revitalization Initiative's call to address specific concepts, and favors substance over hyperbole.
Rochester City Newspaper (October 7, 2015)
Missy Pfohl Smith's BIODANCE, Eran Hanlon's Eran Hanlon Dance & Company, and Kerfala Fana Bangoura's Mounafanyi will be among those dance companies performing at the University of Rochester's "Past, Present and Future" presentation at the university this Saturday. The concert will feature work by these professional companies as well as that of dance alumni and current students. Both students and faculty will perform in a preview of dance faculty member Anne Harris Wilcox's "When the Souls Rise," a full-length work based on Halloween which will take place in its entirety at the college on November 6 and 7.
Rochester Democrat & Chronicle (October 10, 2015)
Hardly a day passes without a headline about sports concussions. Last Sunday, Buffalo Bills running back Karlos Williams sustained a concussion in the loss to the New York Giants. In December, Sony will release Concussion, a movie starring Will Smith as Dr. Bennet Omalu, who discovered degenerative brain damage in retired NFL players. Concussion awareness is at an all-time high — and yet much more needs to be done to protect athletes' brains. Despite the work that still needs to be done, researchers are busy investigating many aspects of head injuries. For example, my team at the University of Rochester has discovered that repeated head hits that don't result in a concussion can also have lasting effects on the brain.
PBS.org (October 6, 2015)
Open your hand right now and then close it into a fist. You're now holding some neutrinos, though they won't sit there for long. Neutrinos are subatomic particles created by the radioactive decay of elements, and they're everywhere. Aside from light particles, neutrinos are the second-most abundant particles in the universe. Neutrinos are elementary to the fabric of the universe, but little is known about them. Since scientists developed the theoretical concept of neutrinos 80 years ago, the quantum particles have remained one of physics' most elusive targets. Since neutrinos pass through solid objects, they could be used to send messages through the Earth, which would dramatically speed up global communications. The oscillations of the particles could be used as a way to encode the message. A group of scientists at the University of Rochester and North Carolina State University have already shown that neutrinos can communicate a message through 790 feet of stone. Also, nuclear reactors emit neutrinos, so weapons watchdogs might use these particles to detect nuclear proliferation.
(Also reported in: PBS.org )
WXXI PBS News (October 16, 2015)
A University of Rochester Assistant Professor is using a $1.25-million dollar grant to study the health and economic impact on people living where hydraulic fracturing, or fracking, takes place. Elaine Hill says her research will weigh the economic benefits versus the possible environmental impact that shale gas drilling can bring to a community.
(Also reported in: Rochester Business Journal , Rochester Democrat & Chronicle, Binghamton Press & Sun-Bulletin, Reading Eagle, WTEN ABC10 Albany, OleanTimes Herald, Newsday, 13WHAM-TV, WPXI Pittsburgh, Ithaca Journal )
The New York Times (October 27, 2015)
Happy Birthday, Howard Hanson! Howard Hanson, born on Oct. 28, 1896, was the longtime director of the Eastman School of Music in Rochester. Last year I traveled there to hear the Rochester Philharmonic Orchestra give a rare concert performance (which it then brought to Carnegie Hall) of his opera "Merry Mount." Based on a Hawthorne story, it had its stage premiere at the Metropolitan Opera in 1934 and then promptly vanished into obscurity
WXXI PBS News (October 27, 2015)
First hour: New mammogram guidelines and a conversation about breast reconstructive surgery Our guests: Howard Langstein, MD, chief of plastic and reconstructive surgery, University of Rochester Medical Center Avis O'Connell, MD, clinical imaging sciences, University of Rochester Medical Center
WHEC TV NBC 10 Rochester (October 1, 2015)
Its the first of October and the beginning of Breast Cancer Awareness Month. We spoke with Doctor Avice O'Connell -- director of University of Rochester Medicine Women's Imaging about the impact breast cancer has on our community.
---