Recent Graduate Starts Out Teaching, Now Helping Hurricane Survivors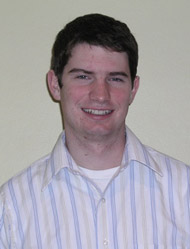 Hayes
After graduating from the University of Rochester in May, Thomas Hayes joined the Teach for America program, eager to help students in a low-income community. But within a month of arriving in Louisiana, he was tapped for a different service: helping residents made homeless by Hurricane Katrina.
Hayes had completed his first week teaching sixth grade mathematics in a Jefferson Parish school outside New Orleans when the devastating hurricane made landfall early Aug. 29. Evacuating the area, he spent the next two weeks in limbo as the full extent of destruction was gradually realized.
Teach for America recruits recent college graduates for a two-year commitment to teach in urban and rural public schools. But with schools around New Orleans closed, and few new teaching positions materializing where evacuees were sheltered, Teach for America teamed up with the Louisiana governor's office to place its members where they were needed, with FEMA (Federal Emergency Management Agency).
Hayes and other recruits were quickly trained and put to work in disaster recovery centers. In his first assignment, he was an applicant assistant in Baton Rouge.
"I was working with people who were in really, really desperate situations," Hayes recalls. "I answered their questions and helped them with their paperwork to get FEMA aid. If computer glitches or the bureaucratic process was holding up their aid, I took on helping them relocate by making cold calls and building relationships with various social services organizations." He was able to place evacuees in Seattle, Durham, and Pittsburgh, his own hometown.
After a month, Hayes was transferred to Grand Lake, where he was made the "lead" and managed and supervised the work of six applicant assistants. In mid-November, he became the lead in the Lafayette recovery center.
The work demanded 12-hour days, six and seven days a week. And, just like the people he was helping, Hayes himself had no permanent home. He bunked wherever there was space: an athletic room in the recovery center, a recreational vehicle, the laundry room of a house, and even an old tour bus that had belonged to country singer Trisha Yearwood.
"It has been sad because so many people have lost so much," Hayes reflects. "But there were also many moments that were rewarding, many moments of compassion."
Hayes recalls one situation involving a man who wanted to relocate to Seattle. The man was living on the street, penniless and wearing the only clothes he had, but it still took numerous phone calls to place him. As Hayes was finally arranging transportation for the man, he learned that the woman who would be housing evacuees was coming to Louisiana herself.
"It was tremendous to see someone who was driving all the way down from Seattle to pick up these people and then to take them back," Hayes says.
Another man was initially reluctant to move to a place Hayes had found for him in Pittsburgh. But after spending five days living on the streets when shelters started closing, with no resources or money, and not knowing the whereabouts of his brother, the man agreed to relocate.
"I was able to get him on a flight the same day, and he came to Pittsburgh with just the clothes on his back," says Hayes. "Now he has a job, a place to stay, food, clothing, and a cell phone." Hayes was hoping to reunite with the evacuee during his own trip home for Thanksgiving.
As an undergraduate student at Rochester, Hayes majored in political science and economics. He wrote his political science senior thesis on the value of serving on state legislative committees, a project he described as his most challenging academic experience but one that gave him confidence in his ability to take on big projects. He also served as president of the ski team, played club soccer, and was speaker of the Student Senate his senior year.
"Working in these organizations, I learned how to motivate and lead people," Hayes notes. "Those experiences were very relevant not only in getting into Teach for America, but also in working in disaster recovery and managing other workers."
Though he expects to return to managing a relocation team, Hayes is hoping to land a teaching position in a New Orleans charter school that's reopening in January.
"I really would like to get back to New Orleans," Hayes says. "While the city is in bad shape in a lot of ways, there's still a tremendous amount of spirit and a wish to rebuild in the city. After living there, even though it's been a short time, I fell in love with New Orleans and want to be part of the rebuilding process."