EVENT: Hopeman Memorial Carillon Summer Recital features Tin-Shi Tam
TIME, DATE, AND PLACE: 7 p.m. Monday, July 23, on the Eastman Quadrangle in front of Rush Rhees Library on the University of Rochester's River Campus.
ADMISSION: Free and open to the public
Note: Free parking is available on the University lots.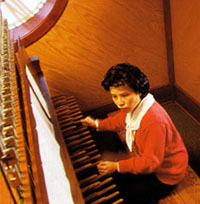 Tin-Shi Tam, professor of music and carillonneur at Iowa State University, has traveled around the globe performing at festivals and competitions in Asia, Australia, Canada, Europe and the United States. She is a member of the Guild of Carillonneurs in North America and is a fellow of the Trinity College of Music in London. Tam has received degrees from the University of Michigan, Durham University in England, the University of Wales in Cardiff, and the Chinese University of Hong Kong.
Tam's program will include "Sinfonia" by Johann Sebastian Bach, theme and variations of "Au Clair de la Lune" by Matteo Carcassi, "Weeping Willow" by Scott Joplin, and "Un Recuerdito" by Manuel Gregorio Tavárez.
Concertgoers are encouraged to bring their blankets and chairs and relax while listening to the music on the Eastman Quadrangle.
FOR MORE INFORMATION: Contact (585) 275-2828.